B&Bs on Cape Cod: Is the Current Operating Model Sustainable?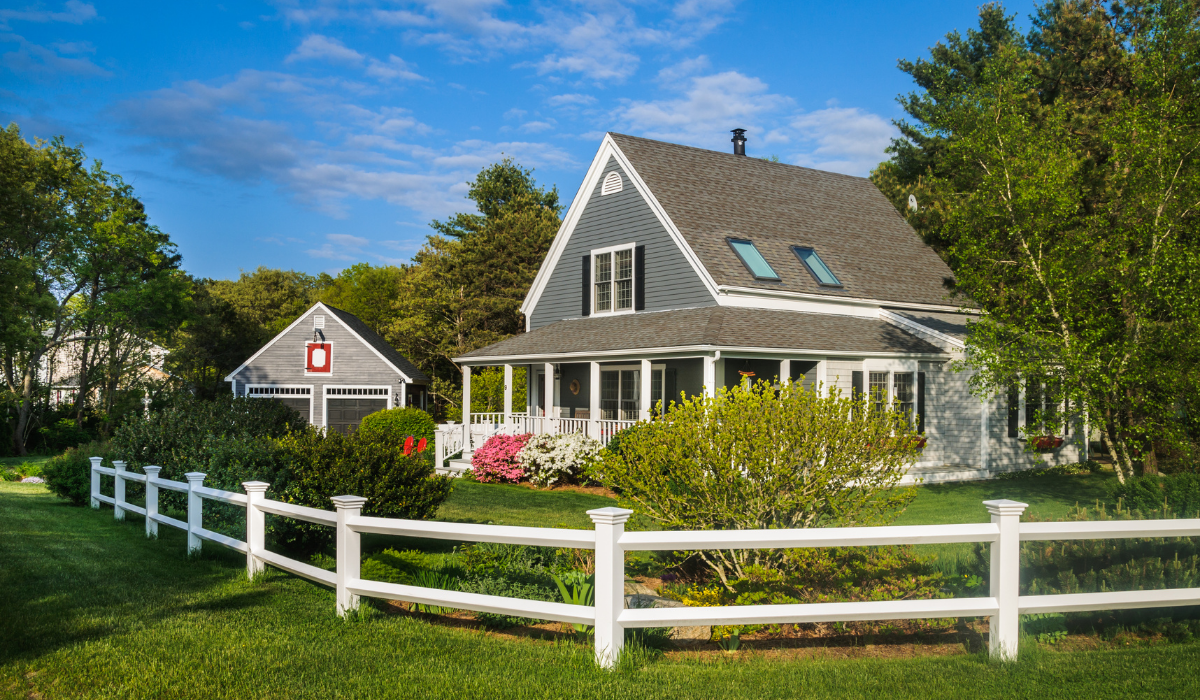 By: Brian Testorf, Sean Cuthbertson, & Jonathan Jaeger, MAI, LW Hospitality Advisors
As one of the earliest forms of lodging establishments, the bed and breakfast inn (B&B) has long been prevalent in American society. The Association of Lodging Professionals defines a bed and breakfast inn as "a small lodging establishment consisting of four to eleven guestrooms, with six guestrooms being the industry average". Similar to the hotel/motel concept, a bed and breakfast typically feature common guest areas such as outdoor decks, patios, and dining areas, while offering select amenities such as Wi-Fi, and as the name implies, a continental breakfast. However, unlike a hotel/motel, the owner of a B&B usually lives on property in the owner's quarters, assuming the role of manager and completing tasks such as housekeeping and cooking, hence the term "innkeeper." Given the abundance of beaches, historic homes, and other popular outdoor activities, the renowned summer retreat of Cape Cod, Massachusetts is an appealing destination for both innkeepers and their guests.
B&B Industry Data
Bed and breakfast inns appeal to a certain type of traveler who is interested in a local, unique, and personal experience while still receiving select amenities and services associated with a more conventional hotel stay. More recent travel trends among millennials and younger generations indicate that this group has gravitated toward this segment and has skewed the typical demographic of the B&B guest, which typically appealed to primarily older generations and international travelers. B&B guests describe themselves as free-spirited and price-conscious, taking shorter trips multiple times per year, with a focus on relaxation, rejuvenation, and family vacation. The chart below details the self-description of B&B guests compared to that of non-B&B guests, as compiled by the Association of Independent Hospitality Professionals.
Source: The State of B&B's in the U.S. – The Association of Independent Hospitality Professionals
To accommodate for the changing desires of guests, the bed and breakfast industry has evolved to offer more amenities than in the past. As displayed in the chart below, almost 97 percent of over 500 bed and breakfasts surveyed offer Wi-Fi, as historic and remote properties recognize the needs of today's travelers. Unlike a typical hotel brand, each bed and breakfast is unique, with each one offering amenities and experiences that may differ from the next.
Source: The State of B&B's in the U.S. – The Association of Independent Hospitality Professionals
Similar to trends experienced within the overall lodging industry, online travel agencies have become a major booking tool for bed and breakfast inns. The emergence of online travel agencies (OTAs) has had both a positive and negative impact on the B&B industry. The availability of online marketing has expanded the reach of many bed and breakfast inns which are typically owned and operated by independent operators. However, fees associated with reservations and marketing through these online platforms represent a significant portion of the revenue generated which has increased overall expenses and challenged profitability for the typical innkeeper. The trend is anticipated to continue as OTAs are expected to claim more distribution channel share, as displayed in the chart below.
Source: The State of B&B's in the U.S. – The Association of Independent Hospitality Professionals
Location and value tend to be the most important factors to guests lodging at a bed and breakfast inn. The importance of these factors varies by age and demographic, with design of the property, quality of room product, price, and personal and online recommendations all considered by travelers looking to stay at a B&B over another lodging accommodation.
Source: The State of B&B's in the U.S. – The Association of Independent Hospitality Professionals
With over 17,000 bed and breakfast inns in the United States, travelers can find inn-style accommodations across the country. According to The Association of Lodging Professionals, 29 percent of inns are in rural locations, 23 percent in urban areas, five percent in suburban locations, and 43 percent in locations designated as a village. Many bed and breakfast inns are in the south and northeastern United States, comprising nearly two-thirds of the B&B industry as shown on the following map.
Source: The State of B&B's in the U.S. – The Association of Independent Hospitality Professionals
The typical traveler at a bed and breakfast inn is searching for a destination to which they can visit multiple times per year for long-weekends or short getaways focused on relaxation and rejuvenation. Cape Cod, Massachusetts, renowned for its history, beaches and natural beauty which cover more than 400 miles of shoreline, along with its excellent accessibility from major metropolitan markets such as Boston and New York City, represents an appealing destination for the B&B guest. With over 250 bed and breakfast inns, ranging from historic captains' homes to modern private residences, Cape Cod is one of the premier markets for the bed and breakfast industry.
Cape Cod
The phrase "Cape Cod and the Islands" commonly refers to the region of Barnstable County, Dukes County, and Nantucket County in Massachusetts. Barnstable County is comprised of the 15 towns located on Cape Cod: Bourne, Sandwich, Falmouth, Mashpee, Barnstable, Yarmouth, Harwich, Dennis, Brewster, Chatham, Orleans, Eastham, Wellfleet, Truro, and Provincetown; which are considered be part of the Upper Cape, Mid-Cape, or Lower Cape, and the Elizabeth Islands. To the south of Cape Cod lies the Nantucket Sound, and the islands of Nantucket (Nantucket County) and Martha's Vineyard (Dukes County).
Historically a prominent fishing, whaling, and trading region, Cape Cod, Martha's Vineyard, and Nantucket have evolved to become well renowned resort destinations. Cape Cod has a year-round population of approximately 220,000 and experiences a tourist season which officially begins Memorial Day in May and ends Labor Day Weekend in September. Cape Cod is a popular destination for beachgoers with approximately 400 miles of coastline and 60 public beaches. Outdoor activities in the region include beach walking, biking, boating, fishing, go-karts, golfing, kayaking, miniature golf, and shopping. The Cape also features the Cape Cod Baseball League, sport fishing, and various other youth sporting events.
The tourism industry in Massachusetts accounted for nearly $24.2 billion in direct spending in 2018, with Barnstable County contributing $1.32 billion. The below charts display visitation statistics in Cape Cod as reported by the Cape Cod Chamber of Commerce:
Cape Cod Lodging Market Statistics
Lodging on Cape Cod consists primarily of smaller inns, motels, and bed and breakfasts, with a few smaller upscale hotels. The following charts reflect historical occupancy, average daily rate, and revenue per available room (RevPAR) for all of Barnstable County, as reported by STR.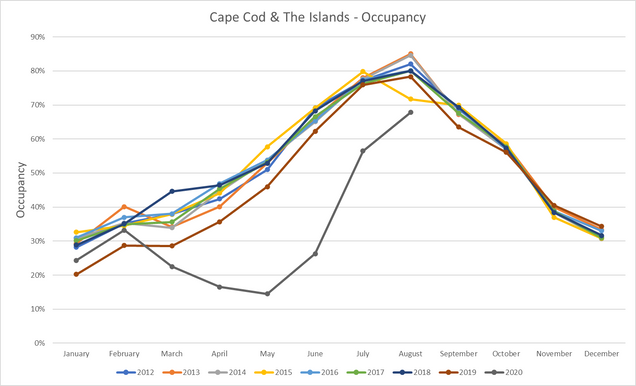 Beginning in March of 2020, the Cape and Islands lodging market experienced considerable RevPAR declines as the local area and surrounding regions were under stay-at-home orders and other travel restrictions due to the coronavirus pandemic. As restrictions have been lifted, the more recent months have experienced a lesser YOY impact which was aided by the increased level of drive-to leisure demand given Cape Cod's proximity and accessibility from several larger metropolitan areas, such as Boston. In fact, August 2020 experienced the second highest RevPAR on record.
Provincetown
One of the most renowned destinations on Cape Cod is Provincetown. Commonly referred to as "P-Town", Provincetown has an estimated year-round population of approximately 2,628 as of 2018, which increases dramatically during the summer season when the population can range from 19,000 to 60,000. Provincetown is known for its pristine beaches and natural beauty with over 20 miles of coastal shoreline, as well as its thriving culture that celebrates its history as an "artist haven" with numerous art galleries, museums, and theaters. Additionally, several popular events and festivals occur in Provincetown throughout the year. Major events include the following:
Provincetown PRIDE;
Provincetown International Film Festival;
Provincetown Portuguese Festival;
Independence Week;
Family Week;
We have compiled data from Airbnb and major home rental sites such as VRBO and HomeAway via AirDNA, a data source in the home rental industry. The charts below display market performance of entire homes and private room rentals for Provincetown for the period between September 2017 and September 2020.
All visitation data presented is based on information published by AirDNA and reflects visitation to Airbnb and major hotel rental sites only. The map below details active listings in Provincetown, a majority of which are in the historic downtown district located along Commercial Street.
The Provincetown market typically experiences heightened demand during July and August. Due to the compression in the market during these months, in which tourism to P-Town reaches peak levels due to the numerous festivals held during the summer months, hotels, inns, and rental properties can capture significantly higher room and rental rates.
Rooms revenue generated by both entire home and private rooms rentals reached peak levels in 2019, which may be primarily attributed to increased bookings through home-sharing and rental platforms such as Airbnb and VRBO, with travelers gaining familiarity with the concept. As experienced in many vacation destinations and lodging markets throughout the United States, visitations and resulting lodging performance experienced significant declines beginning in March 2020 as a result of the COVID-19 global pandemic. However, given Provincetown's and Cape Cod's positioning as a drive-to destination, the market has experienced increased demand levels through the summer months.
Additionally, Cape Cod has recently experienced an extended peak season, with many travelers continuing to visit past Labor Day weekend. As evidenced in the chart below which reflects future booked reservations for private rooms in Provincetown from October 2020 through March 2021, occupancy through December 2020 is anticipated to be above historical levels, as pent-up demand is released in the market. However, with new COVID-19 restrictions being introduced in the fall/winter months, that could impact the future pace.

Investing in Bed and Breakfast Inns
Based on conversations with several local bed and breakfast inn operators, as well as both commercial and residential brokers throughout Cape Cod, the most likely buyer for an operating bed and breakfast on Cape Cod would be an independent investor seeking to utilize the property as a summer home and/or secondary residence. While a potential buyer may choose to continue operating the property as a bed and breakfast, the price would largely be based on similarly operated bed and breakfast inns or residential home sales in the immediate submarket.
According to data published by the Cape Cod & Islands Association of Realtors, Provincetown and the overall Cape Cod residential real estate market has experienced record performance in the second half of 2020. The median sales price for a single-family property in Provincetown increased by 23 percent through the September 2020 year-to-date period over the same time last year, to $1,268,750. This trend was experienced within the overall Cape Cod market as the overall median sales price for a single-family property increased by 14 percent over the same time last year to $490,000. The median sales price for condominiums increased by 20.6 percent in Provincetown and 12.1 percent in Barnstable County through the September 2020 year-to-date period over the same time last year. Given the scarcity of residential homes available for sale, especially in areas such as P-Town, we expect the price and/or value of B&Bs to be driven up by the recent surge in demand.
In the past, when tasked with determining value for a B&B on the Cape, the rooms revenue multiplier was typically the most utilized approach. The most common buyer for a B&B was an owner operator who left another role and/or industry to relocate to a resort destination such as Cape Cod and make a living while operating the property. However, given the challenges and complexity of operating a B&B, specifically due to COVID-19, many owners are marketing their properties with residential brokers who are finding interest from buyers who will no longer operate the property as a B&B. If this trend continues, and as the buyer pool for B&Bs has decreased, we could also experience a decrease in the number of active B&Bs over the next several years.
Conclusion
As the Cape Cod residential real estate market undergoes a surge in demand through 2020, various headwinds may have a resulting impact on the bed and breakfast industry. Rising real estate prices may result in increasing property taxes and mortgages for bed and breakfast owners, impacting the income generated by the property. As the prospect of operating an inn becomes less feasible, innkeepers may choose to sell their inns for conversion into private single-family homes.
Historically, Cape Cod bed and breakfast inns have continuously operated through similar upswings in the residential real estate market, and we anticipate the industry to continue evolving with trends such as a shift to online booking platforms, implementation of modern technology, and experience-driven travel by cost-conscious consumers. Overall, Cape Cod will continue to offer many of the features sought by guests to bed and breakfast inns, and innkeepers will continue to provide these guests with an alternative lodging experience. However, with increased competition from private home rentals, innkeepers will need to be creative in order to maintain overall RevPAR and profitability levels.
---
---
References
---