The Condom Fairy Turns 10
Public Health
The Condom Fairy Turns 10
Looking back on a decade of safer sex and public health programming
Admit it—regardless of your age, buying condoms and other safe-sex supplies is always at least a little awkward. Grabbing a handful of condoms out of the "fishbowl" at the health clinic isn't much better—they might be free, but there's still a waiting room full of peeping (and potentially, judging) eyes to contend with. And if you're looking for non-male condom supplies? Good luck tracking those down, partner.
That was more or less the consensus of a group of students working as ambassadors for Student Health Services (SHS) in 2012. At the time, the main source of free external condoms on campus was the aforementioned fishbowl in the SHS waiting room, which was not only glaringly public, but also inconvenient for students who didn't live or have classes in West Campus.
When Katharine Mooney (SPH'12) director of SHS Health Promotion & Prevention (HPP), and her staff heard those concerns, they started to think: how can we get Boston University students diverse safer sex supplies without barriers to cost or privacy?
The eventual answer: snail mail.
"What we liked about the idea of mailing supplies to students was not only would that be a more convenient option for them, but it could also be a way to share really critical health information and health education," Mooney says. "You know, if you're rushing in to grab supplies out of a fishbowl in a waiting area, you're probably not going to stop to grab that postcard about STI [sexually transmitted infection] testing, or whatever it might be. So that felt like a chance to combine supplies with really key information."
And thus, the Condom Fairy program officially launched in January 2013, making its debut via an online ordering form, BU's in-house mailing system, and a viral marketing campaign featuring a tiny and sassy winged mascot. ("Now flying wherever flies come undone" was a one-time slogan.)
Fast forward 10 years, approximately 35,000 orders, and around 175,000 external condoms later, the Condom Fairy is now celebrating a decade of providing BU students on and off campus with free condoms (both internal and external), lube, dental dams, information about sexual health and consent, and more to help make their, ahem, extracurricular activities a little less risky. 
And, fresh off a rebrand to create more inclusive mascots, the program is cementing its reputation for meeting students where they're at.
A public health success
If you've spent even a little bit of time on BU's campuses, you're probably familiar with the Condom Fairy. Maybe you've ordered some of the supplies for delivery, maybe you've just seen winged stickers on laptops and water bottles. Since launching, not only has the program gained massive traction at BU—and helped countless students practice safer sex in the process—it's garnered international attention as a wildly successful public health initiative.
Some stats: according to a recent survey run by HPP, 90 percent of respondents agreed that it was easier to practice safer sex because of the Condom Fairy, with 72 percent saying they actively did so because of the service. According to the same survey, testing for STIs increased by at least 35 percent, and the department observed a 63 percent drop in students who never considered getting tested at all. And for students interested in dental dams and internal condoms—often called "female condoms" because they can be placed inside the vagina—half of them reported they didn't have anywhere else to access those items outside of the Condom Fairy.
All this to say: the program works, baby.
In fact, it works so well that within the first couple of weeks of its launch, Mooney received a cold call from the US Centers for Disease Control and Prevention's STD prevention unit to learn more about the program. ("I'll never forget that," she says.) That ultimately led to an invitation to present at a CDC STD prevention conference.
The Condom Fairy was also the subject of a study published in The Journal of American College Health, coauthored by Mooney and colleagues at the University of Georgia and Georgia College, and would go on to inspire similar programs at institutions like Brown University, the University of Oregon, and the University of Melbourne in Australia.
The program's level of success is astounding, say HPP staffers who've long worked in the public health field.
"For me, a highlight of my time with HPP is working on the first safer-sex distribution program" in the university space, says Tony Chen, assistant director of community and online initiatives, who worked on Brown's delivery program when he was a graduate student at the school. "Being able to come full circle and work in the office that originated the idea is just very cool."
Students weigh in
Unsurprisingly, student feedback is overwhelmingly positive.
"Promoting consensual and safe sex is a sensitive and important task that you are doing extremely well," reads one response from HPP's survey. "One of the most useful services on campus," from another. "I LOVE this program!" says another response. "It makes getting important resources like this really fun and reduces the anxiety surrounding it."
Tsega Seleshi (CAS'25) is among the program's fans. "It's super efficient and discreet, and the order form has a lot of options for different genders and flavors," she says. "They gave me a lot of each thing I ordered for free and even came with a cute little Condom Fairy sticker."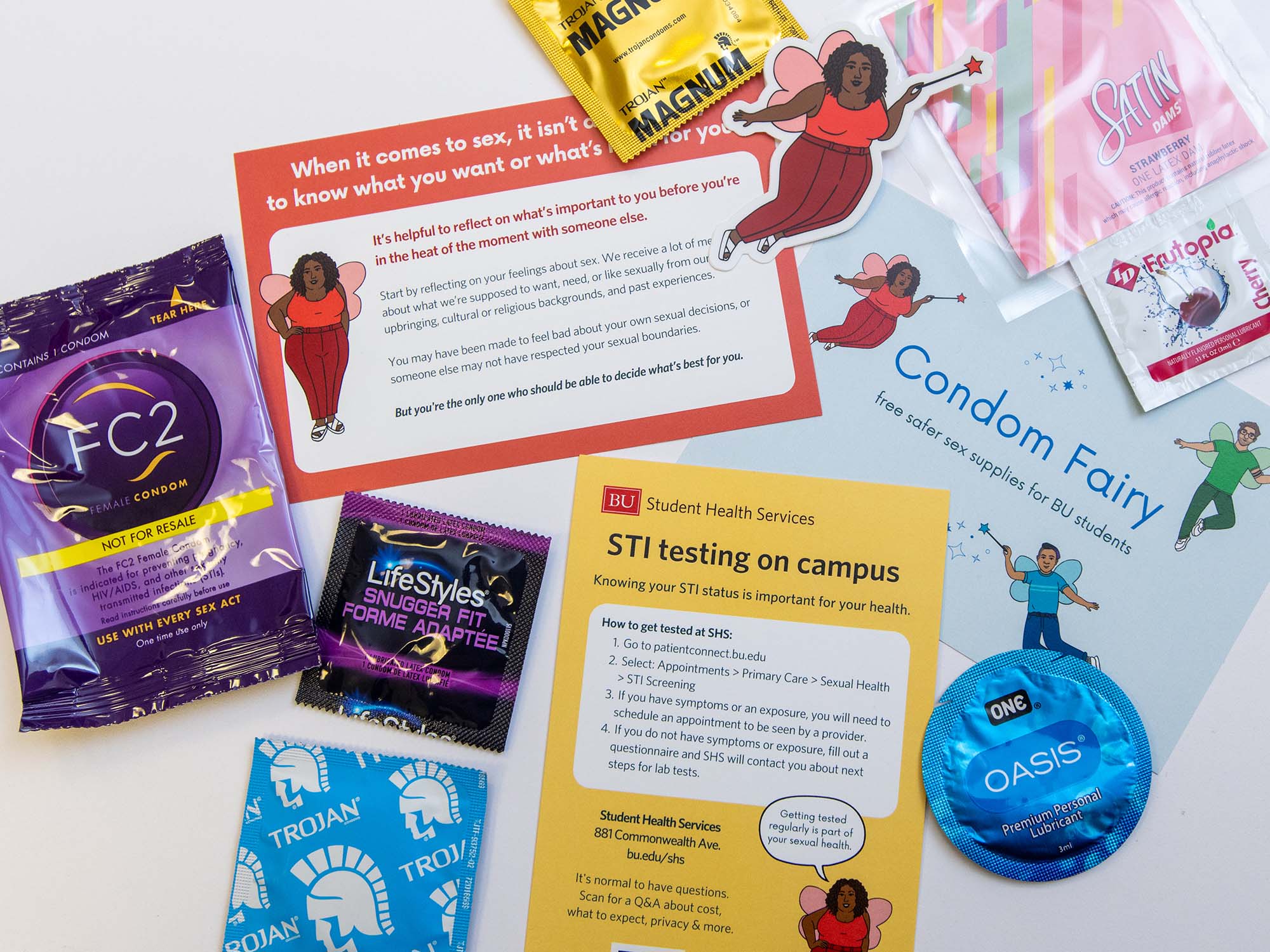 Of course, there's always room for improvement, and the department is quick to respond to ideas and suggestions. When student feedback—which largely originates from follow-up surveys HPP sends after every order—consistently indicated a desire for more sustainable packaging, the department switched from acrylic to paper bags. (They're currently looking into compostable options, Chen says.)
And about the rebrand: originally, the mascot was a tiny white cartoon fairy repurposed from a stock set of baby shower graphics. Her tone—developed by the HPP team and graduate students in the office—was tongue-in-cheek in order to grab people's attention, Mooney says. As years went by, the department's feedback from students indicated they wanted characters more representative of actual BU students. The team convened a committee of students from different schools, who selected local artist Nicole Mazzeo to create three new Condom Fairy characters. The result? A trio of gender-, race-, and body-diverse fairies that rolled out in the fall 2022 semester.
Content-wise, the department is still working out the trio's tone.
"We're in an ongoing process of creating content for the characters around things like more nuanced discussions around consent, how to start conversations with partners about your own specific interests, or how to have conversations around STI status," says Sarah Voorhees (SPH'13), assistant director of substance use, recovery, and sexual well-being. "The tone of sexual health was different 10 years ago, and students now are craving more real and nuanced conversations about their sexual health. We're so happy the Condom Fairy has evolved, because it needed to in order to really meet students where they're at."
One major source of input? Student Health ambassadors, who package Condom Fairy orders, among myriad other responsibilities within SHS departments.
"In working with the Condom Fairy program, I have really enjoyed advising the educational materials for our packaging," says ambassador Chelsea Sibri (Sargent'23). "The program always centers the perspectives of diverse groups of students when developing initiatives. For these materials, their development has brought up really interesting conversations about safe sex, which I think should be normalized instead of stigmatized."
At the end of the day, that's exactly why the Condom Fairy exists. It's here to ensure students feel safe and informed as they embark on whatever sexual journeys they choose. (Speaking of which: the Condom Fairy is running a Valentine's Day promotion—enter "XOXO" into the promo code box to get flavored external condoms throughout February.)
It also would be nothing without the work of students past and present, members of the HPP team stress.
But the Condom Fairy is just one part of an overall effort. Together with all of Student Health and HPP's offerings—sexual health events, partnerships with local businesses like One Condoms and Good Vibrations, volunteer opportunities, workshops from the Sexual Assault Response & Prevention Center, and the like—"we've really helped BU become a more sex-positive campus," Mooney says.
"It's really been pleasantly surprising to me that this program is still serving many students' needs, and that it's still a preferred way to get sexual health supplies," she says, adding, "we definitely didn't expect to shape the college safe-sex space in this way. The longevity and success of this program is something I'll always be proud of."