Summer Tortellini Salad
This fun, filling dish makes the perfect summer lunch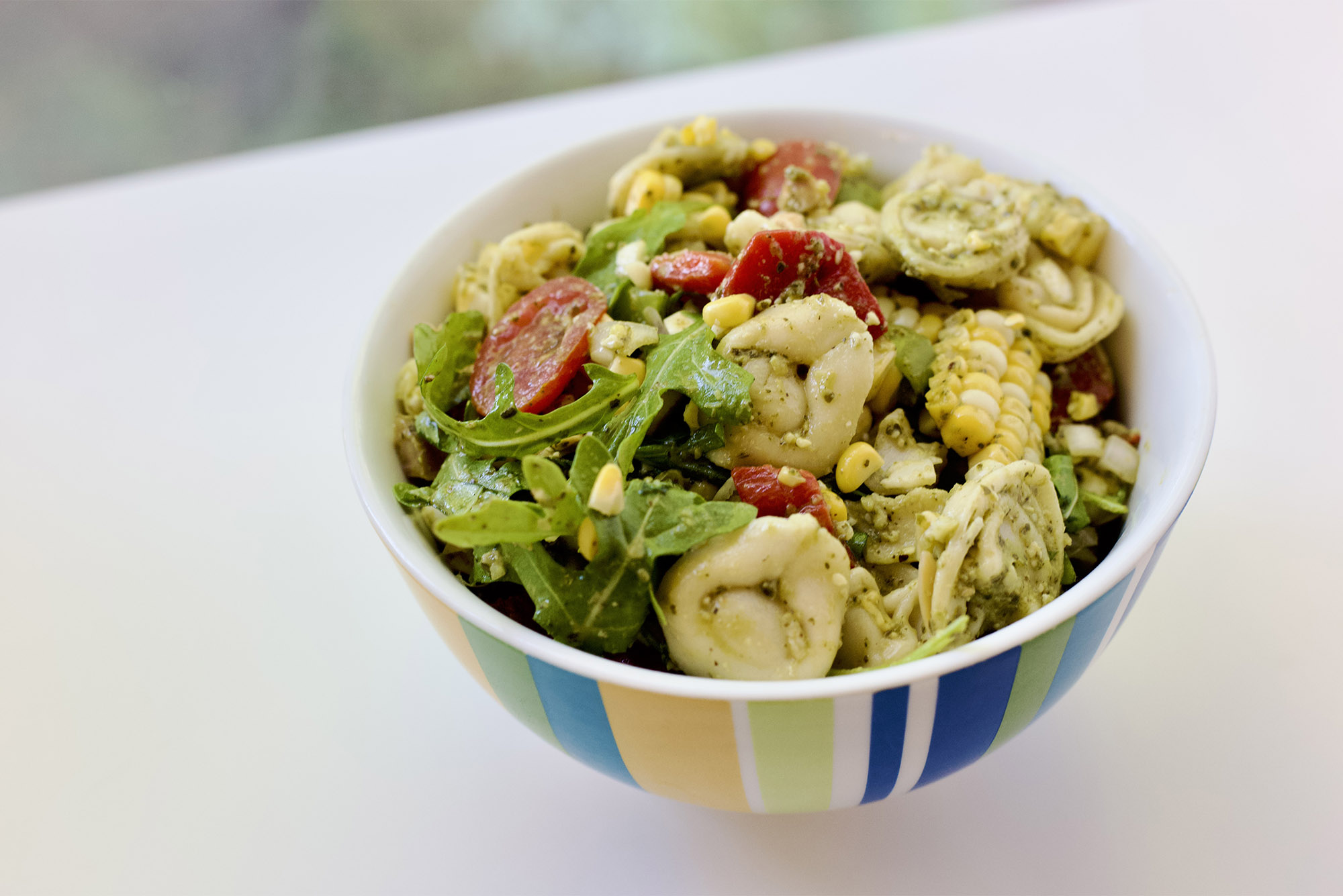 Recipe Series
Summer Tortellini Salad
This fun, filling dish makes the perfect summer lunch
What makes this tortellini salad so amazing is its textural variety. Pillowy tortellini are tossed in a creamy pesto sauce along with juicy tomatoes, roasted red peppers, parmesan, and mozzarella. Corn, snap peas, and slivered almonds add a sweet and salty crunch, while basil, arugula, and olives lend a bright and savory kick. This recipe makes a big batch that should provide many lunches for the week.
Prep time: 15 minutes
Cook time: 20 minutes
Total time: 35 minutes
Yield: 8 servings
---
Ingredients
For the salad:
Two 10-ounce packages tortellini
3 cups fresh corn (approximately two large cobs)
1 large shallot, finely diced
½ cup basil, cut in thin strips
1 cup sugar snap peas, chopped
2 cups arugula
½ cup cherry tomatoes, cut in half
½ cup shaved parmesan
1 cup mozzarella pearls, drained
½ cup toasted slivered almonds
½ cup jarred roasted red peppers, thinly sliced
½ cup jarred green olives, such as Castelvetrano, chopped
2 tablespoons red wine vinegar
1 cup pesto, store-bought or homemade (see below)
For the pesto:
2 cups basil
¼ cup grated or shaved parmesan
¼ cup slivered almonds
2 large cloves garlic
¼ teaspoon salt
½ cup extra virgin olive oil
Directions
Prepare the tortellini according to package directions. Place in a large bowl and let cool.
Bring a pot of water to a boil. Boil corn for 5 minutes. Remove and let cool. Then cut kernels from cob with a sharp knife. Add kernels to cooled tortellini.
To make the homemade pesto, place basil, almonds, parmesan, garlic, and salt in a food processor and pulse until minced.
Keeping the food processor running, stream in the olive oil and mix until smooth and creamy.
Add shallot, basil, sugar snap peas, arugula, cherry tomatoes, parmesan, mozzarella pearls, almonds, roasted red peppers, olives, red wine vinegar, and pesto to the big bowl and toss to combine. Serve immediately or let sit in the fridge—the flavors become bolder as it sits. The salad can be refrigerated for up to 5 days.
This Series
Also in
September 19, 2022

October 3, 2022

October 24, 2022