No Mess, One-Pan Sausage Pasta Bake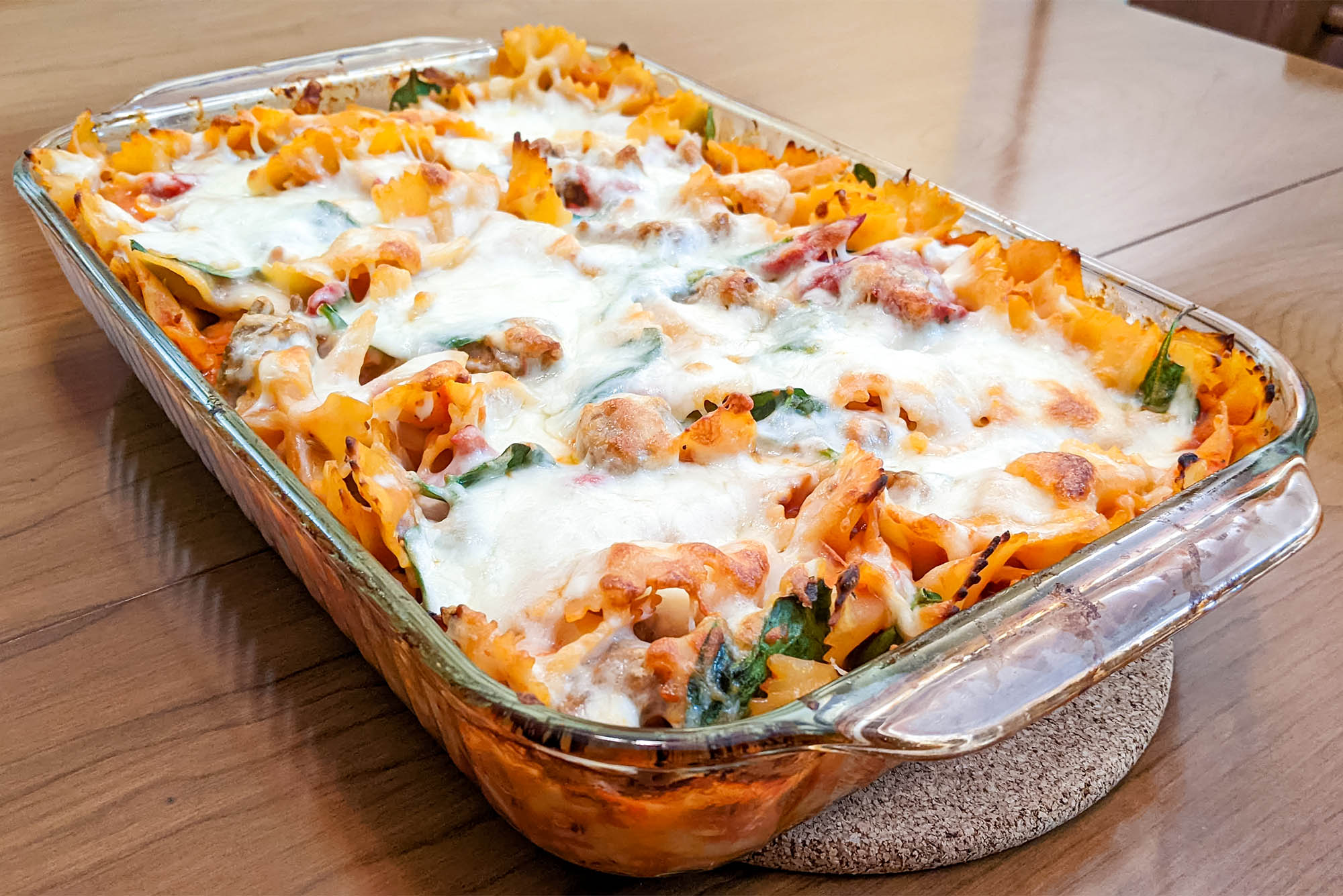 Recipe Series
No Mess, One-Pan Sausage Pasta Bake
This unfussy and hearty meal uses only one baking pan, leaving you with little cleanup
No Mess, One-Pan Sausage Pasta Bake
Everything in this scrumptious sausage pasta bake that features lots of garlic, shallots, roasted red peppers, and spinach is cooked in one baking dish—no need to boil the pasta separately. Quick to come together, and requiring little cleanup, this dish is sure to become a weeknight dinner staple.
Prep time: 10 minutes
Cook time: 1 hour 10 minutes
Total time: 1 hour 20 minutes
Yield: 12 servings
---
Ingredients
1 pound ground mild Italian sausage
4 large garlic cloves, minced
2 large shallots, chopped
1 pound short pasta (such as farfalle)
4 cups chicken broth
1 14.5 ounce can crushed tomatoes
1 ½ cups jarred roasted red peppers
1 teaspoon oregano
1 teaspoon basil
1 teaspoon red pepper flakes
1 teaspoon fennel seeds (optional, but boosts sausage flavor)
Salt and pepper, to taste
¼ cup heavy cream
3 cups spinach, packed
1–2 cups shredded mozzarella
½ cup shredded parmesan, divided
Directions
Preheat the oven to 400 degrees. Grease a 13×9 baking dish with cooking spray or olive oil.
Using a small cookie scoop or a tablespoon, form the sausage into little balls.
Scatter the shallots, garlic, and sausage in the baking dish.
Bake the shallots, garlic, and sausage, uncovered, for 20 minutes, giving the mixture a stir halfway through. Remove from the oven and drain any excess fat.
Add pasta, chicken broth, crushed tomatoes, roasted red peppers, oregano, basil, red pepper flakes, and fennel seeds to the baking dish and give the mixture a stir to make sure the pasta is submerged in the liquids.
Cover the baking dish with foil (be careful, as the dish will be quite hot). Return the dish to the oven and bake for 40 minutes, once again stirring halfway through.
Remove the baking dish from the oven and uncover. The pasta should be al dente at this point. Add the heavy cream and ¼ cup of the parmesan and stir until the sauce looks creamy and well mixed. Then add the spinach and stir it in. 
Top the sausage and pasta mixture with the mozzarella and the other ¼ cup of parmesan, and return the dish to the oven, uncovered this time. Bake for about 10 more minutes until the cheese on top is melted.
Let cool for about 5 minutes and serve.
---