At Somerville's Rebel Rebel, MET Student Pours a New Outlook on Wine Bars
STUDENT SOMMELIER
At Somerville's Rebel Rebel, MET Student Pours a New Outlook on Wine Bars
"I'm going to be the hospitality industry's worst nightmare when I graduate," says Marie-Louise Friedland (MET'24)
Nestled in a corner of Somerville's Bow Market is a natural wine bar with James Beard pedigree and a penchant for curse words. Staffed by tattooed women and nonbinary folk who know rare bottles like meteorologists know rain, Rebel Rebel preaches an "unabashedly feminist," in-your-face ethos that flies a middle finger in the genteel face of viticulture.
Among the staff is Marie-Louise Friedland, who graduates from Boston University's Metropolitan College gastronomy master's program in 2024. She is Rebel Rebel's education lead, an in-house position that draws upon her "wine nerd" history and puts it to use by co-facilitating the wine club and teaching classes at the bar's neighboring sister venture, Wild Child, a culinary bookstore, education, and events space.
"I teach the wine classes every Thursday, from six to seven; I come up with a theme, I order the wine, I try to make it really approachable," Friedland says. "That's my biggest thing. I just want wine to be approachable and comfortable and not this beacon of classism. It's my whole mission in life."
Each week at Wild Child, surrounded by wine books on which she's placed her own handwritten reviews, Friedland doles out three natural wines—made using traditional methods and few, if any, additives—to a group of patrons seated cheek by jowl at two banquet tables. The theme of tonight's wine class is "special sauce," Rebel Rebel's term for their nightly rotating pour. What makes a bottle of natural wine a special sauce? It's a combination, Friedland explains, of elements like region and terroir, the effect of specific natural conditions on a wine's taste. But it's also something ineffable; it's pitch-black soil in Greece or a steep, shady mountainside in the Jura region of France. It's something the vintner does that nobody else has thought to do.
A patron sitting close to the front, surrounded by a group of her friends, takes a sip from her glass of Julien Altaber Bourgogne Blanc, an unoaked natural wine made in small batches with minimal human interference..
"This doesn't taste like any Chardonnay I've had before," she exclaims.
Friedland laughs, goodnaturedly. "This is what Chardonnay tastes like when it hasn't been f—d with," she replies.
In order for Friedland to amas an encyclopedic knowledge of wine, she had to start her education early.
"I was always working at a restaurant in high school for gas money," Friedland says. "I never babysat, I never worked retail. Couldn't do it."
Friedland got her start in San Antonio, Tex., at Chez Ardid, her grandparents' now-closed French restaurant, though it wasn't until her stint as a cheesemonger in Austin's Central Market—while she attended the University of Texas as an undergrad—that she began to work with wine.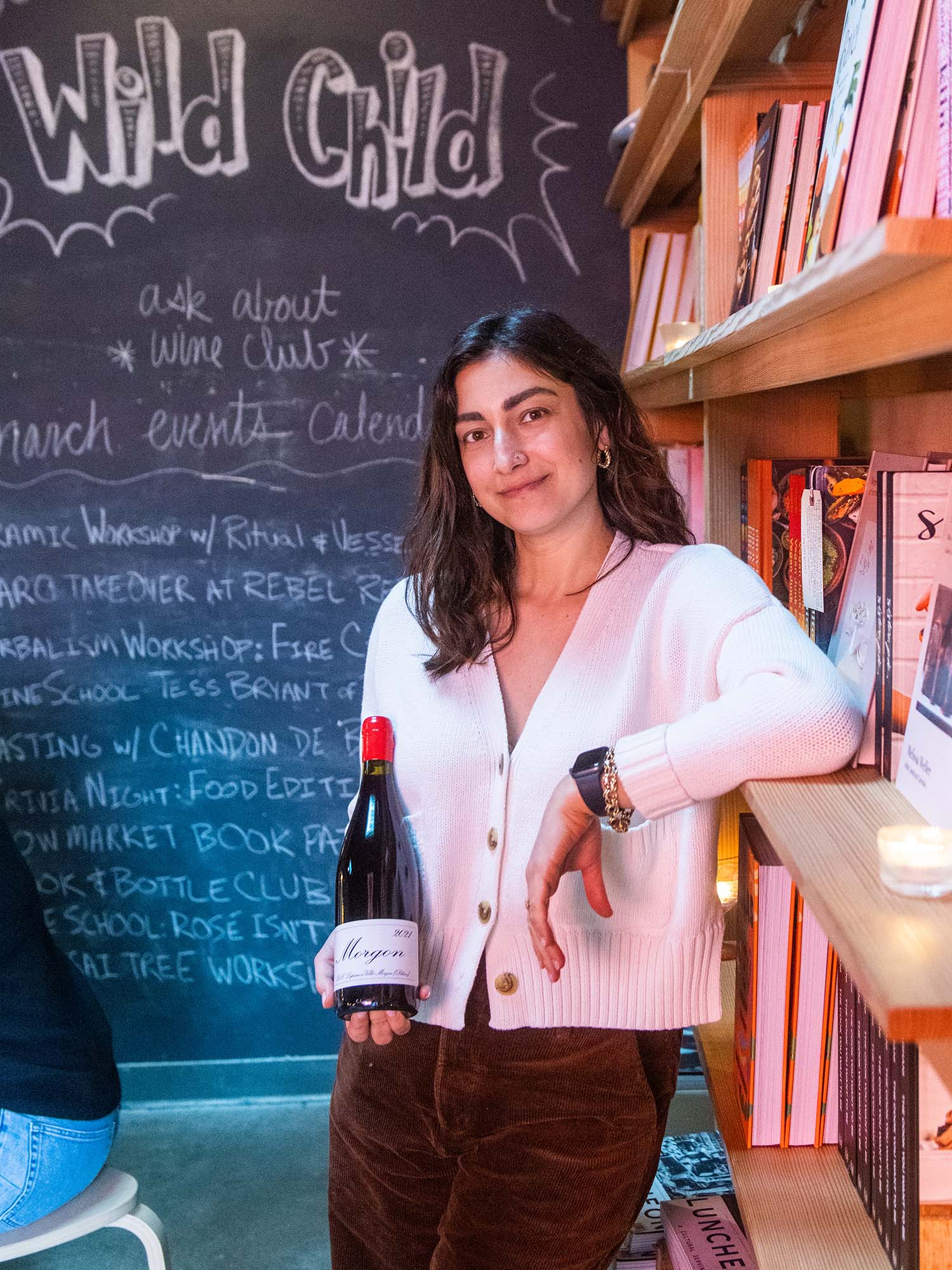 "I was asked for pairings all the time, and I would walk people over from the cheese department to the beer and wine department," she says. "I just got so wrapped up in this idea of pairings and flavor components and how you can use pairings as a way to make people feel nostalgic or excited or comfortable or curious."
Friedland had discovered two coinciding passions—hospitality and the pursuit of knowledge—in one industry. Her restaurant career would see her as bartender, sommelier, and wine director at restaurants in Texas and San Francisco. She'd travel the world and learn about fermentation, growing techniques, and provenance. But first, back in Austin, surrounded by cheese, she had to get a sommelier certification.
"There are people I've worked with at almost every point in my career who have some tale of how the industry has tried to discourage education or growth," Friedland recalls. To her, it was the sommelier organization from which she received her certification. "They used a lot of knowledge hoarding in order to [maintain power] over people trying to get a start in the wine world" she says.
It took Friedland a few years to transition to graduate school and away from the restaurant industry, but by the time she had settled on BU's MET College gastronomy program she knew what kind of sommelier she didn't want to be.
"Here is this product that has always been historically very classist and elitist—which is silly, because everyone's been drinking wine ever since somebody figured out how to ferment something and it made them feel funny," she said. "There's no reason why we should keep it from anyone."
Friedland's growing conviction in a democratic, bottom-up approach to wine matched the Rebel Rebel spirit. Before coming to Boston to attend BU, Friedland had heard about Rebel Rebel and was a fan of its wines..
"We took a road trip up to Boston in December [2020] for my husband to apply for a job, and I was like, 'I don't care what else we do, we just need to go to Rebel Rebel so I can buy some good natural wine,'" she says. "And then Lauren [Friel, the bar's owner and founder] and I just got to chatting."
Friedland got a job there less than two weeks after moving to Boston.
At first, it was just a part-time engagement, something for Friedland to do in her off hours while she settled into the gastronomy program, where she took classes on the archaeology, history, philosophy, and anthropology of food. At BU, she says, she finally found her educational happy place–even though the program doesn't have a dedicated wine track.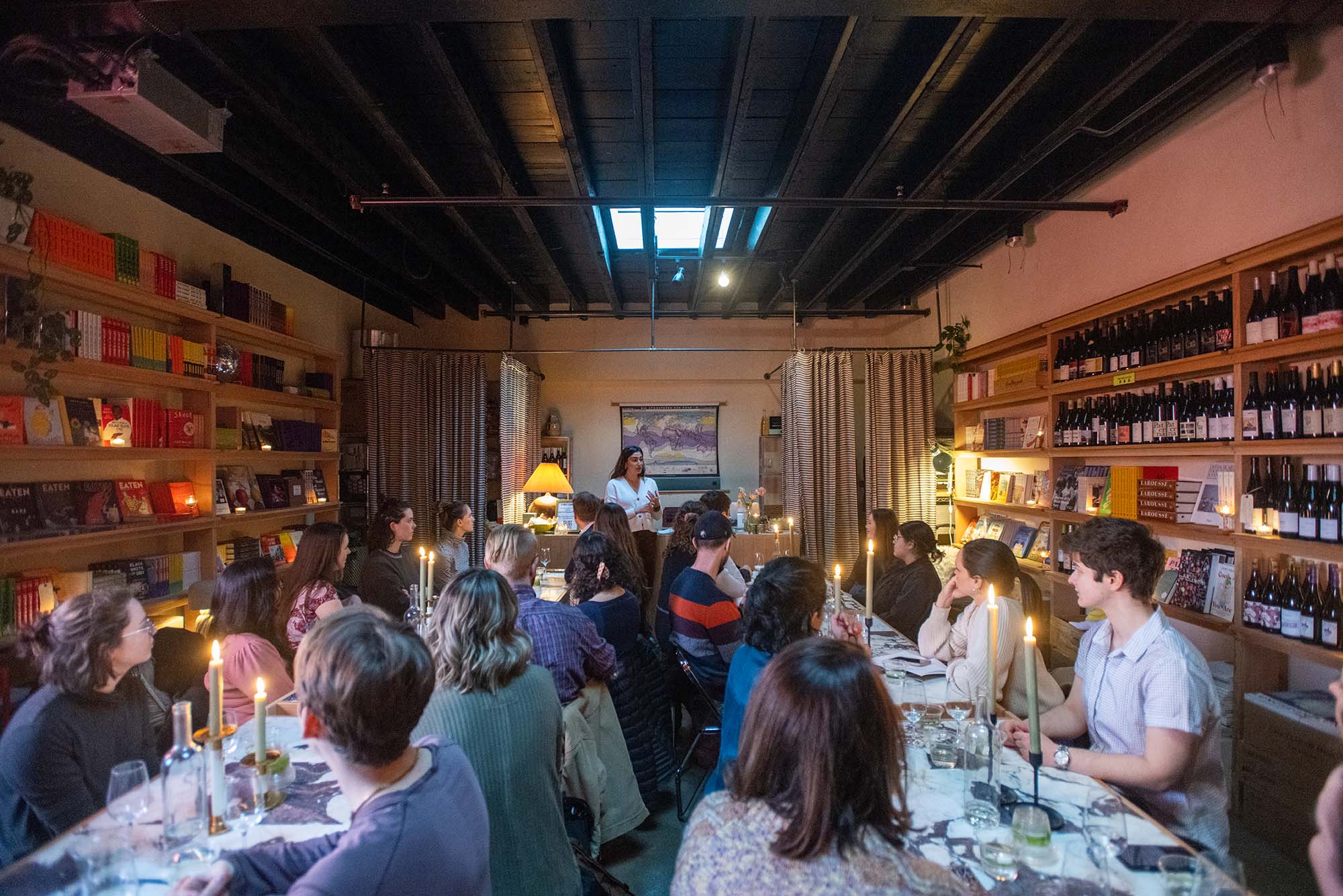 "The [gastronomy] program has really given me the ability to take the superficial peel off of food and wine and look into how significant it is to humanity. And, man, once you see that, you can't unsee it," she says. "It also finally gave me a solid framework to dig into a lot of the things that I've always thought the hospitality industry can do better….I'm going to be the hospitality industry's worst nightmare when I graduate."
In 2022, Friedland moved into her role as education lead at Rebel Rebel and took over the wine classes at Wild Child. It was a natural move, according to Friedland, as Friel and other members of Rebel Rebel's management "knew that teaching is my passion."
Wine education, to Friedland, is more than the science behind fermentation or the ways sunlight and shade affect soil conditions. It's more about the connections wine can create between people.
"I think conversation is education, that connecting human to human is education," she says. "Any food business, I think, should always have that as a foundational pillar."
At her Thursday night wine class, Friedland says if you want to know more about a Rebel Rebel wine, all you need to do is strike up a conversation with whoever's behind the bar. Take the nightly special sauce, for instance—every Rebel Rebel employee has a different set of criteria for it.
"People who buck the trends to do the right thing," she says, "are what makes it special sauce to me."