New Stone Gallery Show Makes the Case That Comics Aren't Just for Kids, but for Everyone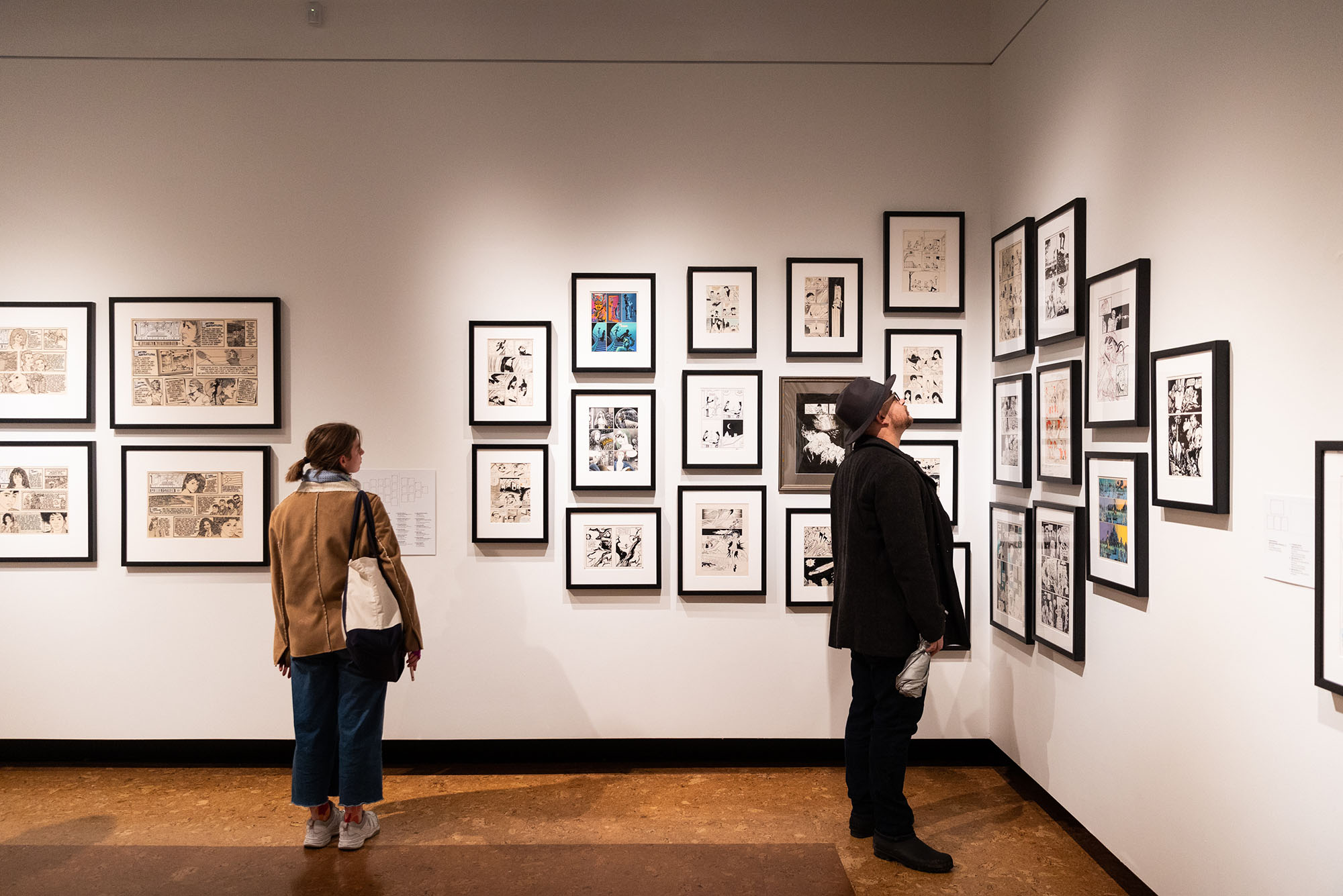 Gallery
New Stone Gallery Show Makes the Case That Comics Aren't Just for Kids, but for Everyone
Comics Is a Medium, Not a Genre captures the complex diversity of America's favorite pop art
A black border, a white panel, and a universe of possibility. When it comes to comics, the formula is that simple, says Joel Christian Gill, an associate professor of art in the College of Fine Arts School of Visual Arts.
And he should know. Gill (CFA'04) is not only an instructor, an historian, and a champion of the form, he's an award-winning cartoonist. And in the new show he's curated, Comics Is a Medium, Not a Genre, on view at the Faye G., Jo, and James Stone Gallery through March 24, he makes the case that comics are about much more than newspaper strips and superheroes.
"Comics in its early onset was very diverse, mostly because nobody else was doing it," Gill says. Early artists "would show the serious nature of comics, the funny nature, the erudite nature, though most people tend to pigeonhole into one mainstream focus."
The medium's diversity is precisely the element Gill seeks to highlight in the show. He notes that the range of this collection—comprising nearly 200 original and digitally reproduced comics panels, sheets, covers, and promotional materials—makes the case that comics aren't beholden to any particular genre. In other words: it's about the canvas, not the painting.
In many ways, diversity comes naturally when dealing with a collection of this size. There are works from contemporary artists as well as artists who died decades ago, from locals and foreigners, legendary cartoonists and well-kept secrets. One wall bears sheets from March (Top Shelf Productions, 2013), an autobiography by civil rights leader John Lewis (Hon.'18) and collaborators, another pages from the first known newspaper comic, The Yellow Kid. Viewers can contemplate Denis Kitchen's underground comics—those he authored and those he collected—alongside work by mainstream comics pioneer Will Eisner.
In addition to mainstream works, among them an early Batman sheet and one of Charles Schultz's earliest Peanuts strips, the show features a plethora of "underground" comics and creators. Gill says his strategy as curator was to gather unconventional subject matter—such as nonfiction and memoir—made by traditionally sidelined artists, like those who are BIPOC, queer, and female.
If anyone is up to the task of encapsulating the depth and breadth of a 100-year-old popular medium, it's Gill. The creator of print and webcomics about Black history, he has also published a best-selling graphic memoir, Fights: One Boy's Triumph Over Violence (Oni Press, 2020), which was named a New York Times Best Graphic Novel in 2020.
More recently, he's spearheaded CFA's new MFA in Visual Narrative program, one of a few of its kind in the country. The program is not only concerned with teaching students how to tell a story through comics, but also delves into the origins of the practice. Gill is a comics historian at heart, and many of the program's classes he teaches explore the evolution of the medium.
The first thing people need to understand about American comics, he says, is that it has a dual history: the mainstream and the subversive. In the 1930s and '40s, comics were a cultural unifier: readers from World War II soldiers to their parents and kid siblings at home delighted in Superman beating up Adolf Hitler. Then the war ended, and the soldiers returned.
"These [returning soldiers] are adults now, so the stories start to get shifted towards them: horror stories, crime stories, romance stories," Gill explains. "Some very short-sighted people see all these bright colors and think, this must be for kids. And if it's for kids, then it's corrupting our children."
Book-burning ensued, as did the emergence of the Comics Code Authority, a nongovernmental regulations committee with influence over major publishers from the 1950s through 1980s. Sales plummeted, and comics artists were forced to either adapt or leave the medium—which most did. What endured, on the surface at least, were newspaper funnies and tights-wearing superheroes, at least for a while.
"In the 1960s, the people who read comics as kids in the '40s are now in a place where they want to make comics too," Gill says. "It was almost reactionary to the censorship—these underground comics were all sex, all drugs, all adult themes."
It continued that way for a long time, until social mores inevitably loosened. The medium was always diverse, Gill asserts. It was just hidden. "When the dominant culture decides that there's something that's important, they spend a lot of time paying attention to it," he says. "When people are underrepresented, they usually move into underrepresented spaces."
Sometimes, underground creators generate an outsized cultural impact. Alison Bechdel's Dykes to Watch Out For, a weekly strip syndicated in gay and lesbian newspapers starting in the 1980s, today stands as an example of early queer media representation. Bechdel's unique perspective, although sidelined at first, eventually netted her a MacArthur Genius Grant and a best-selling graphic novel—Fun Home—later adapted into a Tony Award–winning Broadway musical. Original sheets from Dykes to Watch Out For were loaned to the BU show from the Library of Congress, which also loaned works from classic comic strips like Little Orphan Annie, Batman, The Yellow Kid, and Peanuts.
In addition to works on loan from the Library of Congress and BU's Howard Gotlieb Archival Research Center, the show includes comics culled from the private collections of Kitchen, founder of the Comic Book Legal Defense Fund, writer and cartoonist Dan Mazur, Eisner Award–winning cartoonist Paul Karasik, a CFA lecturer, and Gill himself. The comics range from Japanese manga to American underground comics to semi-completed works that were later published in Mad Magazine.
"This show is all-inclusive and I told Joel to dream big," says show collaborator Lissa Cramer, BU Art Galleries managing director. "Joel's vision was for visitors to be surrounded by an explosion of comics; this led to us showing 184 works in the gallery."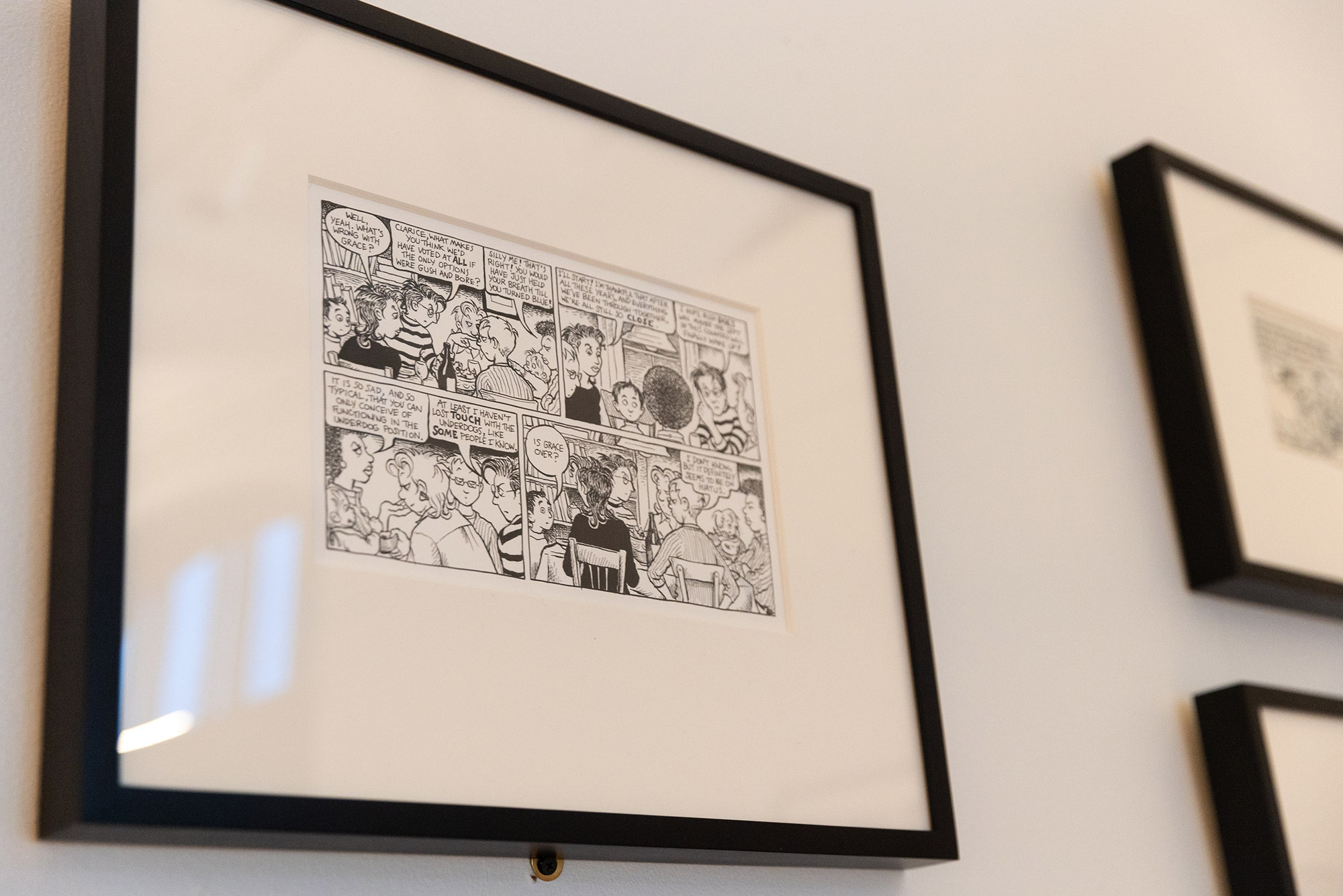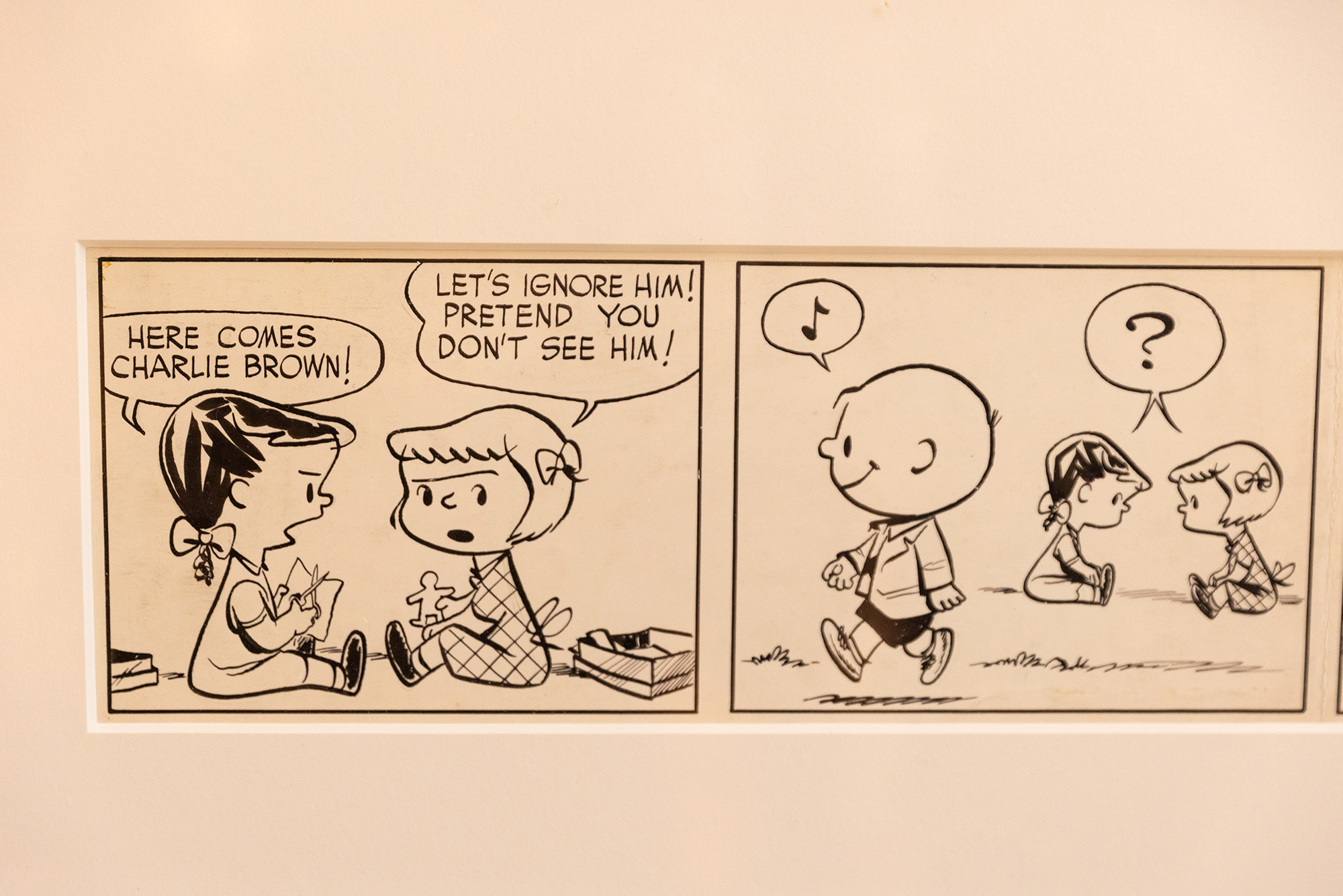 Gill acknowledges that the timing of the show was "definitely calculated." Sales of comics hit a record last year, increasing by almost 50 percent compared to 2020. And, he says, more and more artists are flocking to the medium as well: "Creators don't feel stifled anymore. It's almost like a reverse effect of [artists leaving the field] in the 1950s."
Gill's advice to the legion of aspiring artists in the Visual Narrative program is markedly similar to his curatorial philosophy for Comics Is a Medium: why draw yourself into a box?
"The purpose of the show is twofold," he says. It's outwardly focused, to show the community how broad comics can be, and it's also "inwardly-focused, for our students.
"The hope is that they'll be inspired and see that they don't have to just draw funny kids or superheroes," he adds. "They can do anything."
Comics Is a Medium, Not a Genre is on view at the Faye G., Jo, and James Stone Gallery, 855 Commonwealth Ave., through March 24. The gallery is free and open to the public Tuesday through Saturday, from 11 am to 5 pm.