Meet BU's Newest Terriers: Zakariya Hussein
Separated from his family by war, forced to endure loss and trauma, budding computer scientist says his Muslim faith sustained him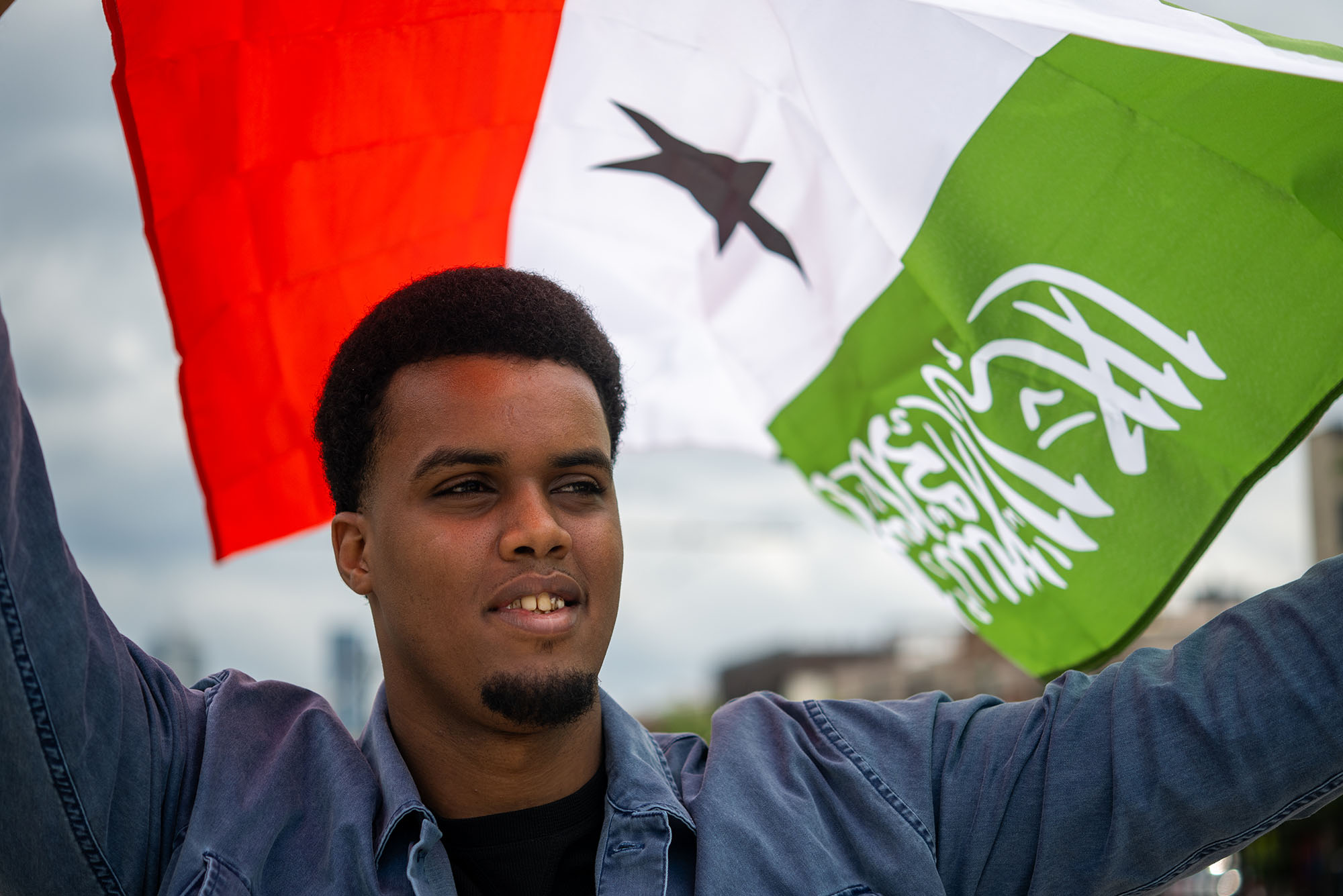 student profile
Meet BU's Newest Terriers: Zakariya Hussein
Separated from his family by war, forced to endure loss and trauma, budding computer scientist says his Muslim faith sustained him
This week, 3,147 freshmen and 931 transfer students begin their careers at Boston University. It's time to meet a few of them.
The odyssey that led Zakariya Hussein to BU has been a Rubik's Cube of moving parts: geographically, as he crossed continents, and emotionally, as circumstance forced him to navigate the ordeal of family separation and death.
Hussein (CAS'27) proudly keeps the national flag of his native Somalia, where civil strife separated his family in 2006. He'll study computer science at the University, which should be a snap compared to the traumatic experiences that the soft-spoken 21-year-old relates. And despite his passion for technology, it was another realm that he credits for seeing him through: his Muslim faith.
"I have a very strong faith with my religion," he says. "Part of the belief of my religion is to accept the good things and the bad things. And all of that journey helped me to understand who I became and who I am."
As Somalia's conflict spread in 2006, Hussein's mother took three of his five siblings from their home in the capital of Mogadishu to Uganda, one of them a sick younger brother who needed better care than was available in their native country, Hussein says. He and the other children stayed behind with their father.
He wouldn't see his mother again for 13 years.
He and his remaining siblings later moved to the Somalia-Ethiopia border, and then in 2011, to the Ethiopian capital of Addis Ababa as asylum seekers. Their father stayed behind with Hussein's grandfather; Hussein's 16-year-old brother was responsible for him and another sibling.
Bureaucratic impediments for immigrants kept Hussein from attending high school in Africa, so he took classes in English and computers at the American embassy. His father visited occasionally from Somalia, but he died in 2017, two years after Hussein had last seen him.
The loss proved enormous. "It was very difficult," Hussein says, "but in order for me to move on, I have to accept it." He had received religious training in Islam during his early years in Somalia, and he tapped into his rituals—"waking up early in the morning, praying and performing my Islamic [obligations]. When I have each struggle and difficult time, I use my dedication and my habit as a strength. And it's helped me go through a lot.
"And also, I learned in Islam, the Quran: Whenever each one of you is very sad, come towards me, and I will help."
By then, his mother had immigrated with the three children still in her care to the United States and worked hard to bring Hussein and his two other siblings here as well. The family was finally reunited in 2019, settling in Jamaica Plain, Mass. It was only then, Hussein says, "I could enjoy some of the memories I had with my father."
He discovered computer science at Boston International Newcomers Academy, a public high school for English learners and immigrants, where he thrived. He went on to win the "Ownership" Award at graduation, given to students who have demonstrated an "ability to assume a high degree of personal responsibility for their work and their life. Award winners are fully committed to their success and hold themselves accountable to exacting standards."
---

Everything could be replaceable. [But] family is not something that is replaceable.

---
Kristin Russo, who teaches 12th grade English and English as a second language at Boston International Newcomers Academy, says his classmates voted Hussein most likely to be the school's future principal. She cites his award commendation, which says in part, "He has strong spiritual and personal values that he demonstrated daily. He is self-aware, conscientious, motivated, and modest. If you are looking for advice or if you need help solving a problem, he will take the time to sit with you and give you his perspective. You can always rely on him to be respectful, not only with his teachers, but also with his friends. He is here to lift everyone up so everyone is happier when he is around."
Attending the University on a Community Service Award—which provides full calculated financial aid without loans to qualifying Boston Public Schools students—Hussein says he hopes to tutor fellow immigrants in English and their new culture.
He chose BU in part because of the diversity of its globally culled student body. But the sundering of his family influenced his decision to become a Terrier as well. "I wanted to stay close with my family, so I could help still," he says. "My younger brother is still disabled" and uses a wheelchair. "I wanted to stay close and enjoy the moment with my family."
Life has revealed his "biggest treasure," as he calls it: "Everything could be replaceable. [But] family is not something that is replaceable." Life has taught him not to get attached to anything else.
"Everything you have could go away one day."