Getting to Know Your Neighborhood: Jamaica Plain
A guide to eating, shopping, and hanging out in a hidden corner
In the City
Getting to Know Your Neighborhood: Jamaica Plain
A guide to eating, shopping, and hanging out in a hidden corner
Just about 20 to 40 minutes from Boston University by bike, bus, or T, Jamaica Plain (JP to locals) is one of Boston's most diverse neighborhoods.
You won't find chain stores here. What you will find is a community committed to the environment, fair-trade commerce, and sustainable agriculture, and a place that's hip and way left-of-center when it comes to politics.
Once described as the "Eden of America" by a 19th-century traveler, according to local lore, JP evolved after the Civil War from a series of large farms to one of the country's first streetcar suburbs. The neighborhood includes a key part of the city's famed Emerald Necklace Conservancy, a seven-mile series of contiguous parks designed by renowned landscape architect Frederick Law Olmsted in the late 19th century.
The Great Outdoors
Jamaica Pond
Jamaicaway and Pond Street
To get to Jamaica Pond, follow the bike path that runs along the Emerald Necklace from the Landmark Center on Boston's Park Drive to JP. Covering 68 acres, Jamaica Pond is a great place for a stroll (dogs must be leashed). This kettle pond formed by glaciers was once a reservoir for the city of Boston. Today, holders of a Massachusetts fishing license can fish the pond. Sailboats and rowboats are available for rent by the hour during the summer.
The crown jewel of JP's open spaces, the Arnold Arboretum offers a stunning landscape that changes with the seasons. Like Jamaica Pond, the Arboretum is a link in the city's Emerald Necklace. Originally owned by Harvard University, the Arboretum was established in 1872, making it the oldest public arboretum in North America. It was deeded to the city of Boston in 1882; Harvard was given a 1,000-year lease and currently operates the property. Today, it is one of the world's preeminent educational and research institutions and a National Historic Landmark, with more than 16,000 plants in its living collection, spread across 281 acres. The arboretum is famous for its annual Lilac Sunday, held each May to celebrate and showcase its world-class collection of lilac trees.
One of the country's premier examples of the garden cemetery style, Forest Hills was created in 1848 to replace old colonial graveyards in what was then the city of Roxbury. The cemetery, set on more than 275 acres, was designed as a place to mourn the dead and to contemplate nature. Many famous Americans are buried here, among them the abolitionist William Lloyd Garrison, Nobel Prize–winning playwright Eugene O'Neill, and poets Anne Sexton and E. E. Cummings. The cemetery also includes wonderful examples of Victorian architecture and spectacular sculptures, including a towering bronze angel created by sculptor Daniel Chester French, famous for the Lincoln Memorial's Abraham Lincoln sculpture in Washington, D.C.
The parklike setting is ideal for strolling and contemplation, with its woodlands, grassy slopes, waterfall, fountain, and the man-made Lake Hibiscus. The Forest Hills Crematory was the first built in New England. The cemetery was added to the National Register of Historic Places in 2004. Guided tours are available from April through October.
Although the 72-acre Franklin Park Zoo, nestled in Franklin Park, is officially in Dorchester, we include it because Boston's largest park is spread throughout parts of Jamaica Plain and Roxbury, as well. The zoo is home to more than 100 species of animals in a variety of habitats, including the Outback Trail, which features kangaroos, kookaburras, and emus; Giraffe Savannah, home to Masai giraffes; and Serengeti Crossing, four acres of grassland and wooded hills where Hartmann's mountain zebras, ostriches, and wildebeests roam. It boasts an outstanding indoor gorilla exhibition and a tropical rainforest. Opened in 1912, the zoo is operated by Zoo New England, a private nonprofit committed to conservation. This popular family destination is open year-round and attracts more than 600,000 visitors a year
Hyde Square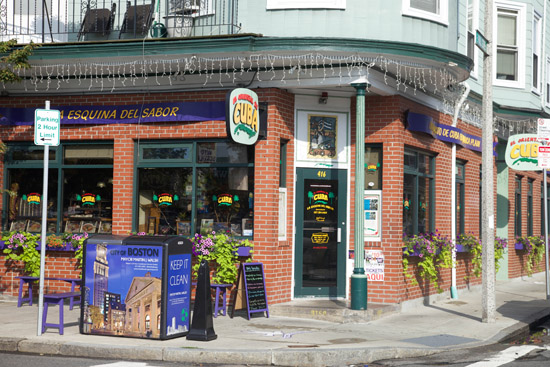 Hyde Square is home to a large Hispanic community anchored by the El Oriental de Cuba restaurant, a neighborhood fixture since 1994 and possibly the best Cuban restaurant in Boston. This no-frills spot offers appetizers like mofongo (mashed green plantains with pork rinds in garlic sauce), a variety of rice dishes like rice with spicy octopus, and classic fare, such as braised oxtail and caballo steak topped with fried eggs. Menus are available in both Spanish and English.
Popular with locals, the Behan, as it's called, is a classic Irish bar famous for its large selection of draft and bottled beers, including dark ales, stouts, and lagers. And as the pub's devoted clientele will tell you, the Behan is also famous for conversation. The pub also allows dogs on its back patio year-round.
This American–Caribbean restaurant serves traditional bar food with a twist. The lunch and dinner menu includes mofongo, street corn, and fried cheese. The restaurant prides itself in uniquely mixed spirits, beer, and wine along with a Caribbean-inspired cocktail menu. Guests love the ambient lights and invigorating Latin music. This fusion bar has Tijuana Tuesdays, when margaritas, tequila shots, and tacos are lower priced.
A Taste of History
A superb example of Georgian Colonial architecture, the Loring-Greenough House is one of the oldest structures in JP. Built in 1760 by Joshua Loring, a colonial American commodore in the English navy, the house saw a number of uses after Loring returned to England at the start of the American Revolution. It was used as a military hospital during the Battle of Bunker Hill. In 1784, it was bought by the Greenough family, who occupied it until 1924, when a group of civic-minded women saved it from demolition. The house, which is listed on the National Register of Historic Places, is open to the public on Sundays between 1 and 3 pm from April through October and offers private tours by request. The house showcases American furniture and decorative arts from the 18th through the early 20th centuries, as well as archival material chronicling the history of Jamaica Plain. Special exhibits and concerts are also held at the house.
Founded in 1877 with the mission of providing "pleasant and useful entertainment by the aid of drama," this is the oldest community theater in the country. And yes, it still produces dramas, musicals, and comedies, all performed by local actors.
In 1676, 38 residents of Jamaica Plain donated land to support a school funded by an endowment from local farmer John Eliot. The Eliot School of Fine & Applied Arts educated Africans, Native Americans, and colonial children before turning its focus to the arts in the late 19th century. Alarmed at how manual arts like woodworking, sewing, and bookbinding were disappearing in Boston, the Eliot School began offering courses in such crafts for schoolteachers and adults, and then for children in after-school programs.
Today, the School offers courses for children and adults in woodworking, sewing, fiber arts, drawing and painting, photography, printmaking, upholstery, and furniture restoration. Instructors offer a modern twist on many of these art forms: there are courses in drawing for comics and cartoons, digital photography, and seasonal Easter egg workshops. Still operating out of its original 17th-century schoolhouse, the Eliot School hosts an art sale with Jamaica Plain Open Studios in September.
Centre Street
The majority of Jamaica Plain's shopping and dining venues can be found along Centre Street, the principal artery cutting through JP Center. (At one end it becomes South Street; at the other, South Huntington Avenue.) Below are highlights.
This popular eatery has legions of dedicated customers who stop by for ramen, pho, thai noodles, and rice dishes.. Be sure to try the rib ramen special with pork ribs and pork broth, lemongrass herbs, beansprouts, kimchi, black garlic oil, and nori. Vegans and vegetarians will enjoy the yasai ramen with steamed tofu and veggie broth, wood ear mushrooms, bok choy, wakame seaweed, sweet corn, Japanese bamboo, and beansprouts. Not in the mood for soup or noodles? Try a rice like the chicken katsu curry or spicy chashu, roasted duck, or fried tofu rice bowls. Soup Shack is open daily for lunch and dinner and has additional locations in Brookline and Cambridge. Outdoor sidewalk dining is available during warm-weather months.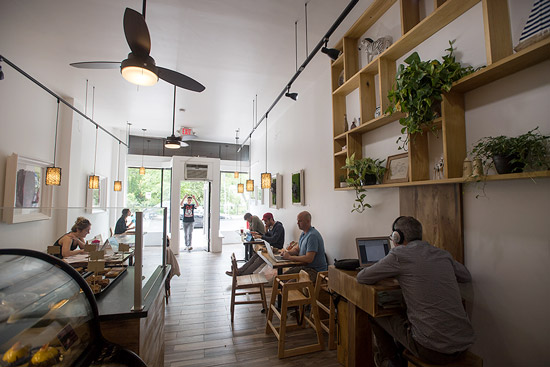 Part of JP's burgeoning coffee scene, the wittily named Espresso Yourself is open from 8 am to 5 pm seven days a week. In addition to an extensive coffee and tea beverage menu, the café offers an array of bagels and breakfast sandwiches, cakes from Eva's Pastries in Peabody, and Belgian waffles from Zinneken's in Cambridge. You'll also find the Middle Eastern treat halva—a blend of tahini, sugar, and natural flavors like hazelnut and berries. Espresso Yourself features at least a dozen flavors. While sampling your halva, don't forget to order one of the café's mouthwatering sandwiches. Try the JP—prosciutto, fig jam, goat cheese, tomato, and arugula on Tuscan wheat bread—or the chicken avocado brie, with arugula, tomato, red onion, and pesto spread on six-grain bread. The café, which has free Wi-Fi, also showcases a constantly changing array of art by local artists for sale.
Salmagundi's owners, husband and wife Jessen Fitzpatrick and Andria Rapagnola, believe that there's a perfect hat for everyone—and their shop has more than 12,000 to choose from. In addition to chapeaus of every style, the boutique offers a wide selection of handbags, jewelry, ties, belts, gloves—and even flasks. The store also offers cleaning and blocking services. (Salmagundi has a second location on Salem Street in the North End that harbors an extensive collection of 4,000 hats.) Note: the store is open Wednesday through Saturday, closed Sunday to Tuesday.
This cozy restaurant, owned and operated by long-time Jamaica Plain residents Dan and Kristen Valachovic, has become a neighborhood favorite since opening in 2008. The ever-changing seasonal menu currently features entrees like housemade winter squash and taleggio ravioli with brown butter, sage, and hazelnuts; roasted Icelandic cod with green crab nage, root vegetables, and saffron mayo; and gorditas (pan-fried tortillas with masa and potato) topped with squash, refried lentils, cabbage, cashew-chili sauce, and pepitas. A chalkboard displays the daily specials. Complete your meal with a decadent butterscotch pudding with whipped cream and toffee chocolate pieces. Vee Vee also has a small but impressive selection of beer and wine and offers takeout most evenings. While some tables are designated for walk-ins, diners should make reservations. Vee Vee also has outdoor patio seating available during warm-weather months.
Looking to stock a new apartment? You can't do better than Boomerangs–and you'll be supporting a good cause while you shop, as all sales benefit the AIDS Action Committee of Massachusetts. This secondhand shop carries a wide selection of men's, women's, and children's used clothing, as well as used furniture, electronics, toys, art, books, and CDs. The store's inventory changes often, so visit frequently.
This Mexican restaurant has been open since May 2016 and attracts diners from all over the area. It's easy to see why. The restaurant offers a wide selection of snacks, including elote (grilled corn with a cilantro aioli, squeeze of lime, and a pinch of chili), tacos, and tortas, with fillings like pork and adobo tofu served with guacamole, chipotle ketchup, and patatas bravas. Casa Verde also has an innovative cocktail menu and an extensive list of draft and bottled beers. The restaurant does not accept reservations, so come early to beat the rush. A back patio is open for al fresco dining during warm-weather months.
This Vietnamese–Thai restaurant serves classic noodle dishes like pad thai, pad see ew, and lo mein with chicken and vegetables in a chili garlic sauce. Noodle Barn is also known for fried rice, pho, banh mi sandwiches, soups, and curries. Try a Thai iced tea, Vietnamese coffee (available hot or cold), or a smoothie in flavors like green tea, mango, and strawberry. Noodle Barn's brick interior and hanging lights make for a cozy atmosphere.
Sweet Rice bills itself as a Thai restaurant with a sushi bar, offering staples like pad thai, papaya salad, and five types of curry. They also offer sushi boats swimming with sashimi and assorted sushi rolls and an abundance of gluten-free and vegan options, including tofu avocado curry. Sweet Rice is open for lunch and dinner.
This women's and children's clothing boutique focuses on local and American brands with an emphasis on female designers. You'll also find many sustainable and domestically produced accessories and jewelry. The shop's friendly and knowledgeable staff will help you find the perfect gift for yourself or a loved one. Free shipping is available on orders over $150.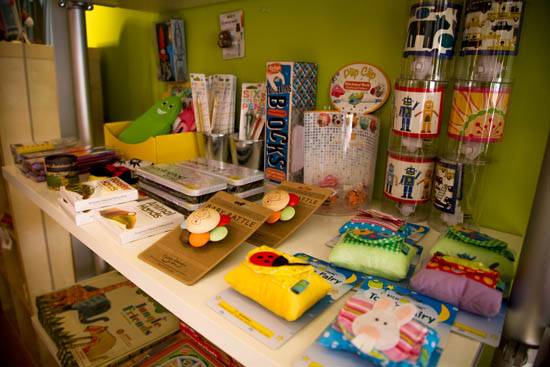 This small, independently owned gem of a gift shop offers something for everyone. It features a small but curated choice of clothing, handbags, jewelry, paper supplies, and other housewares. It's the perfect place to find a quirky birthday present, a housewarming gift, or a JP T-shirt. New merchandise arrives weekly. The store is open seven days a week.
With an emphasis on fresh ingredients and vibrant flavors, Purple Cactus offers a light, healthy interpretation of classic Mexican cuisine. The restaurant's mantra is "big on flavor, low on fat." Black beans are simmered without lard or additives, and the kitchen uses low-fat sour cream and lean steak in its dishes, which include an array of fajita wraps, rice and bean or shrimp burritos, quesadillas, and a vegetable taco salad with a zingy cilantro-lime vinaigrette. The guacamole is made daily.
This grocery-café-deli is reminiscent of an old-fashioned general store, but with a modern twist. City Feed's motto, "buy fresh, buy local," emphasizes its commitment to sustainability and locally grown or prepared foods. City Feed offers fair-trade coffee and a mouthwatering selection of sandwiches and baked goods for takeout. The shop also carries organic produce, and locally manufactured sodas, root beer, and sarsaparilla. You'll find a wide selection of artisanal cheeses, as well as New England craft beers, too. A smaller City Feed is located at 66A Boylston Street, a short walk from the MBTA Orange Line's Stony Brook station.
Tonino
669A Centre St.
This intimate Italian restaurant, formerly the site of the popular eatery Little Dipper, draws inspiration from the cozy trattorias, enotecas, and aperitivo bars in the smaller neighborhoods surrounding Rome. The menu features pasta dishes like tonnarelli cacio e pepe and rigatoni arrabbiata; small plates like olives, fennel salad, roasted squid, countneck clams, and mortadella; and pizza slices and whole pies in a variety of flavors, such as margherita and pepperoni, as well as bianca pizzas in flavors like ricotta and hot honey and eggplant caponata. The beverage menu includes a curated list of cocktails, wine, beer, sake, and non-alcoholic drinks. We recommend the orange wine. Reservations are strongly encouraged.
This high-end boutique sells and consigns luxury attire, and also carries its own line of branded clothing, including sweatshirts, sweatsuits, and dress shirts. The store promises customers will "flip the NCKLS but never drop a dime."
Opened in 1981, this is the original J.P. Licks ice cream shop (there are now 17 in and around Boston). It may well be the most popular place in JP, especially during the summer. Referring to itself as "an ice cream maker, coffee roaster, destination, and good neighbor,"J.P. Licks has ice cream in dozens of flavors, as well as nonfat smoothies, frappes, floats, egg creams, and sorbets, and hard and soft yogurt and offers seasonal specials every month. Don't miss the strawberry rhubarb ice cream in June and the pumpkin custard in the fall. The restaurant's large fireplace is put to good use during winter months and its outdoor tables make it an inviting place in warm weather. Everything made here is Kosher-certified.
This intimate, unpretentious taqueria offers authentic Mexican street fare, from tostadas and enchiladas to quesadillas, tortas, and burritos. Of special note are the restaurant's corn tortilla tacos. The restaurant has seating for 16 and takeout service. Check out the original Chilacates, at 224 Amory Street, near the Stony Brook T stop.
This small eatery offers a wide range of menu items, including omelets, french toast, pancakes and waffles, and breakfast sandwiches, as well as dinner entrées like ribeye steak and eggplant parmesan. Joint is especially popular for their burgers and pizzas. Save room for the brownie sundae with ice cream, whipped cream, and chocolate syrup. The Joint has only a small number of tables so be prepared to wait–or order takeout or delivery.
This welcoming restaurant emphasizes fresh ingredients from local purveyors served in an intimate, elegant setting. Candlelight casts a glow over the tiny restaurant and adjoining bar as you enjoy wines from vineyards that practice organic or biodynamic winemaking and an interesting array of cocktails. The menu changes with the season.
No ordinary tapas bar, Tres Gatos (run by the same owners as Casa Verde, above) is the city's "first full-service restaurant/book and music store," according to its website. Formerly the book and music store Rhythm & Muse, Tres Gatos still sells books and music, and has a menu featuring classic tapas, charcuterie, and appetizers, with an emphasis on local produce, fish, and meats. It also has a wide selection of classic and contemporary Spanish wines and hard-to-find brews. Based on the belief that "sharing good food, music, and books is essential to a happy life," Tres Gatos has become enormously popular with locals. You'll have your choice of seating at the bar, small dining tables, or the seasonal outdoor area. Be sure to check out the Tres Gatos weekend brunch service.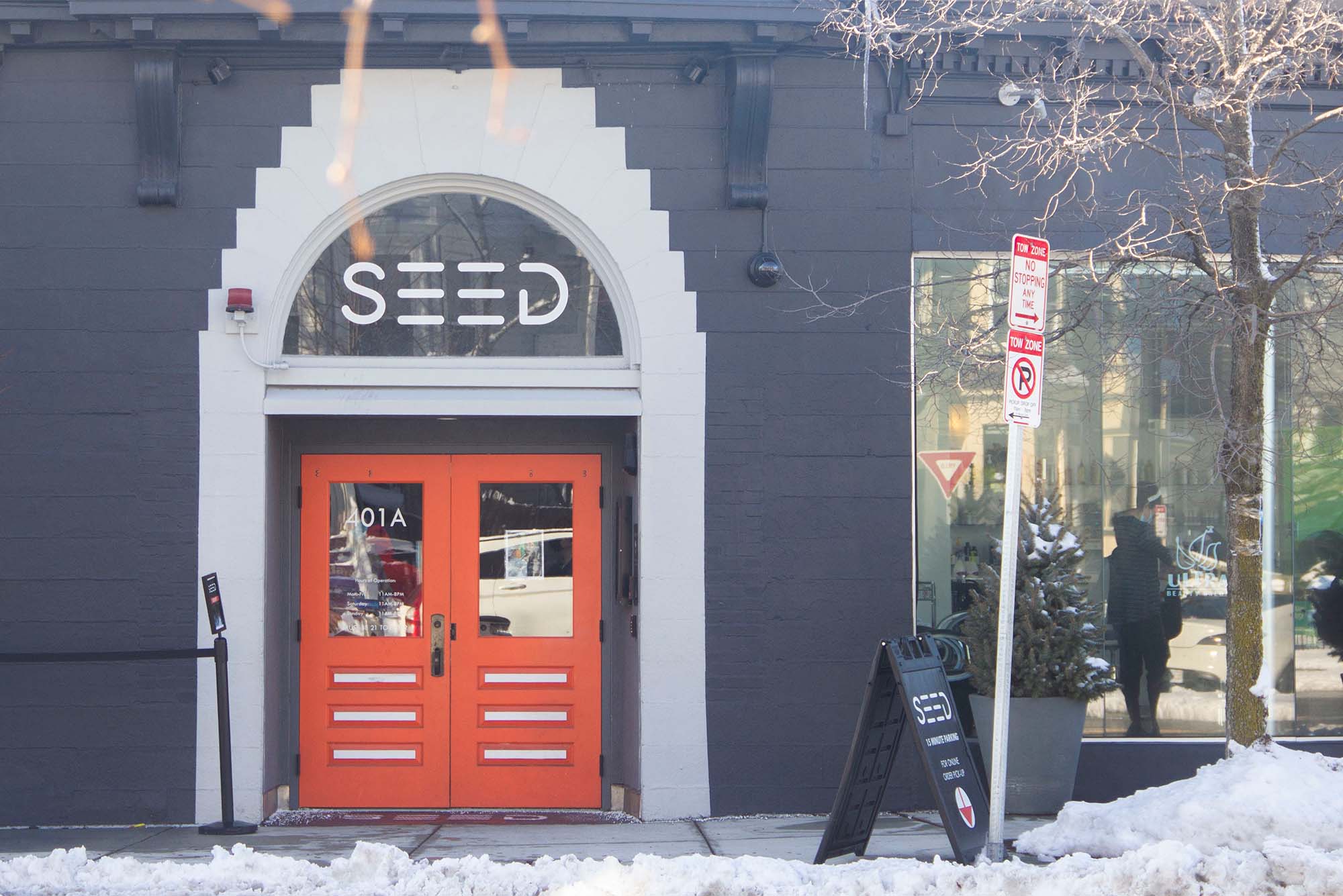 Focused on cannabis history and law, this museum may be the only one of its kind in the country, devoted to exhibits that illustrate, in its own words, how "decades of unsupported policies and the enforcement of the laws born of those policies have and continue to facilitate government overreach as well as create undue hardship in low-income and minority communities." Among the current exhibits is American Warden, which invites guests to sit inside an interactive jail and experience firsthand the visceral effects of incarceration. The museum, open daily for adults 21+, shares space with Seed, a cannabis dispensary that offers a range of vapes, topicals, tinctures, accessories, edibles, and more.
This casual neighborhood restaurant is packed no matter the night of the week with customers drawn to its casual American cuisine featuring appetizers like buffalo chicken wings baked brie and entrees that include mac and cheese, fish and chips, burgers, salads and more. Canary Square also offers more than two dozen draft beers and a wildly inventive cocktail menu. Outdoor seating is available seasonally.
This lively community space is the perfect stop for your coffee, baked goods, and music needs. Previously occupied by Monumental Cupcakes, the storefront now houses several local vendors, including: Lavender Bee Baking Company, a peanut and tree nut–free bakery that sells bars, brownies, scones, cakes, muffins, and pastries; Vinyl Index, a record store with a distinctive and diverse selection of vinyls; Greenhouse, which sells an array of funky houseplants; and other community partners. Monumental Market is a woman-owned enterprise that supports local artists and businesses. Visitors rave about the friendly atmosphere. Stop by and discover why Boston magazine named Monumental Market "best coffeeshop" in 2021.
The BYTE Shop does a little bit of everything with electronics: it's a repair shop, resale shop, and recycling shop. Services include computer hardware and software repair, data recovery and transfer services, iPhone screen replacements, game console repair, digitization services, and more. The knowledgeable staff will answer any of your technology questions, and you can drop off old electronics for recycling, too. The quirky studio is decked out in vintage computers and multicolored bar stools. The shop is also a computer history museum that traces the evolution of the home computer from 1965 to 1995 through one of the largest collections of historic home computers in New England.
This woman-owned independent bookstore specializes in the offbeat. Yes, you'll find the latest John Grisham bestseller here, along with a select choice of cookbooks, graphic novels, children's books, poetry, fiction, and nonfiction. You'll also find books by authors deemed overlooked by owner Kate Layte, a JP resident and former publishing executive, and books that are beautifully designed. The shop also sells a selection of Papercuts J.P. cards. Layte has an eye for the unusual. Cutlass Press, an independent book publisher dedicated to publishing cutting-edge books, also operates out of the store. One visit and you'll keep coming back.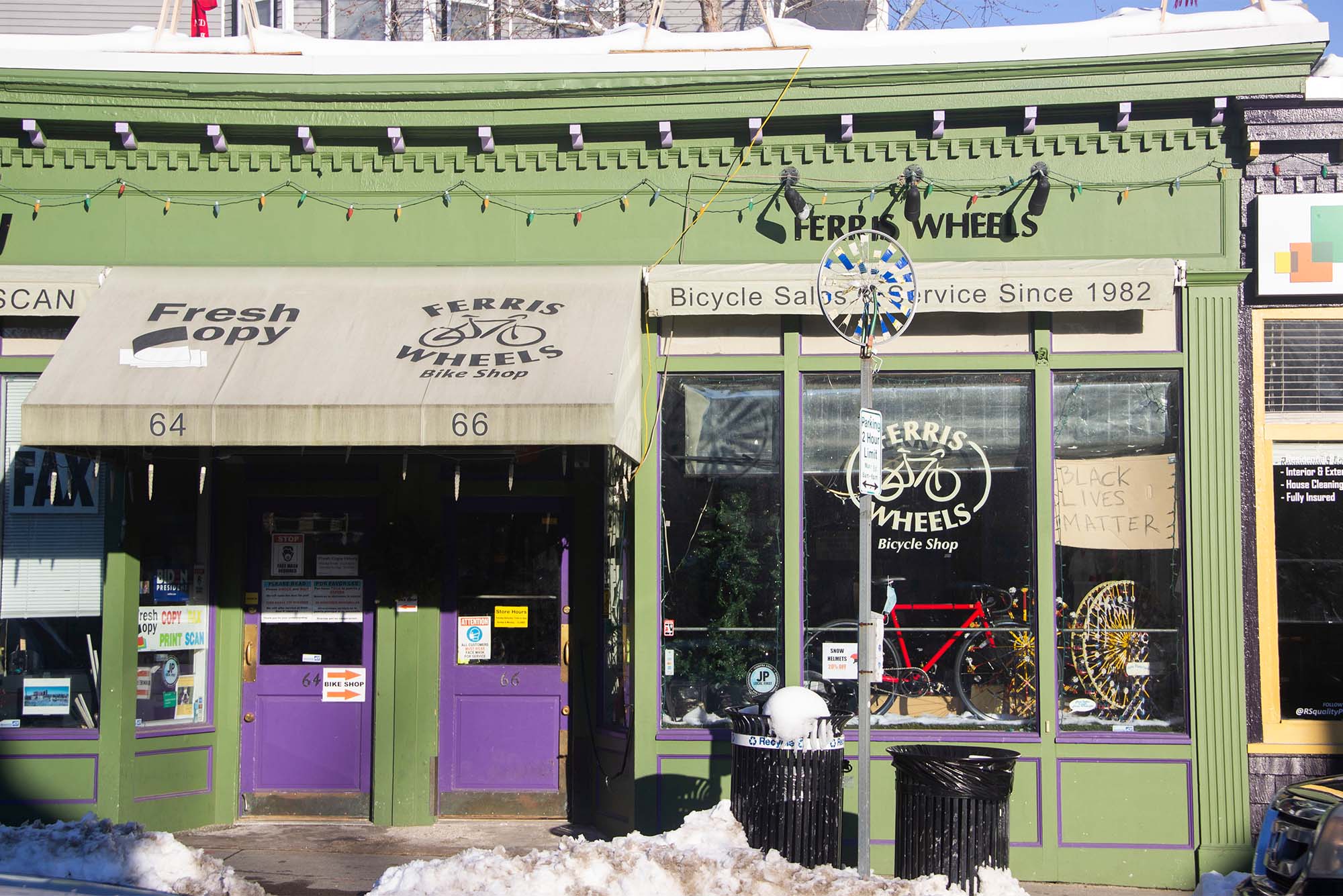 Ferris Wheels Bike Shop is a local do-it-all bike shop that has been selling and repairing new and refurbished bicycles since 1982. Services include ​​custom bike fittings, skate sharpening, and expert advice on road, mountain, and city riding, and the store sells clothing and parts and accessories. Ferris Wheels actively supports local biking safety advocacy groups and offers discounts for current members of groups including Bikes Not Bombs and the Boston Cyclists Union. Ferris Wheels also offers complimentary air and lubricating oil for customers.
Off the Beaten Path
This sleek, modern coffee bar, formerly known as 7 Pond Coffee Bar, got a new name and a makeover in 2021. The expanded menu includes mouthwatering pastries from Danish Pastry House in nearby Watertown, Mass., and artisanal espresso drinks made from beans roasted at Broadsheet Coffee Roasters in Cambridge. Seasonal drinks include a cardamom latte—made with cardamom syrup, espresso, and steamed milk—and a horchata latte featuring rice and cinnamon, and finished with sweetened condensed milk. The tiny shop is located at the corner of Pond and Centre Streets.
Video Underground (The VU) supplies Boston cinephiles with more than 17,500 independent films, including many you won't find online, and the knowledgeable staff adds films to the store's collection on a daily basis. The VU also offers local artists a chance to sell their work, such as buttons and tote bags. You can buy or rent DVD and Blu-ray films here, and the salesclerks will happily order, at no extra cost, any available title they don't have in stock. Films are categorized by subject, such as Comics & Superheroes and Cops & Criminals. Films are searchable on the store's website. But The VU is more than just a video store. They have a 24-seat microcinema where they host regular film screenings and a full-service coffee shop. The store is also a micro-batch coffee roaster and sells a wide range of coffee and non-coffee drinks.
A café by day, serving coffee drinks, biscuits, pastries made from scratch, and sandwiches, Brassica Kitchen + Café transforms at night into a hip, sophisticated restaurant that prides itself on its "fermentation-forward" food and drink. The innovative menu includes chef tastings and à la carte plates and is constantly changing to reflect the seasons. You'll find everything from koji risotto to garlic roasted squid with lemon and saffron to fried sweet rice with vegetables. Located within walking distance of the Forest Hills T stop, Brassica is open for dinner Wednesday through Saturday, and also features a popular weekend brunch.
This laid-back café serves breakfast all day, including omelets, eggs Benedict, avocado toast, pancakes, and French toast. Try the creative Wakeup Burger, which features a smashed burger topped with American cheese, bacon, and a sunny-side up egg. If you stop in for lunch or dinner, try a clam belly pesto flatbread pizza with fresh Ipswich whole clams, mushrooms, and cheese, or the Forest Hills triple decker sandwich with bacon, lettuce, tomato, and egg salad. The café also serves tea, hot and iced coffee, flavored espresso drinks, juice, smoothies, and hot chocolate. Evergreen Eatery and Café is open for breakfast, lunch and dinner from Tuesday to Saturday, and breakfast and lunch on Sunday (closed Monday).
Ula Café
The Brewery Complex, 284 Amory St.
This bakery and coffee shop carries fair-trade roasted coffee, espresso, and a wide selection of loose-leaf teas, as well as fresh sandwiches and pastries. The menu also features a selection of vegan and gluten-free options. The free Wi-Fi attracts many young professionals bearing laptops.
Getting there: The easiest way to get to JP is to take the #39 bus from Copley Square to JP Center. The bus takes you down Huntington Avenue to South Huntington Avenue, which merges onto Centre Street. Or take the MBTA's Orange Line to either the Jackson Square stop (for venues in Hyde Square) or the Green Street stop. The neighborhood is also within an easy bicycle ride; the Emerald Necklace bike path is one of Boston's best.
Click on the points in the map above for more information on the places listed in our guide to the Jamaica Plain area.
This Series
Also in
April 27, 2023

April 20, 2023

April 5, 2023