Dean of Students Jason Campbell-Foster Is Rarely at His Desk. And That's How He Likes It
DEAN OF STUDENTS
Dean of Students Jason Campbell-Foster Is Rarely at His Desk. And That's How He Likes It
"I want students to see me out and about, to recognize my flower lapel pin, and know that I'm someone they can talk to," he says
Jason Campbell-Foster's office on the second floor of the George Sherman Union is pretty sparsely decorated. There are a few framed photos on the shelves, colored sticky notes on his desk, some memorabilia from years spent at Boston University and (further back) Northeastern University—but otherwise it has the clean, minimalist look of a space that's unoccupied more often than not. And he expects it to stay that way.
"For me, it's all about access," says Campbell-Foster, who was appointed BU dean of students in May, after filling in on an interim basis since 2022. "I want students to see me out and about, to recognize my flower lapel pin, and know that I'm someone they can talk to, someone who is rooting for them. I want to meet them where they're at because I'm only good at this job if I understand our students' needs."
On an urban campus brimming with excited, anxious, ambitious, often homesick 18-to-22-year-olds—some who grew up a few miles away and others from halfway around the world—it's hard to imagine a more important role than dean of students. The dean oversees the Division of Student Affairs, a role that's among the most fundamental to the student experience at BU, and likely the most visible leadership role on campus. It's a huge job, requiring deft navigation of emotional peaks and valleys. It sits at the nexus where Student Activities, Orientation, Judicial Affairs, Residence Life, Disability & Access Services, voter registration, and resource centers such as the Howard Thurman Center for Common Ground and the Community Service Center connect.
Campbell-Foster joined BU as senior associate dean of students in 2019—a role that quickly expanded with the onset of the COVID-19 pandemic, when he oversaw the University's student-centered response. When Kenn Elmore (Wheelock'87), a beloved figure among BU students for more than 20 years, stepped down as dean of students to become president of Dean College in 2022, Campbell-Foster was tapped to fill the role on an interim basis.
Shortly after he started in his new role officially, Campbell-Foster says, he got some helpful advice from the BU Student Government: Student Senate members said they were looking forward to working with the new dean and offered suggestions for how best to foster that working relationship.
"One of the biggest pieces of that was basically: come and enjoy life with us," he recalls. "It was come celebrate our events with us. Students want to know that I see the value they bring to campus, and I can't do that by sitting at my desk. I can see it by sitting in the audience at their performances or catching a game at Nickerson Field."
And as a busy summer gives way to an even busier fall, Campbell-Foster is ticking down an ever-growing list of goals and initiatives to reorient his office toward students—their needs, their wins, their worries, their life at BU.
---

There are 32,000 students here that I strive to know, but I can't know them all, unfortunately. The best that I can do is get away from my desk, and go out and be in spaces where they are, and to talk to them and for them to get to know me. I have no desire to be up in an ivory tower all day.

---
Some of those initiatives are already in motion. This year's Matriculation, the annual event welcoming new students to the University, was followed for the first time by the Comm Ave Fest. The festival, which Campbell-Fosters hopes will be the start of a new tradition at BU, was an opportunity to unite the entire campus community and explore the varied offerings along BU's central artery.
Here's another one: students who come to campus early to participate in the First-Year Student Outreach Project (FYSOP), several days of community engagement, reflection, and service, cannot participate in the last new student Orientation session because they're busy with community-service projects. This year, Campbell-Foster worked with BU's Community Service Center to create special orientation sessions specifically for FYSOP students so they could do both in the same week without missing a beat.
"Leading with heart, experience, knowledge, and compassion"
Campbell-Foster and his staff are also working to create a formal Dean of Students Student Cabinet, comprising student representatives from all areas of the campus community. The cabinet would meet regularly with Campbell-Foster to discuss issues and ideas and just to get to know each other.
"There are 32,000 students here that I strive to know, but I can't know them all, unfortunately. The best that I can do is get away from my desk and go out and be in spaces where they are, and to talk to them and for them to get to know me. I have no desire to be up in an ivory tower all day," he says.
In that vein, he plans to attend the first home games for BU's myriad sports teams, bringing his son along to root for the Terriers.
These are some of the early changes, but the new dean and his colleagues are always on the lookout for ways to restructure systems, reorganize services, and refresh staid traditions at the University so they serve students better.
To that end, Campbell-Foster recently hired a director of student services, a new role that will help to centralize the web of services any given student might encounter, he says. Delcenia Collins, hired from the University of Texas at Austin, "has already hit the ground running," he says, helping students manage a variety of issues before they even move onto campus.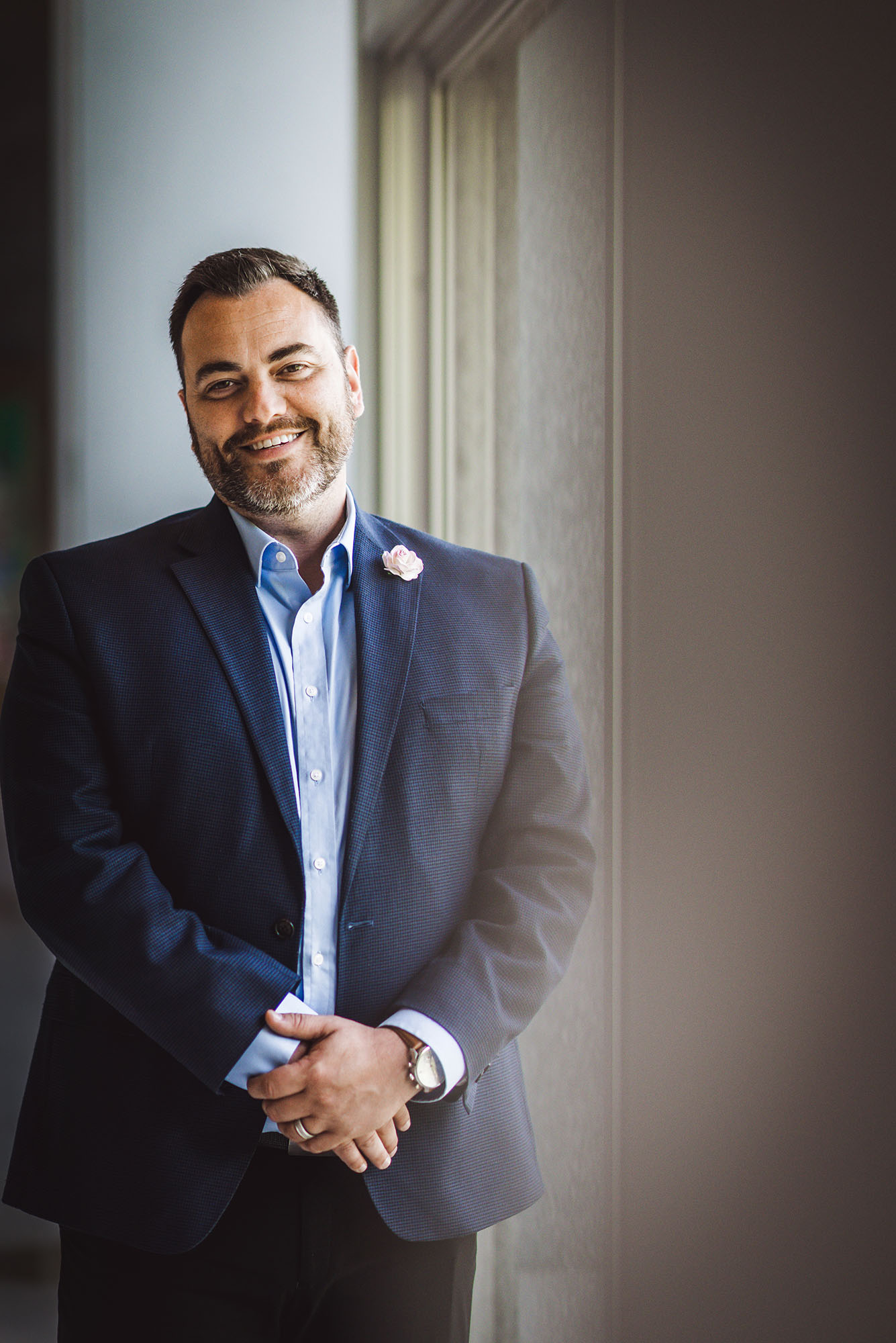 And then there are other, longer-term projects Campbell-Foster and his team are overseeing, such as the opening of BU's new LGBTQIA+ Student Resource Center and the search for its director. Set to open this fall, the center will be the University's first professionally staffed resource center for LGBTQIA+ students at BU and will be housed on the second floor of 808 Commonwealth Ave., near the existing Howard Thurman Center for Common Ground and the LGBTQIA+ Center for Faculty & Staff.
"This has probably been one of the more exciting things I've had a chance to engage with here at BU," Campbell-Foster says.
It also represents exactly the kind of student-driven collaboration he seeks to foster. The center comes after years of student advocacy for such a space, and student input has been incorporated into everything from the flexible design of the physical space to the qualities the new dean's team is seeking in its inaugural director.
"We're looking for someone who can not only advocate for students and who has a deep love and appreciation for this work—which is hard work—but somebody who is entrepreneurial," he says. "It is so rare to be able to be an inaugural director in a center like this that we need somebody who's going to be able to come in and really be innovative and build something from the ground up."
Campbell-Foster is hiring for other critical positions within the Student Affairs ecosystem, as well. He's in the middle of a search to fill the senior associate dean of students position, and he's just hired an associate dean of students, Nancy Martinsen, who comes from Cornell University. She will oversee the connectivity among the new LGBTQIA+ Student Resource Center, the Howard Thurman Center, the Community Service Center, and Student Outreach and Engagement.
"With her at the table, we're now thinking about the connectivity between these centers," he says. "We have these very impressive spaces where students explore their identity, participating in social justice initiatives, where they're getting to understand more about the people around them. How do we get them to move freely between these spaces?"
Mostly, Campbell-Foster says, he's looking forward to the long lens that his permanent position in the dean's chair affords him. As interim dean, "the job was to keep the trains running," he says. But now? He has the freedom to develop ideas that can continue to grow and change—and serve students—for the next 30 years.
"I used my time in the interim to try to figure out what kind of a dean I would be. What's my identity in this role? What does it mean to be the dean of students here at BU? It turns out that what I'm most looking forward to is actually being the best version of myself that I can be, and leading with heart, experience, knowledge, and compassion," he says.
"And most of all, making sure that students and staff feel seen and heard, feel supported, and know that they have somebody here cheering for them."