Dean of Students Kenneth Elmore Leaving BU to Become President of Dean College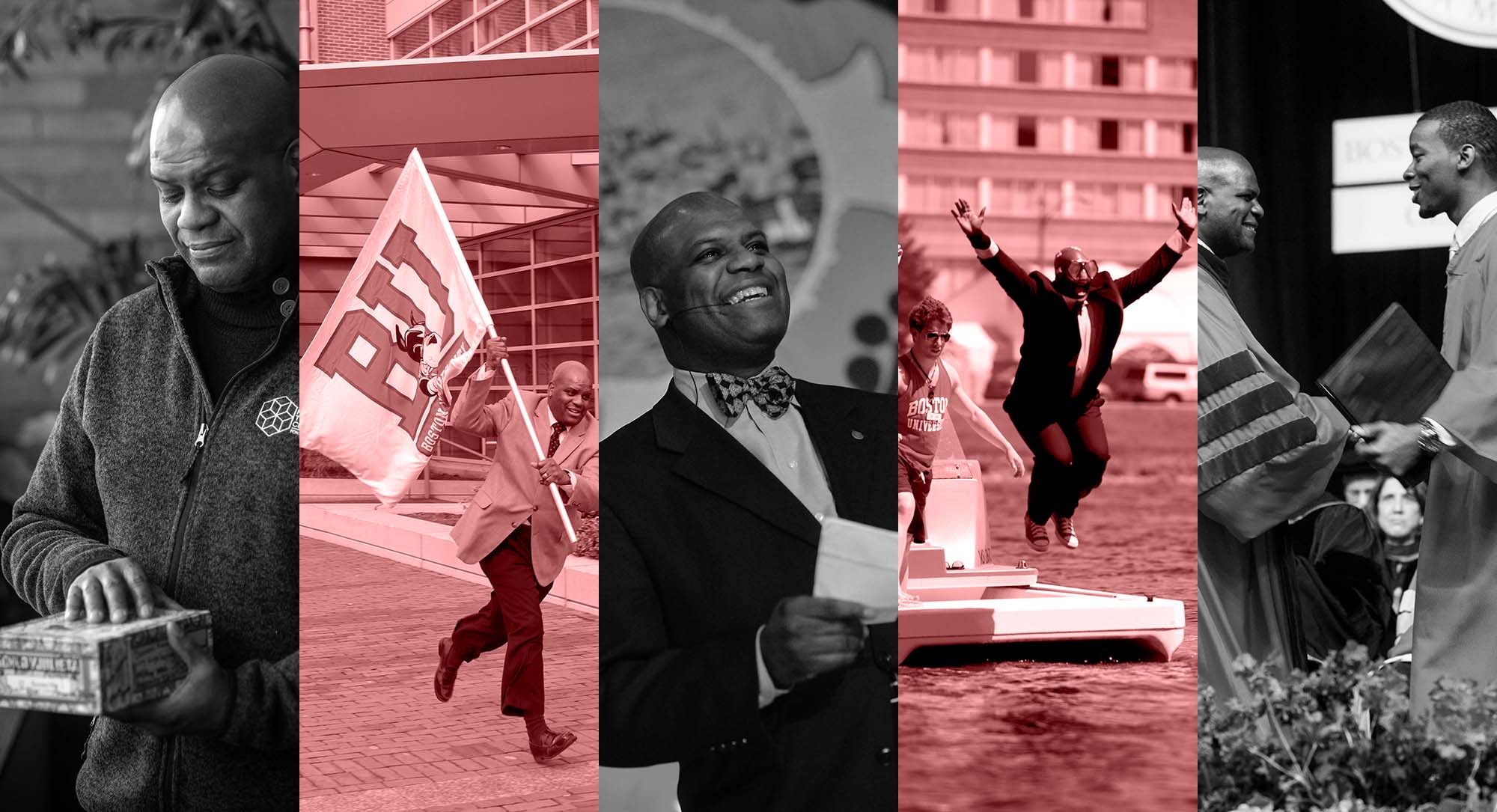 University News
Dean of Students Kenneth Elmore Leaving BU to Become President of Dean College
Whether leaping into the Charles River or comforting a grieving family, he's been the face of BU for the student body for two decades
With his signature bow ties, his boundless energy and broad smile, and an unwavering devotion to the student experience at Boston University—from celebratory to sad—Kenneth Elmore, associate provost and dean of students, has been BU's most visible campus leader for nearly 20 years.
Now Elmore (Wheelock'87) is leaving to become president of Dean College, a small private school with 1,200 undergraduate students in Franklin, Mass., about an hour southwest of BU. Starting July 1, he will replace Paula Rooney, who is leaving Dean College after 27 years as president and who recently saw a student hub renamed in her honor—the Dr. Paula M. Rooney Student Center.
Jason Campbell-Foster, BU's senior associate dean of students, will serve as interim dean during the search to replace Elmore.
Elmore was appointed to his role at BU in 2003, after managing Orientation programs, campus activities, and residence operations. As dean of students, he has been on the front lines of the most exciting and momentous traditions for the University's 30,000-plus students, from the nervousness at Orientation to the pomp and circumstance of Matriculation to the high spirits and celebration at Senior Breakfast. But in his role, Elmore has also been the public face and voice for the student body when sadness, tragedy, or disgruntlement has blanketed campus—the first person to comfort a grieving family after a student's death, the target of student ire when a campus figure, decision, or event comes under attack.
Through it all, Elmore never seemed to lose the bounce in his step, reveling in the energy of the student experience and connecting with Terriers on the platforms where they spend the most time (like with this Spotify playlist he created).
"I really got to witness this range of what human beings are about," Elmore tells BU Today in an interview this week. "I have been a student of human beings—they always teach me something new. They are messy, but also they know how to celebrate. For me, that's what it's all about, this unconditional love we have to show for other human beings."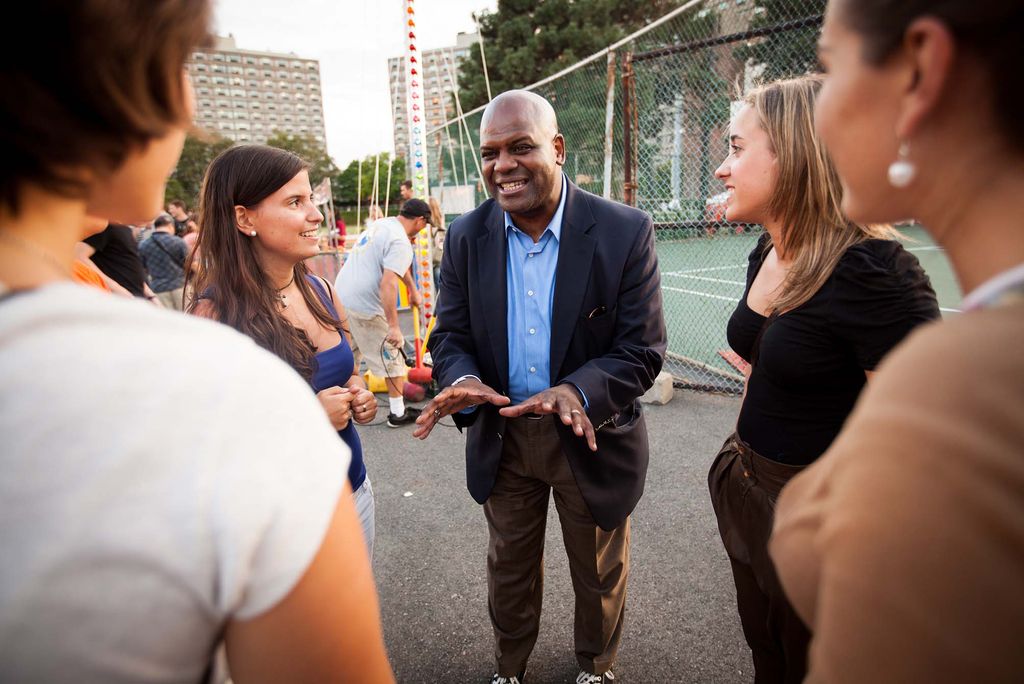 BU President Robert A. Brown calls Elmore "an extraordinary dean of students who has served in extraordinary times," lifting the University through the aftermath of 9/11, the 2013 Boston Marathon bombings, and individual tragedies within the BU community. "He has worked tirelessly to make student life on our urban campus fulfilling, lively, and safe," Brown says. "And he has been the inspiring and entertaining orchestrator of our Orientation programs and other events on campus."
Brown also acknowledges one of Elmore's many fashion quirks: "Kenn has earned the opportunity to lead an institution, and he will bring to Dean College his energy, his great empathy for young people, and his penchant for distinctive footwear."
Jean Morrison, BU provost and chief academic officer, says that Elmore has done more for BU than represent student voices and interests. "He has been an important voice in our efforts on diversity, equity and inclusion, free speech, and the importance of voting," Morrison says. "I am delighted for Kenn in his new leadership role, but we will miss him."
In 2019, he was among 17 professors and administrators nationwide named Pillars of the Profession by the National Association of Student Personnel Administrators. Brown had this to say about Elmore in his nominating letter: "With verve and panache, he leads our summer orientation sessions. Parents and students alike rave about the spirit generated in these sessions even as much practical information is conveyed. When there is a student demonstration, he leads from the front lines."
One of the hardest moments in his tenure as dean of students came when BU student Lu Lingzi (GRS'13) was among three people killed in the Boston Marathon bombings, which injured hundreds of others. As grief enveloped the campus, Elmore helped orchestrate tributes and services to Lingzi, including a BU community-wide competition for runners to compete in the 2014 Marathon in her honor.
"That was so difficult," Elmore reflects. "I saw it as an attack on young people and youth. We lost a student, but we also lost so much more. We had volunteers who were students, faculty, and staff members out there, too, and they lost something. They lost their edge, their will, and we had to deal with that. I will never forget that. I still remember it day by day, minute by minute."
Elmore, whose parents grew up in the segregated South, has often talked about how important attending college was in his family. He says he feels fortunate that his energy and rhythm jibe so well with today's students.
"They come from all over the world, from different perspectives," he says. "Students introduce you to the world—I took that for granted. All these perspectives: you have to be wide-eyed about that. They can teach you stuff. They taught me plenty about understanding human beings. That energy they have is a gift."
And he acknowledges the hardships of his role, most recently, when Shiney James, BU's director of Orientation, resigned following an investigation into her behavior with student workers. "The personnel challenges—this is still a workplace," he says. "You have to deal with the workplace issues that come up, the way people run their lives."
He also talks about how social media has had an increasing role on campus, serving to both unify a campus but also to create divisiveness. Another challenge, he adds, is still ongoing: "COVID has been the biggest challenge of anyone's career."
But he prefers, he says, to think about BU's most honored traditions that have brought him immense joy year after year, especially the University's annual Matriculation and Commencement ceremonies. "Those are unforgettable: a point of pride to be able to see my staff coming together for students who are starting their careers here."
As for his next chapter, Elmore says that he and his wife, Abby Borodach Elmore (CAS'86) (they met while studying at BU in the 1980s), whose two children are both grown, will move from Brookline to Franklin this summer.
And he is honored to follow in the footsteps of Rooney. "She had such a steady hand at Dean College," he says. "It's such a good place. It piqued my interest so much, and I am just excited about joining a new community and a community of people we have to help get to the next level."
Mark Boyce, the chair of the Dean College Board of Trustees, describes Elmore as a "a dynamic, thoughtful, and visionary leader, whose values, vision, and commitment to student success align with Dean's mission.
"We are confident that he will do a tremendous job as president and are extremely excited for him to begin his tenure."