Noted Alumnus–Comics Artist Joel Christian Gill Launches BU's New Visual Narrative MFA Degree
BU alum has written and illustrated acclaimed graphic histories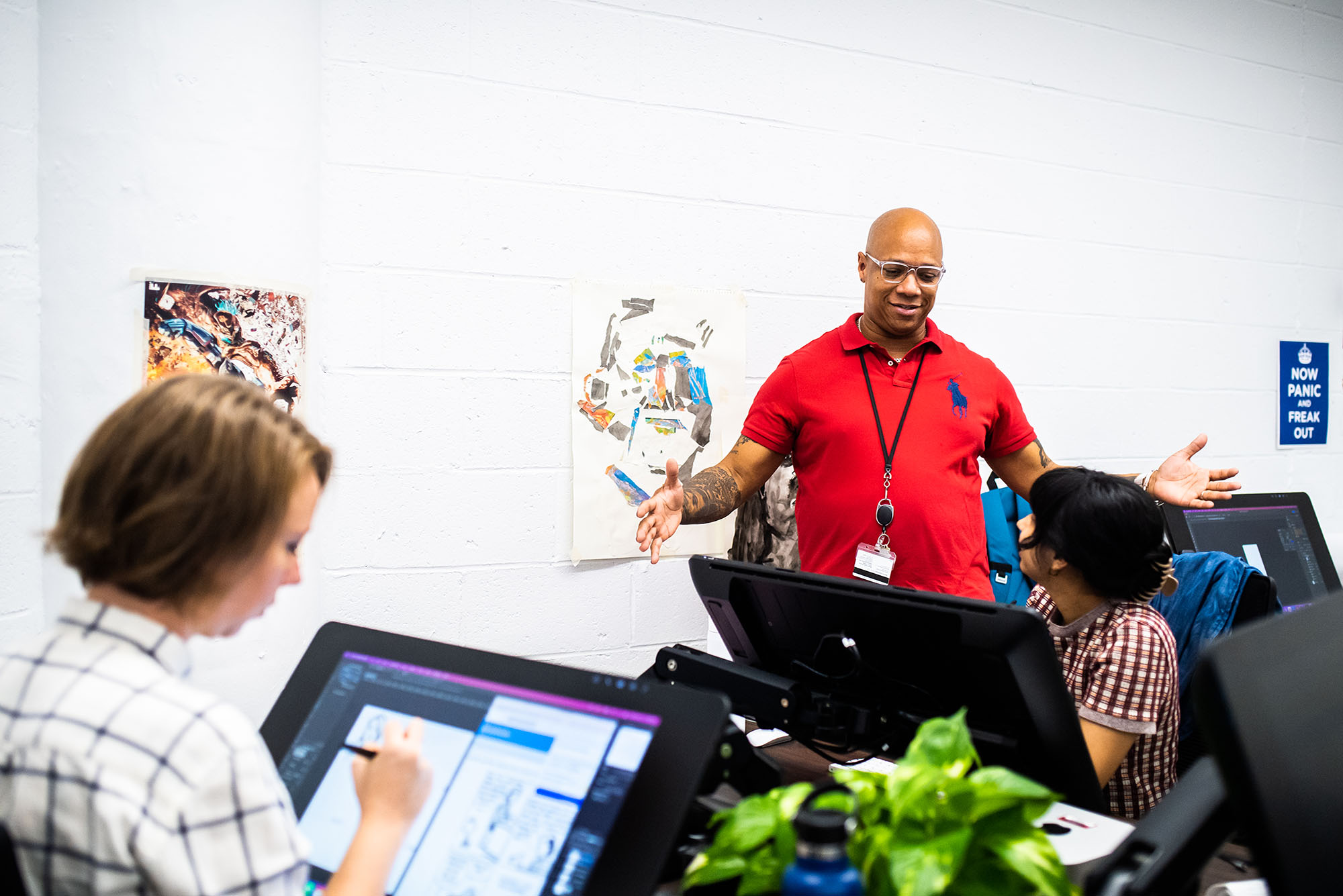 Academics
Comics Artist Joel Christian Gill Launches BU's New Visual Narrative MFA Degree
BU alum has written and illustrated acclaimed graphic histories
Joel Christian Gill won't get angry if you call him the author of "comics" rather than "graphic books."
Either way, the College of Fine Arts associate professor of art and alum (CFA'04) has won raves for histories like Strange Fruit, about little-known heroic African Americans. He has worked as an animator, too, ranging from a Super Bowl ad to NPR's StoryCorps. Gill's skills are embraced by fellow academics like Ibram Kendi, founding director of BU's Center for Antiracist Research, with whom Gill is producing a graphics version of Kendi's National Book Award–winning Stamped from the Beginning, publishing June 6.
This and other partnerships are part of Gill's job as director and faculty member, along with Paul Karasik, lecturer in art, of BU's new Master of Fine Arts in Visual Narrative program. There are about 10 such MFA programs in the country, he says. 
The program drew 11 students for last fall's debut. They study with Gill in a third-floor classroom at the 808 Gallery that, befitting a new endeavor, evokes a start-up, with its undecorated industrial walls and workstations with black digital drawing tablets. (Plans for more space and adjunct instructors are in the works.) The degree is for illustrators interested in producing media such as comics and graphic books, picture books, and animation.
The program's key goal for students is "learning to tell a story, both visually and in the written word, and that interplay between word and image," says Dana Clancy, director of CFA's School of Visual Arts and an associate professor of painting.
Demand led to the new program even before the recent doubling-and-then-some of sales of graphic novels and comic books. About four years before that, Clancy's drawing students were telling her, "'We'd like to have a degree like this.'"
Great minds think alike, and as Clancy mulled her students' request, Gill spoke with Harvey Young, CFA dean, shortly after he became dean in 2018. "'You should start an illustration program, and I can come and run it.' I told him that," Gill recalls. Shortly after, CFA asked Gill's help in designing the Visual Narrative MFA. He got the director's job after a two-year search that attracted several applicants, Clancy says.
Gill expected fewer students to matriculate for such a new program. But BU stood out from the other two schools Ella Scheuerell (CFA'24) applied to. "It is truly a storytelling program that integrates all parts of comics together—words and drawings—rather than simply taking those classes separately," she says. "Being part of a brand-new program is also an incredible opportunity to provide input and help build the foundation of a new curriculum and community."
Scheuerell hopes to publish graphic novels and web comics, and perhaps teach, after graduation.
Ariel Kohane (COM'22, CFA'24) aspires to animation work. Her valued undergraduate education at BU put aside any concerns about the newness of the MFA, she says. Plus, "I've always loved to draw and tell stories, and this program places importance on both aspects of comics."
"Trying to change the world"
The new two-year degree taps Gill's expertise particularly in the first year of study, which focuses on cartooning nonfiction. That's a different proposition from just writing it, he notes, with an example from his work with Kendi. "When Ibram wrote, Cotton Mather did [some] thing, he didn't have to wonder to himself what kind of shoes he was wearing. But when I drew a picture of Cotton Mather, I had to research 'puritanical shoes.'"
Explaining why he took the directorship, he says he's "a cartoonist trying to change the world." Helping students to craft stories that change readers' understanding, as he does in his books about unknown African American history, was an opportunity too good to pass up. "How many times, as a cartoonist who teaches, do I get to run an MFA program?
"The best way to change someone's mind about any given subject is to connect with them on a personal level," he adds. "And how do you connect on a personal level? You tell them a story. Comics has this amazing ability to actually activate that portion of us.…You read these things and you internalize them and you're just like, Oh my God, I get it now."
---

I'm a cartoonist trying to change the world.

---
That realization led Metropolitan College's Kristine Artello, a visiting associate professor of criminal justice, to a collaboration with Gill's students, who will illustrate her students' papers on systemic justice failures. Among the cases they'll work on: George Floyd's 2020 murder; the 1990s beating of Rodney King by police officers, whose acquittals touched off protests that left Los Angeles in shambles; a New York cop who moonlighted as a mob hit man; and corruption in New York City's Rikers Island prison. (That last one is fertile ground for scholars. "You can choose what day of the week you want to talk about what's going on at Rikers," Artello says.) Gill hopes to assemble the comics into a book that will be published.
For her students, Artello says, the collaboration is a chance to reach audiences who might be tuned out from news about public corruption: "If you were able to meld visuals with the words, you're going to expand the number of people who are reading and understanding what's happening.…In my field, being able to reach more people and explain and break things down is something that we've been struggling with."
Other corners of the University delve into the art of comics. For example, in The Graphic Novel, an English department class studies the genre's rise and style, and the teaching interests of Davida Pines, an associate professor and chair of rhetoric at the College of General Studies, includes graphic narrative. Also, Gill says, "The Gotlieb [Archival Research Center] has—there's no better way to say this but a sh- -ton of comics," from Al Capp's work to Little Orphan Annie, as his students discovered on a tour of the archives this past fall.
Gill has also probed possible collaborations elsewhere for his students, including Kendi's center and The Emancipator, its online news site with the Boston Globe. His efforts exemplify the type of initiative that his students will need to succeed in cartooning, he says: "My son, who decided he wanted to buy this house that he saw on Martha's Vineyard, has decided that he's going to be [in] cybersecurity. That is a lucrative field. When he graduates, Microsoft and those people are going to be showing up with suitcases of money, asking him to do this. Cartooning is a little different. There are suitcases of money out there, [but] you've just got to shake every tree, and [look] under every bush."
And have a thick skin. As program director, Gill moderated an October discussion about book banning efforts in the United States, featuring graphic novelists on the panel whose work has been banned. It was a dry run for the reception he anticipates in some quarters to his graphics version of Kendi's book.
"It is going to be banned," he says with a laugh. "I mean, that's like a no-brainer."