Make the Most of Labor Day Weekend with These Local Events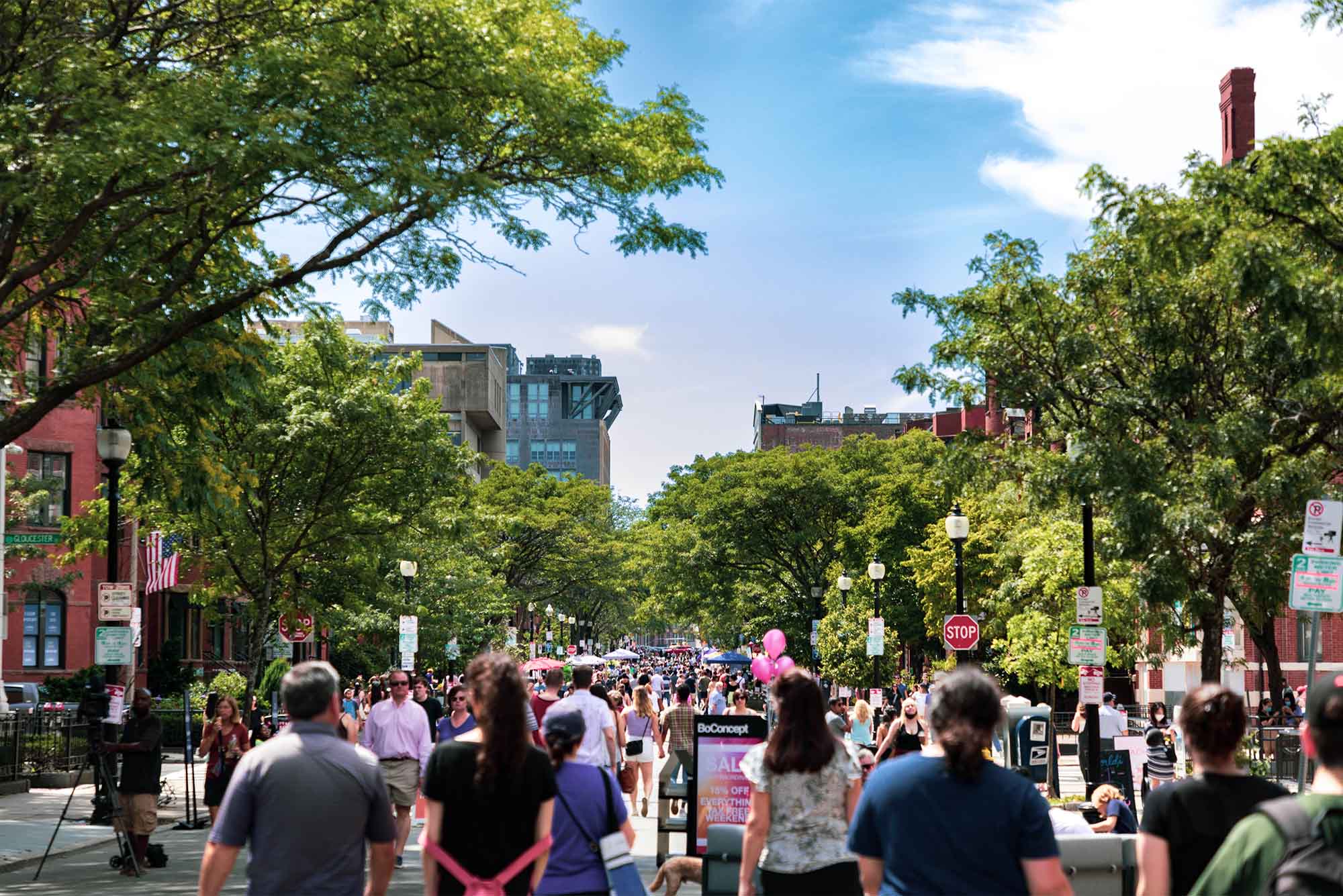 Things-To-Do
Make the Most of Labor Day Weekend with These Local Events
Celebrate the start of the fall semester with Weeks of Welcome or head into Boston for fireworks, an outdoor movie, and the iconic Swan Boats
The new semester is just around the corner, but there's still a few more days of freedom to enjoy. Labor Day, which became a legal holiday in the United States in 1894, is meant to honor the history of production and advancement made possible by generations of American workers. In 1887, Oregon was the first state to pass a law recognizing Labor Day as a holiday, with Colorado, Massachusetts, New Jersey, and New York following close behind. Since then, celebrations have featured parades, picnics, fireworks, and more.
It's a packed weekend with something for everyone, and BU Today is here to help you find the best ways to enjoy it.
Important note: make sure you bring your BU ID to any Weeks of Welcome events.
Thursday, August 31
There are tons of events from BU's annual Fall Weeks of Welcome, sponsored by the Student Activities Office (SAO) and Campus Activities Board (CAB). Start it off by making your way to the BU Beach at 8 pm for a free screening of the new live-action Little Mermaid (2023). Bring a blanket, some snacks, and some new or old friends for a night under the stars. There's much more to come, so keep an eye on the SAO and CAB Instagram accounts for more events.
Labor Day Fireworks
Every year, fireworks illuminate the sky above Boston Harbor to commemorate Labor Day. People clamor for good viewing spots, so be sure to stake your claim before the show starts around 8:30 pm. Best places to watch from shore: Christopher Columbus Waterfront Park (100 Atlantic Ave.), Long Wharf (66 Long Wharf), and the Downtown Waterfront. Settle in with a blanket and enjoy a beautiful show.
Friday, September 1
Who doesn't love free food and drinks? Starting at noon on the BU Beach, new and returning Terriers can find tons of snacks and lawn games—a perfect way to spend the day before the semester gets going. Meet a new friend or reconnect with some you haven't seen in a while.
Head to the Boston Common Frog Pond for a free screening of The Super Mario Bros. Movie (2023). Watch iconic characters Mario (Chris Pratt) and Princess Peach (Anya Taylor-Joy) fight the evil Bowser (Jack Black) and find Luigi (Charlie Day). Hosted by the Boston Parks and Recreation Department, the Mayor's Movie Nights are a chance to unwind and enjoy a movie outside under the stars. The show begins at dusk, but be sure to head to the Common early (with chairs and blankets) to stake your claim. No preregistration necessary, just sit down and enjoy!
Saturday, September 2
Release some of your Move-in stress with a yoga session under the sun—a free FitRec yoga class at 10 am on the BU Beach. Research by the BU Chobanian & Avedisian School of Medicine supports the numerous benefits of yoga, finding that even one session can mitigate symptoms of depression and anxiety. Whether it's your millionth yoga class or your first, this event is perfect for you. As an added bonus, the first 100 people will get a free beach towel—but be sure to bring your own as a backup.
Labor Day Weekend is your last chance until spring to experience the iconic Swan Boats. The family-owned-and-operated business has been around since 1877 and remains a staple of Boston culture and a beloved excursion for all ages. The Swan Boats can fit up to 20 passengers, with a single driver pedaling from behind a large swan-shaped bow. Tickets for the 15-minute ride at the Swan Boat deck (no advance tickets are offered) cost $4.50 for adults, $4 for seniors (65+), $3 for children aged 2-13, and free for children under 2. The boats are open from 10 am to 5 pm daily, weather permitting, with September 4 the last day of the season.
At 10 pm, Terriers will take over Fenway's Time Out Market, a favorite of students and born-and-bred Bostonians. Browse some of Boston's finest bites, like Ms. Clucks Deluxe (a modern twist on chicken and dumplings) and Taqueria El Barrio (authentic Mexican fare). Save room for some gelato from Table Caffe or a gourmet donut from Union Square Donuts. Be sure to get there early because the first 1,400 students get a $20 gift card.
Sunday, September 3
Each summer Sunday, the City of Boston closes Newbury Street to traffic, allowing pedestrians free rein. The program began in 2016 as a single Sunday in August, but because of its immense success, Open Newbury is now held each Sunday from July to mid-October. It's a hustling, bustling, perfect way to end your summer, so be sure to check it out before the temperature drops.
Celebrate the inaugural Comm Ave Fest, kicking off the new academic year. Take a stroll around campus and stop at any of the seven locations hosting events: Nickerson Field, CFA parking lot, Booth Theater, GSU Plaza, Marsh Plaza, BU Beach, and COM Lawn. The GSU Plaza has a pop-up shop for last-minute dorm needs or an addition to your wardrobe. Not in the shopping mood? Check out the Cultural Kaleidoscope at the Booth Theater to hear about the BU community and enjoy some snacks and music. Eager to meet other Terriers and play games? Look no further than the BU Beach Bash, where you'll find a DJ playing all your favorites, plus snacks and carnival games. The fun begins at 3 pm; find more information here.
Terrier Tailgate and Men's Soccer Game vs. UMass Lowell
At the annual Terrier Tailgate, part of Comm Ave Fest, show off your BU spirit ahead of the men's soccer game against UMass Lowell. The gates to Nickerson Field open at 3 pm and the game begins at 4, so get there early to enjoy free food, music, giveaways, and more. Then hit the stands to watch the men's soccer team take on the UMass Lowell River Hawks.
Following the Comm Ave Fest, head over to the House of Blues, 15 Lansdowne St., Boston, at 7:30 pm for the Welcome Back Bash. Just a short walk from campus, the House of Blues sits right next to Fenway Park and hosts talented acts nearly every night. BU is taking over the famous locale for a night of dancing, free food, and nonalcoholic drinks. Listen to some amazing music spun by DJ Master Millions and kick off a rockin' semester.
Monday, September 4
Labor Day offers your last chance to head to Seaport to see the Simone Leigh exhibition. Leigh, born in 1967, works mainly in bronze, clay, and video, prominently focusing on the experiences and contributions of Black women. The incredible touring exhibition features select pieces from Leigh's presentation at the 2022 Venice Biennale. The exhibition's last day at the ICA is September 4, so it's a great time to check out this incredible work.
The ICA also has many other exhibitions on view, such as Tammy Nguyen (which opened on August 23), featuring paintings, artist books, publications, and more from the interdisciplinary artist. Explore these amazing artists and be sure to grab a bite in the chic Seaport neighborhood.