Students Create Ads for Chobani, Celebrity Cruises, and More
AdLabbies awards ceremony honors best student work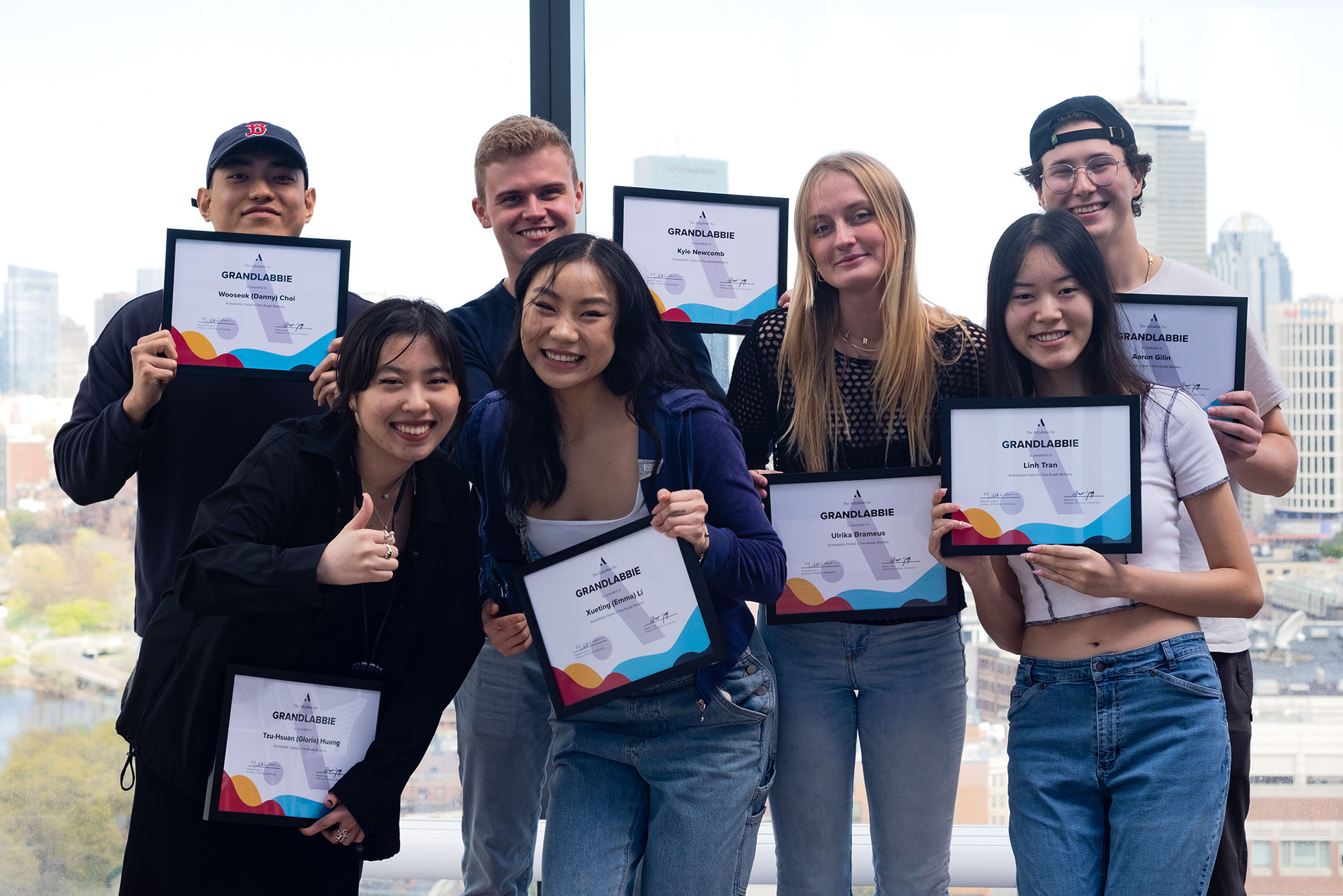 Accolades
Students Create Ads for Chobani, Celebrity Cruises, and More
AdLabbies awards ceremony honors best student work
For nearly 50 years, Boston University's AdLab, the largest student-run advertising agency in the country, has enabled students to produce advertising campaigns for real-world clients. Their year culminates in the AdLabbies, a semiannual event recognizing students' best work. The spring awards were held at the Center for Computing & Data Sciences building in May.
"The AdLab is meant to be very reflective of what the agency environment is like: the meetings you go to, the feedback you get, the challenges you face," says AdLab faculty advisor Shawn Zupp, a College of Communication professor of the practice of advertising. "The hope for the experience is that [students] get a tremendous sense of reality."
AdLab worked with a number of clients this semester, including Chobani, ASICS, Sallie Mae, and Celebrity Cruises. And most clients end up using the students' work in their professional marketing campaigns, Zupp says.
This year, for the first time, AdLabbies is not only celebrating student work, but also honoring shoe brand ASICS for partnering with AdLab and its loyalty to the program. Lauren Thimmesch (COM'16), a former AdLab member who is now the head of creative at ASICS Apps, says her experience in the program was so valuable in her career. "When I got out into the real world, I realized how helpful it was," Thimmesch says. "I had a leg up over other people because I practiced it before."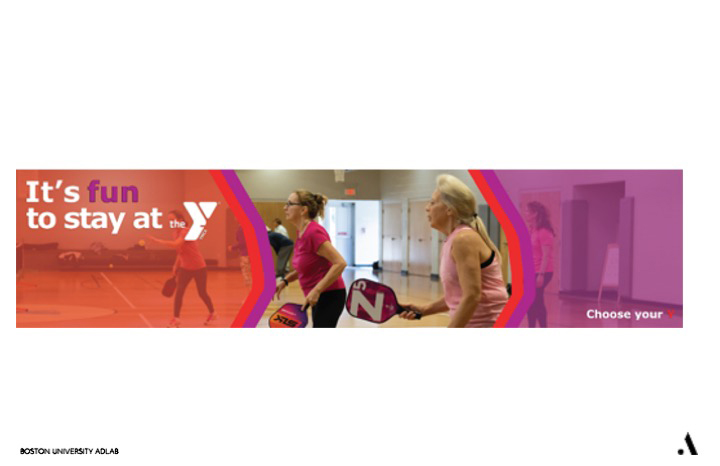 AdLab faculty advisor Michelle Sullivan (COM'95), a COM professor of the practice of mass communication, advertising, and public relations and associate dean, says it's gratifying when AdLab alumni ask her to refer current AdLab students to do work for their companies. "When you graduate from AdLab, you hit the ground running," Sullivan says. "It's not a class. It's really [students'] first job in the ad industry."
GrandLabbie recipient and AdLab account executive Aaron Gilin (CGS'21, COM'23) says AdLab has changed the way he collaborates with others. While he used to prefer working alone in order to have control of his finished work, he says, he stopped this practice in AdLab. "Giving that feeling up, and letting [my teammates] do what they are here to do has shown me just how amazing the power of teamwork can be in a professional setting and in a personal setting," says Gilin.
Joseph Egan (COM'23), AdLab vice president, says while he is worried about finding a job, he is excited to graduate ands he feels fortunate to have had his AdLab experience, as it is a way to stand out among graduates just entering the job market.
Despite market challenges, Zupp says, he believes participation in the AdLab program will position students well because they have been "thrown into an experience that isn't far removed from the real agency culture.
"If you're a talent recruiter, you have to place bets on the people you hire," Zupp says. "That [AdLab] student is maybe a safer bet." Students also benefit from AdLab's large alumni network, he says.
Taylor Garrett (COM'23), president of AdLab, says the organization has been the "absolute best experience" of her college career.
Overall, 95 COM advertising students earned nominations across 12 categories for their work on behalf of clients. Below is a full list of the winners:
Account Management—Best Client Relationship
Bernice Guingona (CGS'21, COM'23), Boston Symphony Orchestra
Account Management—Greatest Problem Solver
Aaron Gilin (CGS'21, COM'23), Remarkable Digital/Two Roads Brewery
Project Management—Most Efficient
Mishel Chen (Questrom'24, COM'24), ASICS, Red
Project Management—Best Team Building
Wooseok (Danny) Choi (COM'24), Remarkable Digital/Two Roads Brewery
Strategic Planning—Best Research Learning
Yuchen Wu (COM'24) and Skye Patton (CAS'24, COM'24), CommCreative/Carpet One Floor & Home
Strategic Planning—Best Campaign Strategy
Yeeli Zhao (CGS'21, COM'23) and Lydia Chou (COM'23), Boston Symphony Orchestra
Creative—Best Copywriting
Caylie Poola (COM'24), Celebrity Cruises
Creative—Best Art Direction
Yuqing (Frank) Wu (COM'23) and Mei Mei Heipler (COM'24), Gleason Family YMCA
Creative—Best of Show
Yuqing (Frank) Wu (COM'23), Mei Mei Heipler (COM'24), Karen Azrak (COM'23), and Natalia Arbulu (COM'24), YMCA
Brand—Best Marketing Approach
Yinglin (Miu) Miao (COM'24)
Brand—Most Progressive Initiative
GrandLabbie: Remarkable Digital/Two Roads Brewery Team
Aaron Gilin (CGS'21, COM'23)
Xueting (Emma) Li (COM'23)
Wooseok (Danny) Choi (COM'24)
Kyle Newcomb (COM'23)
Linh Tran (CAS'23, COM'23)
Hyunji Kim (COM'24)
Ulrika Brameus (CAS'24, COM'24)
Tzu-Hsuan (Gloria) Huang (CFA'26, COM'26)
Client—Outstanding Client Partnership
ASICS, Lauren Thimmesch (COM'16), Head of Creative, Digital Activation