14 BU Construction Projects, from Updated Classrooms to a New Robotics Space to Fresh Paint and Carpeting
A renovated Kilachand Hall study space, an improved sprinkler system at the GSU, the new LGBTQIA+ Student Resource Center, and much more among the capital improvements visible across the University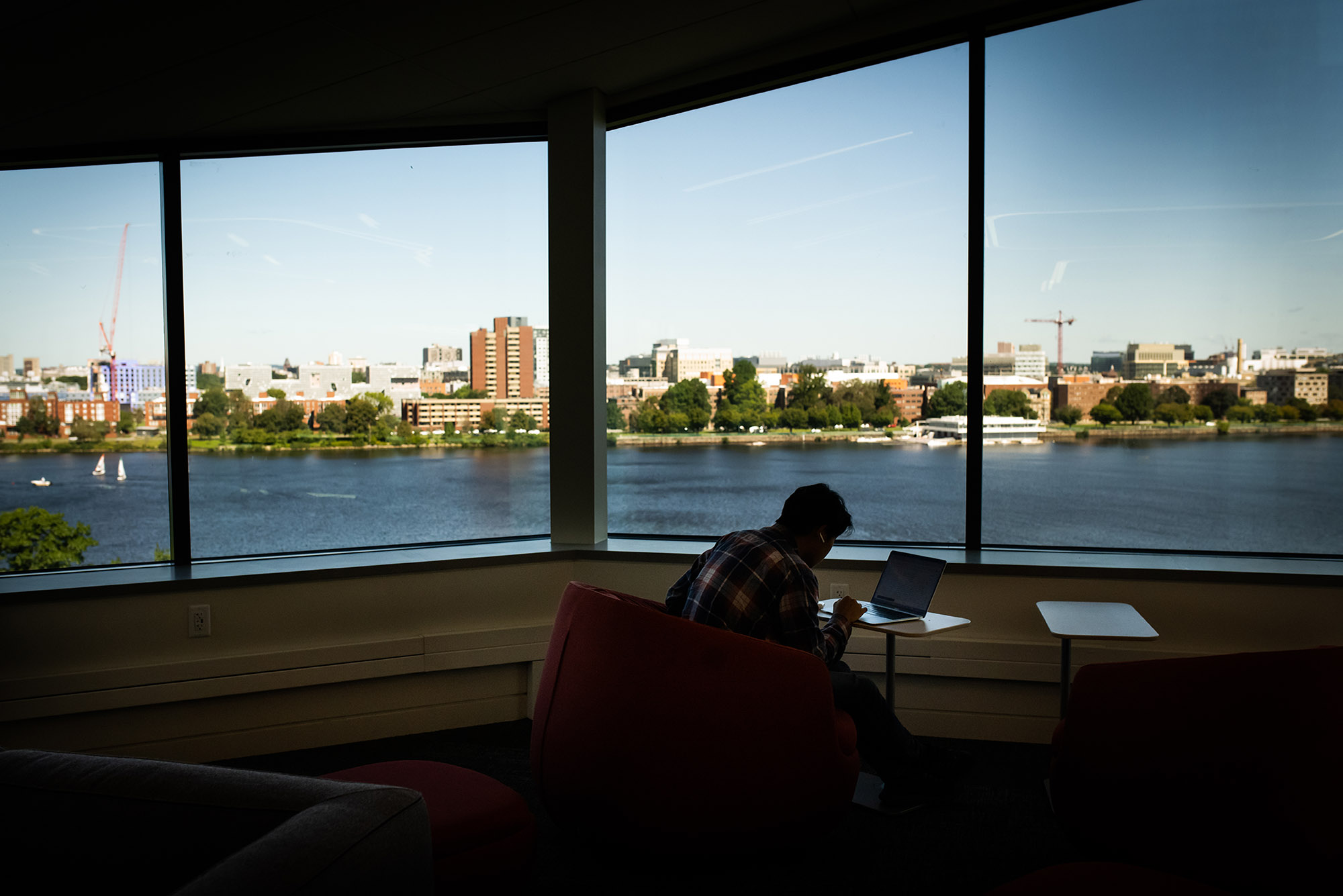 Campus & Facilities
14 BU Construction Projects, from Updated Classrooms to a New Robotics Space to Fresh Paint and Carpeting
A renovated Kilachand Hall study space, an improved sprinkler system at the GSU, the new LGBTQIA+ Student Resource Center, and much more among the capital improvements visible across the University
The ninth floor of Boston University's Kilachand Hall has always been Maya Santow's preferred study space despite its faults, like slow elevators and dirty windows. So, she was pleasantly surprised when she returned this fall and found her favorite space updated and revitalized.
"It's definitely a big improvement," Santow (COM'25) says. "It used to feel like one big room, and now there are different corners and areas where you can establish a study spot and stay there a while, which I really like. You used to not be able to see the view because the windows were dirty, now you get a full view of the city; it's motivating when I study. I think I'll be going back to Kilachand a lot more to study this year."
The renovated study lounge was among the last spaces to be completed in the 17-month renovation project to Kilachand Hall, overseen by the folks in Campus Planning & Operations (CPO) (a more extensive renovation happened in the summer of 2013). The project also added a new stair and elevator infrastructure, improved several student rooms (including updating certain rooms to comply with the Americans with Disabilities Act), and reconstructed the ninth floor with a unique design.
This summer, the CPO team renovated, built, and planned for dozens of construction projects on BU's Charles River and Medical Campuses, ranging from lobby refreshes and dining hall expansions to new facades and roofs. The total cost of the summer projects is estimated at $70.2 million, according to Gregg Snyder, associate vice president for strategic planning and operations.
Colleen McGinty, assistant vice president for annual capital projects, says this summer felt busier than previous ones. "We were coming out of COVID and regrouping," she says.
"Our planning group is also—aside from the actual construction projects—doing some planning work," adds Sonia Richards, associate vice president for planning, design, and construction. The most significant piece of this, she says, is preparing for the next iteration of BU's 10-year institutional master plan.
This year's summer and fall construction projects are in addition to the daily upkeep required to maintain BU's more than 300 buildings and grounds, spread over three campuses. Here are 14 other campus construction projects, both ongoing or completed, worth noting. Find the complete list here.
1. Wheelock College of Education & Human Development

2 Silber Way
At Wheelock College, the lobby received a complete renovation, with new finishes, lighting, and built-in seating. The building was also updated with fresh paint and new carpeting, and its lighting will be retrofitted with LEDs.
2. The School of Social Work/Economics Buildings

264 and 270 Bay State Road
A crew is performing safety repairs on the facade of these two buildings.
3. Questrom School of Business

595 Commonwealth Ave.
Students returned to Questrom to find newly renovated classrooms and the fourth-floor dining spaces reimagined to serve as a large event and conference space.
4. Sargent College of Health & Rehabilitation Sciences

635 Commonwealth Ave.
Sargent underwent significant renovations to the first-floor classrooms, including upgrades to classroom finishes, seating, and technology. It also opened up the existing walls in the lobby to make room for the Academic Services Center, which is being relocated to the first floor so it's more accessible to students. Digital signage is being installed. This project is aiming for a LEED Gold certification.
McGinty says the previous iteration of the lobby was very dated, with lots of dark brick. "It was small and uninviting," she says. After the project was put on hold for two years because of the pandemic, it was finally tackled this summer. The new larger space now has warm woods and is more inviting. The work started in January 2023 and was recently finished. "The project was very disruptive to the college, make no mistake about it," McGinty adds. "But at the end of the day, everyone was very pleased with the results."
In this new 2,000-square-foot space (the former home to a longtime CVS), students will be able to explore the robots in four unique settings: a "playroom" to test machines on the ground and in the air; the artificial intelligence zone, or "brain" space, to test robots that can think; a "miniaturized city" with buildings, traffic lights, roads, and rotaries, to test vehicles with self-driving systems; and a space to try out "soft robots" (made without rigid materials and controlled usually by airflow through valves) used in medical applications, such as entering organs or veins during surgery. The new space will open by the end of this year. 
6. George Sherman Union

730 Commonwealth Ave.
This multiyear, phased project installed a sprinkler system throughout the GSU complex this summer. This initiative will wrap up in late 2024 and includes a full fire alarm upgrade, ceiling replacements, and new LED fixtures.
7. LGBTQIA+ Student Resource Center

808 Commonwealth Ave.
Found on the second floor of 808 Comm Ave, this professionally staffed campus resource center will provide a dedicated space for all LGBTQIA+ students and allies to get support, find their community, and create a sense of belonging at BU. Set to open by mid-October, the center will feature a large common area designed for gatherings, events, and movie screenings. A small library with resources and queer literature, along with tables for quiet study, will also be available to students, as will another more private meeting space for one-on-one conversations or private reflection. The center will have office spaces for two full-time staff members and other spaces for students. The center is also near the current LGBTQIA+ Center for Faculty & Staff and the Howard Thurman Center for Common Ground.
8. FitRec

915 Comm Ave.
The University's Fitness & Recreation center clocks in at 270,000 square feet and is 56.8 feet tall at its highest point. Built in 2005, it received a new roof this summer. 
9. Solar panels

The BU Track & Tennis Center (100 Ashford St.), 25 Buick St., and the Booth Theatre & CFA Production Center (820 Commonwealth Ave.)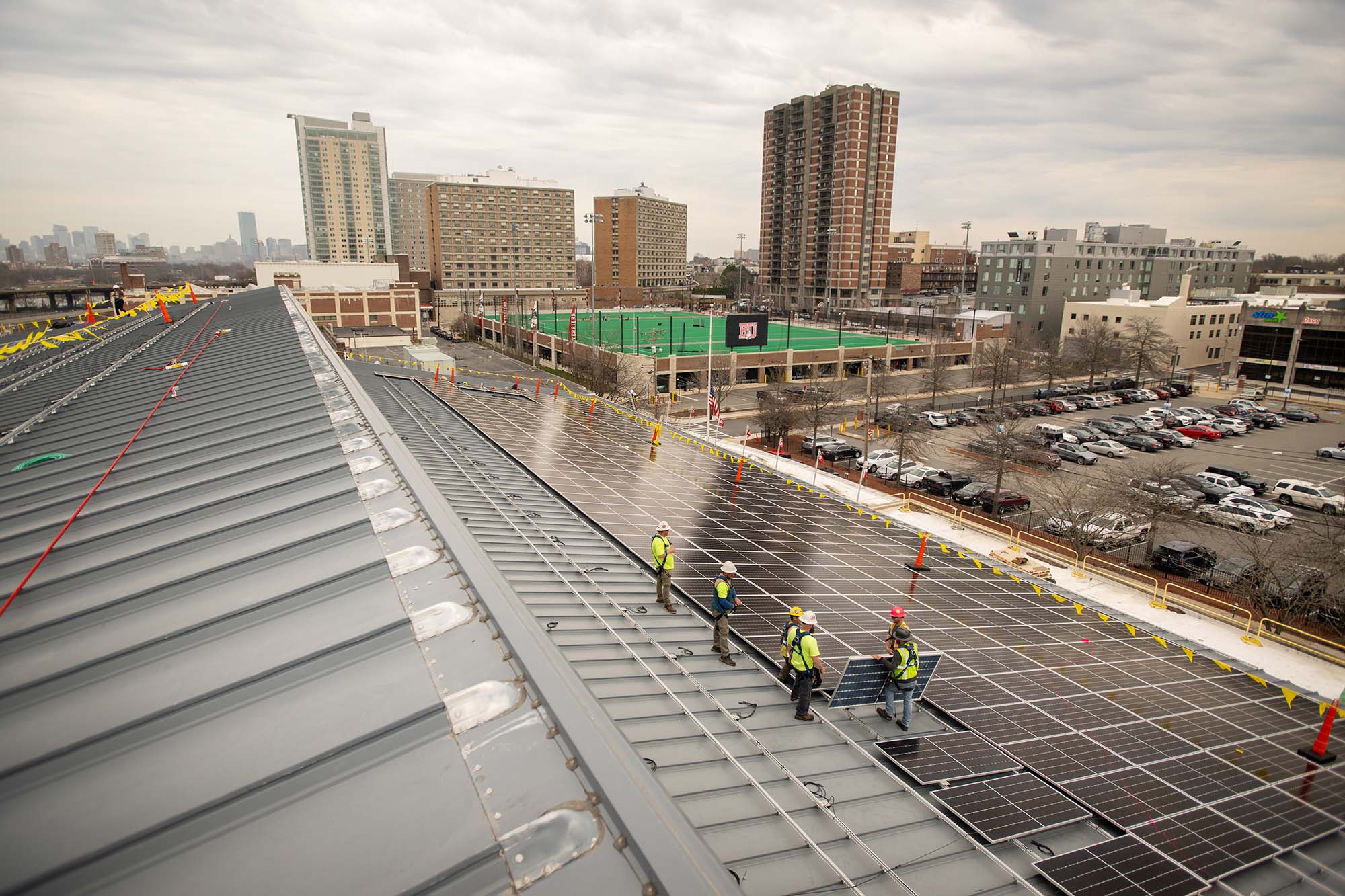 More than 2,000 solar panels have been going up since this spring and summer at these three locations, generating 1.1 million kWh per year.
10. BU Track & Tennis Center

100 Ashford St.
The 200-meter, six-lane track at the BU Track & Tennis Center is considered by many runners as the fastest indoor track in the world. These track stars will undoubtedly celebrate that the center's multiuse rubber-coated plywood surface was fully recoated this summer. According to McGinty, the project was delayed a bit because there is only one person in the country who can line a banked track. Luckily, that person was finally able to visit BU and do the work.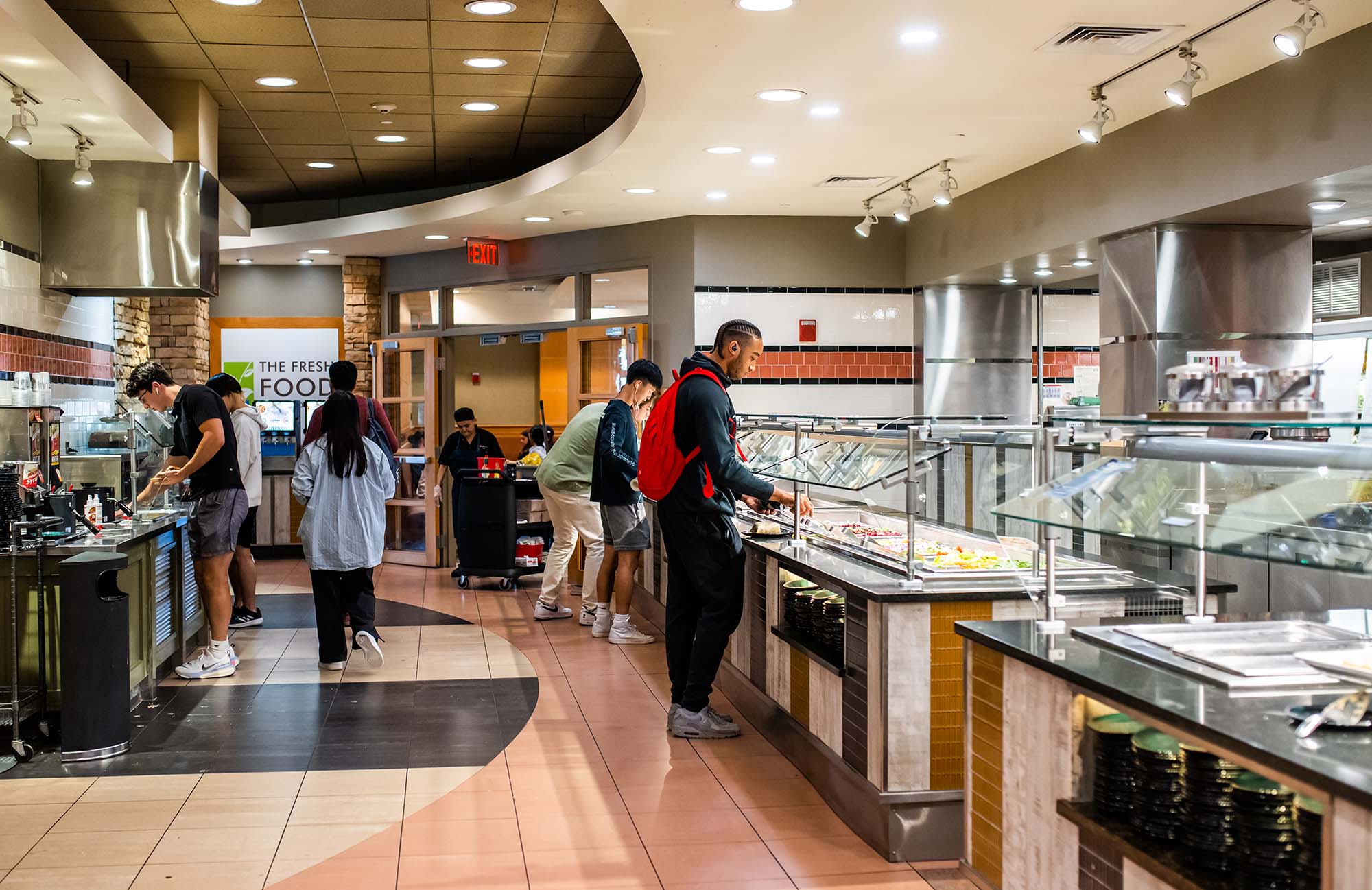 The project expanded the Fresh Food Co., which serves over 3,000 meals per day. It included renovations to the cooking stations, created a dedicated gluten-free kitchen and pantry (it was the only dining facility that did not have one), and added 100 more seats. It also reconfigured the Claflin Hall Residence Life offices and relocated the building's main entrance to the West Campus plaza. A new roof will also be installed this fall.
12. New Balance Field

278 Babcock St.
Last summer, Nickerson Field's turf was replaced—this summer, it was New Balance Field's turn. The varsity field hockey team will now play on the new A12 surface by AstroTurf, which is a knitted nylon fabric. The hockey field is now "stadium green," while the outer boundaries are a darker "turf green." The west end zone features the arched BU logo.
Additional enhancements include new padding and netting, networking upgrades to support broadcasts, and a camera system by 360 Sports Intelligence. In addition to the new turf, the building's facade was repointed and repairs were made to the structure's expansion joints.
13. Student housing

34 Buswell St.
The team gave the 56-bed undergraduate residence a general refresh, with updated plumbing and bathrooms, electrical and fire alarm systems, and new kitchens. Finally, the building received a new coat of paint and fresh carpeting.
14. Lighting projects

Across campus
Over 20 lighting projects are focused on retrofitting and updating light fixtures in the larger buildings on campus, such as the Photonics Center. These projects helped the University achieve the goals outlined in the University's Climate Action Plan, which set a goal of achieving net zero direct emissions by 2040.