A PR Crisis: How to Manage Will Smith's Oscars Slap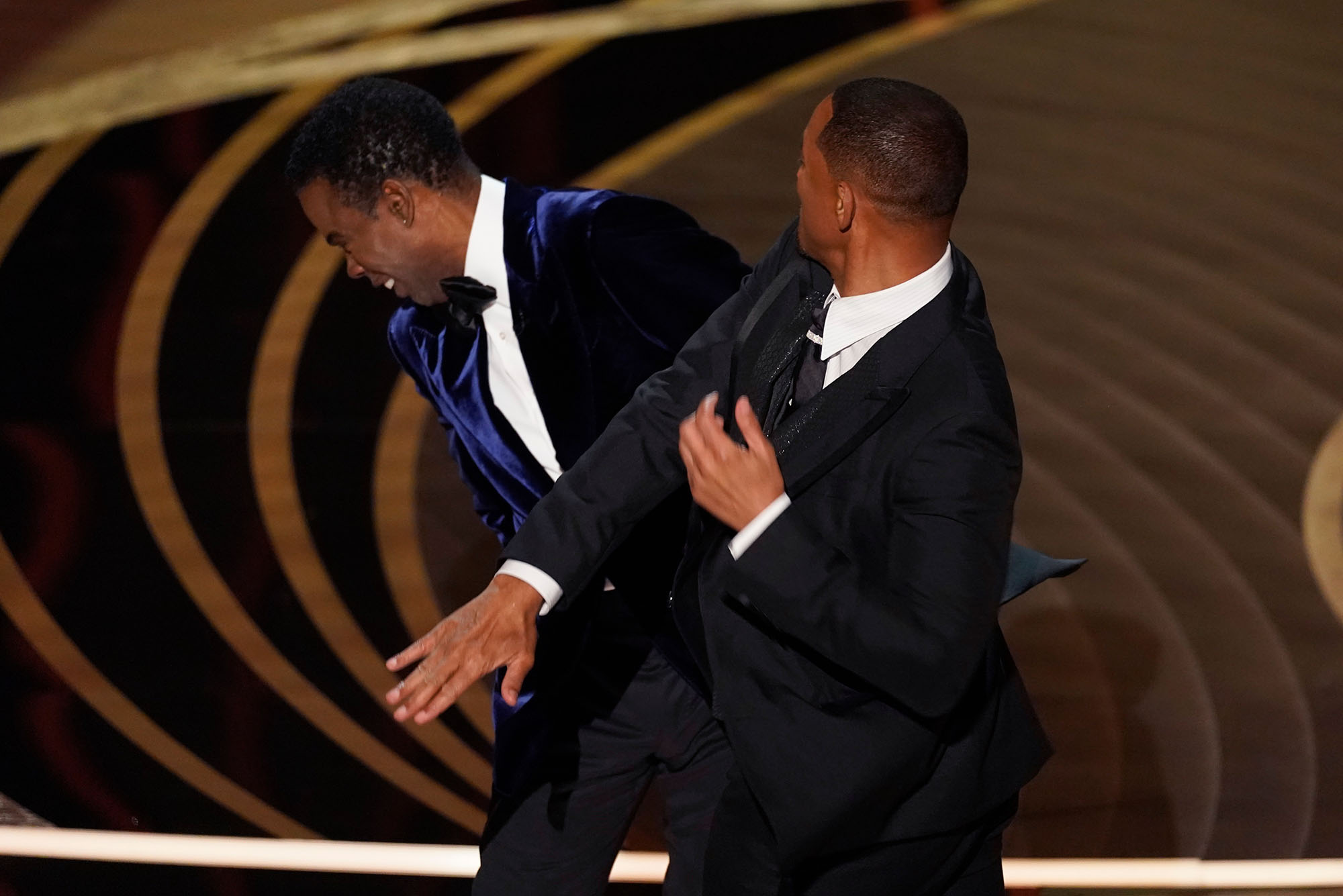 Communications
A PR Crisis: How to Manage Will Smith's Oscars Slap
COM profs with expertise in crisis management on how they would advise the Best Actor winner, who assaulted comedian Chris Rock on the Academy Awards stage
With one hard swing of his open right hand across the cheek of comedian Chris Rock, Will Smith created his very own public relations crisis. The question now is: what should he do about it?
While presenting the Oscar for documentary feature during Sunday night's Academy Award ceremony, Rock turned his snark toward actor Jada Pinkett Smith, who was in the audience to support her husband, Will, up for the year's Best Actor award for King Richard. Rock joked that Jada would appear in an upcoming G.I. Jane sequel because of her cropped haircut. But to those in the know, Jada suffers from alopecia and has been open about her hair loss, the joke felt more cruel than funny.
While Will Smith appeared to laugh at first, he quickly strode up to the stage and smacked Rock across the face, leaving the audience stunned and confused: was this staged as part of the ceremony? But when Smith returned to his seat and released a profanity-ridden tirade against the comedian, the audience, along with millions of viewers watching from home, realized it was no act. An hour later, Smith accepted the Best Actor award for portraying the controversial coach and father of the tennis stars Venus and Serena Williams.
"Richard Williams was a fierce defender of his family," Smith said during his speech. "Love makes you do crazy things." He later apologized to the Academy and his fellow nominees, but not to Rock.
The aftermath was swift on social media, with camps divided into Team Rock and Team Smith, and the Academy launching an investigation and releasing a statement saying: "The Academy does not condone violence of any form." Did Rock's joke go too far, mocking a woman's medical condition, or did Smith overreact to humor that was merely in poor taste?
BU Today reached out to three College of Communication professors with expertise in crisis management: Gary Sheffer, COM's Sandra R. Frazier Professor of Public Relations and a professor of the practice, and Amy Shanler and Justin Joseph, both COM associate professors of the practice, for what they would advise Smith and the Academy as they try to manage the fallout from the slap.
Q
&

A
With Gary Sheffer, Amy Shanler, and Justin Joseph
BU Today:
If you were Will Smith's publicist, and you saw that slap happen in real time, what would you do?
Amy Shanler: In those moments of the "oh no" variety, where a client does something unexpected, or in this case, wrong, the key is that the apology is so important. While Will Smith may perceive that his wife was the victim, as the target of Chris Rock's humor, what he actually did was reframe the entire situation to make Chris Rock the victim of his assault. He needs to apologize, provide retribution [Editor's note: Smith issued an apology on his Instagram page on Monday night]. The challenge is you're at a live, visible, public event, surrounded by people, and everyone wants to know what you're saying. It would be challenging in that environment to say something meaningful.

Justin Joseph: We always talk about genuine communication, and genuine would have most likely been in the moment. When Smith accepted his Oscar, I would have counseled him to use that opportunity to heal and to correct things, rather than [use it as] an opportunity to justify your own behavior. In terms of an apology, he should have made it to the victim of the assault, Chris Rock. Apologizing in that moment is hard, your emotions are high, you're angry, you want to believe you're the protector of the family (as he said), so there's this true sense of "I'm the victim here." We've said this a million times to clients: whenever you feel like you're the victim, it cuts off your total perspective on what the other victims might be feeling at this moment. I also would have counseled him to actually address what took place during his acceptance speech, to not just vaguely go around it. You can bring in your reasoning, but at the same time it is still going to be, "I was wrong, and here's why." And then an apology. The conversation would be completely different the next day.

Action speaks way louder than words. It could be a private phone call to Chris Rock. I would be curious to see what Chris Rock does.

Shanler: The ball is in Will Smith's court to make this right.
BU Today:
How would you help Smith craft an apology?
Gary Sheffer: When you're in a crisis and you decide you should make an apology, that's a big decision. I teach corporate issues in crisis management, and when a company decides it will apologize, it means it is admitting some level of responsibility. Often in those cases there will be an intense conversation with the legal team about making the apology and thereby increasing your chances for being sued and admitting some level of liability. There are bad apologies and good apologies.

I think he should make an apology. I know he made the beginnings of an apology last night, but he should apologize again. If I were advising him, I would tell him to call Chris Rock personally, but he also ought to apologize again to the Academy, the viewers, and even his wife. That would be my recommendation.
BU Today:
What does the apology specifically need to say?
Sheffer: You have to acknowledge you did something wrong, and what you did requires an apology. It has to be authentic, don't try to justify it, because that makes people think you're not sincere. Ben Franklin said, "Never ruin an apology with an excuse." That holds true today. He shouldn't announce he's going into anger management or anything like that. It has to be a straight, heartfelt apology that it was obviously wrong.
BU Today:
What, if any, steps should the Academy take?
Sheffer: If I were the Academy, I think they need to do more [they issued a brief statement saying they don't condone violence]. I think they are in a position where they have to either pull back his Oscar or say he is no longer a member of the Academy, if I were advising them. As much as you can justify it, based on the poor taste of the joke, it was an assault, and you can't condone those things whether it's in a ballroom or in the street. If I were Will Smith, I'd get out with another statement as soon as I can, to maybe try to head off some action from the Academy.

Joseph: Anytime a venue is the site of a violent attack or event, going back to the Malice at the Palace between the Detroit Pistons and the Indiana Pacers a few years ago, the venue is responsible. You created a place where a person could walk up on stage and just slap another person. There was no security afterwards, no one removed Will Smith from the premises. It was almost like, "Let's not talk about it." And that's the Academy's work. I would say there needs to be a more specific apology. And we go back to action—what are you going to do about it so that people are never put in that unsafe position again? It's not like there is no precedent at an awards ceremony where a person got up from their seat and up to the stage. We saw that with Kanye West and Taylor Swift. There needs to be clear guardrails and then protection and security. And they didn't remove the person. And that's something they probably need to answer to.

Shanler: We always look at what was the context and the environment in which the action festered. We really have to look at—this is the Academy's job, I'm not saying [the assault] is Chris Rock's fault—but what were the expectations for the entertainment that evening? Where is the line? What's respectful versus what's humorous? When we're talking about humor at someone's expense, you could argue that making fun of someone for a role they chose, well the person chose it, they accepted it. But to make fun of someone's physical condition, or race, their background, their culture, the Academy has to set that standard that it's entirely not acceptable. Again I'm not saying it's Chris Rock's fault, but we have to look at the entirety and the context of the situation. All the factors that contributed to this boiling over.
BU Today:
Do you think Will Smith's brand deals and corporate partners will put him on pause?
Sheffer: If I were a brand manager, I would certainly sideline him for a while. As when Aaron Rogers said some things that weren't true about vaccination, you saw State Farm pull his ads, but not fire him. If I were a brand manager, I'd be thinking twice about continuing a relationship with him, even though it's not like he has a pattern of this. Unfortunately, this ruined his own night and ruined the biggest achievement of his career.
BU Today:
Do you keep Will Smith as a client going forwards?
Sheffer: I would. I saw a photo where his publicist came running over to him. It's not a pattern that I know of, he just lost his temper at the most inopportune time. He seems to be apologetic or remorseful about it. I would keep him as a client since, at least to my knowledge, there isn't a track record of being an abusive person.

Joseph: Yes.

Shanler: Yes, as long as the person is doing the right thing, as long as they are making amends. We all make mistakes. I don't want to belittle his actions because assault is not OK, but if he is truly remorseful and can make amends and learn from his experience, that is a lesson that can benefit a lot of people.