Updated: David Dinerstein (COM'84) Takes Home Oscar for Best Documentary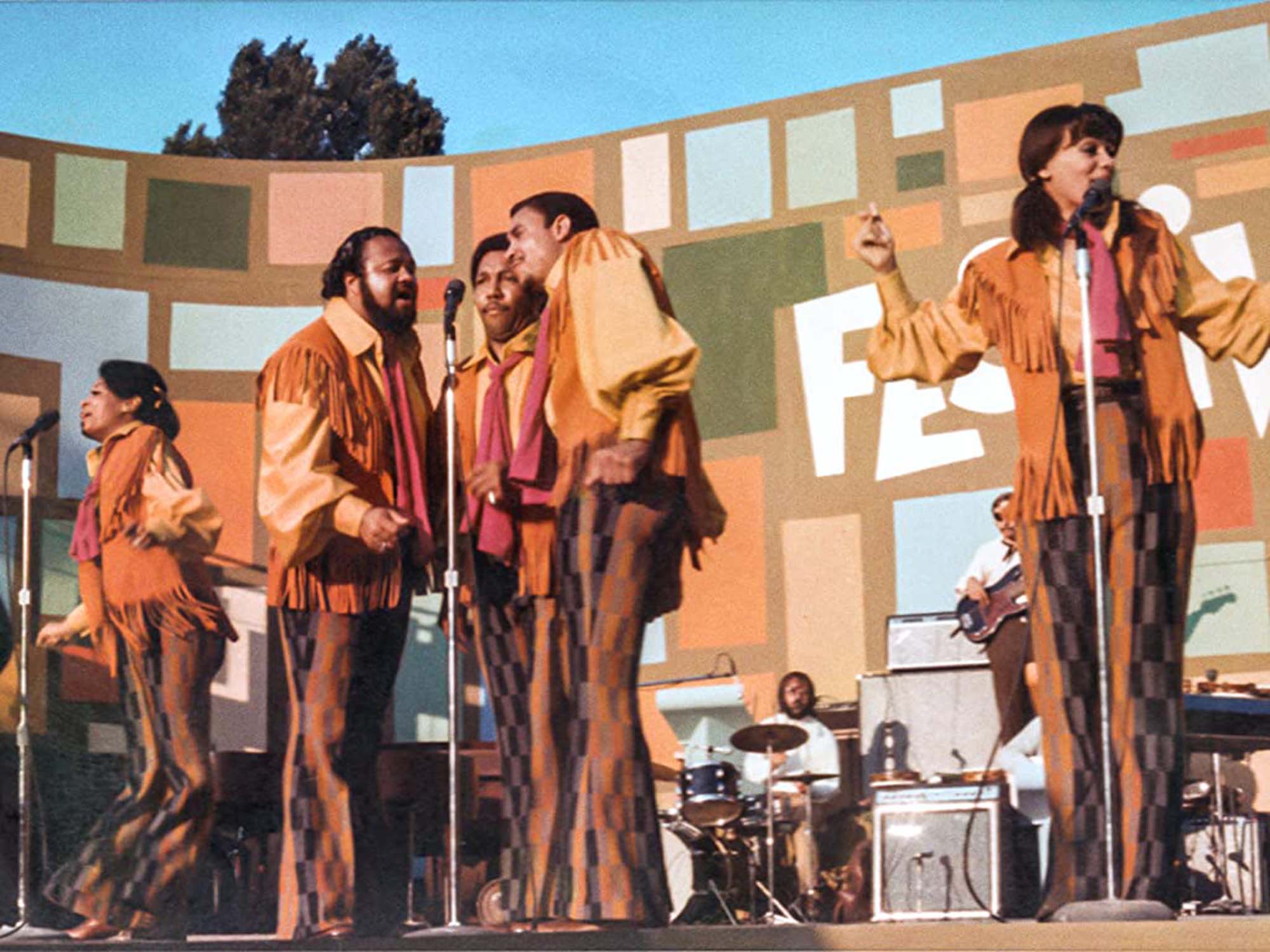 FILM
Updated: David Dinerstein (COM'84) Takes Home Oscar for Best Documentary
Best documentary winner Summer of Soul brings to life a series of astonishing 1969 concerts featuring Nina Simone, Stevie Wonder, Mavis Staples, and more
Last updated Monday, April 4: Summer of Soul, produced by David Dinerstein (COM'84), won the Oscar for Best Documentary Film at the 94th Academy Awards in March. And on April 3, it won the Grammy for Best Music Film.
Sly and the Family Stone hit the stage like a funk supernova. The aging Mahalia Jackson shares a microphone with young Mavis Staples. Stevie Wonder gets the joint jumpin' just before his career soars into the stratosphere. Nina Simone goes deep for "To Be Young, Gifted and Black."
And that isn't even half of the talent on stage.
Assembled from 40 hours of film that was shot at the Harlem Cultural Festival concerts in 1969 and stored in a basement for the next half-century, the new documentary Summer of Soul collects an astonishing treasure trove of performances (and clothes and hairstyles). Released last year theatrically and on Hulu, it's now streaming on Disney+.
And this weekend, Summer of Soul could win the Oscar for Best Documentary Film at the 94th Academy Awards. If so, producer David Dinerstein (COM'84) will be among those taking home one of the golden statuettes.
Summer of Soul already won the Grand Jury Prize and the Audience Award at the Sundance Film Festival in January 2021, and the Best Documentary award at the National Board of Review annual awards gala in New York City on March 15. And it is also nominated for best music documentary at the 64th annual Grammy Awards, scheduled for April 3, so Dinerstein could receive two of the entertainment industry's most coveted trophies in the space of eight days.
"I am thrilled that the film is getting this kind of reception," Dinerstein says.
But the producer has earned his share of the credit: along with his business partner, Robert Fyvolent, Dinerstein made the movie happen. The two cut a deal for the footage with filmmaker Hal Tulchin, who shot it and had been trying to get the film made since 1970. They hired Questlove (aka Ahmir Thompson) of the Roots, the bandleader on The Tonight Show, to direct what would be his first movie, an inspired gamble. And they worked with him every step of the way to make his vision come to life.
The result is an astonishing document of the summer concert series that unfolded over six Sundays (five were filmed) in Harlem's Mount Morris Park, including plenty of audience shots and brief interviews from then and now (with audience members, Mavis Staples, civil rights activist Jesse Jackson, and more) to put it into the context of that Woodstock summer and our nation's racial history.
"Hal had previously tried many times to put together a film or some other form of programming and unfortunately had failed," Dinerstein says. Tulchin "believed and I believe as well that it was racism in America that did not allow him to make this into a film during his prime."
Dinerstein studied mass communications at the College of Communication, intending a career in journalism, but found he didn't enjoy deadlines. He was working as a production assistant in Hollywood when a former BU roommate put in a good word for him at then-fledgling Miramax Studios. "Next thing I knew I was in charge of their ad department," he says with a laugh. "What it boiled down to was the relationships I made at BU."
Some Unfortunate News, Some Good News
Most of his Hollywood career was spent as an marketing and distribution executive at Miramax, Paramount Vantage, and Fox Searchlight studios. He had a hand in the success of many of the best films of indie's golden era: Reservoir Dogs, Pulp Fiction, The Full Monty, Hustle & Flow, The Virgin Suicides, Sex, Lies & Videotape, The Piano, The Crying Game, Clerks, Paris Is Burning…you get the idea.
But for all that success, Dinerstein has never been an Oscar nominee until now; his was the kind of work that gets accolades behind the scenes. In recent years, though, he has moved over to the production side. He partnered with veteran producer Fyvolent a few years ago to form the production company Mass Distraction Media. Fyvolent was already working to get rights to the footage that they would eventually turn into Summer of Soul.
"In 2017 my partner and I contacted Hal Tulchin again and said, now is the time, we really want to make this into a feature-length documentary," Dinerstein says. "We started talking terms and sent him a contract in August of 2017. And then at the beginning of September, we were going to the Toronto Film Festival and received a call from his wife, Janine Tulchin, who said, 'I have some unfortunate news to pass along.' Hal had passed away. And not missing a beat, she said, 'I have some good news as well.' He had signed the contract and was hoping that this film would serve as his legacy."
"Even when I think about it today, I get very emotional, because it was such a special thing that after 50 years, Hal entrusted us with getting this film made," he says.
They originally intended to release the film to coincide with the 50th anniversary of the concerts, in 2019, "but anyone who has produced an independent film knows that, unfortunately, time doesn't always work the way you hope," Dinerstein says. In fact, the slower pace, in part because of the COVID-19 pandemic, benefited the filmmakers in an odd way, he says, giving them more time to think about the story they were trying to tell—and when it finally did hit screens, becoming part of the "sort of a cultural revolution going on in our own country" around race.
Questlove was always on the short list of possible directors and became their number-one choice, Dinerstein says, signing on after they pitched him "in the green room—no, the kids' green room—at The Tonight Show." Besides being a bandleader and a musician, Questlove is an author, a podcaster, and a storyteller, he says. "We felt that we needed someone who could contextualize the importance of the music at that time with what was going on in America."
The movie's subtitle is (…Or, When the Revolution Could Not Be Televised). At the end of a decade riven by the civil rights struggle, riots, and the assassinations of Martin Luther King, Jr. (GRS'55, Hon.'59) and Malcolm X, Hollywood was ready to put Woodstock on the big screen, but not a peaceful, celebratory, even triumphant gathering of the Black community. Then history seemed to repeat itself.
"For us, everything changed in terms of the gravitas of this film as we experienced a lot of civil unrest and murders, like that of George Floyd," Dinerstein says. "We felt an obligation and responsibility, once we saw what was going on in America today while we were watching the footage—there were so many parallels. The film was very timely, and I think anyone that sees it will have a very joyful experience, but will also understand why this series of concerts in Harlem in 1969 was so important."
Tulchin, he says, "kept one camera dedicated to capturing the audience. It was really important for Questlove to make sure those faces would be shared with the audience today. You can see the joy in so many of the faces, and you rarely get to see that in the media or other films."
Music and Movies as an Undergrad
There's another reason Dinerstein was so passionate about this movie. Anyone who knew him when he was at BU, he says, knows he loves music and history. When he wasn't studying, he was in a record store or at a concert or at clubs like the Paradise on Comm Ave or the Rathskeller in Kenmore Square. He had a taste for jazz, sambas, and soul picked up from his parents, and he dove into the punk and new wave scene that arrived in Boston while he was at BU.
No surprise that he has his favorite musical moments from the film—one of them Nina Simone's performance.
"The scene where Mahalia Jackson takes the stage with Mavis Staples literally had me in tears the first time I saw it," he says. "It was cathartic and spiritual and joyous—and really sums up the film well."
Pretty cool watching Sly Stone rip it up just weeks before his big Woodstock performance, too. "It was phenomenal to watch the audience when he came on, it was such an eclectic crowd, young and old," Dinerstein says. "Anyone over 25 thought he was an alien initially, and you see it on their faces, but by the second song, everyone was with him. One thing about Sly and the Family Stone is, they were one of the first bands at the time to be multiracial and a band that included women as well. You just didn't see it that often at that time. You don't see it much today."
The Fifth Dimension give a terrific performance in their oh-so-1969 fringed orange outfits, but it's the present day interview with group members Marilyn McCoo and Billy Davis, Jr., that strikes Dinerstein the most: "They talk about the importance of playing to an all-Black audience in Harlem, and you see it in Marilyn McCoo's face in the film when she sees the footage for the first time in 50 years. She realizes the impact it had on her."
Dinerstein is not the only BU alum up for an Academy Award on Sunday. Peter Del Vecho (CFA'80), a producer of Raya and the Last Dragon, is nominated in the Best Animated Feature Film category. He previously won an Oscar for 2013's Frozen, which he produced. He studied theater at CFA and has been an executive at Disney Animation since 1995.
The 94th Academy Awards will be broadcast live on ABC on Sunday, March 27, beginning at 8 pm ET.