Tom Brady's Greatest Legacy Might Be Leadership, Not Super Bowls
Two BU professors explain how the mental side of the GOAT's game was more impressive than his physical accomplishments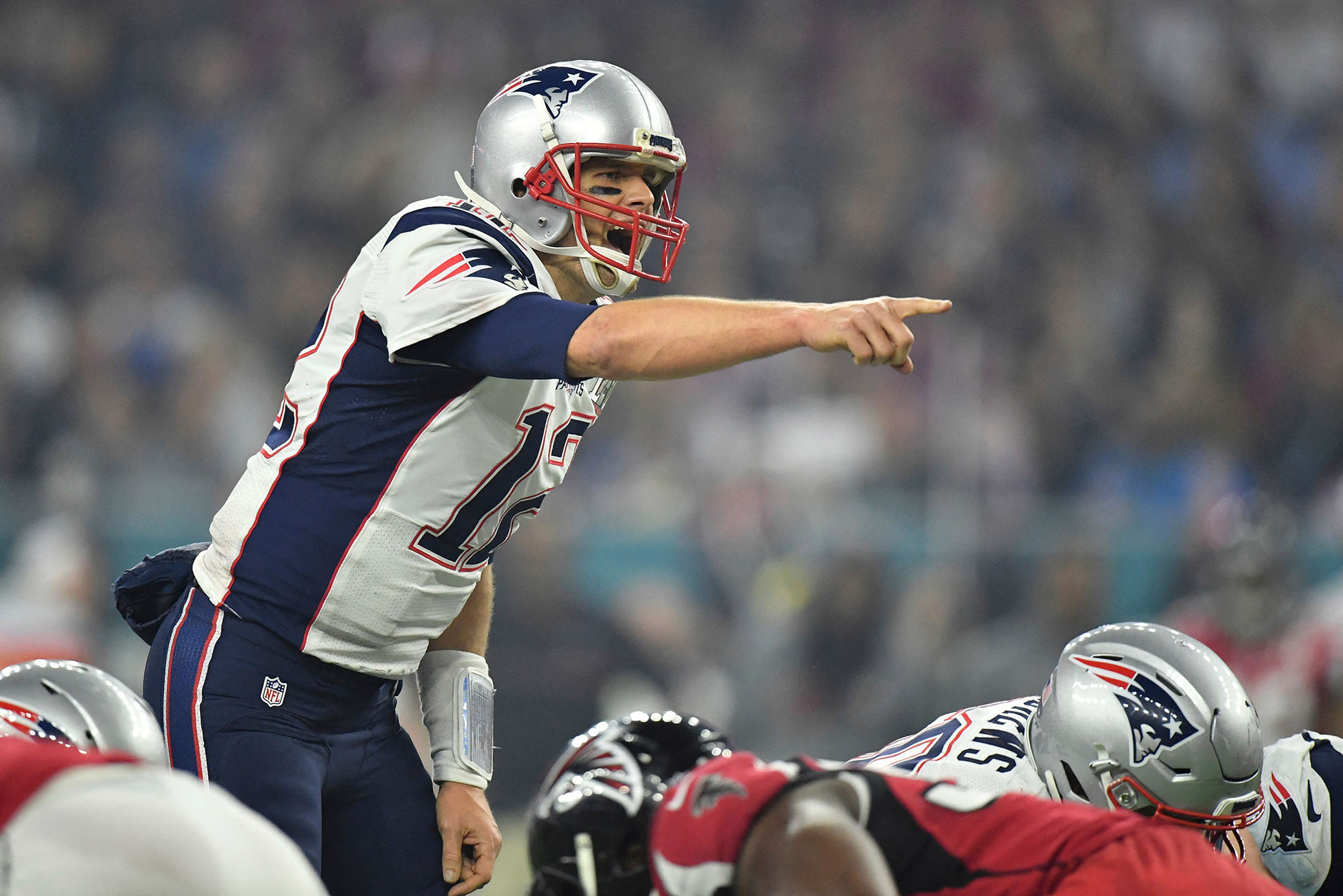 National Sports
Tom Brady's Greatest Legacy Might Be Leadership, Not Super Bowls
Two BU professors explain how the mental side of the GOAT's game was more impressive than his physical accomplishments
Tom Brady retired Tuesday.
And with his nine-slide Instagram post announcement came the end of an era.
"I have always believed the sport of football is an 'all-in' proposition—if a 100% competitive commitment isn't there, you won't succeed, and success is what I love so much about our game," he wrote. "This is difficult for me to write, but here it goes: I am not going to make that competitive commitment anymore."
Although his post prompted an outpouring of support from the NFL community (it came after two reporters broke the news over the weekend), it was the words he curiously omitted that had the sports world buzzing with confusion, anger, and disappointment. Despite playing quarterback for 20 of his 22 seasons with the New England Patriots, and winning six of his seven Super Bowl rings in Foxboro, the 44-year old Brady made no mention of the Patriots organization, the team's coach Bill Belichick (Hon.'04), or its owner Robert Kraft, while lavishly praising the Tampa Bay Buccaneers, his last team, for just two years and one title.
Brady's career, highlighted by his passing records, championships, and amazing longevity, is not without controversy. The word "Deflategate" will forever be linked to his legacy. And so will "tuck rule." And yes, so will his brand, TB12, through which he endlessly hawks books, diet plans, nutrition supplements, exercise equipment, body treatments, and more.
On Tuesday BU Today spoke with Edson Filho, a Wheelock College of Education & Human Development associate professor of sport, exercise, and performance psychology, and John McCarthy, a Wheelock clinical associate professor, who oversees the Physical Education, Health, and Coaching graduate program coaching specialization and is director of BU's Institute for Athletic Coach Education. The conversations centered around Brady's legacy on and off the field.
This interview was condensed and edited for clarity.
Q
&

A
with Edson Filho and John McCarthy
BU Today:
In a sport where the average career span of NFL players is 3.3 years, how did Tom Brady manage to play for 22 years?
Edson Filho: When you talk about high-performing people, it's about performing at their peak consistently. He is an example of expertise at the highest level. It's like tennis players who win consistently. I think he will go down as one of the best of all time because of his consistency. I would highlight that. There are many factors to how you get to be an expert. His personality, his coping skills, the support system around him, that's what allowed him to have peak performance for so long. The definition of an expert is the skills he developed through training, but also to then have the consistency of superior performance. That is the textbook definition of expertise.
BU Today:
Do you think that the mental part of Brady's game will be as much a part of his legacy as his physical accomplishments?
John McCarthy: His excellence was born out of the fact that he was a sixth round draft choice. He almost went undrafted. His physical attributes were not impressing anybody. What people don't understand is that he played for Bill Belichick, a grand master chess player. So he got an intense schooling. You can't separate the tactical approach of Belichick and the success of Brady. He puts his teams in a position where they have success. But Brady also had the peculiar mindset to study things as intensely as his coaches. That is reflected in his unbelievable decision-making. If you watch Brady play, his processing speed is born out of thousands and thousands of hours of watching film. You can't force someone to do that.
Filho: He's a public figure. That requires a level of commitment. You are only able to reach high levels of performance and sustain high levels if you engage in consistent practice. Deliberate practice. Practicing hours and hours to get there. And to improve. Always practicing to be the best you can. But also, for you to perform so well at the highest level of play, you need to be able to recover from stress. Otherwise you burn out. His support system allowed him to recover and be back performing at the peak level.
BU Today:
Being a public figure athlete today must be especially hard with social media and all the noise out there from fans. How important was it for Brady's success to manage that?
Filho: It's extremely difficult to be a professional athlete today. The mental performance is a big part of it. All of this coping stuff, having the ability to manage stress, and self-confidence is how you balance yourself. It is all about self-regulation. The definition of resilience is bouncing back from a stressful situation. So many aspects of the mental game that high-performing athletes develop are around the mental coping skills and being able to cope with stress and to thrive.
McCarthy: Bill Belichick was first coached under Bill Parcells, who was one of the first to limit access for the media and took an adversarial approach to the media. Belichick took that to the next level. He was very clear what the players needed to focus on. Brady had a peculiar ability, more than we've seen, to be able to tune out the noise and totally be in the moment and present for the task at hand. He was not easily drawn away from the game. I'm sure he was motivated by those saying he should retire. I am sure he took those as motivators. But that was it.
BU Today:
Do you think Brady's legacy will be as much about his coping skills as his passing skills?
Filho: Absolutely. Athletes with higher mental skills are better able to cope with stress and recover from stress. The big difference between high-performing athletes and lesser performing athletes is their coping skills.
BU Today:
On a personal level, did you enjoy watching Brady play?
Filho: Oh, very much. I will highlight three things about him. Confidence is one of the things we want with psychological skills training. I like that ability in him. I also liked very much his decision-making skills. Making the right decision under time constraints. He was also able to generate options quickly and to execute them quickly. And I appreciate that he was a leader. He got stuff done. But also the motivational leader in him. He motivated his teammates. And he brought people together with social leadership. You don't see one player with all those different leadership qualities very often. I think Tom brought so many different aspects of leadership to the team.
BU Today:
Will his career be a case study in leadership one day?
Filho: That's an excellent question. In sports psychology, we use the expert-novice paradigm. We compare high-performing people with low-performing people and see the differences. You learn about decision-making, concentration, self-regulation, leadership, all of those things. Everything is connected in this sense. Having a strong mindset impacts your physical performance, which in turn impacts your social performance. It's all connected.
McCarthy: I think he'd be a peculiar case study. In anyone's career, there has to be a fair degree of luck. Things that happened at the right moments. The right coaches. He clearly from a physical standpoint paid a lot of attention to his conditioning, how to stay sharp, physically, to stay youthful.
BU Today:
Can youth and college coaches learn things and teach things from Brady's approach?
McCarthy: He wants to be the guy doing things the right way. When the guy who is paid the most is that guy, he sets the tone for other players. Demanding. That search for perfection that Tom Brady had and that insistence of, whatever it is, that attention to detail, is what he learned in a culture that Belichick created. But he took it to the next level from a player on the field to the embodiment of doing your job well all the time. Brady was able to take what he learned and take it to the next level.