Tips for How to Help Your Children Cope in the Wake of Yet Another School Shooting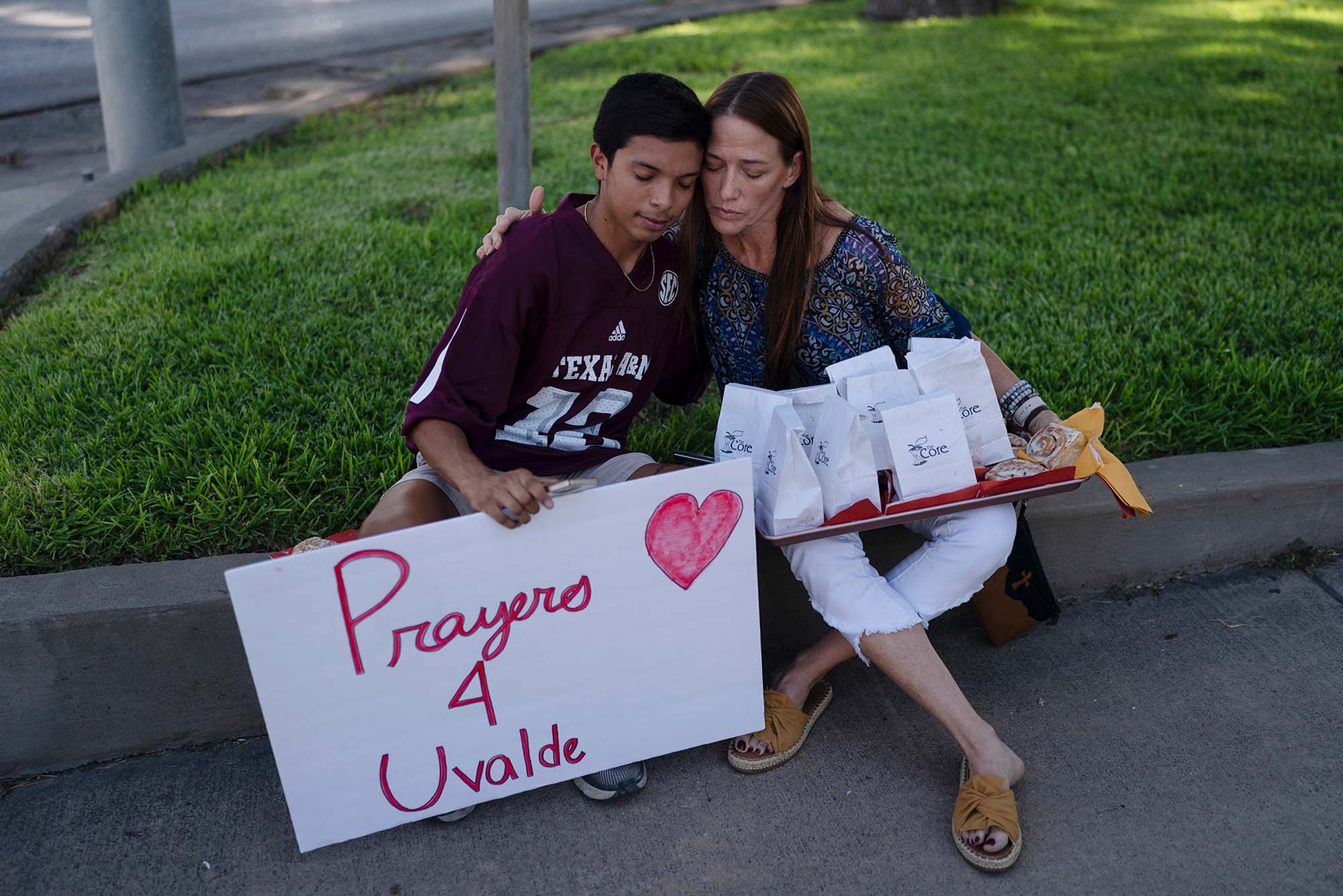 Trauma-Informed Parenting
Tips for How to Help Your Children Cope in the Wake of Yet Another School Shooting
Validate your child's feelings, show resilience, be kind, BU School of Medicine experts advise
The Uvalde, Tex., school shooting on Tuesday that claimed the lives of 19 fourth graders and 2 teachers has also left many adolescents and younger children around the country anxious and fearful. The Texas massacre was the 77th incident involving gunfire on school grounds this year.
Statistics show that more than two-thirds of children have undergone at least one traumatic event by the time they reach age 16. These events can include neglect, physical or sexual assault, a life-threatening illness, or increasingly, gun-related violence.
While the Diagnostic and Statistical Manual of Mental Disorders—referred to as the Bible of psychology—doesn't consider media exposure of a violent event as trauma, experts agree that repeated shootings in public places and realistic active-shooter drills in schools are leaving children increasingly frightened.
BU Today reached out to two Boston University School of Medicine experts for advice on how to talk to children and teens about the latest tragedy—Neena McConnico, a MED assistant professor of pediatrics, and Carryl Navalta, a MED clinical associate professor of psychiatry.

McConnico is a licensed mental health counselor and executive director of the Child Witness to Violence Project, an outpatient program at Boston Medical Center, MED's teaching hospital, that provides free counseling and support services to children and caregivers who have experienced violent or traumatic events. Navalta is a licensed psychologist whose research focuses on mental health disorders of childhood and adolescence. He is also the author of Trauma-Informed Parenting Program, which will be published in October 2022.
This is what they had to say.
Be a source of consistency for your kids.
If your reflex is to pull your kids out of school or stop going out for dinner Wednesday nights, don't, McConnico says. "Consistency and routines are really important. Not only do they help kids to know what to expect from one moment to the next, but they're also very soothing. There are neurological benefits, too: predictable routines help keep the part of the brain that regulates joy on an even keel."
And if your child regresses a little bit during hard times, that's okay, she says. "If they're going, 'I want my stuffy' again; that's fine. Don't be worried when those things are happening."
Validate their feelings and instill a sense of safety and protection.
If a child says they feel unsafe or anxious, it's important to validate their concerns, Navalta says. Remind them that events such as these are relatively rare and their school is far away from where the violence happened.
Find reassurances that work for your family.
When tragic events happen, it's important to reassure kids that there are good people in the world who want to help and that who those helpers are might look different from one family to the next.
In many resources for parents, "you'll see a lot of recommendations to talk to your kids about police officers. But that's not comforting for many, many families who identify as something other than white," McConnico says. "That's why I like opening up the frame to: what is important to a family? Think about where you draw your strength and sense of comfort from and use that to build your team of helpers. That can be clergy, school or community leaders, your ancestors."
Realize that the Texas tragedy is yet another thing affecting your child's mental health, and be patient.
Navalta uses the term "synergistic epidemics" (also called a "syndemic") to describe the times we're currently living through: instances of school shootings, racially charged violence and discrimination, the mental health crisis, and the pandemic. "It's a perfect storm for a heightened risk of developing behavioral health problems," he says. "We're all living through this. I think there are going to be short-term and long-term effects, because essentially the pandemic is a collective mass trauma, or adversity."
If your child is exhibiting concerning behavior, intervene early—and kindly.
Let's say your child or teen comes home from school talking about "making bullies pay." Or maybe you notice they've been spending a lot of time on worrying message boards. (And yes, you should be regularly monitoring their social media activity.) Don't ignore those signs. Instead, consult a behavioral health expert, your child's pediatrician, or another trusted adult in your child's life who can offer a behavioral assessment.
And if he or she comes to you directly saying something "disturbing," McConnico advises, be mindful of how you react. "I think for many caregivers, our response is to shut it down, [saying something like] like, 'We don't believe that here,' and end the conversation there," she says. "That can send the message to your child that you don't care, or you don't think they're important. Children need to feel like the lines of communication are open." Instead, start a discussion about why they might feel the way they do.
Model resilience.
"Parents are their kids' most important teachers," Navalta says, so it's important they show their children how to adapt to stressful circumstances. Regulate your own emotions if your child throws a tantrum (sit quietly and wait for them to finish, or offer a hug), let them struggle a little with a puzzle before helping them find the next piece, and be their biggest cheerleader. "By modeling appropriate, healthy ways to cope with experiences, kids are going to learn how to help themselves," Navalta says. 
Be especially kind.
It's crucial to emphasize kindness and joy when children might be hurting. Acts that evoke "niceness"—like collecting toys to donate or just spending more time cuddling before bed—can help instill a sense of control over events that feel big and scary, McConnico says.
Take action alongside your kids.
Anyone reading the news right now might feel helpless. Brainstorm ways to make a difference alongside your children. A few ideas: donate blood (if your child is older than 16), give to a victims fund, or call your local and state officials and demand action.