2022 Perkins Service Awards Go to Three Longtime BU Staffers
Francis Antonelli, Nancy Clinton, and Cynthia Bradford will be honored Tuesday
Accolades
2022 Perkins Service Awards Go to Three Longtime BU Staffers
Francis Antonelli, Nancy Clinton, and Cynthia Bradford will be honored Tuesday
When Francis Antonelli discovered that an elderly alum's dying wish was to hear a recording of her college-aged self singing, the media resources specialist at the Geddes Language Center got to work. It was November 2020, and with many BU facilities closed by the pandemic, the digitization and restoration work the tape required would be even more challenging. "Frank was, quite literally, our only hope," wrote Sean Noel, associate director of the Howard Gotlieb Archival Research Center, in his letter nominating Antonelli for a 2022 John F. Perkins Award for Distinguished Service. "Amid the horrors of this pandemic, Frank helped provide just a little comfort to a member of our BU community and her family."
Antonelli will be honored this evening along with the two other BU staff named this year's Perkins Award winners—Nancy Clinton, the School of Medicine's Whitaker Cardiovascular Institute administrative manager, and Cynthia Bradford, the College of Arts & Sciences biology department proposal development specialist. The three longtime BU employees will each receive $500 at the annual ceremony, which returns to being held in person after being virtual for the past two years. The awards—created in 1981 and administered annually by Boston University's Faculty Council—are funded by an endowment from the estate of John S. Perkins, a former BU trustee, administrator, and faculty member.
---
Francis Antonelli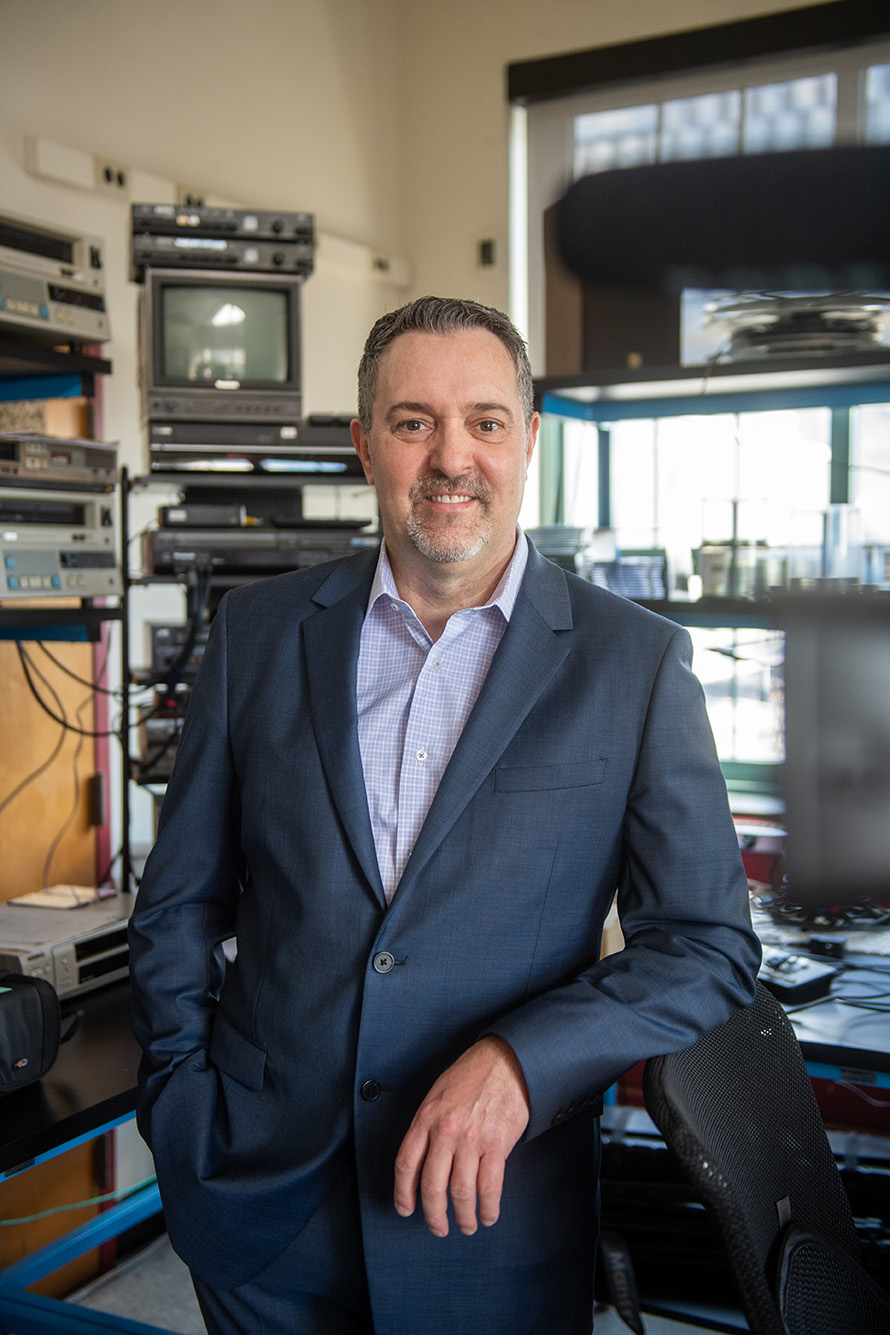 This year marks Antonelli's 37th anniversary at the Geddes Language Center. The language lab, part of CAS, has audiovisual recording studios, a podcasting station, production services, and more, all of which fall under Antonelli's purview. He is also responsible for videotaping events, interviews, and classes when necessary.
In his letter of recommendation for Antonelli, Geddes Language Center director S. Mark Lewis noted that Antonelli was one of the few employees who remained in person during the pandemic shutdown. When student employees returned to work, "there [was] no underestimating how great the toll of isolation and distancing had taken on everyone up to that point during the pandemic, especially on young adults," Lewis wrote. "Frank not only knew, but also understood this and acted in a way that was engaging, caring, and supportive. He made a big difference in the lives of others at the Geddes Center, as he has done throughout his many decades there."
Antonelli says he's constantly challenged by his work; he describes the center as a stimulating, multicultural workplace. In his job, he also conducts archival work for several departments, including the Gotlieb Center. "But in the end, it's the intelligent, kind, and interesting people that I've had the pleasure to work with for almost four decades now that's most rewarding," Antonelli says.
Nancy Clinton
Clinton was recruited to the Whitaker Cardiovascular Institute in 1994 after completing an MBA in healthcare administration at Northeastern University. Since then, she has held a number of different positions at the School of Medicine. Today, as the institute's administrative director, she is responsible for managing the complex funding needs and requirements of more than 50 investigators, many with multimillion-dollar portfolios. Her colleagues express appreciation for her ability to keep them up-to-date on their funding, flagging impending funding shortages, and suggesting ways to save resources and grant money. They also note that during the pandemic, Clinton took on tasks beyond her job description, ranging from making sure that lab supplies arrived on time to helping junior faculty find childcare.
In her letter nominating Clinton for a 2022 Perkins Award, Katya Ravid, the Barbara E. Corky Endowed Professor of Medicine, wrote that Clinton is so good at her job that she has been called many times by investigators and administrators across campus for advice on how to handle special cases and manage complex training grants, and she does so with a smile. "Always willing to do more and do it well has been Nancy's trademark," Ravid wrote.
Clinton says her favorite part of the job is seeing the researchers' work come full circle. "I start at the beginning with them when they apply for grants, and try to make sure they aren't hassled with anything that isn't science," she says. "I deal with everything behind the scenes."
Cynthia Bradford
"Invaluable resource," "major stabilizing force," and "unflappable" are three descriptors nominators used in letters nominating Bradford. As the proposal development specialist in the biology department, it is her job to shepherd grant proposals in the department, which in the last year alone has received 70 awards, totaling over $12 million in funding. Her method of flagging possible grants for faculty and pre-preparing and editing the final application saves faculty hours of time, wrote Kimberly McCall, a CAS professor and chair of biology.
Bradford started working at BU in 1982 and recalls asking HR for a position that would "provide some challenge." She landed at the Center for Adaptive Systems and its subsequent spinoffs, working in roles such as assistant director and administrative director of the Center of Excellence for Learning in Education, Science, and Technology (CELEST), a National Science Foundation Science of Learning Center. In April 2015 she shifted to the biology department. 
In a joint recommendation letter, colleagues Ian Davison, a CAS associate professor of biology, and postdoctoral biology fellow Kevin Monk wrote of how several junior faculty launched their labs in highly competitive funding environments over the past few years and Bradford's important role in helping make that happen. "Cindy's deep knowledge and steady support" has been incredibly valuable to these junior faculty members, they wrote, adding that she "gives no less attention and dedication to early-stage researchers" than to older, more established researchers.
Bradford is retiring at the end of this summer, and since she and her husband are both classical pianists and voracious readers, she says, they are looking forward to having more time each day to pursue these interests. They are also pondering a move to a warmer locale, where they could pursue another hobby: snorkeling.
"The work has been fascinating," Bradford says of her BU career. "I'm going to miss the intellectual stimulation—and seeing the baby geese along the Charles each spring—but will miss the people the most, some of whom have become good friends over the years."