Terrier Softball Is on a Mission: A Fourth-Straight Patriot League Championship
In what's bordering on a habit, BU will host the May 12-14 Patriot League tournament
BU Athletics
Terrier Softball Is on a Mission: A Fourth-Straight Patriot League Championship
In what's bordering on a habit, BU will host the May 12-14 Patriot League tournament
Four years ago today, on May 12, 2018, the BU softball team won its third Patriot League championship. Now, 1,461 days and two trophies later, the Terriers are still on top. They are poised to become just the second program in Patriot League history to win four consecutive softball titles, a feat unmatched since Lehigh did it in 1996
"I think, in my seven years of coaching, I've probably enjoyed this group the most," head coach Ashley Waters (Wheelock'22) says. "It's definitely a team I would love to win with and would love to go to the NCAAs with, just because we feel like they can really do something beyond."
BU will host the conference tournament at the BU Softball Field for the fourth season in a row thanks to a fourth-straight regular-season title. Finishing with a 16-2 record in Patriot League play, the Terriers went 38-15 overall this season, posting 14 conference wins and only 2 losses, both at home.
"We take a lot of pride in playing on our field," Waters says. "It's always cool to be able to compete and win on your own field."
After starting the season playing in tournaments across the country, BU marked its return to New England with a win streak of 27 games, a new program record.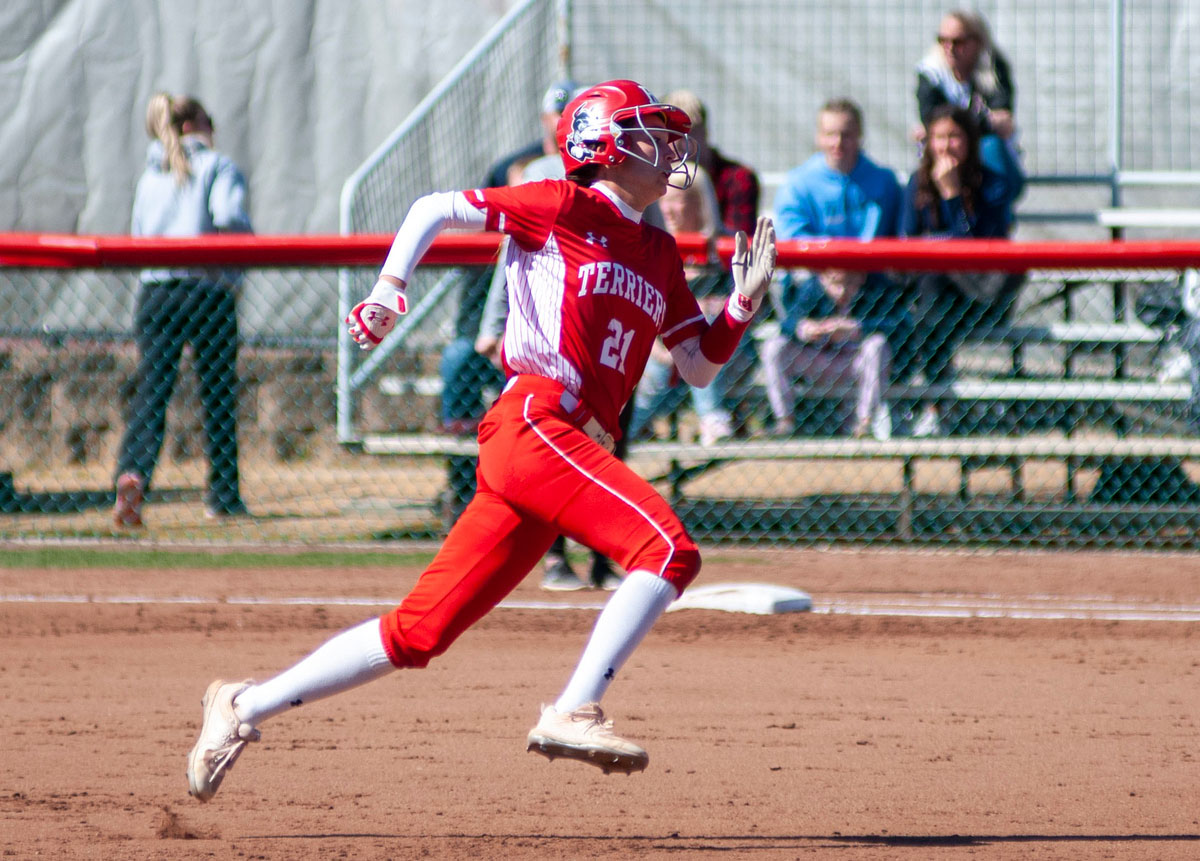 "We try to compete every single day," Waters said "I'm just really proud of the kids in the way that they fought. It just comes down to them grinding it out, being tough, and competing."
And announced Tuesday, BU's dominance has earned Waters her third Coach of the Year award and five Terriers a place on the All-Patriot League First Team, with four on the Second Team.
Kayla Roncin (Sargent'24) was named the conference Player of the Year, starting all 53 of BU's games and leading the league in batting average (.443), on-base percentage (.490), total bases (112), hits (78), and runs (49), all after a season-ending injury last season, her first year at BU.
"Kayla is incredible," Waters says. "She definitely has a gift for offense, and we're really fortunate she's on our side."
Allison Boaz (ENG'23) was named Patriot League Pitcher of the Year, ranking among the league's top three pitchers in innings pitched (164.2), wins (20), fewest earned runs ((33), and lowest batting average against (.203). Lizzy Avery (ENG'23) was close behind, posting top-three marks in innings pitched (171.2), wins (18), strikeouts (185), and batting average against (.203).
"They've both stepped up in different moments, and they've both won games for us," Waters says. "The fact that they support each other so well has been what has made us so great."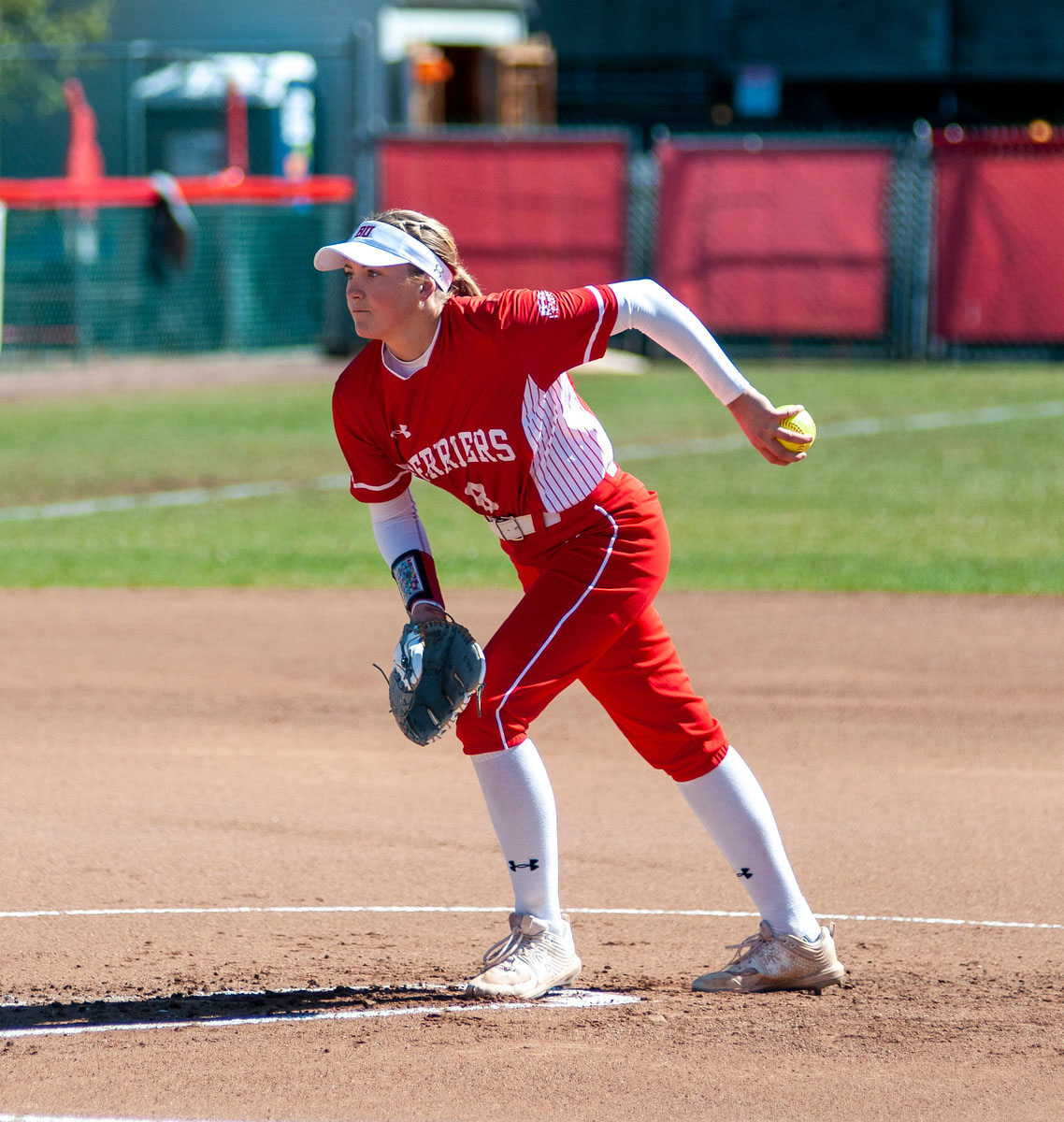 Roncin and Boaz were recognized on the First Team alongside Nicole Amodio (Sargent'22) and Emily Gant (Sargent'22), who tied for the league lead in runs batted in (45). Rounding out the five was 2021 Player of the Year Caitlin Coker (CAS'23), who collected the second-most total bases (100) and a perfect fielding percentage.
On the Second Team, Avery was joined by Jen Horita (Questrom'21,'22), who tied for the league's second-most hits (60), Lauren Keleher (Sargent'24), who ranked second in on-base percentage (.458) and first in walks (32), and Audrey Sellers (Sargent'23), who caught the third-most runners stealing (6) from behind the plate.
"This is a really special team," Waters says. "When you have one that's fully committed to everybody being great, they don't care who the hero is. They just care if they get a W at the end of the day."
That said, the team knows they face some formidable competition. The Terriers hit their first hurdle in nearly two months last weekend when second-place Lehigh snapped their streak with a pair of wins May 7 and 8. The Mountain Hawks hold a league-best 14 conference championships and are the only squad besides BU to win a Patriot League title since the Terriers joined the conference in 2014.
BU has managed to take down Lehigh in each of the three previous championship bouts, avenging a runner-up finish against the Mountain Hawks in 2018. Joining the two Patriot League powers in this year's tournament are three-seed Army West Point and four-seed Colgate, comprising the same field of four that reached the playoffs in 2021.
"There's a lot of parity, and I do feel as though anyone can win," Waters says. "It's three really good teams, and three teams that we ultimately respect."
BU opens the Patriot League Tournament against Colgate at noon on Thursday, May 12, then Lehigh meets Army at 2:30 pm. The double-elimination bracket continues on Friday, May 13, before the final matchup on Saturday, May 14. The winner will advance to the NCAA tournament.
All games will be held at the BU Softball Field, and admission is free. For more information, visit GoTerriers.com, PatriotLeague.org, or @TerrierSoftball and @BUGameDay on Twitter.