Sukh Mathon Saved His Best Basketball for Last, and Now He's Shooting for More
Terrier fifth-year center takes career-best year into the playoffs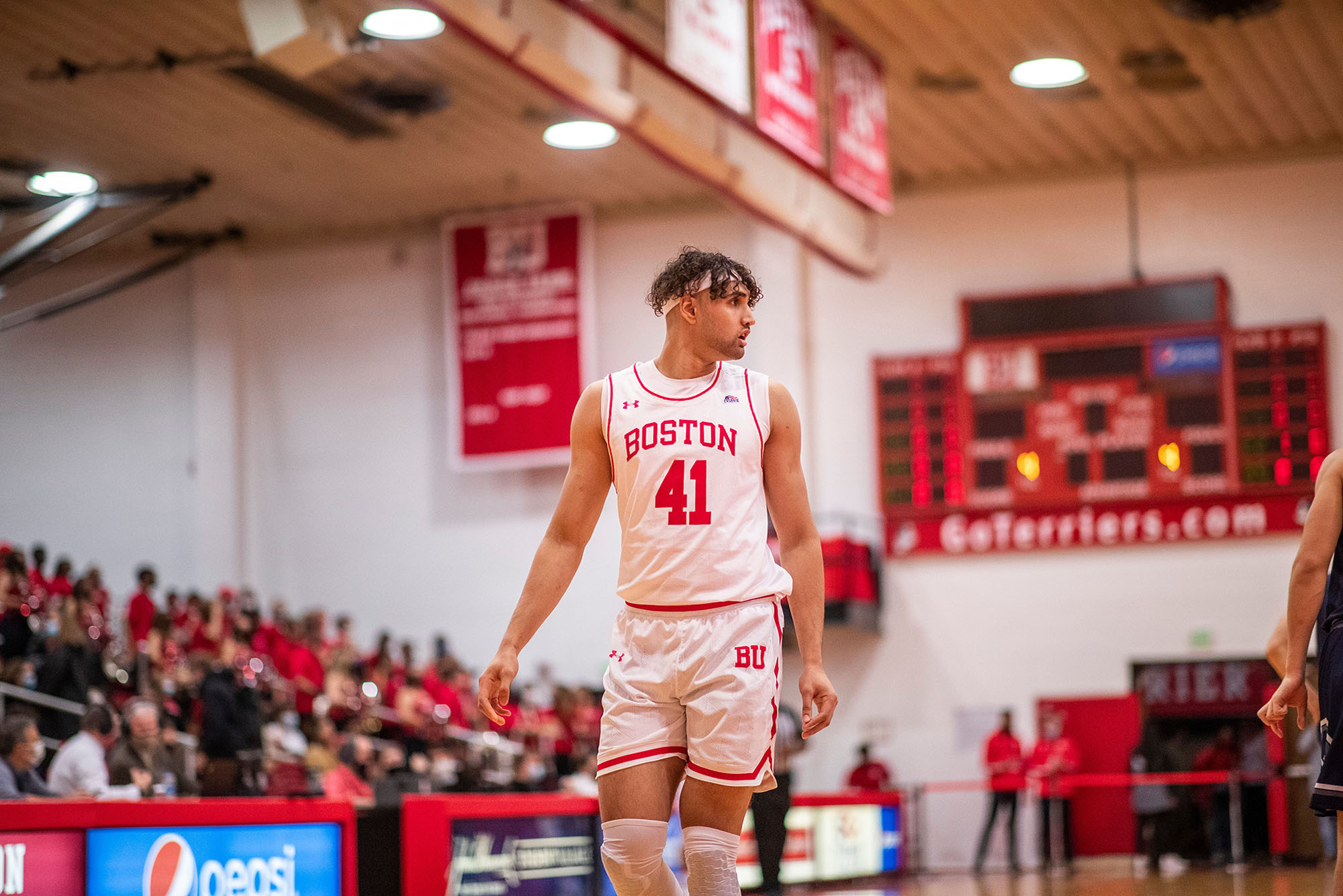 Varsity Sports
Sukh Mathon Saved His Best Basketball for Last, and Now He's Shooting for More
Terrier fifth-year center takes career-best year into the playoffs
When Sukhmail "Sukh" Mathon arrived at Boston University in 2017, basketball evaluators were intrigued by the 6-foot-10 prospect. But they were hesitant about the outlook for his college career.
The New England Recruiting Report placed Mathon (CAS'21, Wheelock'22) 13th in a 30-man ranking of his New Hampshire graduating class, and 36th in the region. "His production doesn't always live up to the quality of his tools," read ESPN's scouting report of Mathon, published the summer before his BU debut.
Did Mathon anticipate becoming one of the best forwards in NCAA basketball five years later? Because that's what he's become, ranking 2nd in NCAA Division I in total offensive rebounds (112), 3rd in offensive rebounds per game (3.86), 7th in total rebounds (293), 10th in double doubles (14), and 12th in rebounds per game (10.1), as of the team's last game on February 19.
"Honestly, I didn't," he says. "Every day I came in and didn't let my situation affect who I was. I just continued to grow."
Mathon has helped lift BU to a 10-6 Patriot League record (19-10 overall) this season, just one game out of second place in the conference. He has started every game over the last two years, and head coach Joe Jones attributes Mathon's accomplishments to his relentless work ethic.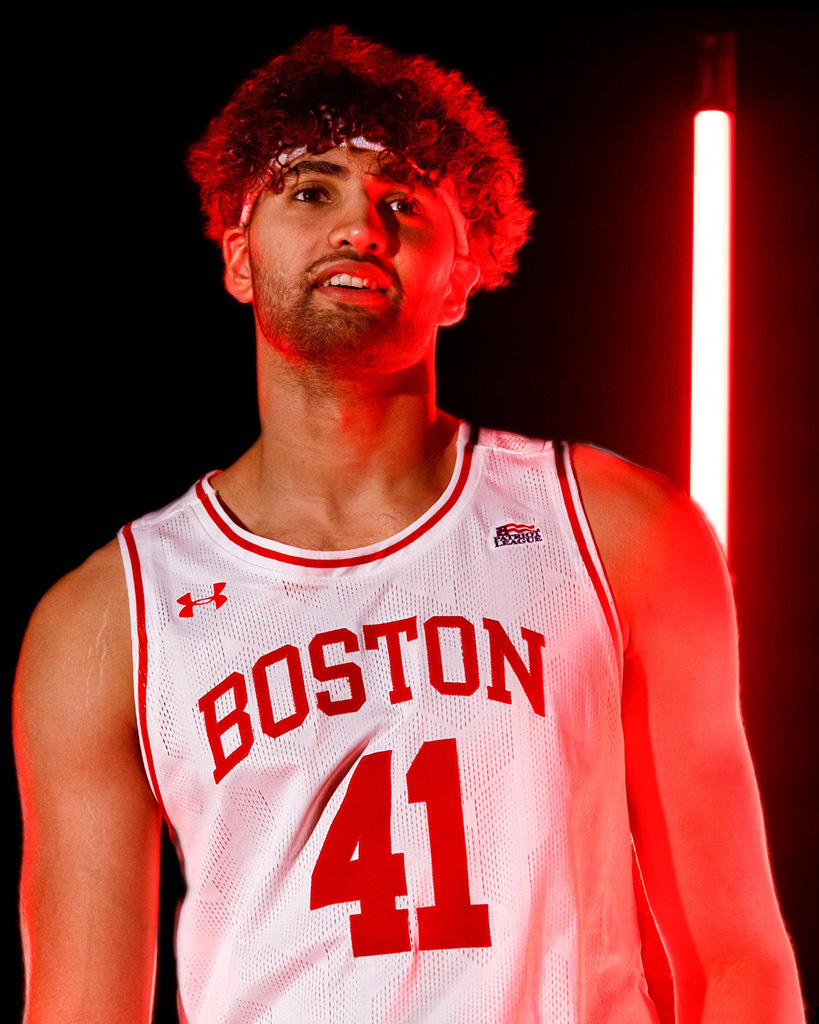 "He's the first to the gym and the last to leave," Jones says. "He's showing people how hard you have to work to be a great player."
From Dom Morris (MET'14) to Justin Alston (SHA'16, MET'17) to Max Mahoney (Questrom'20), Jones has seen a long line of successful frontcourt players in his program over the last decade. From that group, the 10th-year head coach says, Mathon sticks out among the rest.
"He's one of the guys, when I look back on my career as a coach, I'll be most proud of," Jones says. "He really wanted to be a great player, and he's worked hard for it. You're seeing everything kind of come together for him this year.
"He's been spectacular."
This season, Mathon has set team-leading totals in blocks (21), rebounds (293), and free throws made (133), and is trailing only classmate Javante McCoy (Questrom'21, SHA'22) in points (482), assists (48), field goals made (153), and minutes (875). Seeing the graduate student duo of Mathon and McCoy atop the BU box score has become a familiar sight.
"We've been through it all," Mathon says. "I've known all these guys for four or five years. I love them and I love my coaches. I'm a Terrier at heart."
When last season ended with a disappointing 77-69 quarterfinal defeat at Colgate, Mathon and McCoy were eligible to stay for a fifth as part of the NCAA's ruling for student-athletes because of COVID-19. They took advantage of the opportunity, and Jones says the team benefited greatly by having its core veterans return.
"To have those guys back, it's incredible. That just doesn't happen in college basketball, especially at the mid-major level," Jones says. "It speaks volumes for the type of kids that they are."
In addition to the team's chemistry, Mathon says part of what drew him back for one more year was the opportunity to complete unfinished business on the national stage. Mathon and the Terriers won the Patriot League title in February 2020 with a 64-61 upset win at Colgate, but they missed out on a trip to March Madness when the pandemic canceled the tournament the day after their win.
"It was a dream come true, but it was also a lesson in unfulfilled desire," Mathon says. "That's what we're striving for now, having a chance to get back there and make a run in the tournament."
As a junior in that successful 2019-2020 season, Mathon played off of star forward Mahoney, who went on to be named Patriot League Tournament MVP. Jones says that even though Mathon wasn't a focal point of the team just yet, he was still crucial to BU's championship that year.
"From day one, he was someone that could help us win because he could defend, he could rebound, and he was an excellent passer for a big guy," the coach says. "When we won the championship in 2020, I thought a big reason why was because he could defend perimeter guys."
Since Mahoney graduated, Mathon's full complement of skills has shone brightest in his increased role the last two seasons, but he hasn't forgotten the lessons learned from his predecessor. "He always led by example and played hard," he says. "He was a team-first guy."
Mathon was forced to put those qualities in himself into overdrive this season when transfer forward Nevin Zink (Questrom'23) went down with a season-ending injury in the fall semester. "Nevin was a big impact player off the bench," Mathon says. "It was definitely tough losing him. I had to take my game to another level."
At the same time, he says, Zink's absence presented an opportunity for fellow big-man Malcolm Chimezie (CAS'25), the lone freshman on the team.
Now, it's Mathon doing the mentoring. "I just try to encourage him every day," he says. "I think he has a lot of potential, and I want to do whatever it takes to optimize that. I know he'll be ready when the time comes."
Jones has noted, and appreciates, Mathon's efforts with Chimezie: "Sukh's been great in that relationship in particular, but overall, he's been a great teammate."
When this season ends and the next one begins, it will be the first BU lineup in half a decade without Mathon on the court. He hasn't missed a game through his five years on Comm Ave, holding the all-time BU men's basketball record for most games played (145). With the next level looming, the coach says, Mathon still has a lot of basketball ahead of him.
"He's going to play professional basketball," Jones says. "God willing, if he stays healthy, he's going to be able to play for a long time because of his ability not only to score, but to make others better. He's got the whole package."
Mathon credits his family and coaches for helping him get to this point. "They've done the absolute most supporting me," he says. "I'm extremely grateful for them, and especially my dad. I've always admired his work ethic and his selflessness. I've always wanted to be just like him."
Jones calls it "self-motivation," and Mathon will surely apply it wherever he goes beyond BU.
"You've got to stay the course. You've got to trust that the training you put in is going to pay off," Mathon says. "Regardless of what your role is, regardless of what your situation is, you've just got to come in every day and just become the best version of yourself."
The constant pursuit of improvement earned Mathon a career-high 26 points in the recent 78-65 victory at Holy Cross. With no signs of slowing down, he says his mission is to go out with another Patriot League title.
"I'm just focused on leaving the program on a high note, making it to March Madness one more time. I want to be remembered as a winner, and somebody who has grown a lot and always helped the team."
After a home game Wednesday, February 23, against Lafayette at Case Gym at 7 pm, Mathon and the Terriers will finish their regular season on Saturday, February 26, at Bucknell, taking on the Bisons at 2 pm. The Patriot League playoffs begin on March 3 and conclude on March 9. All games can be streamed on ESPN+ leading up to the conference semifinals and finals, which will be televised on CBS Sports Network. Fans can follow the team via @BUGameDay and @TerrierMBB on Twitter.