Tournament Canceled, but Title in Hand, BU Men's Basketball Players Bask in Moment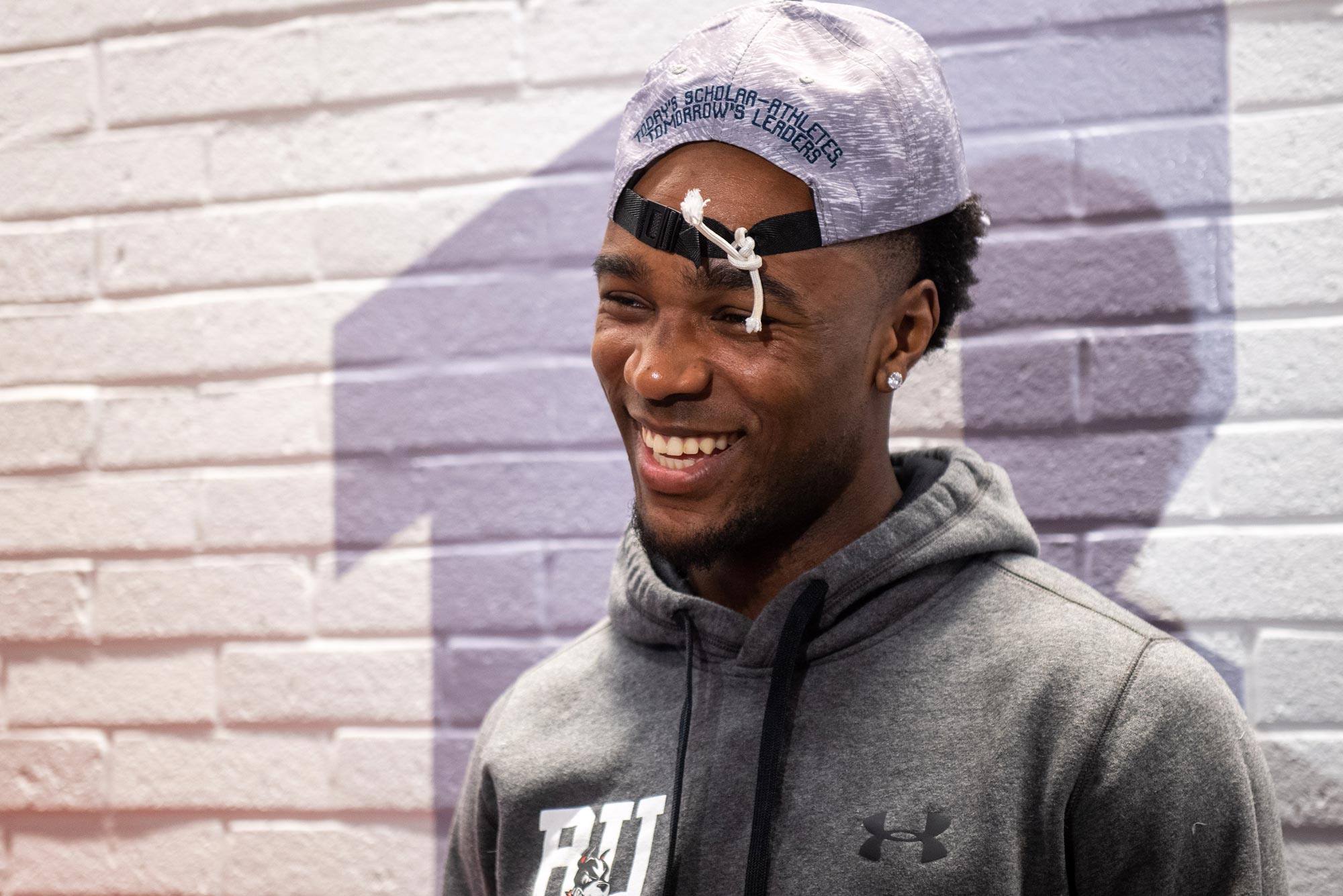 Varsity Sports
Tournament Canceled, but Title in Hand, BU Men's Basketball Players Bask in Moment
"We're the true definition of a brotherhood," guard Jonas Harper (CGS'20) says
In the Case Center lobby less than an hour before the 2020 NCAA March Madness Tournament was canceled because of the global coronavirus pandemic, the mood of the Boston University men's basketball Terriers was anything but sad. They were champions.

"We're the true definition of a brotherhood," Jonas Harper (CGS'20) says.

In the 17 or so hours after capturing the program's first Patriot League Tournament title with a 64-61 win at Colgate and earning the right to its first NCAA Tournament appearance since 2011, the BU basketball team is basking in its title—even with the sports world flipping upside down as the world reacts to the coronavirus.

The NBA suspended its season. Over a dozen conferences postponed their basketball tournaments. The Ivy League, the Patriot League, and the NESCAC called off their spring seasons. Many individual institutions followed suit. The Terriers were just thrilled they got to play—and win.

"With everything going on, I'm really grateful for the opportunity," Javante McCoy (Questrom'21) says. "Just being able to play the game and experience that, to share the moments at the end of the game—it meant a lot."

After the NCAA had first planned that the March Madness games would be played with no fans, the tournament was canceled Thursday afternoon.

"It's a tough time. At the end of the day, I get what's going on," All-Patriot League Third Teamer McCoy says. "You've got to prioritize health and safety."

Earlier on Thursday, the Patriot League announced the cancellation of the spring sports season. The conference's women's basketball tournament was called off in the afternoon (the BU women's basketball team was scheduled to play at home in the quarterfinals).
The men's Hockey East Tournament has also been canceled, it was announced March 12. The Terriers had been scheduled to play a three-game series against UMass Lowell, starting March 13, at Lowell.

Walter Whyte (CGS'19, CAS'21) missed all of last season with a bone bruise in his ankle. To cap his comeback season with a Patriot League title and All-Patriot League Second Team nod carried great weight.

---

It's a tough time. At the end of the day, I get what's going on. You've got to prioritize health and safety.

---
"I doubted myself at the beginning of coming back, just because I didn't know how it was going to be," Whyte says. "I proved to myself that I can be back to the player I was before, and even better."

BU coach Joe Jones acknowledged that the future is uncertain, but that didn't take away from what the Terrier men's basketball team has accomplished this season.

"I feel bad for so many people that have been impacted by this," Jones says. "We've got to understand there are people that have lost their lives, lost their loved ones. When that happens, it has to take precedence over anything else, and I support that 100 percent."