Men's Basketball Upsets Colgate, Wins First-Ever Patriot League Championship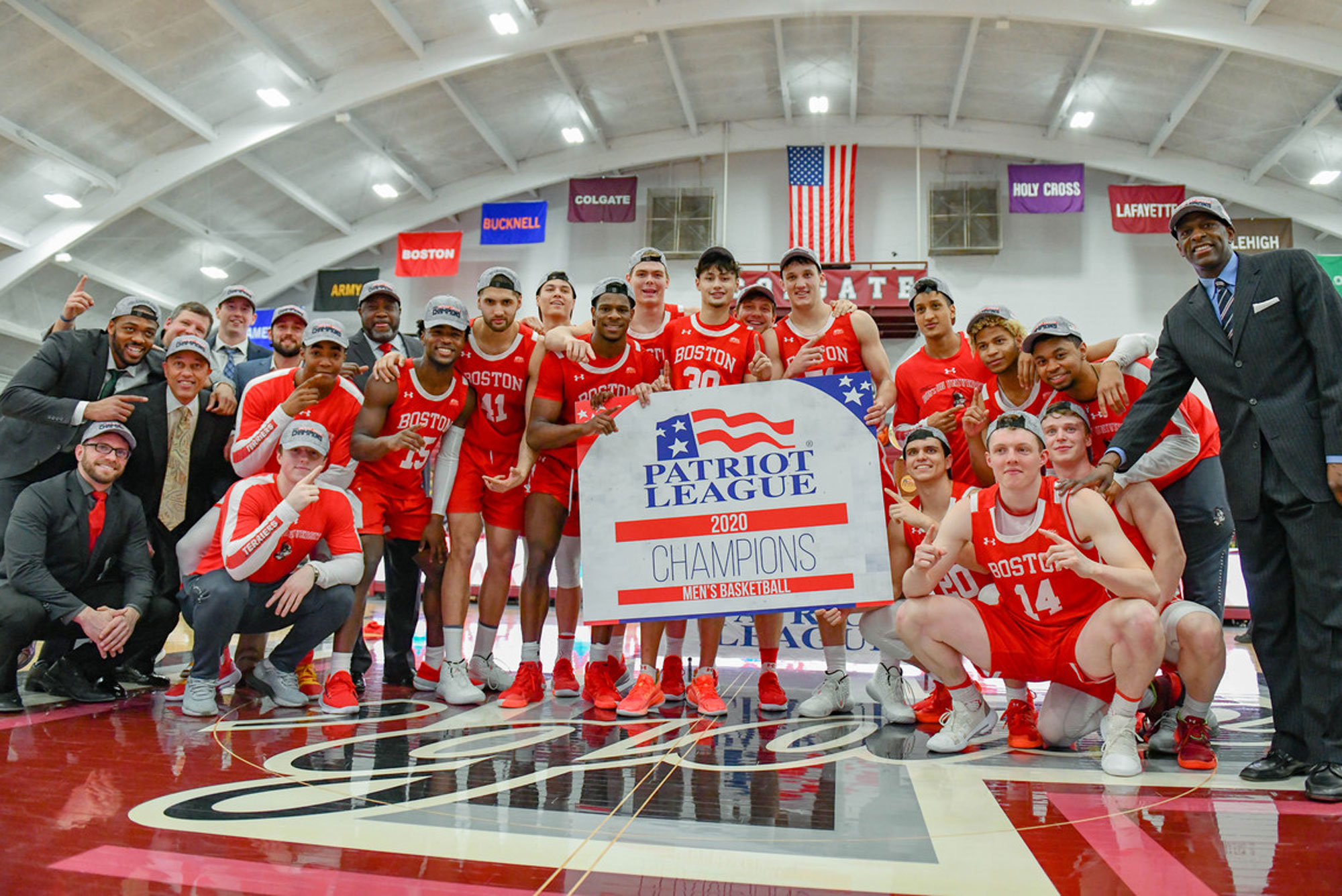 Varsity Sports
Men's Basketball Upsets Colgate, Wins First-Ever Patriot League Championship
Terriers clinch first NCAA Tournament berth since 2011
Updated—March 12, 6 pm: The NCAA has canceled the 2020 March Madness Tournament because of the coronavirus epidemic. The Terriers had been scheduled to play in the tournament.
For the first time since joining the Patriot League in 2013, the Boston University men's basketball team is headed to the NCAA Tournament. The Terriers clinched a 64-61 victory over Colgate University in the 2020 Patriot League Tournament championship game Wednesday night. Third-seeded BU (21-13, 12-6 Patriot League) overcame two regular season losses to the top-seeded Raiders (25-9, 14-4 PL), defeating them in a thrilling game on Colgate's home court. The Terriers now advance to their first NCAA Tournament appearance since 2011.

"We have so many guys who have worked so hard for so long; we've really keyed on how far we've come as a program," Max Mahoney (Questrom'20) said in a TV interview with CBS after the game. "I'm so glad we got it done."

What their NCAA Tournament experience will be like remains uncertain, however. The NCAA announced Wednesday that March Madness games will be played before no fans because of the fast-spreading coronavirus. And then, raising more questions about the tournament, the NBA stunned the sports world by announcing it was suspending its season after a player tested positive for the virus. If the NBA isn't playing games, can the NCAA?

Wednesday night's win marked a milestone for BU coach Joe Jones, who became the Terrier head coach in 2011, just after BU played in its last NCAA Tournament.

"I'm really fortunate to be in this position, really because I have great kids, talented kids, that would really do anything that we asked them to do," Jones says. "They put us in that position, and I'm here for the ride. I enjoyed every minute of coaching that game."
Mahoney (18 points, 10 rebounds, and 4 assists) led a quartet of Terriers in double figures. Walter Whyte (CGS'19, CAS'21) and Jonas Harper (CGS'20) had 12 points apiece, while Javante McCoy (Questrom'21) scored 11 points and had 7 assists.

McCoy scored the game's first basket, but the Terriers didn't lead again in the first half. BU stayed close throughout the half and at halftime had chipped a 9-point deficit to 33-29. Colgate made just one of its last 11 shots from the field.

The Terriers went on a three-point barrage in the second half, led by three triples from Harper.

Whyte started the second half with a three-pointer and Mahoney followed with a layup to take a 34-33 lead.

The lead would change hands 10 times more before Harper hit a go-ahead three-pointer, making it 53-51 with 8:40 to go.

Colgate had two opportunities to tie down the stretch when McCoy missed the front end of one-and-ones. The Raiders missed a three-pointer with 23 seconds left, then after a timeout with 10.7 seconds to go, missed two more three-pointers.

"I'm ready to dance," Mahoney says.