BU Neuroscientist Steve Ramirez Given $1.15 Million Chan Zuckerberg Initiative Science Diversity Leadership Award
Expert on memory will use award's five-year grant to advance research and train scientists from underrepresented backgrounds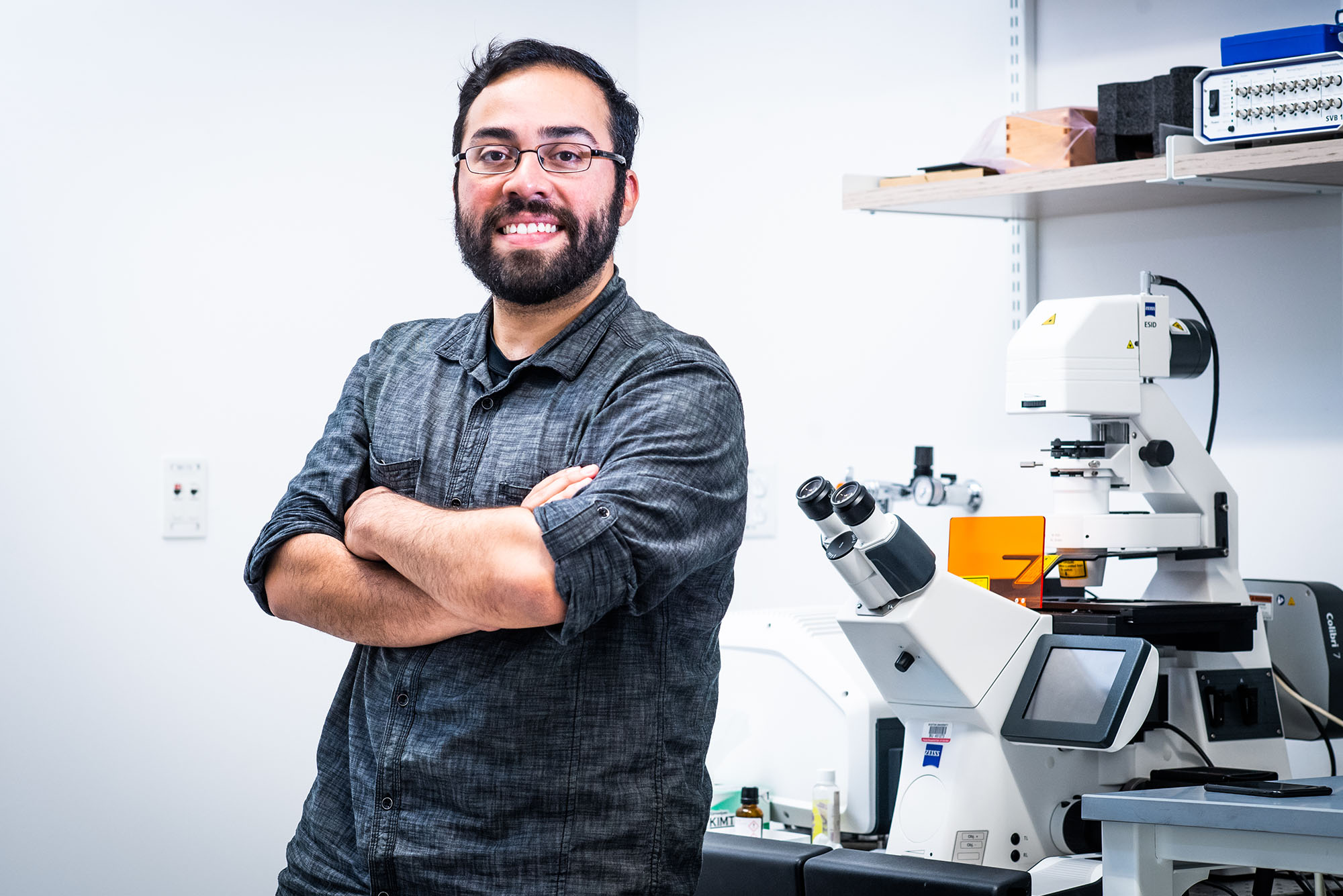 Accolades
BU Neuroscientist Steve Ramirez Given $1.15 Million Chan Zuckerberg Initiative Science Diversity Leadership Award
Expert on memory will use award's five-year grant to advance research and train scientists from underrepresented backgrounds
Steve Ramirez, a Boston University neuroscientist studying memory with the goal of improving mental health treatment, has been given an inaugural Science Diversity Leadership Award by the Chan Zuckerberg Initiative. The awards—launched in partnership with the National Academies of Sciences, Engineering, and Medicine—champion early- and mid-career scientists with a proven research record and a commitment to diversifying their field.
In his lab, Ramirez (CAS'10), a BU College of Arts & Sciences assistant professor of psychological and brain sciences, examines the neural circuits controlling memory and looks for ways to modulate them. His goal is to shape memories to help treat depression, post-traumatic stress disorder, and other mental health disorders.
The Chan Zuckerberg Initiative was founded in 2015 by Facebook founder and Meta CEO Mark Zuckerberg and his wife, Priscilla Chan, and its diversity leadership award comes with a five-year, $1.15 million grant. Ramirez will use the funding to advance his research and train the next generation of scientists from underrepresented backgrounds.
The Brink spoke with Ramirez about why this award matters and why it's so important to diversify science.
The Brink:
What's the goal of your research?
Ramirez: The importance of the work is twofold. The first is the idea that we can go in and image memories in the brain, and then go in and see how the memories look, how they change over time as they're formed, and even as they get emotional significance, like positive memories, negative memories. One of the overarching goals of the lab is to look at the physical basis of memories as they change, as they become positive or negative, or even as they enter a pathological space, as the brain begins to break down, or as the brain begins to degenerate. And then the second part is—given that we can look at memories as they change in the brain over time—can we go and artificially manipulate them? And, if so, can we do so in some kind of therapeutic capacity, so that the idea of artificially manipulating memories becomes part of the toolbox we have for tackling various disorders of the brain.
The Brink:
Why is the Science Diversity Leadership Award important to you?
Ramirez: It's amazing. It really fortifies our plans for training the next generation of neuroscientists, particularly from underrepresented backgrounds. My family's from El Salvador, I'm Hispanic American, and there's a sparsity of neuroscientists that are from Hispanic backgrounds. The significance of the award is that it helps us train the next leaders who will become role models for the subsequent generation. I remember when I was in graduate school, I didn't really have that many, if any, Latino neuroscientists to look up to or to call role models. And it kind of dawned on me way after the fact that if there are no role models around you, it's because you're the one to become that [role model] to help the next generation.

Our outreach plans for training the next generation of Hispanic and Hispanic American scientists can become a possibility thanks to the award. It does require funding and infrastructure for training these students in the lab, and forming these kinds of lifelong mentorship, training dynamics that hopefully will launch their careers. And what they're being trained in is part of the lab's mission of artificially manipulating and imaging memories in the brain. The award enables both the outreach components of our lab's approach to training neuroscientists, and simultaneously enables the research that will be going on.
The Brink:
How do you plan to recruit and train students from underrepresented backgrounds?
Ramirez: I went to public schools in Everett, a town six miles north of Boston, and my classroom in high school was, to this day, the most diverse classroom I've ever been in. I want to make neuroscience look like my high school classroom, where diversity is the norm, not the exception. The first thing would be to start off with recruiting from towns that have large Hispanic populations and representation—for instance, Everett, East Boston, Chelsea, some of the towns that I grew up in or around—to seek out high school students who can partake in a summer internship in the lab, using that to begin their experience in neuroscience and research. We have a lot of undergrads in the lab already that come from underrepresented backgrounds, so the award will also help us maintain those students for a longer period of time and to really start their careers in science and beyond.
The Brink:
How does having a more diverse team help improve your lab, and the science you and BU can do?
When we have students from different perspectives, it grounds the lab, it gives the lab a different lens through which to view science and view the world. We have a couple of undergrads, for instance, from Latin America. Some of the topics that we talk about, that we connect over, are making money to send back home to our families that we're helping out and how many often have to have a second job to help family back home or maintain finances. A lot of people don't relate to that directly, but when I chat with students, we connect about that. I understand that from within, because it's exactly the same trajectory that I went through and it helps me connect with students on a very human level.

Having these different perspectives really helps everybody. It helps everyone connect on a fundamentally deeper level. And that connection is the brick and mortar of teamwork, of groups working well together toward a common goal, such as a set of experiments in the lab. When you get people who understand each other—or respect each other's very different walks of life and where they come from—not only are they doing an experiment and science together, but they're [also] learning from each other, and they're learning from each other in a way that a classroom may not be able to teach you, but life and the experiences you have in the lab can be part of that enriching experience. It helps sculpt the next generation of citizens of the world.

I've seen firsthand how that helps people think creatively, or helps people think out loud without feeling like an imposter or inadequate. It's an environment that accepts and supports you, wants to elevate you. And then, when you work with other people who have that shared goal, everyone wins. Having a diverse set of perspectives with that approach is as enriching as any research experience in science can be.
The Brink:
What message or advice do you have for those students from a background like yours who want to follow in your footsteps?
There's a couple of bits of advice, and the first and foremost is that your values, and who you are as a person, shouldn't come second to work or career, or appeasing the establishment. Your values, who you are, what makes you tick, what makes you excited, those are your nonnegotiables. Ideally, you would be in a work environment that supports that, that elevates that, and that respects what you bring and who you are. Then you bring your whole self to the table.

A piece of advice I was once given was to build an army of people you trust around you, of friends, of colleagues, a support system of people who really do have your back. Celebrating is easy, but when life throws its inevitable curveballs at us, having that support system is a way of getting back to shore when we're paddling alone out in the stormy ocean.

There are multiple ways of succeeding and being happy. It's really embracing that your personal trajectory, like your fingerprint, is yours to own. It doesn't have to be one size fits all, it doesn't have to be the way that anyone else did it.