New Plan B Vending Machine in GSU Dispenses Low-Cost Emergency Contraceptives to the BU Community
The machine is the result of years of work by the club Students for Reproductive Freedom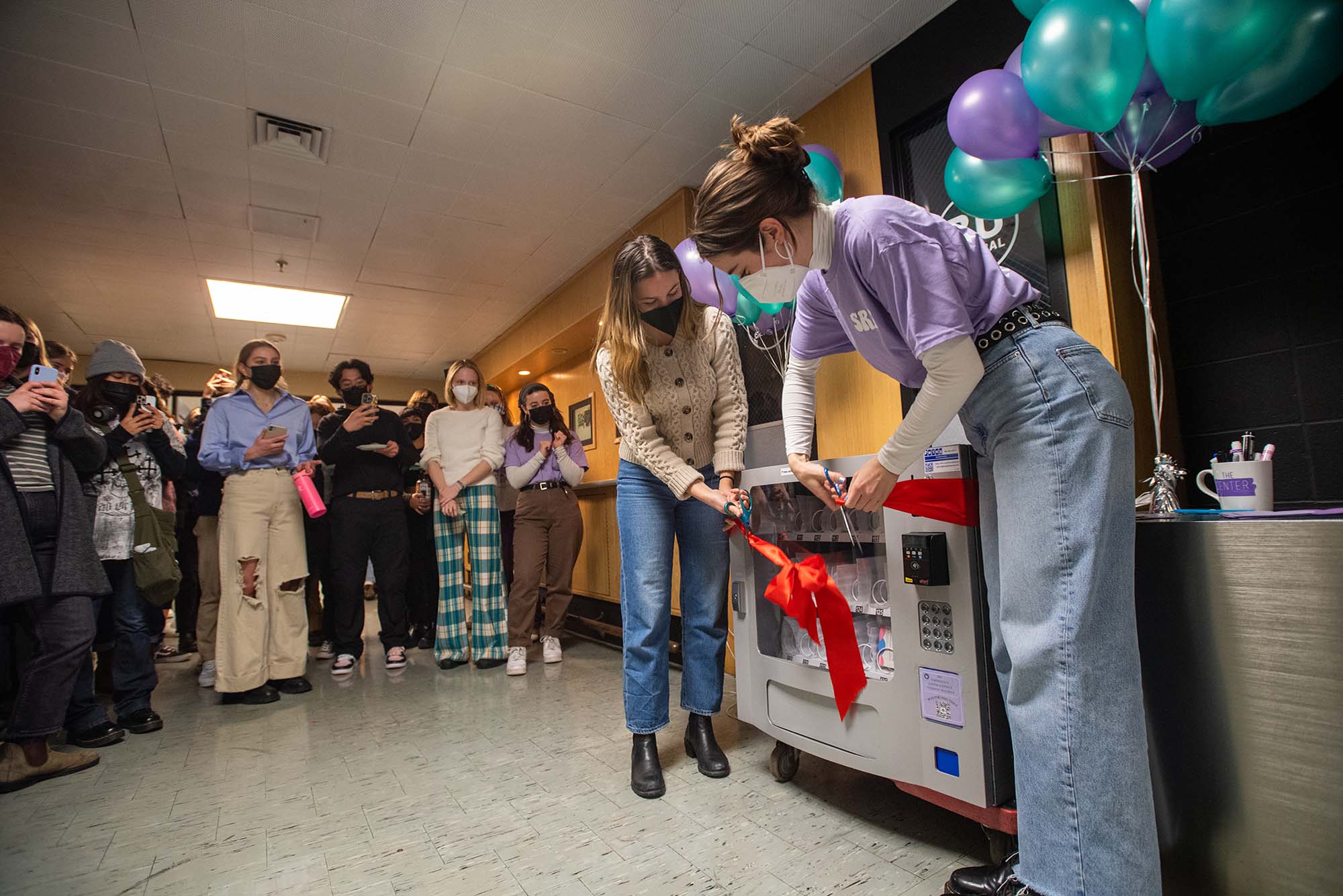 Reproductive Rights
New Plan B Vending Machine in GSU Dispenses Low-Cost Emergency Contraceptives to the BU Community
The machine is the result of years of work by the club Students for Reproductive Freedom
Doritos, Gatorade, and now Plan B—thanks to the Boston University club Students for Reproductive Freedom (SRF), your vending options in the George Sherman Union have gotten a whole lot wider.
What does that mean, exactly? In early March, the club, which is affiliated with Planned Parenthood, debuted an emergency contraceptive vending machine in the basement of the GSU, near BU Central. Stocked in the machine: a generic version of Plan B, more commonly known as the morning-after pill, for $7.25. (The machine takes all major credit cards.)
The new vending machine is the result of a years-long collaboration between SRF, Planned Parenthood, and BU's Student Health Services, Sexual Assault Response & Prevention Center, Facilities Management & Operations, and Vending Services. The idea for a Plan B–dispensing machine first sprung up about five years ago, according to current SRF copresidents Molly Baker (CAS'22) and Charlotte Beatty (CAS'22). But it wasn't until now, post–COVID-19 lockdown, that the idea finally came to fruition. (It also comes at a fraught time politically, with the future of abortion rights, and Roe v. Wade, under fire and a US Supreme Court that leans strongly conservative.)
According to the Centers for Disease Control and Prevention, women ages 20 to 24 are the most likely to have used emergency contraception. Nearly one in four women in that age group has taken the morning-after pill at some point in their lives. Actually getting the pill in your hands, however, can be a complicated (not to mention expensive and embarrassing) process. With all of that in mind, SRF pushed to have a Plan B vending machine in a central location on campus.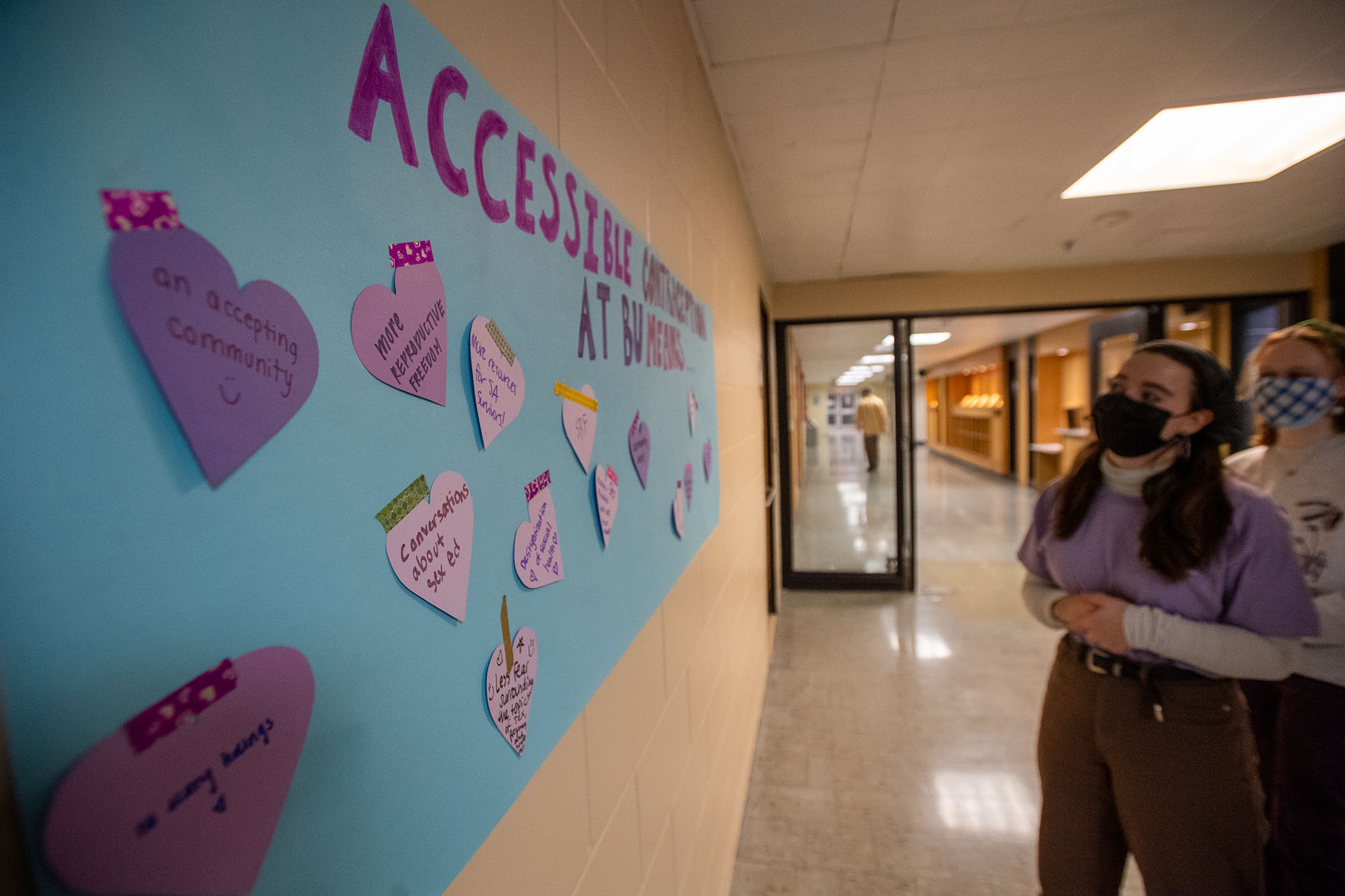 "SRF's whole mission is to break down barriers to reproductive healthcare access around campus as much as we can," Beatty says. "Plan B normally costs around $50, and to get it, you have to make a Planned Parenthood appointment or talk to someone at the pharmacy at CVS. There are so many potential access barriers to getting emergency contraception, so we just thought that this machine would be a really wonderful way to improve the state of reproductive healthcare for people in the BU community."
Plan B is essentially a larger dose of a birth control pill. It primarily works by delaying or preventing the release of an egg from an ovary, thus preventing a sperm from fertilizing an egg. Plan B can be taken up to 72 hours after unprotected sex, but it's most effective when taken within 24 hours.
BU students can also access emergency contraception through Planned Parenthood and Student Health Services. (SHS is the club's fiscal sponsor and orders the contraception for the new machine.) SRF's new low-cost vending machine is meant to add to the BU community's options. 
Efforts like the new vending machine are also beneficial to the transgender community, says SRF podcast manager Nick Lyons (Sargent'23), especially at a time when their rights are under fire from lawmakers, and transgender individuals may fear facing stigma when accessing reproductive care.
"I'm interested in trans healthcare and protecting reproductive freedom for everyone," Lyons says, explaining why he joined the club. "I don't think it's a gendered issue; it affects all genders. SRF was a cool opportunity to mix social activism with my interests."
In addition to the vending machine, SRF's initiatives this year have included LGBTQ+ and pleasure-focused sexuality workshops with local sex toy shop Good Vibrations. They've also brought in speakers from Black and Pink, a prison abolitionist organization supporting LGBTQ+ and HIV-positive prisoners, to educate members about criminal justice reform. "I think prison abolition and justice reform in general are very heavily intersected with reproductive justice, and that's something that a lot of us are really passionate about," Baker says.
Other SRF initiatives have included discussions on doulas and midwifery, disability and reproductive rights, and the history of forced sterilization, as well as fun events, like BJs in our PJs, an educational ice cream social with a reproductive justice club at Northeastern.
With everything SRF does, the goal is always to be as inclusive as possible, Beatty says. (She also notes that the group operates under the reproductive justice principles laid out by SisterSong, a woman of color–led organization.) She and Baker have tried to pull the club's focus away from what she calls the "white, liberal, pink pussyhat feminism" of 2016 and reframe it as a gender-inclusive organization for all.
"Reproductive justice is for people of all backgrounds, not just white women who need abortions," Beatty says. "And it's so many things beyond abortion—there are so many intersections with areas like trans rights, housing rights, and environmentalism. We really try and teach that to our members and invite them to teach us. SRF is as much a community space as it is an activist space."
But, even if Roe v. Wade is overturned or scaled back this year, anyone who needs emergency contraception will now have one more way to access it on campus.
No matter what happens, "students can get Plan B in the GSU now," Beatty says. "That's huge."