BU Matriculation 2022: Hopes for a "Near-Normal Year" on Campus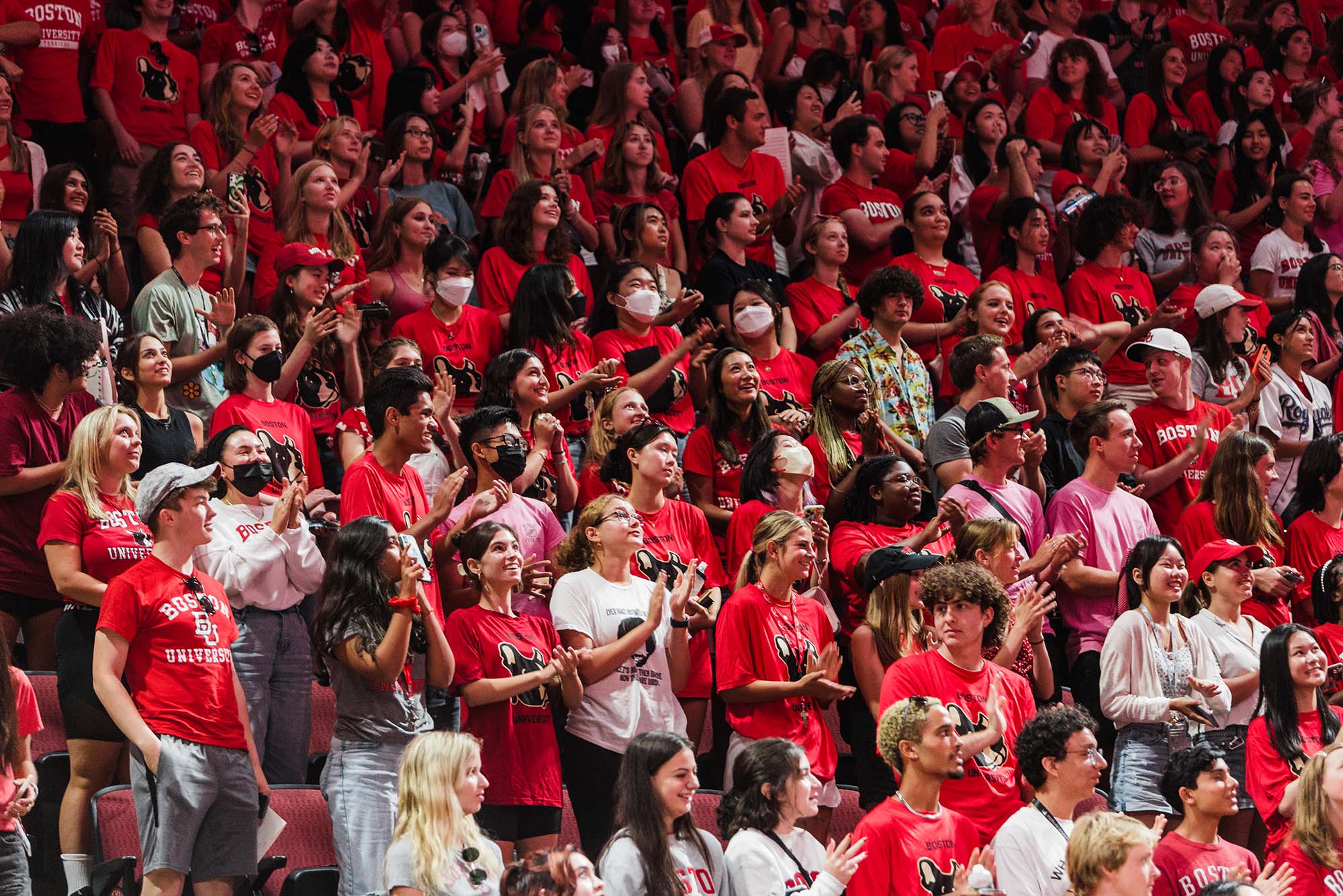 CLASS OF 2026
BU Matriculation 2022: Hopes for a "Near-Normal Year" on Campus
Sunday's official welcome for the Class of 2026, followed by University-wide Terrier Tailgate
While the Class of 2026 is entering BU at a time when many COVID-19 protocols have been relaxed, University President Robert A. Brown urged the newly minted freshmen to still be cautious and smart as he addressed them at Matriculation on a hot and sunny Labor Day weekend Sunday afternoon.
"I want to welcome you to what we are hopeful will be a near-normal year on our campus, even with COVID-19 still with us," Brown said from the Agganis Arena podium.
With a highly vaccinated community, Brown noted that data show the University's members are less susceptible to serious illness from the current dominant variant. "We are hopeful that this will remain true, but we are constantly observing changes in the virus and changes in illness on campus," he said. "I understand all the anxiety associated with going to college and that it has been amplified by the disruption in your life and education that has been caused by COVID-19."
The Matriculation ceremony marks the beginning of the academic year and is the first of only two occasions when an entering class will gather together (the other being Commencement). The Class of 2026 comprises 3,650 new Terriers, most of them arriving for the ceremony clad in scarlet gear. They were joined by friends and family, who filled the arena. Those who couldn't attend the ceremony in person were able to watch via livestream.
In addition to Brown, other speakers were Matriculation emcee Jason Campbell-Foster, University interim associate provost and dean of students, Jean Morrison, provost and chief academic officer, and Dhruv Kapadia (CAS'24), Student Government president.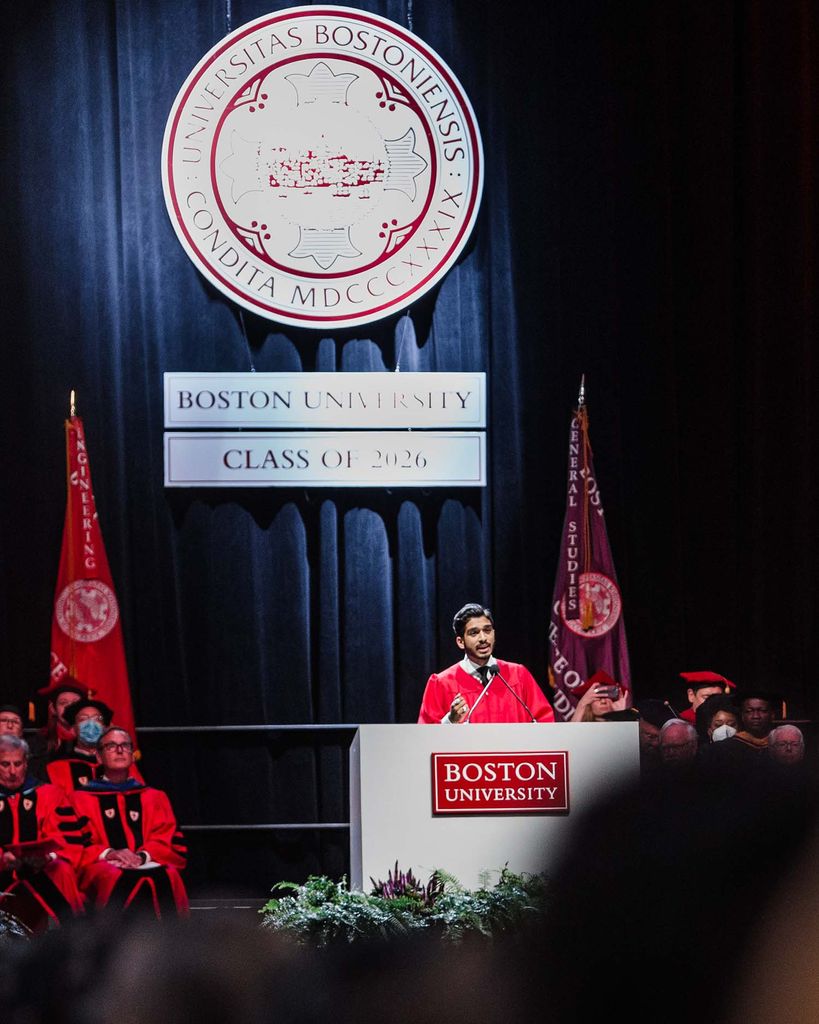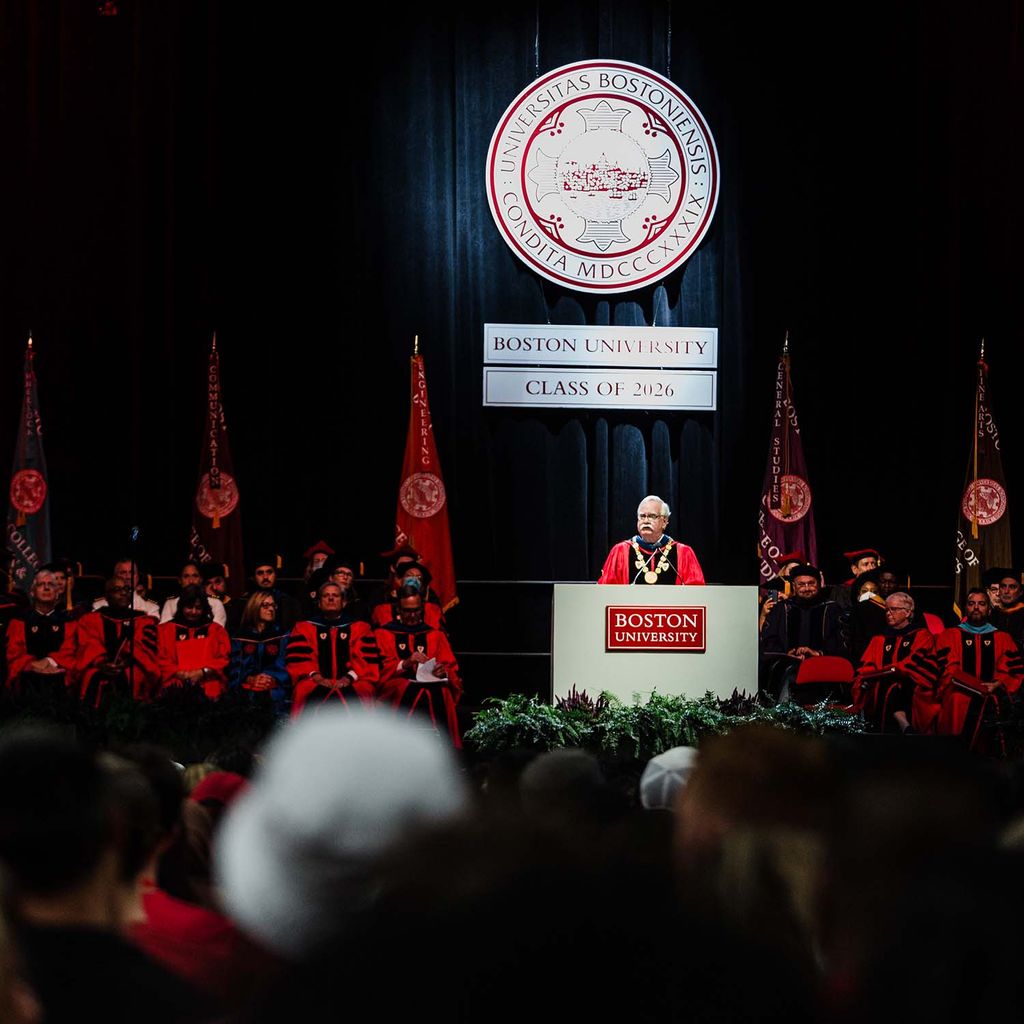 Kapadia talked about growing up the child of immigrants and being afraid to deviate from the status quo. "I was taught to be complacent," he said, "complacent in my thoughts, complacent in my actions, complacent in my very being." But reading The Autobiography of Malcolm X in eighth grade was an inspirational point in Kapadia's life. "X's ability to articulate radical truths to reactionary audiences inspired me to speak up for the voiceless, stay true to myself in the face of adversity, and fight for justice by any means necessary," he said.
"Look, these next four years truly will be some of the most transformative of your life," he said. "Don't hesitate to fight for what you believe in. Don't hesitate to be yourself in the face of adversity. Don't hesitate to be radical. You see an opportunity no one else is taking? Seize it. You want to try something new? Explore it. You want to make a change on campus? Fight for it. But whatever you do, don't be complacent…be radical."
Faculty speaker Binyomin Abrams, a College of Arts & Sciences research associate professor of chemistry, also addressed the entering freshmen, sprinkling his speech with funny and sometimes poignant tips he has gleaned over his years in academia: "the receptions before or after departmental colloquia are an inexpensive source of cheese," "nothing informational comes from TikTok," and a recommendation to "try the vegan cafeteria at Granby Commons." The recipient of several teaching awards, among them a 2015 Metcalf Award for Excellence in Teaching, he encouraged students to push themselves, to set goals and evaluate whether they are meeting them, and last, to prioritize their values. "Don't aspire to random standards set by strangers and influencers, or even by classmates and friends," Abrams said. "Cultivate and utilize your own moral compass and develop the tools to keep honing and growing through your college journey and your lives."
COVID-19 withstanding, Brown told the Class of 2026, they would graduate from college during one of the most challenging and exciting times in the history of the world, specifically citing the ongoing tragedy playing out in Ukraine, and the growing divisions across class, race, and religion here in the United States as well as abroad.
"The pandemic has demonstrated how interconnected we are, [and] as the virus swept around the globe, how difficult and economically painful it is to retreat into isolation to contain the virus," he said. "It also has made clear how much we need to work together to combat global challenges."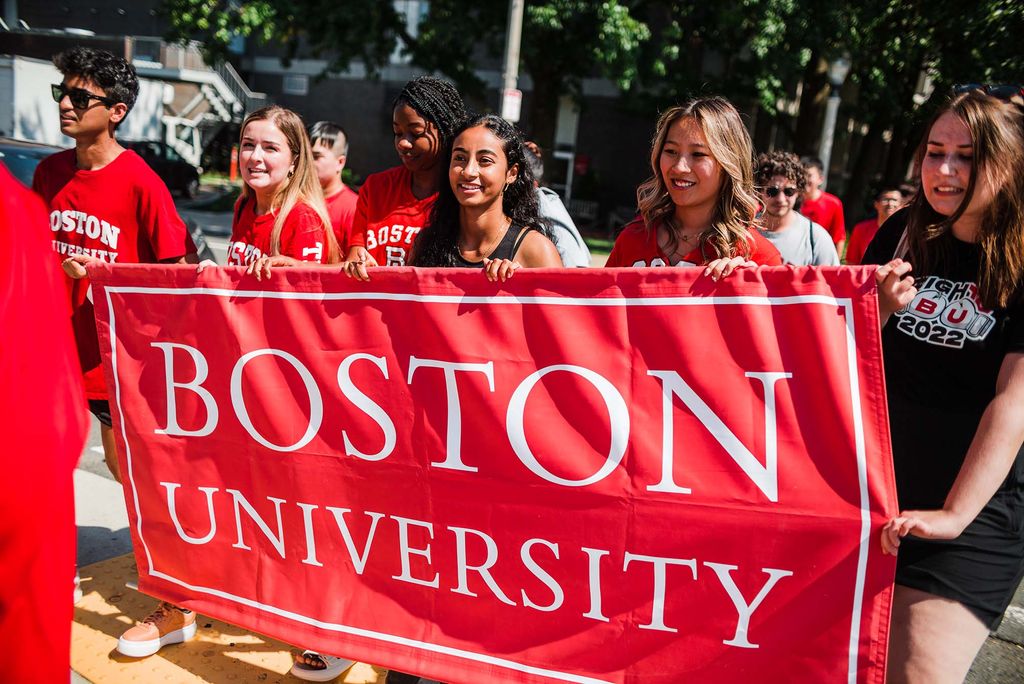 In her remarks, Morrison noted that Matriculation is among the most ancient university traditions worldwide. "​​You are about to enter into a special bond with this University," she said. "Within the University's classrooms and laboratories, your abilities will be shaped and nurtured; frequently, difficult demands will be made of you. We are confident, however, that you will not only meet these challenges, but excel." She then called upon the deans of each of BU's schools and colleges to present their incoming students to be formally matriculated.
"On behalf of Boston University's Board of Trustees, I hereby formally admit you to student status and declare you matriculated members of the Boston University Class of 2026," Brown said. "Congratulations, study hard, and good luck."
In addition to the Matriculation ceremony, the day also included a special breakfast in campus dining halls, an interdenominational Matriculation service at Marsh Chapel, yoga and the traditional group reading of Maya Angelou's poem "On the Pulse of Morning," both on the BU Beach, and the annual Matriculation Walk for students along Commonwealth Avenue from East and West Campus to Agganis Arena.
After the singing of Clarissima, the University song, at the end of the ceremony, students and their families were invited to the annual Terrier Tailgate on Nickerson Field, with free food, games, and swag. Many then hung around to watch the BU women's soccer game against Boston College. The Terriers fell to the Eagles, 3-1.