Metcalf Awards for Excellence in Teaching: Past Awardees
2022 Metcalf Award Recipient
Leslie Dietiker
Wheelock College of Education & Human Development, Mathematics Education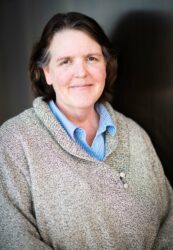 Leslie Dietiker is an associate professor of mathematics education at Boston University's Wheelock College of Education & Human Development. For nearly a decade, she has inspired prospective and practicing teachers to spark a passion for math in their students.
She deftly combines collaborative classroom inquiry, immersive fieldwork, and dedicated mentorship. The result engages students and elicits curiosity and wonder, qualities they bring to classrooms around the country.
Professor Dietiker's popular "mathematical tours" of Boston, which she helped develop with colleagues and doctoral students over the years, are but one example of that engagement. Determining percentages of city land devoted to green space or comparing the length of the Boston Marathon course to that of the number of trucks used for a public works project present models that can be replicated in any community.
Student evaluations are routinely effusive and include praise such as "thought-provoking," "enriching," and "inspiring." One student wrote that Professor Dietiker "had many suggestions I was able to implement right away to improve my teaching."
According to her program director, Professor Dietiker aims to "get her teacher-students to rethink their 12 years of dull and disconnected mathematics lessons and imagine a K–12 curriculum specifically designed to engage and intrigue students."
Professor Dietiker is an elected executive committee member of the International Society for Design and Development in Education and leads professional development for teachers in school districts in Greater Boston. She has won numerous grants and awards, including National Board Certification for Teaching Mathematics for her work at the high school level and a prestigious CAREER grant from the National Science Foundation.
She earned a BS in mathematics, with emphasis in teaching, from California Polytechnic State University and a PhD in mathematics education from Michigan State University. Prior to her work at BU, Professor Dietiker taught math and computer science at a public high school in San Francisco for 17 years. A frequent panelist and presenter at national conferences, she has contributed to several books and mathematics curricula.
2021
Fadie Coleman, MED
David Sullivan, CAS
2020
Seth Blumenthal, CAS
Courtney Goto, STH
2019
Neal H. Fleisher, GSDM
Gregory L. Stoller, Questrom
2018
Elizabeth Co, CAS
James A. Wolff, SPH
2017
Sophie Godley, SPH
Gary Lawson, LAW
2016
Manher Jariwala, CAS
Erin Murphy, CAS
2015
Binyomin Abrams, CAS
Pamela Templer, CAS
2014
Terry Everson, CFA
Alan Marscher, CAS
2013
John Finnerty, CAS
Carol Jenkins, SED
2012
Marisa Milanese, CAS
Robert Lowe, MED
2011
Wayne LaMorte, SPH
David Walker, LAW
2010
John Caradonna, CAS
Sandra Nicolucci, CFA
2009
Peter Edward Busher, CGS
2008
Andrew Kull, LAW
T. Jefferson Kline, CAS
2007
Penelope Bitzas, CFA
2006
Peter Hawkins, CAS
John T. Matthews, CAS
2005
Akahiro Kanamori, CAS
John Straub, CAS
2004
David Marchant, CAS
Anatoly Temkin, MET
Rosanna Warren, CAS
2003
Robert L. Devaney, CAS
Ann Howard Jones, CFA
2002
Theo de Winter, ENG
Fred S. Kleiner, CAS
Diana Wylie, CAS
2001
Lisa Sullivan, SPH
2000
Dan Clemens, CAS
Maureen O'Rourke, LAW
1999
Raymond J. Nagem, ENG
David Roochnik, CAS
1998
M. David Eckel, CAS
Loren J. Samons II, CAS
1997
Igor Lukes, CAS/UNI
John Daverio, SFA
1996
Dick A. Brown, MED
James Johnson, CAS
Frederick M. Lawrence, LAW
1995
Robert G. Feldman, MED
Tracey Maclin, LAW
1994
Bonnie Costello, CAS
1993
S. Hamid Nawab, ENG
Mark Pettit, Jr., LAW
1991
Theodore Antoniou, SFA
Robert G. Bone, LAW
1990
Carolyn Dillon, SSW
Solomon Eisenberg, ENG
1989
Katheryn Pfisterer Darr, STH
John Snyder, CAS
1988
Nagagopal Venna, MED
1987
Jeffrey Coulter, CAS
Misia Landau, CAS
1986
James Purvi, CAS
Anna Deane Scott, SAR
1985
Alicia Borinsky, CAS
Jules Schwartz, SMG
1984
Peter F. Arenella, LAW
William R. Keylor, CAS
Lester F. Williams, Jr., MED
1983
D. Allen Rogers, SFA
Carolyn Williams. CAS
1982
Steven Molinsky, SED
1981
Katherine O'Connor, CAS
N. Paul Rosman, MED
1980
Roselmin Indrisano, SED
John R. Russell, SMG
1979
Louis Low, SSW
Murray R. Yaeger, COM
1978
Freda Rebelsky, CAS
Samuel Stern, MET
Alfred Prock, CAS
1977
Celia Millward, CAS
David Wheeler, CAS
1976
Muriel A. Poulin, SON
Arnold A. Offner, CAS
Robert H. Sproat, CAS
1975
Charles P. Fogg, CGS
Paul D. Berger, SMG
1974
Gerald P. Fitzgerald, CAS
Nancy L. Roelker, CAS
Paul A. Wallace, LAW