Metcalf Awards for Excellence in Teaching: Past Awardees
2023 Metcalf Award Recipients
Stephanie Byttebier
College of General Studies, Rhetoric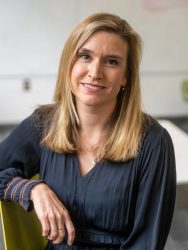 Stephanie L. Byttebier (GRS'04,'13) is a senior lecturer in rhetoric at Boston University's College of General Studies and began teaching at the University in 2005 as an instructor in the Writing Program at the College of Arts & Sciences. Known for fusing classroom instruction and research with the world at large, she received the Global Impact Research Fund Award from CGS's Center for Interdisciplinary Teaching & Learning in 2020.
Dr. Byttebier earned a BA in linguistics and literature, magna cum laude, from the University of Ghent, an MA in American studies, magna cum laude, from the University of Antwerp, and her MA and PhD in English from Boston University. She teaches courses in composition and rhetoric, the history of rhetoric, and the rhetoric of protest and resistance—among other topics—and emphasizes the role rhetoric plays in challenging the status quo. She often seeks to connect discussion of historical materials to our cultural moment, from an Eminem rap battle to Super Bowl ads to debates on daytime talk shows.
Dr. Byttebier also leads a course in the London Study Abroad semester, where she brings history to life through assignments that send students across the city equipped with cameras and notebooks. Hands-on experience is a crucial component of her pedagogy, particularly through service learning as a mutually beneficial practice. Her students serve as judges for the Boston Debate League, an organization that brings the power of oral argument and civil discourse into public middle and high schools.
In her course evaluations, she receives enthusiastic praise and countless superlatives: "Absolutely amazing," "The best professor I've had at BU," and "If I could take her forever, I would." But the adjective that recurs most is "passionate."
Her colleagues agree, lauding her creativity, sophistication, and emphasis on active learning. As her department chair puts it, "Dr. Byttebier is defined by her refusal to take shortcuts or compromise in any way when it comes to offering students the very best possible learning experiences."

---
Joanna Davidson
College of Arts & Sciences, Anthropology
Arvid & Chandan Nandlal Kilachand Honors College
Joanna Davidson is an associate professor of anthropology at Boston University's College of Arts & Sciences and associate director of Kilachand Honors College. Since joining BU in 2011, she has taught an array of anthropology and interdisciplinary courses at the undergraduate and graduate levels. She has also supervised numerous PhD students and mentored many postdoctoral fellows. According to Professor Davidson, anthropology cultivates more nuanced, imaginative, and empathic orientations to the world. Her first-year seminar, The Power, Politics, and Ethics of Storytelling, is one of the most highly rated at Kilachand.
Professor Davidson describes her teaching style as "intellectually demanding and individually empowering." Her students call it "illuminating," "transformative," and "contagious." 
Concerned that conventional grading discourages intellectual risk-taking, Professor Davidson proposed a strategy that emphasizes dialogue and student reflection. She has implemented alternative grading approaches in all her courses and has worked to spread these methods across the honors college and BU.
A sociocultural anthropologist, Professor Davidson has conducted ethnographic research in Guinea-Bissau since 1999, where she has focused on rural West Africans' responses to environmental, economic, and religious change. She is the author of Sacred Rice: An Ethnography of Identity, Environment, and Development in Rural West Africa and coeditor of Opting Out: Women Messing with Marriage around the World. She has authored numerous peer-reviewed articles and book chapters.
Professor Davidson earned a BA, with honors, in anthropology and feminist studies from Stanford University, and her MA and PhD in anthropology from Emory University. Prior to becoming an academic anthropologist, she worked with nongovernmental organizations in Africa and Latin America on issues such as refugee resettlement, indigenous rights, rural development, and social entrepreneurship.
2022
Leslie Dietiker, Wheelock
2021
Fadie Coleman, MED
David Sullivan, CAS
2020
Seth Blumenthal, CAS
Courtney Goto, STH
2019
Neal H. Fleisher, GSDM
Gregory L. Stoller, Questrom
2018
Elizabeth Co, CAS
James A. Wolff, SPH
2017
Sophie Godley, SPH
Gary Lawson, LAW
2016
Manher Jariwala, CAS
Erin Murphy, CAS
2015
Binyomin Abrams, CAS
Pamela Templer, CAS
2014
Terry Everson, CFA
Alan Marscher, CAS
2013
John Finnerty, CAS
Carol Jenkins, SED
2012
Marisa Milanese, CAS
Robert Lowe, MED
2011
Wayne LaMorte, SPH
David Walker, LAW
2010
John Caradonna, CAS
Sandra Nicolucci, CFA
2009
Peter Edward Busher, CGS
2008
Andrew Kull, LAW
T. Jefferson Kline, CAS
2007
Penelope Bitzas, CFA
2006
Peter Hawkins, CAS
John T. Matthews, CAS
2005
Akahiro Kanamori, CAS
John Straub, CAS
2004
David Marchant, CAS
Anatoly Temkin, MET
Rosanna Warren, CAS
2003
Robert L. Devaney, CAS
Ann Howard Jones, CFA
2002
Theo de Winter, ENG
Fred S. Kleiner, CAS
Diana Wylie, CAS
2001
Lisa Sullivan, SPH
2000
Dan Clemens, CAS
Maureen O'Rourke, LAW
1999
Raymond J. Nagem, ENG
David Roochnik, CAS
1998
M. David Eckel, CAS
Loren J. Samons II, CAS
1997
Igor Lukes, CAS/UNI
John Daverio, SFA
1996
Dick A. Brown, MED
James Johnson, CAS
Frederick M. Lawrence, LAW
1995
Robert G. Feldman, MED
Tracey Maclin, LAW
1994
Bonnie Costello, CAS
1993
S. Hamid Nawab, ENG
Mark Pettit, Jr., LAW
1991
Theodore Antoniou, SFA
Robert G. Bone, LAW
1990
Carolyn Dillon, SSW
Solomon Eisenberg, ENG
1989
Katheryn Pfisterer Darr, STH
John Snyder, CAS
1988
Nagagopal Venna, MED
1987
Jeffrey Coulter, CAS
Misia Landau, CAS
1986
James Purvi, CAS
Anna Deane Scott, SAR
1985
Alicia Borinsky, CAS
Jules Schwartz, SMG
1984
Peter F. Arenella, LAW
William R. Keylor, CAS
Lester F. Williams, Jr., MED
1983
D. Allen Rogers, SFA
Carolyn Williams. CAS
1982
Steven Molinsky, SED
1981
Katherine O'Connor, CAS
N. Paul Rosman, MED
1980
Roselmin Indrisano, SED
John R. Russell, SMG
1979
Louis Low, SSW
Murray R. Yaeger, COM
1978
Freda Rebelsky, CAS
Samuel Stern, MET
Alfred Prock, CAS
1977
Celia Millward, CAS
David Wheeler, CAS
1976
Muriel A. Poulin, SON
Arnold A. Offner, CAS
Robert H. Sproat, CAS
1975
Charles P. Fogg, CGS
Paul D. Berger, SMG
1974
Gerald P. Fitzgerald, CAS
Nancy L. Roelker, CAS
Paul A. Wallace, LAW