Idea Sharing App Insphigher Wins Annual BU Cannabis Start-Up Competition
COM alum Isabelle Bryan takes home the $10,000 grand prize for a platform for cannabis users to share ideas while high
Innovation
Idea Sharing App Insphigher Wins Annual BU Cannabis Start-Up Competition
COM alum Isabelle Bryan takes home the $10,000 grand prize for a platform for cannabis users to share ideas while high
The Photonics Colloquium Room was buzzing with excitement Tuesday night as students, alums, and finalists gathered for the sixth annual Innovate@BU Cannabis Start-Up Competition waited to find out who had netted the $10,000 grand prize. 
The finalists presented their ideas for cannabis-ancillary start-ups (companies or ideas that support the cannabis industry but don't come in direct contact with cannabis plants) to a panel of judges.
This year's winner was Isabelle "Belle" Bryan (CGS'19, COM'21), who created Insphigher, an idea-sharing app for cannabis users to explore and share their creativity with others while they are high.
Bryan said that there are currently no user-friendly platforms that allow cannabis users to share and/or collaborate and that current online cannabis communities are fragmented and disorganized. Insphigher, she said, aims to bring the cannabis community together to connect and interact with one another. Users would share their ideas via audio and text to prevent the negative impacts of image- and video-sharing experienced on other social media platforms. The app would also host monthly challenges where users can be rewarded for their ideas. Asked how her app would incorporate social equity into her business (a requirement of the competition), Bryan said Insphigher would "work to create educational programs to all community members when it comes to cannabis safety and knowledge, regardless of race, gender, income, ability, or zip code."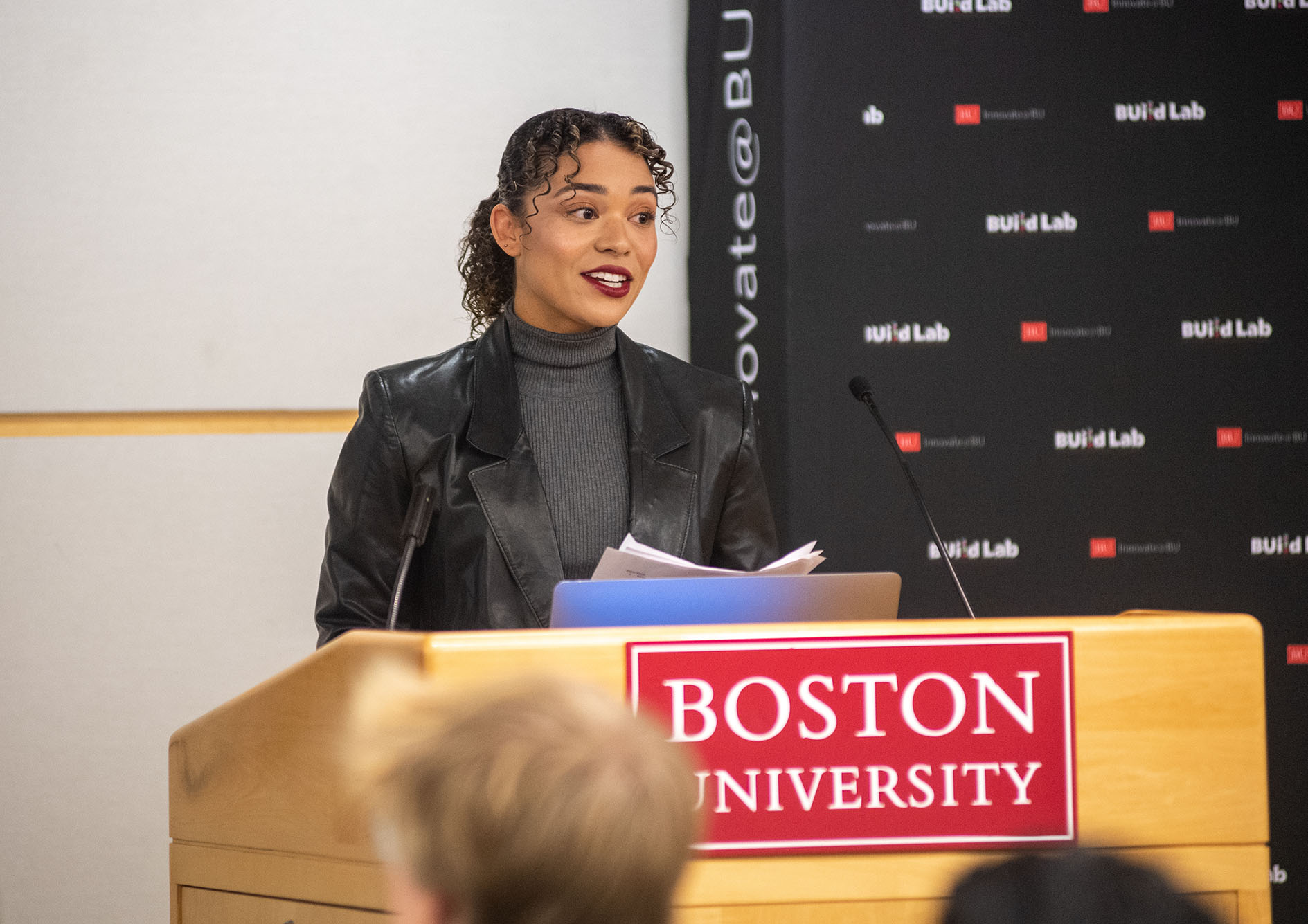 In addition to netting the grand prize, Bryan will receive free consulting services from the Denver-based business strategy firm Green Lion Partners, which sponsors the annual competition. The firm was founded by BU alums Jeff Zucker (Questrom'10) and Mike Bologna (Questrom'10). 
Green Lion advises companies across the cannabis industry on how to elevate their business ideas and strives to promote socially conscious legislation. For the BU competition, the firm requires that all participants "have some sort of social component to their work to show that they are making a positive impact helping to reduce the stigma of cannabis," Zucker says.
Each team had six minutes to pitch their idea, and judges had six minutes to ask questions.
The other finalists were Tukano, a platform that links investors, service providers, customers, and cannabis producers, created by Andrea Rosales (Questrom'22) and Juan David Bolaños; MPS, a firm that enables clients to produce quality products on a large scale despite economic and regulatory constraints, founded by Esteban de la Vega (MET'23); and Cannalytica, a consultancy firm that provides data analytics on cannabis dispensaries, founded by Ross Mikulskis (CAS'25), Andrew Shulov (Questrom'25), Paul Mikulskis, Greg North, and Cedric Hata. (The competition requires that each team have at least one member who is either a current BU student or an alum.)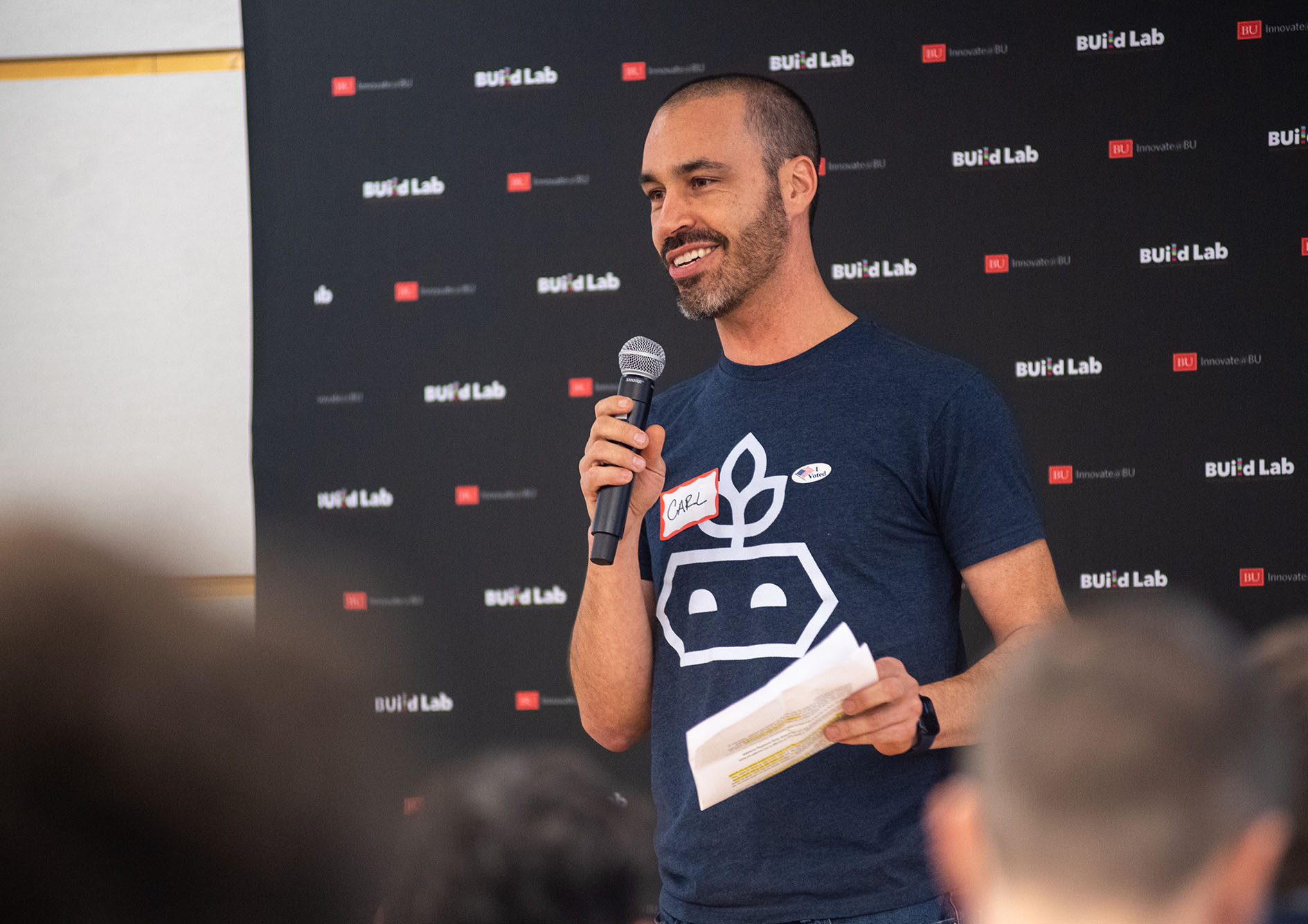 This year's judges were Carle Palme (ENG'04, Questrom'12, Jaime Lewis, and Peter Bleyleben. Palme, who won last year's competition for his company Annaboto, which allows users to grow cannabis at home in a compact, hydroponic device, sat in for cannabis industry consultant and advocate Kim Napoli. Lewis, Coldwater Consulting cofounder and managing partner, used her experience as an executive chef to launch Mountain Medicine, a Colorado-based edibles producer. Bleyleben, a partner at Converge Venture Partners, cofounded financial intermediary MicroFinancial, Inc. 
The evening began with speakers Sydney Ballard (CAS'24), vice president of Student Marijuana Alliance for Research and Transparency at BU; Marion McNabb (SPH'16), president of the Cannabis Center of Excellence, which took the competition's top prize in 2017; event cosponsor Zucker; and Palme. 
The judges deliberated after hearing the four pitches while a reception was held for those attending. Then the winning pitch was announced, and Bryan was presented with a $10,000 check for Insphigher.
"Ideas are infinite. We have them all the time. At work, at home, in the shower before bed," Bryan said. "Cannabis is known to inspire ideation in particular."
Palme spoke about his experience founding his own company, and how his victory in 2021 has impacted his start-up. "Starting a company is really, really hard," he said. "The nice thing about these events is that the people you meet will help you in ways that you don't even know going forward."
Bryan says the prize money will allow her to continue developing her app and taking it one step closer to becoming a reality. "Cannabis can really change the world," she says. "It can really inspire people and change their perspective on things."