Questrom Sustainability Contest, with $50,000 Prize, Draws Student Teams from across Massachusetts
And the award goes too…
Business & Law
Questrom Sustainability Competition, with $50,000 Prize, Draws 62 Student Teams from 12 Schools
And the award goes to…
The five BU student teammates slept fitfully the night before, as $50,000 in prize money was riding on their answer to one question: can you make "Allston Christmas" merrier for universities, residents, and the environment?
For those who haven't navigated through it, Allston Christmas is the run-up to every September 1, when off-campus students vacating apartments overflow neighborhood sidewalks with abandoned furniture and household items—a veritable free bazaar for passers-by, but a burden on landfills, traffic, and garbage pickup costs for unclaimed items. With BU adopting a Zero Waste Plan and partnering with Casella Waste Systems, and with Massachusetts weighing mandatory recycling of usable furniture, what reuse-and-recycle programs would best clear the public way?
The challenge capped a semester-long competition, geared toward environmental sustainability, that drew 62 teams from a dozen universities across Massachusetts and the University of Connecticut. Schools fielded multiple teams, but just three, including one from BU, survived to the November 5 finals, where the Terriers presented their plans to officials from Casella judging the contest.
Rachel Koh (Questrom'24) said her team surveyed 90 Boston-area students and "42 percent of respondents found that sorting trash from recycling is difficult and time-consuming." Ryan Loughran (Questrom'24) cited other universities that decreased waste by deploying more recycling bins and clearer signage about what can be recycled, and by matchmaking student donors of unwanted furniture with nonprofits. James Coyle (CAS'24), noting that "96 percent [of students] don't recycle due to a lack of knowledge or care," suggested mandatory sustainability orientation and more campus sustainability groups and events. Rachel Levine (Questrom'24) recommended Stanford's approach of awarding money to students who document sustainable lifestyle habits.
The BU team's proposals weren't enough to crown them the victor; that honor and the $50,000 went to Suffolk University. But Casella, impressed with the finalists' ideas, pledged to be in touch with all three.
The eye-popping purse was the second largest in the country for such "case competitions" involving real-life business challenges, said competition coordinator Greg Stoller, a Questrom senior lecturer in strategy and innovation. The prize was donated by Mikhail Gurevich (ENG'07, Questrom'12), managing partner of investment firm Dominion Capital, who's a sustainability enthusiast who has endowed four more years' worth of such contests at his alma mater. The Suffolk team will actually split $45,000, as Gurevich required that the victors donate $5,000 to a sustainability organization of their choice.
He has seen evidence of environmental degradation while pursuing another passion: mountain climbing. "You realize there's something going on, [creating] a lot more awareness that you want to leave this a better place," he said in remarks at Saturday's event.
Welcoming attendees, including Gurevich and nine other sustainability experts who judged the semifinals before the final showdown, Susan Fournier, Questrom's Allen Questrom Professor and Dean, said the competition aspired "to create actionable solutions for pressing sustainability challenges facing our communities and our world.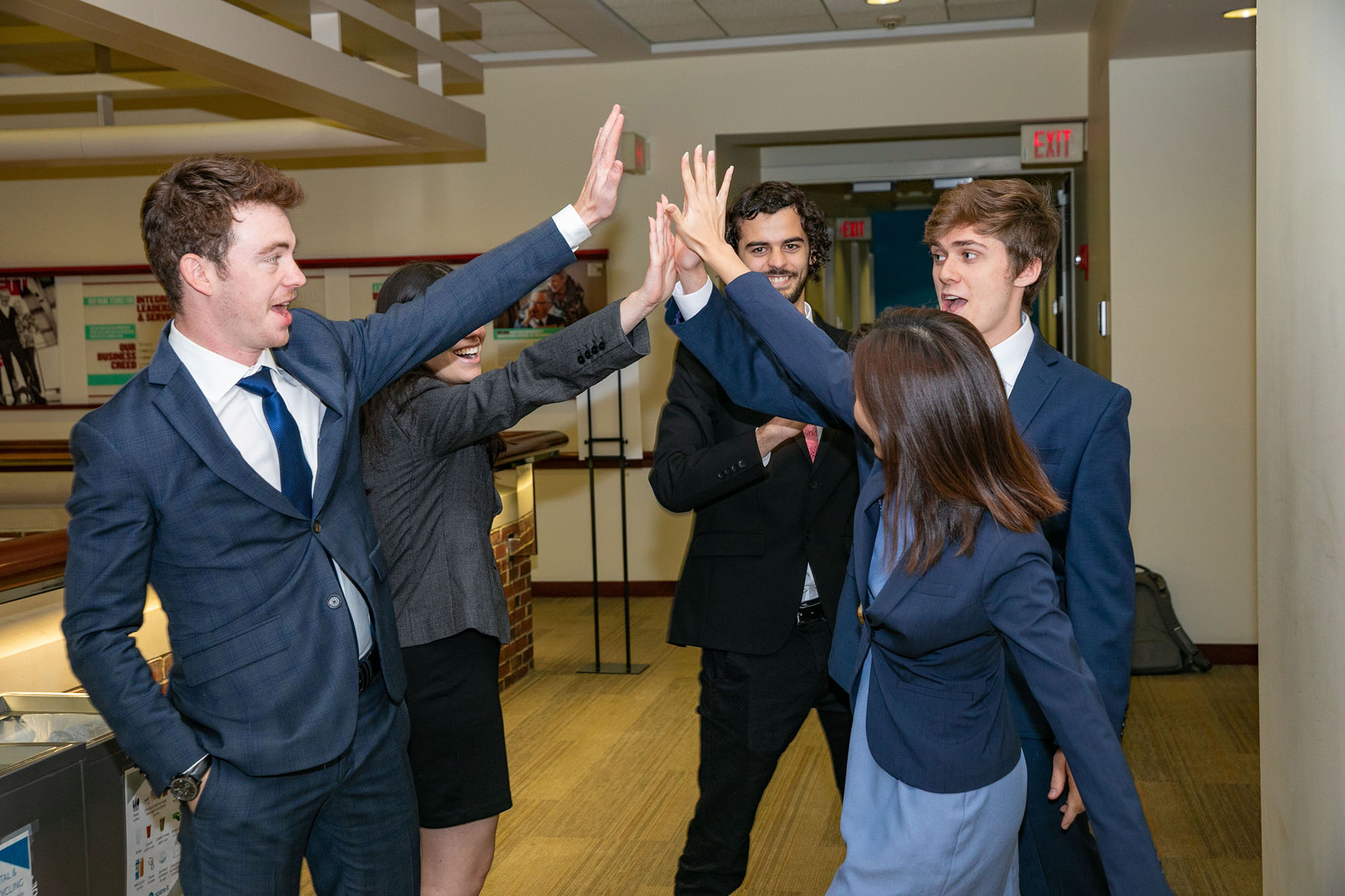 "Another guiding principle that drove us is that business has the ability to serve as a powerful conduit for creating impactful and meaningful change."
While Noah Sorin (Questrom'24), the fifth BU teammate, conceded that 50 grand was "certainly an influence in our motivation to compete," a man who waxes passionate about black fly larvae and composting clearly wasn't in it for money alone.
Sustainability matters to Sorin, who recalled how his team researched insects in the contest's first round last month, which asked contestants for cost-effective compliance strategies for Boston's limits on organic material waste. Despite losing the finals, Sorin said, helping Greater Boston with sustainability is "a thrill for all of us."
Koh agreed that knowing their months of hard work were not in vain was reward itself: "Combing through all of these different data sources, through all of these websites, pulling together that research, and then being able to make a recommendation that might actually make a difference in the Boston area where we live—I think it's huge."
The unusually large prize wasn't the competition's only idiosyncrasy: eligibility was wide open to business and nonbusiness students, and graduates and undergraduates. And to ensure against bias, Stoller kept the teams' identities and schools under wraps throughout the semester.
"I've done enough of these case competitions," he said, "that when a team makes the final, the first thing the judges do—and I say please don't do this, but they never listen to me—they go to LinkedIn and they start figuring out who's competing and what schools they are coming from, which completely defeats the purpose."
The judges' final deliberations were livestreamed and recorded, with pedagogical purpose. Other contests cloister the judges, "almost like a jury is going to deliberate for a criminal trial," Stoller said. Competitors "might be lucky enough to get a couple of sentences after the fact of what you did well and what you didn't do well. But you really don't understand what goes into it." In contrast, he said, Questrom's finalists were able "to see what they did well and what they didn't do well in real time."
The contest "pushed us to think outside the box," said part-time MBA student Adam Tellier (Questrom'24), a member of another BU team, one that competed in the first round. "We had to think, is this an original idea that no one else is going to have? And that was really the challenging part—how do we develop an idea that is easily adoptable [but] doesn't drain the funds, and is also something that other people wouldn't think to do."
Andrew Ericksen (Questrom'24), also a first-round competitor, participated, he said, "because I am very interested in sustainable business practices and overall sustainability, in all facets of everyday life. I wanted to have an opportunity to both learn more about current sustainability issues and to propose some sustainable solutions to issues."
For Stoller, who said he'd sent and received 3,756 emails about the contest during the course of the semester, the competition enabled him to check one box on his life's bucket list.
"I've never handed out a check for $50,000," he said.