Hydroponic Device for Growing Cannabis at Home Wins Annual BU Start-Up Competition
Alum Carl Palme nets $10,000 grand prize for entrepreneurial venture Annaboto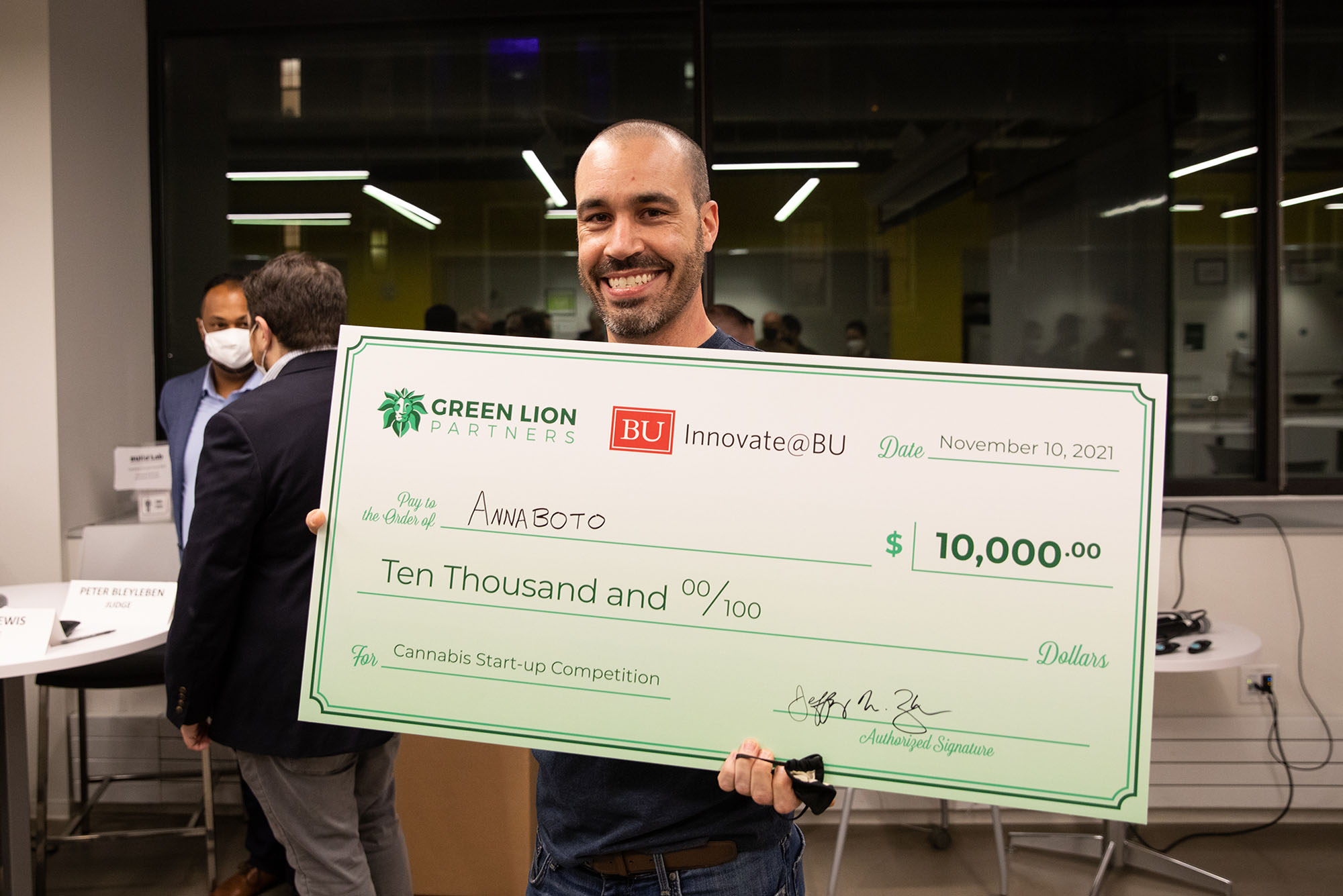 Accolades
Hydroponic Device for Growing Cannabis at Home Wins Annual BU Start-Up Competition
Alum Carl Palme nets $10,000 grand prize for entrepreneurial venture Annaboto
The mood at BU's BUild Lab IDG Capital Student Innovation Center was one of anticipation and excitement on Wednesday, November 10, as students, alums, and judges gathered for the fifth annual Innovate@BU Cannabis Start-Up Competition. The think-tank-like competition showcases BU-led start-ups whose creators present their business platforms to a team of judges in hope of netting the $10,000 grand prize. Finalists are in the process of developing software, accessories, agricultural products, and services that support the growth of the cannabis industry.
This year's winner was Annaboto, a company founded in 2019 by Carl Palme (ENG'04, Questrom'12) that allows users to grow cannabis at home in a compact, hydroponic device. Users simply add water once a week to germinate the cannabis seeds and then sit back and watch the plants flourish. There is no daily upkeep needed, thanks to artificial intelligence and robotics.
"Our design is contributing to the normalization of cannabis. By having this in your house, you're making a statement," said Palme, the company's CEO. The product, specifically designed for indoors, produces around two ounces of cannabis after 100 days. Other product features: an odor management system and a mobile app that allows the user to control the device. 
For the Annaboto team, the win was the capstone of years of hard work. They had previously been finalists in Innovate@BU's annual competition.
"All the [previous] feedback we got from the judges, all the feedback we got from people we spoke to," Palme said, "was what really led to the prototypes and growing the company. I think it's a testament to this competition," 
The annual competition is sponsored by Denver-based business strategy firm Green Lion Partners, founded by Jeff Zucker (Questrom'10) and Mike Bologna (Questrom'10), which has invested in cannabis companies both domestically and internationally. "For us, it's important to showcase that the cannabis industry is a true career opportunity for students and to get rid of the stigma around cannabis," Zucker said.
This year's other finalists were Returning Citizens Venture Program, a nonprofit that provides individuals with minor cannabis offenses personal and career development, founded by Jojo Liaw (Questrom'22), Ying Chen (CAS'22), and Marcel Chen (Questrom'22); Eleganja, an online platform to amplify Black-owned cannabis brands, founded by Michelle Matsuba (MED'16), company CEO; and QS Cannabis, a platform where users can monetize their personal data relating to their cannabis use, led by Jordan Clark (Wheelock'13), CEO, William Belt (CGS'14, COM'16), chief operating officer, and Matthew Boykin (Sargent'20, SPH'21), chief research officer.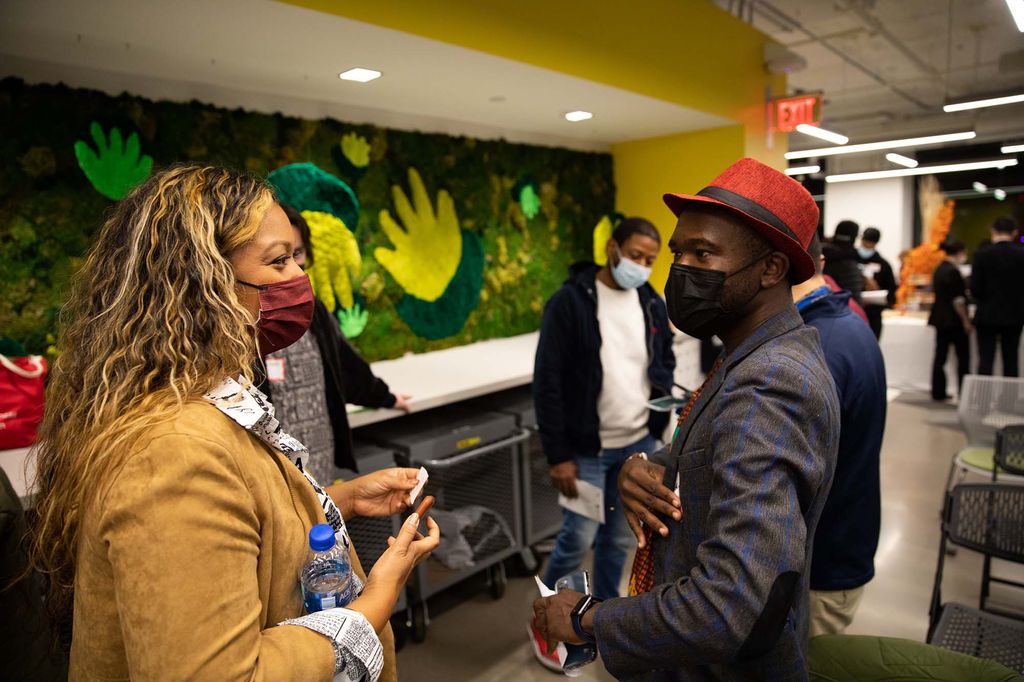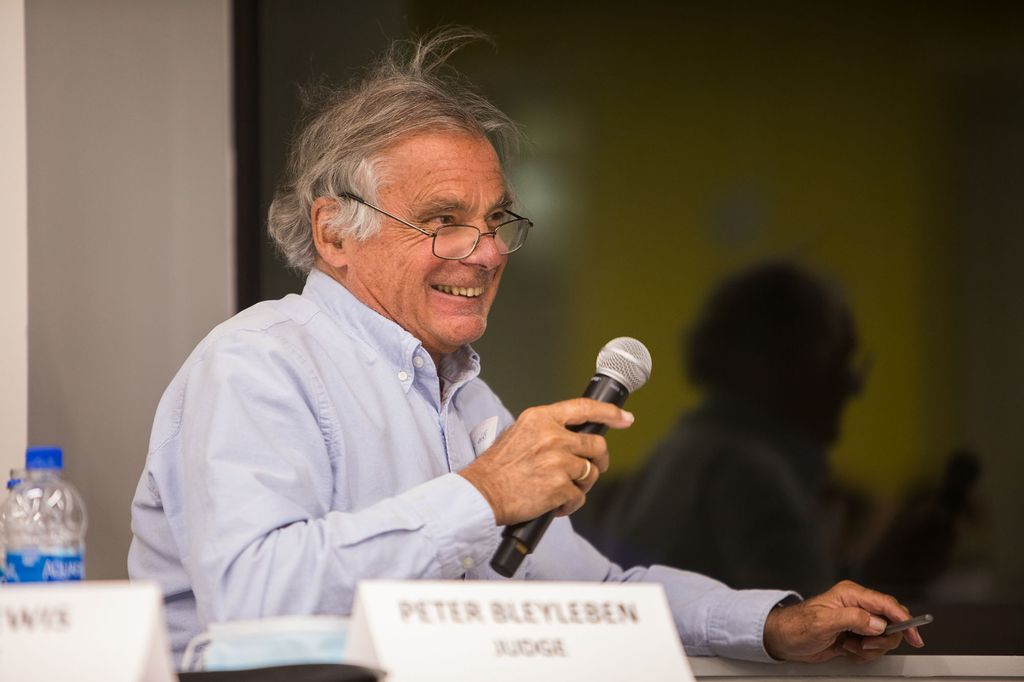 This year's judges were Jaime Lewis, cofounder and managing partner of Coldwater Consulting; Kim Napoli, a board member of the city's Boston Cannabis Advisory Board, which seeks to strengthen the city's focus on equity in the new cannabis industry; and Peter Bleyleben, a partner in Converge Venture Partners.
The evening began with remarks from Innovate@BU executive director Gerald Fine, a College of Engineering professor of the practice; Zucker; Bologna; Joe Gilmore, city of Boston Cannabis Equity Fund manager; and Sydney Ballard (CAS'24), head of operations for the Student Marijuana Alliance for Research and Transparency at BU. Marion McNabb (SPH'16), president and cofounder of the Cannabis Center of Excellence also spoke, recalling her journey as the competition's winner in 2017 and her career in the cannabis industry.
The finalists had six minutes to pitch their business, followed by a Q&A with the judges. Each team explained their business strategy, and discussed how their start-up incorporates social equity into their business plans.
"It's so necessary to have social equity as the core part of the business," Bologna said, "especially in the cannabis industry, which only exists on the backs of incredibly hard work from advocates who came before us, and the suffering of individuals and communities who've been disproportionately impacted by the war on drugs." (Black Americans are nearly four times more likely to be arrested for marijuana use than white people.) 
While the judges deliberated privately, attendees and finalists networked over refreshments. After the judges reached a consensus, Bologna and Zucker presented Palme with the check for $10,000, which will be accompanied by free consulting services.
"Let's bring cannabis out of the basement and into the living room," Palme said.