Newly Renovated Groce Pépin Culinary Innovation Laboratory Is Now Cooking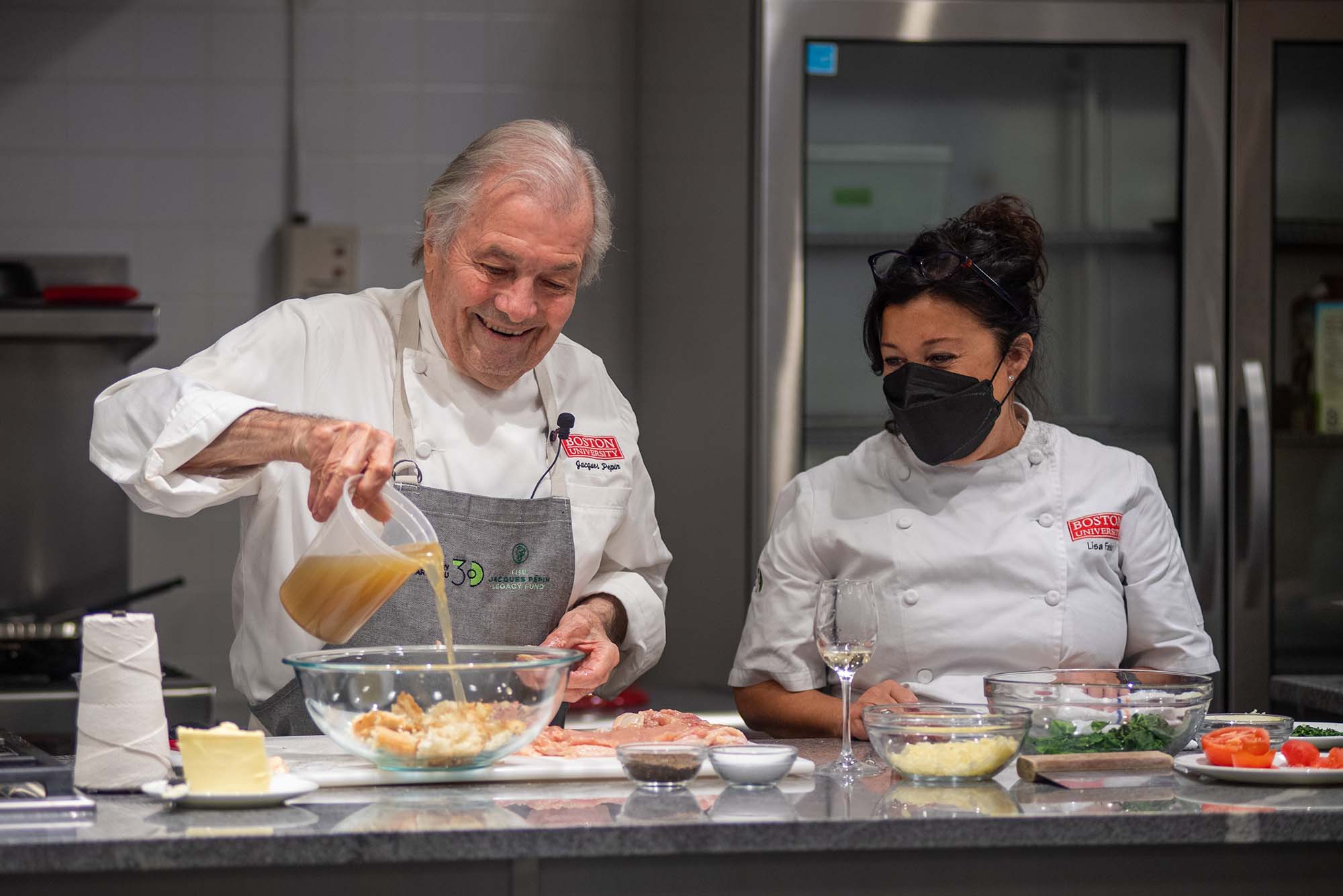 Campus & Facilities
Newly Renovated Groce Pépin Culinary Innovation Laboratory Is Now Cooking
After four months and more than $200,000 in improvements, MET's Jacques Pépin (Hon.'11) launches space with a demo for culinary arts students
Standing at the front of the Metropolitan College Programs in Food & Wine renovated demonstration kitchen recently, Jacques Pépin deftly scraped his paring knife along a block of butter, coaxing—as if by magic—the petals of a rose from the block. Famed chef, prolific cookbook author, and Emmy-winning TV host Pépin (Hon.'11) then turned to his audience of MET culinary arts students, and said, "If I had to explain [this] with words, after half a page, you'd say, 'What is he talking about?'"
Now, thanks to more than $200,000 in renovations, the renamed Groce Pépin Culinary Innovation Laboratory is providing students with an even closer look at the maestro's hands at work.
With the demo kitchen's first major renovation in 30 years, the space now boasts a gleaming new charcoal gray granite countertop, stainless steel stove, glass door fridge, and commercial sink station, not to mention freshly painted walls.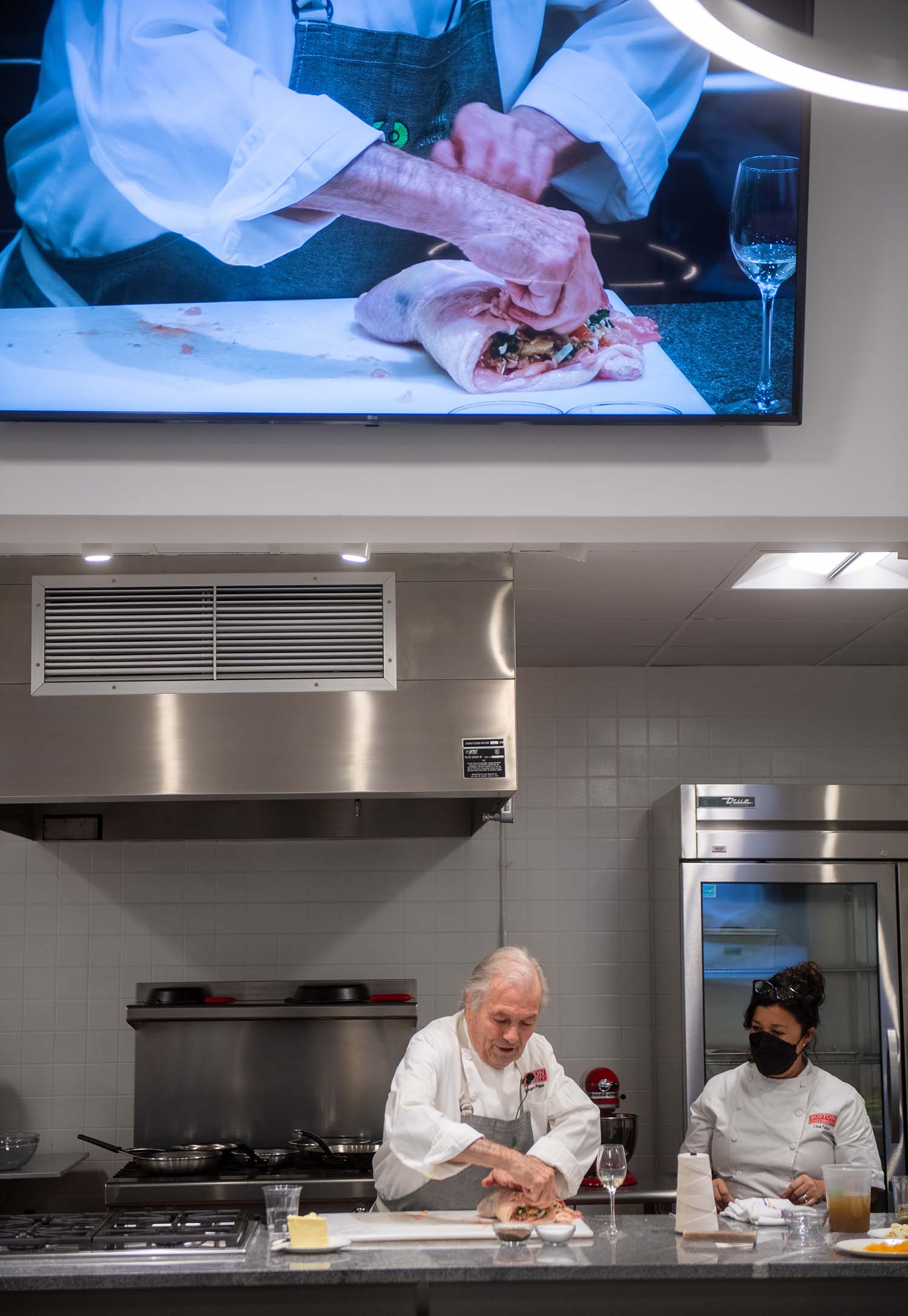 The most significant change, however, is a series of five overhead cameras and wall-mounted monitors that replaced a large mirror previously hung above the kitchen's central island. The new technology enables students to watch cooking demos from multiple angles—whether they're in the room or tuning in from afar, says Potter Palmer, Food & Wine programs director. "The new system allows us to stream and record events," Palmer says, making "it simple and easy to expand our classes to be both in person and online via Zoom."
The upgrade has already proven invaluable. Faced with the pandemic's Omicron surge in early January, MET made the tough decision to move the 14-week culinary arts program completely online.
This vision of expanding the program's reach resonated with attendees at the Culinary Arts 30th Anniversary Gala in December 2018, including major donor and alum Ralph H. Groce III. "Not only was this initiative a matter of immense importance," Groce says, "but I also felt a significant sense of urgency about the project." The global head of operations technology at Wells Fargo and a 2017 MET Distinguished Alumni Award recipient, Groce hopes the redesigned space will allow the program to evolve along with the changing educational landscape. He also wants it to provide "Pépin [with] a 'state of the art' facility that measures up to his genius, passion, and the desire he has to train the next generation of culinary artists," he says. "Food shows us we have more in common than we might think, and I hope the Groce Pépin Culinary Innovation Laboratory is a place where that perspective becomes a reality for everyone who graces its doors."  
The space is drawing rave reviews from culinary arts students, among them Julian Plovnick (MET'22), who hadn't seen it prior to Pépin's demo. "It's clear that [the kitchen] was designed with the intention of highlighting both the instructor's presentation and the food being prepared," Plovnick says. "The inclusion of the TV monitors makes it super easy to view every angle of the demo, which is really important for replication of the recipes later on."
While the overhead cameras and monitors have modernized the viewing experience, not much has changed structurally during the demo kitchen's three decades of use. Aside from removing a closet that once housed a cascading door (used to curtain visiting chefs as they prepped for their audience), the recent upgrades—four months in the making—remained faithful to the kitchen's original layout and preserved the original brick-colored tile floor. The same is true of the central island, which was originally constructed a few inches taller than normal to accommodate the height of the program's legendary cofounder, Julia Child (Hon.'76), who was six feet, two inches tall.
Not far from the island, tucked into the right corner of the space as you enter, is the desk where Child, acclaimed author of The Art of French Cooking and host of several television shows, penned many of her best-selling cookbooks. For nearly two decades, the desk had sat in the basement of MET gastronomy lecturer Netta Davis (GRS'13), a one-time student and later an employee of Child's. Child donated her Cambridge, Mass., home kitchen to the Smithsonian in 2001, but when museum staff arrived to pack it up, they declined the large mahogany desk.
Davis says she "felt that the desk was an important piece, [since] Julia had written so many books there," and decided to rescue it. "It was always my intention to have it come home to BU, where Julia inspired and cheered on so many students," Davis says. Finally, after building renovations at 808 Comm Ave were completed in 2020, the perfect spot was found to display the desk.
Along with the favorite metal stool Child used when she taught at MET, the desk commemorates the program's three founders—Child, Pépin, and Rebecca Alssid, longtime program administrator—whose portraits rest atop the desk. After creating MET's Programs in Food & Wine in 1989, the trio went on to establish the Gastronomy Program at Metropolitan College in 1991, the first academic program of its kind in the United States.
Beyond baptizing the new equipment, Pépin's visit to the new demo kitchen in October also marked the start of what is colloquially known in the program as "Jacques week"—a semester high point for culinary arts students, where Pépin reviews French knife cuts, teaches some of his classic dishes, such as the French omelet, signs books, and often enjoys a few glasses of wine with students. The event was Pépin's first live demo for the program since the start of the pandemic. With help from Lisa Falso-Doherty, Programs in Food & Wine assistant director, he deboned an entire leg of lamb, whipped up an impromptu buttery asparagus soup, and offered tender soy-cured salmon on pumpernickel bread to his attentive audience, comprising culinary art students and a handful of 2020 graduates.
---

Food shows us we have more in common than we might think, and I hope the Groce Pépin Culinary Innovation Laboratory is a place where that perspective becomes a reality for everyone who graces its doors.

---
In the past, the 86-year-old chef has also given a public cooking demonstration during his visits to BU, typically packing the demo kitchen to its maximum capacity of 80 people. While the pandemic has put such events on the back burner, Palmer is hopeful that the kitchen's new overhead cameras will help bring Pépin's demos, as well as other public-facing events, such as wine tastings and guest lectures, to a broader audience.
For recent grad Carol Waldo (MET'21), though, a video stream could never replace a chance to view firsthand the master chef at work. She was able to attend Pépin's demo, and compared to her cohorts' Zoom session with Pépin in fall 2020, she says, "seeing him in person was a very different experience. The way he embodies technique is evident in a way that video can't capture."
Surrounded by the sparkling new space, Pépin used the opportunity to impart some hard-earned wisdom to the students. "To be a professional chef, you have to be a technician first. And that happens when you repeat, repeat, repeat," he said, making a slicing motion with his hands. Recounting his apprenticeship at a French restaurant at age 13, which began with sweeping the floor, chopping parsley, and plucking chickens, Pépin continued, "You repeat, repeat, repeat, to a point where the chef one day says, 'You start at the stove tomorrow.' That's how it happens.
"In a sense, it becomes a part of your DNA."