Everything You Need to Know about SPLASH (and Why You Should Attend)
Student Life
Everything You Need to Know about SPLASH (and Why You Should Attend)
Learn all of the ways you can get involved and connect with others
Welcome back, Terriers! While classes are well underway, it's now time to consider getting involved around campus outside the classroom. Luckily, the BU Student Activities (SAO) twice yearly Splash event (it's also held at the beginning of spring semester) has been Boston University's involvement fair for all clubs, teams, and organizations around campus for over 20 years…and it's back again this fall.
---
What?
Over 450 student organizations will be scattered across the field, each with its own setup, allowing prospective members to gain more information about each club, speak with current members, and sign up. Currently, SAO anticipates over 2,000 students will attend the event.
Where and when?
On Saturday, September 10, Splash will be held on Nickerson Field on West Campus from noon to 3 pm.
Why should I attend?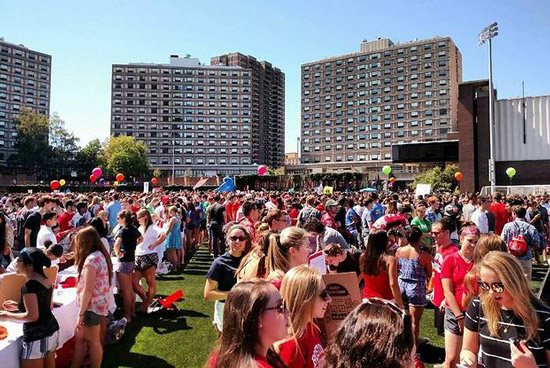 In addition to all the clubs, SAO has a few surprises in store for the Terriers who attend. If you plan to go, try to arrive early: SAO will give away a free item to the first 1,000 students. A drone will be capturing footage throughout the event as well, so remember to look up and wave. Besides the fun gifts and the drone, Splash is as a great way for students—new and returning—to get acclimated to campus and excited about the school year ahead.
---
Whether you're looking to join a few clubs around campus or meet fellow students, Slash has it all. For more Welcome Week events happening around campus, check out the Student Activities website.