Did Orange Line Shutdown Have Uneven Health, Economic Impacts on Lower-Income Neighborhoods?
BU School of Public Health researchers are mapping traffic congestion, air quality, and health fallout from the monthlong suspension of busy MBTA subway line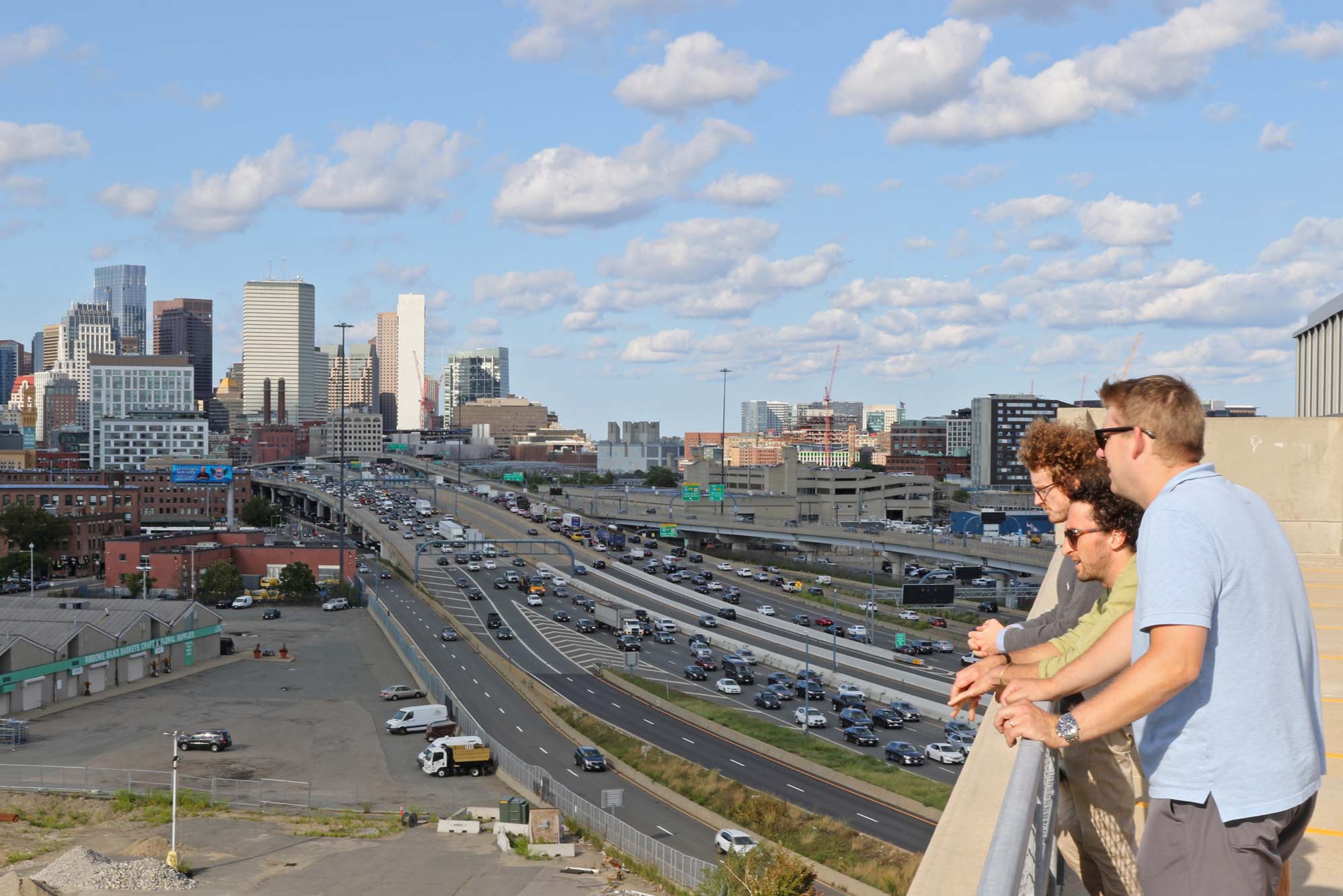 Orange Line Shutdown
Did Orange Line Shutdown Have Uneven Health, Economic Impacts on Lower-Income Neighborhoods?
BU School of Public Health researchers are mapping traffic congestion, air quality, and health fallout from the monthlong suspension of busy MBTA subway line
After a month of shuttle buses, rideshares, Bluebikes, and long walks, the MBTA's suspension of the Orange Line—the second-busiest subway line in the Greater Boston area—is finally over.
The unprecedented, 30-day shutdown—which overlapped with a partial Green Line closure—allowed for urgent track repairs and train upgrades, but interrupted commutes throughout Greater Boston. The Orange Line runs from the city of Malden in the north to Boston's Jamaica Plain neighborhood in the south, snaking its way through Medford, Somerville, and downtown Boston along the way. Typical daily ridership is more than 100,000, according to the MBTA.
While the temporary closure didn't quite lead to the Armageddon levels of traffic congestion city officials initially feared, many Boston neighborhoods experienced substantial gridlock, particularly after Labor Day weekend, as people returned to work and students returned to classes.
The rare suspension of service brought many headaches, but also an unexpected opportunity to study the health and environmental consequences of a public transit shutdown. Three Boston University School of Public Health environmental health department researchers seized the moment to begin a study using real-time data of how a major metropolitan city operates with and without public transportation.
At the start of the shutdown, Jonathan Buonocore, an assistant professor, Christopher Rick, a postdoctoral associate, and Chad Milando, a research scientist, launched the first phase of a multipronged project to quantify the links between public transportation and a host of factors that affect public health, including traffic congestion, air quality, pollution, traffic fatalities, and mobile activity—and how certain communities are disproportionately and adversely affected by these outcomes.
"There aren't many chances to quantify the benefit of transit in a quasi-experimental setting," says Rick. "The sudden closure of the Orange Line gives us a chance to do just that, and we are diving deep into the many pieces at play."
Disproportionate Health Impacts
During the shutdown, the researchers used Google Maps data and analytic tools developed by Columbia University researchers to measure traffic congestion across Boston-area neighborhoods—posting time lapses of traffic maps on Twitter to provide a snapshot of the most gridlocked roads.
The work will continue well beyond the shutdown, and Buonocore is seeking pilot funding that will help the team examine a more complete set of data around the closure, including information on school and work attendance, delayed arrivals to class, air quality and pollution, changes in Bluebike and commuter rail usage, and even employment changes, if possible.
"We're also planning to study whether people missed or canceled doctor's appointments more often, or whether they didn't schedule appointments at all because they know it's hopeless to get into town," Buonocore says. "Did people miss pharmacy pickups? What were the effects on ambulance travel time? There are all kinds of questions that could be answered with this data."
On one hand, the Orange Line shutdown could have been beneficial to health if it led a majority of riders to incorporate more walking or biking into their commute. But, say the researchers, it's clear that most people shifted to cars and shuttles (or the commuter rail) as their alternate means of transportation, and the increased traffic doesn't bode well for air quality. Personal cars and trucks account for more than half of the total carbon emissions from the transportation sector.
And certain communities—before, during, and after the shutdown—are exposed to this pollution much more than other neighborhoods. The researchers' traffic maps have shown steady waves of intense traffic in lower-income neighborhoods like Roxbury, and the cities of Chelsea and Lynn, in contrast to the quieter roads that wind through the wealthy Newton and Weston communities.
One map highlights a clogged I-93, which cuts through Dorchester, an environmental justice community. These communities meet certain race, income, and language criteria, and residents generally experience greater exposure to pollutants and resulting health problems, such as asthma and premature births.
"Dorchester has terrible, terrible congestion every day," Rick says. "When we didn't observe a big increase in congestion at the beginning of the shutdown, we wanted to use this platform to shine the light on places where traffic has always been worse. It's something that people are basically forced to experience, as a result of socioeconomic and historical discrimination."
Public Transport as a Public Health Resource
Milando hopes that quantifying the health and environmental impacts of the shutdown will support other local advocacy efforts pushing for affordability and equitable access to the T. "By providing data on the lived experiences of the people most affected by this shutdown, we can help tell the stories of the people dealing with this in their day-to-day lives, and show how these public health impacts are disproportionately displaced."
In the weeks and months ahead, the team is eager to begin more qualitative research, to tell the stories and experiences of residents in communities affected by the shutdown. The researchers are also encouraging the public to engage with them on Twitter to share ideas, funding opportunities, or even personal commuting experiences.
"Public transportation should be viewed as a public health resource," Buonocore says. "A well-functioning transit system keeps air pollution out of the air and provides access to all of the things we need to live, such as food and health care. If you can't get to your doctor, you might as well not have one. I hope that the data that we are collecting will show how a well-functioning transit system is essential for public health."