CleanTech Club Unites Students through Technology, Sustainability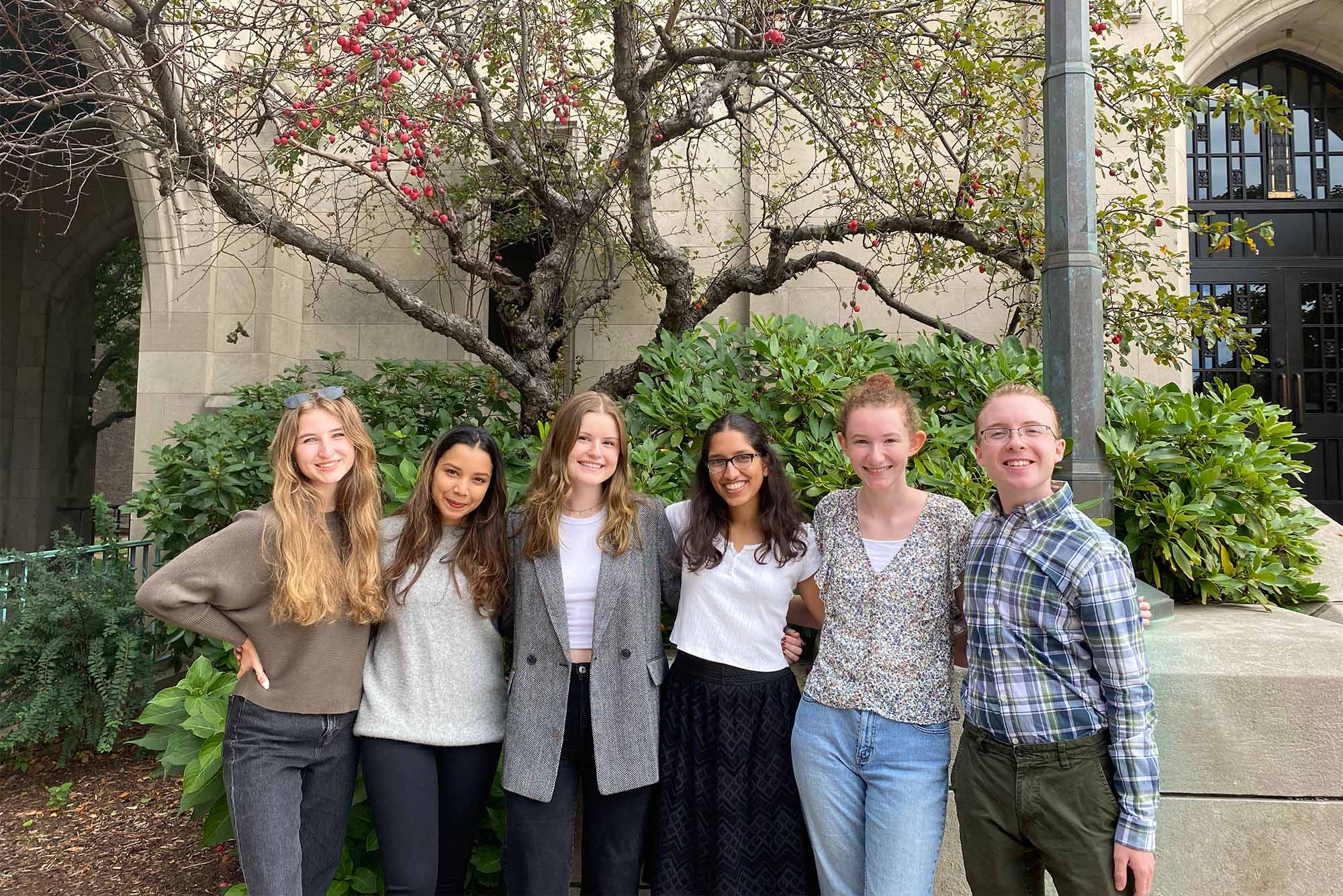 Student Clubs
CleanTech Club Unites Students through Technology, Sustainability
Members brainstorm ways to aid in the planet's climate crisis
Few academic clubs on campus boast a membership ranging from the College of Arts & Sciences to the College of Engineering and the College of Communication to the Questrom School of Business. BU's CleanTech Club is an exception.
CleanTech Club sits at the intersection of technology and sustainability. It aims to bring students together and inspire them to create change. The club looks at technology through two lenses: how to use current technology in sustainable ways and how to engineer new technology that promotes sustainability.
"It's all about helping people find inspiration, innovation, and excitement in this world that keeps evolving," says club president Charles McGinn (ENG'23). "At the same time, the planet is something we need to protect and hold on to. The members of our club are all really invested in the planet and also want to devote themselves to change, solutions, and problem-solving. Technology is one of the best ways to make that happen."
An event-based club, CleanTech brings people together and sparks conversation with CleanTech Talks. The talks feature professionals working in fields such as solar energy, recycling, and commodities trading; recent guests included recycling expert Ron Sherga, who talked about recycling's true impact on an individual scale and a large scale, Lex Carroll of Atmospheric G2, an online weather platform that provides global weather and environmental insights for energy trading, and Michael Gevelber, an ENG mechanical engineering professor, who talked about BU's plan for decarbonization and student leadership in sustainability on campus.
"We look for people who already have those intersection points of sustainability and technology," McGinn says. "If [a speaker works] at a company we've seen that is devoted to sustainable change with technology, we want to hear about it."
One of its current campus-wide initiatives, Lightswitch, is working to solve the problem of lights in BU buildings left on all night. The club is currently researching the amount of energy used in empty buildings with lights left on and will present an action plan to University administration on how to fix the issue. Lightswitch is still in the documentation phase, and the club hopes to move onto drafting proposals by the end of the semester.
"The project is trying to get BU to turn off the lights in buildings that aren't being used at night, just as a way to conserve energy and be mindful of our carbon footprint," says Amelia Murray-Cooper (CAS'22), the club's content manager. "We've been trying to recruit students to help, whether they're in CleanTech Club or they're just interested in helping, but not technically a member, with the research process and outreach process."
Another of CleanTech's projects is the app Rhett Rides. Still in early development stages, the app will help BU students connect with one another to form carpools around Boston and for longer road trips. McGinn says it has been in the works since before he joined the club's E-board in 2019. The club hopes to release the app by the end of this semester.
Along with helping BU become more sustainable, the club provides networking and professional development opportunities through its newsletter, Slack channel, and CleanTech talks.
"We want people to find the paths they're looking for," McGinn says. "One of the biggest tragedies is to be really excited about sustainability and helping the world, but not being able to find a community of people or the resources for that."
With an eight-person executive board, the leadership group at CleanTech is larger than that of the average club. McGinn says that's by design: the system promotes greater involvement and allows students to do different types of work, including project research or social media campaigns.
Ella Ciccone (ENG'24) is a prime example. After meeting club members at Splash 2.0 in early 2021, the mechanical engineering major admired the enthusiasm of the group and joined as a graphic designer.
"I just wanted to help out any way that I could because I was really passionate about getting involved with the club," says Ciccone, now club vice president. "It shows that no matter what your interests, you can find a way to get involved in things you're passionate about."
Email bucleantechclub@gmail.com to get involved.