Campus COVID Testing and Masking (Except for Classrooms, the BUS, and Health Facilities) to Become Optional, Starting March 7
Masks required in classrooms for another month, COVID testing becomes optional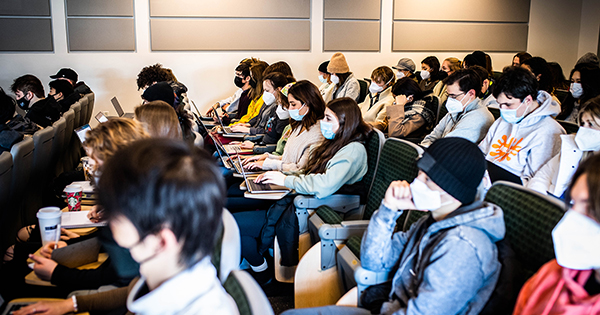 Campus & Facilities
BU's Mask Mandate to End March 7, with Exceptions
Masks required in classrooms for another month, COVID testing becomes optional
March 7: Masking at BU becomes optional except for classrooms, the BUS, and health facilities.
COVID-testing for on-campus employees becomes optional that day, too.
Those who opt to continue masking and testing may do so.
---
March 7 will be a bigger date than just the Monday of spring break. It will also mark the end of Boston University's masking mandate, which has been in place since the arrival of the coronavirus almost two years ago, except in classrooms and certain other venues. The University is weighing a decision to lift the classroom mask mandate effective April 4.
BU will also end mandatory COVID-19 testing on Monday, March 7, for employees who come to campus, as well as proof-of-vaccination requirements at entertainment events and fitness centers open to the BU community and the public. (The University will continue to make COVID testing available for employees who want it or need to test after a close contact experience. People with COVID symptoms can schedule tests at BU's Health Services Annex in the back of Agganis Arena.)
The decision on whether it's the right time, or too soon, to end mask mandates remains a fierce debate not only at BU, but around Boston and throughout the country. Many people believe it's time, and even long overdue, arguing that at some point the nation needs to reckon with living with a virus that has claimed more than 950,000 lives in the United States, and stubbornly refuses to disappear entirely. Others, however, especially the elderly, immune-compromised, or those with young, unvaccinated children, have said masks have helped them feel safe indoors and there is no rush to do away with them yet.
Almost 60 percent of Americans believe some restrictions remain necessary to control a pandemic they consider ongoing, according to a Washington Post–ABC News poll released Tuesday. The poll did not ask about masking, but other surveys show a (diminishing) majority of Americans favoring it still.
"We recognize that this is a time of transition and will understandably be confusing at times," Judy Platt, BU's chief health officer and executive director of Student Health Services, tells BU Today. "The widespread availability of high-quality masks did play an important role in BU feeling confident that we could make masks optional in certain settings, while still knowing that more vulnerable members of our community would have ways to protect themselves."
Besides classrooms, masks will still be required on the BU Shuttle (the BUS) (the federal government regulates masks on public transit), in healthcare facilities, and in public venues hosting ticketed events. Areas where masks will no longer be required include "dining halls, residential housing common areas, offices, libraries, food courts, and common areas in buildings and colleges," Platt wrote in a Tuesday email to the BU community.
As for when a decision on the April 4 lifting of the classroom mandate will be finalized, she tells BU Today: "We are trying to slowly transition and evolve our protocols so that we may observe the effects of these changes. We will be actively looking at cases in transmission over the next several weeks."
The easing of protocols is a giant step towards pre-pandemic normalcy on campus after nearly two years of requiring the donning of face coverings against a potentially lethal virus for everyday events, from meetings to using kitchens and restrooms.
The University is lifting restrictions in light of COVID's waning impacts and with numerous states—Massachusetts among them—already rolling back their requirements. Massachusetts lifted the statewide school mask mandate on Monday, February 28, and on Tuesday, March 1, the Boston Public Health Commission met to discuss the city's indoor mask requirement and voted unanimously to lift the indoor masking mandate effective Saturday, March 5, 2022. All of the rollbacks are coming in the wake of the Centers for Disease Control and Prevention saying last week that healthy Americans no longer need to wear masks in indoor settings. 
"State, local, and Boston University data all continue to indicate favorable trends related to COVID-19," Platt's letter said. "Last week's 7-day test positivity rate for all BU community members was well under 1.0%."
Faculty, students, and staff who prefer to remain masked may do so. "We encourage everyone to continue to use high-quality filtering masks such as N95s, KN95s, KF94s, and FFP2s to reduce viral transmission based on personal risk," Platt wrote. "A high-quality mask worn correctly will significantly reduce the risk of viral transmission even if others around you are not masked."