A Standout at SpeakEasy Stage Company
Theatre
A Standout at SpeakEasy Stage Company
Acting student Mishka Yarovoy (CFA'23) is getting noticed in Tony winner The Inheritance
Mishka Yarovoy has a lot to do in the SpeakEasy Stage Company production of The Inheritance, a drama about generations of gay men in New York, written by Matthew López.
Yarovoy (CFA'23), a third-year acting student at the College of Fine Arts School of Theatre, plays dual roles, as Adam, a successful young actor, and Leo, a downtrodden prostitute. He has a nude scene, a long monologue, and an emotional moment with Boston stage veteran Paula Plum (CFA'76).
He also has a scene where Adam and Leo meet.
The dual role is "such a treat for me as an actor, having so much material to play with, so many challenges to sink my teeth into," Yarovoy says.
"The way they are written, the way they speak is already so different—Matthew López helps the actor in that way on the page—and then it was up to me to differentiate their physicality the most."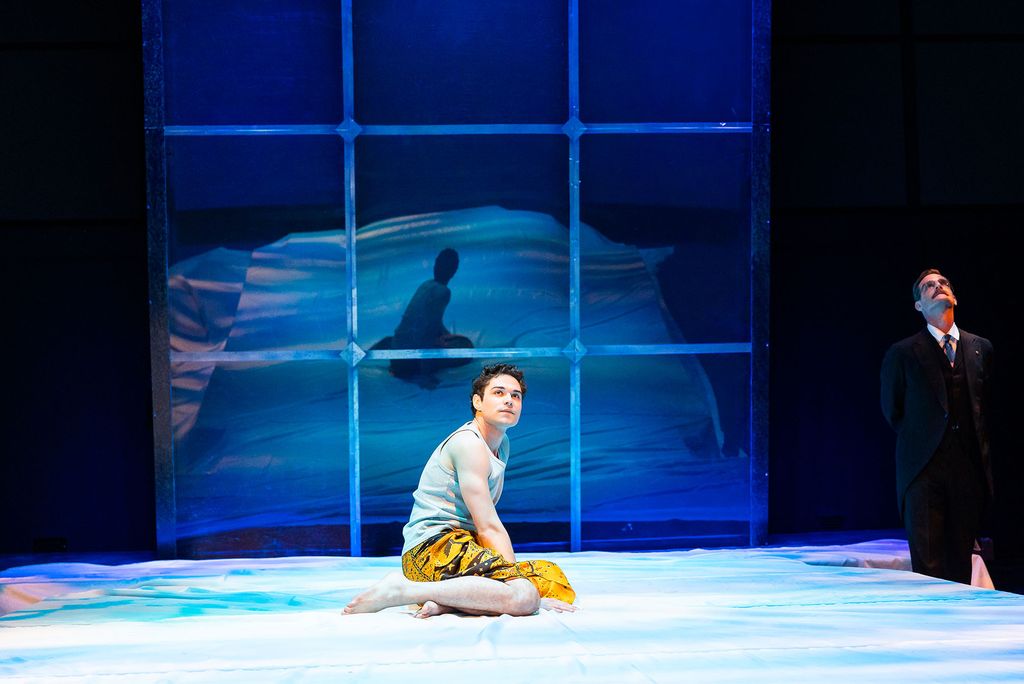 As actors sometimes do, Yarovoy keeps a notebook of images to inspire his performance, half for Adam, half for Leo. He has a color palette for Adam, all fiery reds and oranges, while Leo is all blues and purples and darker tones. Adam is lions, Leo is birds, "more anxious and fluttery." Adam is fire, Leo is water and air. Sometimes Yarovoy even flips through the notebook in the dressing room during a performance when he is not on stage.
It all comes together in the scene where Adam and Leo meet. Leo is on his way to take his own life by jumping off the George Washington Bridge when the two encounter each other by chance, and Adam tries to help.
Director Paul Daigneault "told me pretty early on he wanted that moment to be very simple," Yarovoy says. "He didn't want to play any tricks with the lighting or set. It's basically just the text and the physicalization of the characters. It's just a spotlight in the middle of the stage, I'm basically standing on one spot, and it's about fast shifts of physicality."
"Mishka is very quick on his feet and is smart as a whip," says Daigneault, who is also SpeakEasy's founder and producing artistic director, "so the quick changes and transformations from one character to another came quite naturally. He keeps track better than I do."
The Inheritance is running at the Boston Center for the Arts through June 11. SpeakEasy's production is the US regional premiere, following runs in London (where it won the Laurence Olivier Award as best new play in 2019) and on Broadway a year later (where it won the Tony Award for best play). Yarovoy is one of the production's 13 actors, among them Mark H. Dold (CFA'86) from the original Broadway cast.
Inspired by E. M. Forster's 1910 novel Howard's End, The Inheritance plays in two parts of more than three hours each, the biggest challenge SpeakEasy has ever undertaken. And the run of rehearsals and performances has been interrupted more than once by cast members testing positive for COVID, including Yarovoy, who says that stepping away to isolate was devastating.
But it's Yarovoy and that double-character scene, only a page or so of the script, that people are talking about most.
"Their eventual meeting is a one-man tour de force that Yarovoy pulls off effortlessly," Bob Verini wrote in New York Stage Review, under the headline "The Inheritance Hands Gay History Over to Regional Theater, Triumphantly."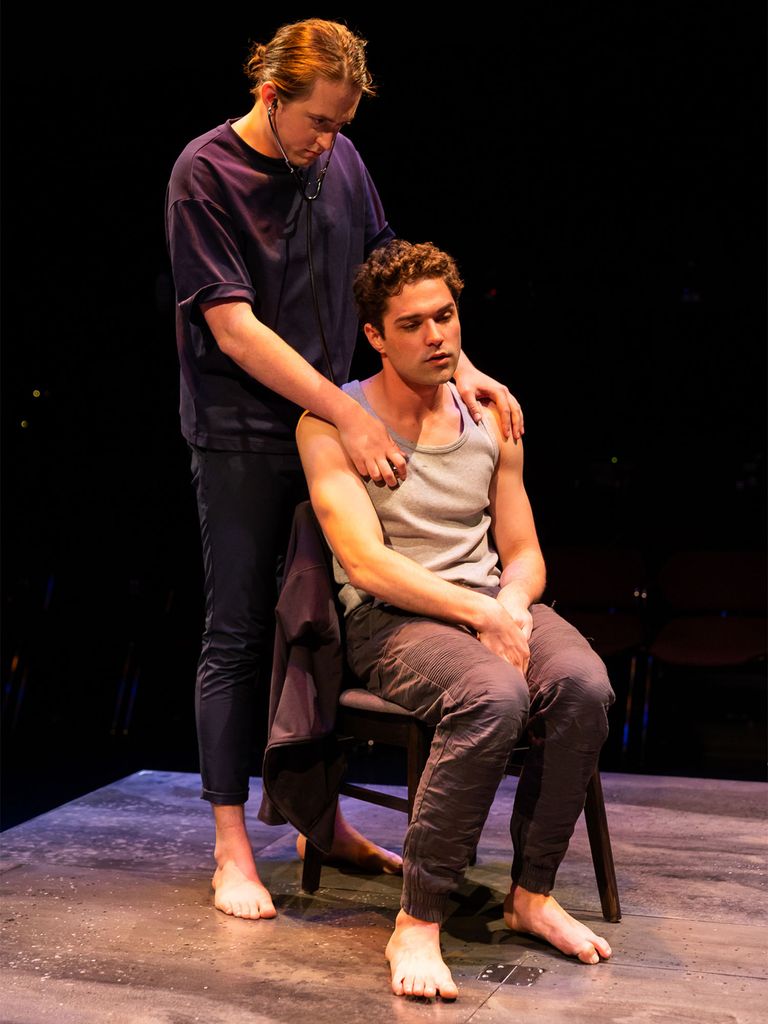 "I was very nervous about it," Yarovoy acknowledges. "I remember the first time I did it full-out in rehearsal—we were rehearsing the play in pieces and I didn't have the buildup to get to that moment, and I was so not in it. I remember apologizing to everyone in the room: 'Sorry, it will be better.'
"What I found worked for me best was if I could really connect to Leo's desperation and Leo's need," he says. "Leo's the one that's really driving that scene, so if I could connect to his pain in that moment, then the scene worked, and flipping to Adam was easier, because it was easier to imagine wanting to help someone in need. If Leo is there, then Adam is there as well."
Both Yarovoy and Daigneault credit Yo-El Cassell, the play's movement and intimacy director and a CFA assistant professor of movement, with helping the actor master the dual role.
"Mishka is highly intellectual, but wonderfully allows his body as an instrument to invite sensation to move from and with," Cassell says. "He cares deeply about preparation—understanding who the character is and why the character may be responding a certain way. But then he has the wonderful and much needed ability to release his preparatory mind and surrender to doing and being in the moment."
Yarovoy "has an extreme passion for the craft of acting," says Christine Hamel (CFA'05), a CFA assistant professor of voice and speech and of acting and program head of the School of Theatre acting major. "He puts in the work, and he's constantly seeking to grow. He's a really hungry artist."
Among actors Yarovoy admires is fellow Inheritance cast member Dold.
"He has this monologue that's probably 20 minutes long, and we're all onstage listening, and I remember reading it for the first time on the page and thinking, how am I going to find the attention span to listen to this every night and be fully engaged and not zone out?" Yarovoy says, shaking his head. "But Mark is so brilliant and does it so beautifully that every night I get completely lost in what he's saying. Every night it's different and beautiful and fresh, and I find myself completely engaged every single time."
Yarovoy, whose full first name is Mikhail, was born in Mexico City to Russian parents, both classical musicians. The family spent a couple of years in Dallas, while his parents studied for graduate degrees, but eventually settled back in Russia. By the time he was 14, though, Yarovoy told them he wanted to return to America to study acting. He attended Fiorello H. LaGuardia High School for the Performing Arts—he has family in New York City—and Interlochen Arts Academy in Michigan before BU.
His parents are still in Moscow, and the furor over Russia's war in Ukraine has been difficult, he says. "It's been very hard. We have family both in Russia and Ukraine. It breaks my heart what is happening in Ukraine. And it's extremely hard for most normal people living in Russia right now. I don't know when I'll be able to see my family next."
Yarovoy already has an impressive résumé for an undergrad actor, perhaps the most notable entry being a small speaking part in Don't Look Up, the dark Oscar-nominated comedy about climate change starring Leonardo DiCaprio and Jennifer Lawrence that filmed in Boston during the pandemic. He played a corporate functionary, "one of the bad guys," but he got to act opposite the great Mark Rylance, whose work he had sometimes studied on video in class.
"Originally the scene had like, five or six lines, and in postproduction it was condensed to one or two lines," he says, laughing. "Artistically it wasn't the kind of thing where I was like, wow, how exciting."