Why a White Mob Felt They Could Storm the US Capitol without Fear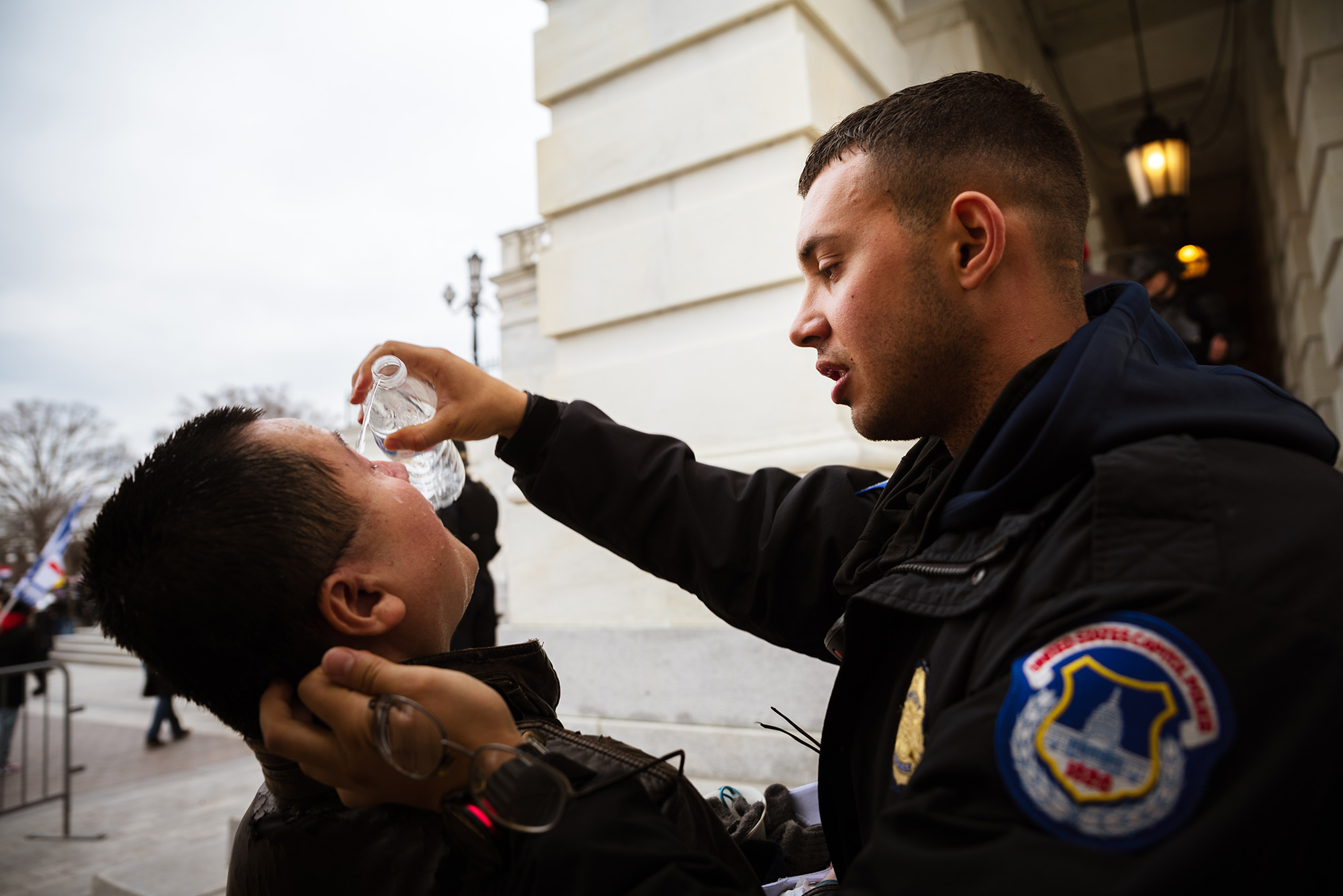 Government & Law
Why a White Mob Felt They Could Storm the US Capitol without Fear
LAW's Karen J. Pita Loor on how law enforcement's brutal treatment of Black racial justice protesters contrasts with its "friendly, at times collaborative" response to pro-Trump rampage
The fact that a white mob felt they could storm the nation's Capitol with impunity while uniformed police looked on Wednesday doesn't surprise Karen J. Pita Loor. BU School of Law's associate dean for experiential education, clinical associate professor of law, and expert on protest policing, Loor says that while the United States has a long history of law enforcement repressing and brutalizing Black racial justice protesters, the police response to the Proud Boys and other white, far-right, pro-Trump supporters over the years has been "friendly, and at times collaborative."
Loor is writing a book examining the police response to protests following three well-documented acts of racialized police violence against Black people—the savage beating of Rodney King in Los Angeles in 1991; the fatal shooting of Michael Brown in Ferguson, Mo., in 2014, and the killing of George Floyd in Minneapolis in May 2020. She analyzes how law enforcement criminalizes protesters of color and treats them, in her words, as "enemy insurgents" and "terrorists." She also writes about strategies the government uses to mistreat these racial justice activists and to control and suppress dissent.
"They [law enforcement] just don't find white people, even when they're armed, or when they're a mob, as scary as they find Black people on their knees, saying, 'Don't shoot,'" Loor says.
Q
&

A
With Karen J. Pita Loor
BU Today:
What were you thinking as you watched the scene unfold at the Capitol yesterday?
Karen J. Pita Loor: I was thinking about the difference between what the police response was to racial justice protests that I'm now writing about and this friendly, at times collaborative manner in which the police are responding to these white, from my perspective fringe, activists who express and advocate racist, extreme, even anti-government ideas. I was witnessing how Trump has contributed to this, how he encouraged them even after they stormed the Capitol, telling them, "I love you" [and] "You're very special."

I also saw this as just one more example of the way law enforcement is not seeing these individuals—the Proud Boys, Three Percenters, militia, far-right, Trump loyalist white agitators—as a threat, but instead as mainstream. Law enforcement were slow to react because they incorrectly believed these groups are not dangerous. This is shocking.

There was a pro-police, pro-Trump protest in Philadelphia in September 2020. You had the Proud Boys, a staunchly pro-police, pro-masculinity, pro-gun, mostly white group that advocates violence as a primary means of conflict resolution. They have been labeled as a hate group by the Southern Poverty Law Center. Proud Boys are able to march through the streets of downtown Philadelphia. They stop and sing in front of Independence Hall and continue to City Hall, while they're being flanked by police officers on bikes—it's like the police are protecting them, supporting them. Then the Proud Boys go back to the parking lot to retrieve their cars along with a caravan of police cars, with sirens on, and police close the parking lot to the public until everyone gets their vehicles out. Police get out of their cars, shake hands with the Proud Boys, make friendly conversation with them.

In contrast, we've seen this incredibly militarized response to Black Lives Matter and racial justice protesters; law enforcement sees them as the ones who are extremists. An independent investigation of the same Philadelphia police department I just discussed found that officers used excessive force and extreme use of tear gas and munitions during Black Lives Matter protests.

Yesterday was confusing and very, very scary. Law enforcement sees themselves as upholding the status quo and the power hierarchy. And yet they let these Trump loyalists storm the Capitol. I don't know where we go from here. I'm worried about all of this. I see from my research the steps, and the institutionalized racist nature of law enforcement, that led us to this place.
BU Today:
Why do you think the white mob at the Capitol yesterday wasn't afraid of the police?
Karen J. Pita Loor: I think that makes sense. There is a good reason for them not to be afraid of police. White people are treated differently by police than Black and brown people are. White people are not used to living in heavily policed neighborhoods. Black and brown people are killed and brutalized at a much higher rate in regular day-to-day policing. Also they are treated differently during protests than whites. During protests, people of color are arrested at higher rates and they are treated much more violently when they are arrested.

White activists in racial justice protests know they will be treated differently than their Black and brown counterparts. When they're protesting for the same cause, as we saw last summer, white activists will stand between police and activists of color. They will protect the Black and brown activists from the police.

The individuals who stormed the Capitol yesterday are the same ones who have been at other far-right protests, like the one in Philadelphia. They travel. If every time these individuals have shown up as pro-police marchers or as counterprotesters at racial justice protests, despite the fact that they're walking around with weapons—like Kyle Rittenhouse, in Kenosha, who had a rifle out in the middle of the street—they're not being restrained by police, then it is shocking to them to all of a sudden have police trying to impede them instead of helping them as they have been.
BU Today:
How does race factor into why the police treat white protesters differently than those of color?
The focus of policing has been in neighborhoods where Black and brown people live. I was a public defender in Washington, D.C. after law school. The way I saw police treating people in
these neighborhoods, where most of my clients lived, was shocking to me. It was incredibly disrespectful, violating every law, throwing people against the wall and frisking them for no reason.

The reality is that police see white militia members with weapons—like Kyle Rittenhouse and the people he was with who had firearms—as less threatening than people of color who are together expressing their sadness, anger, and anguish over the killing of another Black person by police.

We've seen so many of these incidents of excessive use of police force since George Floyd—of police tear-gassing people on their knees with their hands up, of people being seriously injured, suffering concussions, losing their vision as a result of a police rubber bullet.

They called a curfew in Washington Wednesday, but it seemed like they didn't enforce it. It's different at Black Lives Matter protests. When Boston Mayor Martin Walsh announced a curfew after the big protest in the city last summer, there were lines of police with batons. They blocked all the streets around the Common. You couldn't get on the train. You had lines of police blocking the way out. I was there with my partner and we were trying to leave. We were trapped. You can't just say, "Hey, I'm just trying to leave"—they won't let you out.