Tears, Laughter Make Second Virtual Redstone Film Festival a Success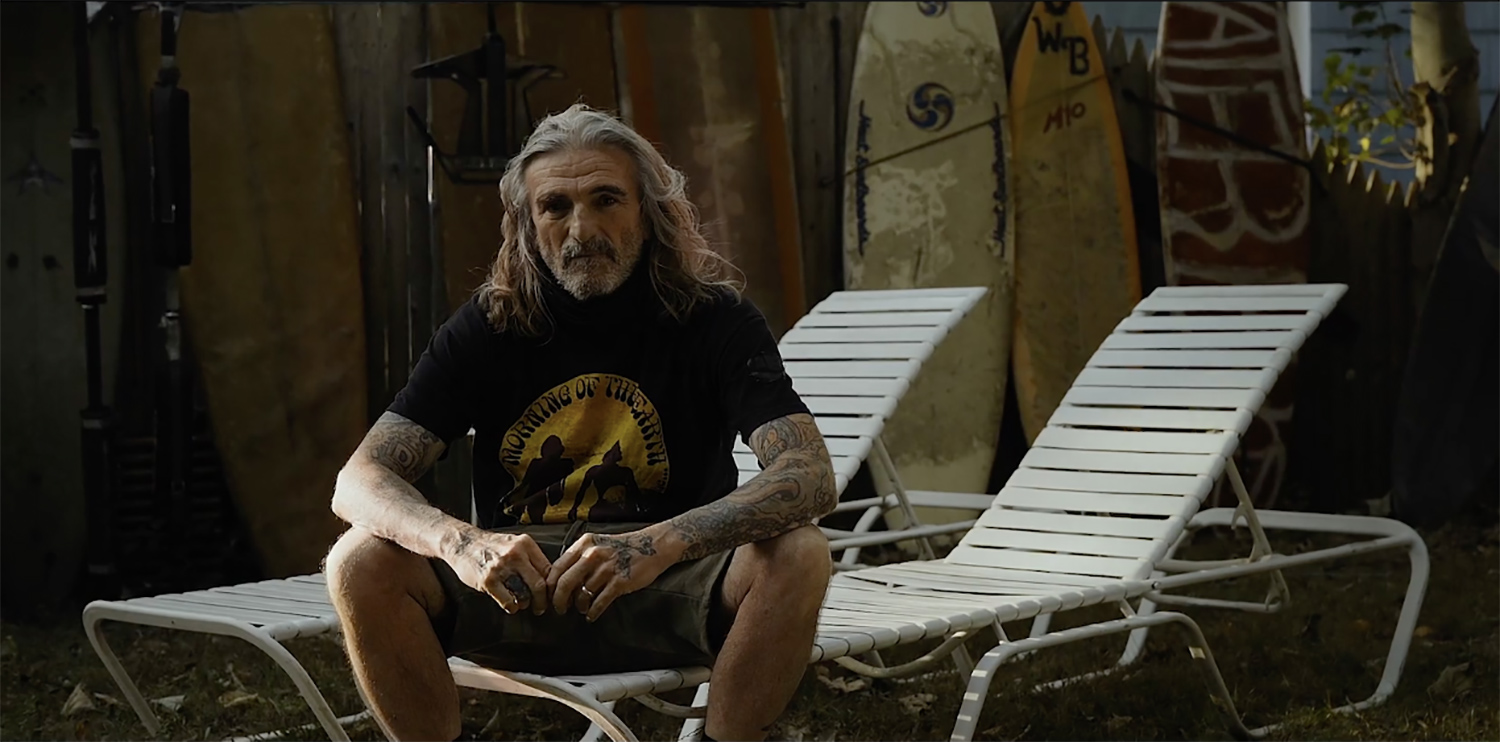 Film
Tears, Laughter Make Second Virtual Redstone Film Festival a Success
Winners from the 41st annual event include surf doc Waiting for Waves and tearjerker The Way You Smile
The Redstone Film Festival has another successful virtual event on the books. The 41st annual festival, which honors the work of College of Communication students and alumni, was streamed live on April 2.
The six films nominated (five student projects and one alumni short) ranged from animation to slapstick comedy—complete with whoosh-ing sound effects—all highlighting the above-and-beyond efforts of the COM community during a global pandemic.
"Producing quality projects during the pandemic is a significant achievement," says Paul Schneider, a COM professor and chair of the film and television department. "The faculty are especially proud of our students, who faced endless challenges and overcame them. They have had to work under extraordinary restrictions, and instead of giving up, they persevered and produced excellent work."
Beyond an accidentally muted mic at the start, the stream went smoothly. Faculty Lindsey Decker, Bill Braudis, and Maura Smith kept the event moving along at a brisk clip, dropping the occasional quip as they took to the screen to interview nominees and announce winners.
"The Red Sox lost their opening game today, so if you still want to do this it's fine with me, but I'm a little depressed," Braudis, a COM assistant professor of film and television, said before introducing the Fleder Rosenberg screenplay competition nominees.
The Redstone Film Festival is sponsored by the Sumner M. Redstone Charitable Foundation, established by the late Boston native and billionaire media magnate Sumner M. Redstone (Hon'94), who died in August 2020 at age 97. It features original films by COM film and television students, and in normal years, the festival is held every spring in Boston and then in Los Angeles (the LA event is "on hiatus" until further notice). This year, with coronavirus making large in-person gatherings impossible, submissions were judged virtually by a panel of film and television faculty. Prizes included Canon gear, a MacBook Pro, and scholarship funds.
The surf documentary Waiting for Waves, from Jacob Zaoutis (COM'21) and Zoe Dewitt (COM'21), racked up the most awards, taking home best film, best cinematography, and audience favorite. Watching the 20-minute doc, which follows New England surfing legends Sid Abruzzi, Ralph Fatello, and Shawn Vecchione, feels like being under water (in a good way). Maybe it's the early morning shots of Rhode Island waves, or Abruzzi's saltwater-and-pepper hair, but as the doc progresses, you feel yourself slowly being submerged in it, and by the end, you're drifting somewhere off the coast of Maine, content to ride the Atlantic forever.
That's the power of film—and surfing. "You've got to really love surfing if you're going to surf every day here," Zaoutis said. "That level of dedication makes it even more than just a passion or a lifestyle for the people who do it. And that just became the world I wanted to explore."
Among other winners are The Way You Smile (second place and best sound design), a tearjerker about a young widowed father trying to build a life back up for his son, directed by Bricen X (COM'21), and FUN-eral (best screenplay and tied for best editing), a comedy from director Julia Hess (COM'20) about two try-hard babysitters butting heads while scrambling to create a meaningful send-off for their charge's dead hamster. Although the two films are at opposite ends of the emotional spectrum, both offer touching reflections on loss. During a time that's been filled with so much of that, the nuance wasn't lost on viewers.
"Bricen, this is just such a lovely film," Smith told The Way You Smile director during the broadcast.
This year's other finalists: From Sophia with Love (third place and tied for best editing), about an older woman reflecting on a seminal romantic and artistic breakup; Forgotten but Not Gone, an animated short about a young man reclaiming his sense of self; and the alumni short My First Sessions, a New Yorker–produced doc detailing a Chinese-American woman's first toe-dips into therapy.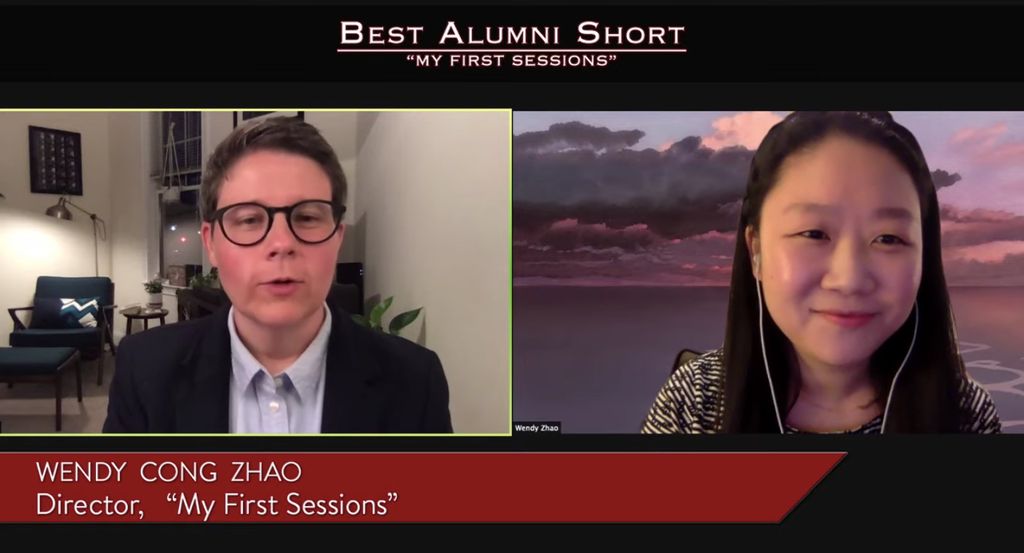 Awards were also given for student-written screenplays, as well as for film and television graduate students' thesis projects.
"There's really nothing more we can say," Schneider told the nominees in his closing remarks. "You've really made us all proud."
View the films in their entirety here. The full list of winners:
First Place: Waiting for Waves, directed by Jacob Zaoutis (COM'21) and produced by Zoe Dewitt (COM'21) and Zaoutis
Second Place: The Way You Smile, directed by Bricen X (COM'21) and produced by O'Neil Henry (COM'21) and Alison Wright (COM'21)
Third Place: From Sophia with Love, directed and produced by Jacob Zaoutis (COM'21) and Dilara Avgen (COM'21)
Best Screenplay: FUN-eral, written by Meredith Brown (COM'20)
Best Cinematographer: Waiting for Waves, Felix Phillips (COM'21), director of photography
Best Editing: Tie between FUN-eral, edited by Jonny Arruda (COM'20), and From Sophia with Love, edited by Jacob Zaoutis (COM'21)
Best Sound Design: The Way You Smile, O'Neil Henry (COM'21), sound designer
Audience Award
Waiting for Waves, directed by Jacob Zaoutis (COM'21) and produced by Zoe Dewitt (COM'21) and Zaoutis
Alumni Short
My First Session, directed, edited, and animated by Wendy Cong Zhao (CFA'11, COM'11)
Fleder Rosenberg Short Screenplay Contest
First Place: Mei-Ying, written by Nicole Shuhan Shen (COM'23)
Second Place: Gyopo, written by Timothy Choi (COM'22)
Third Place: Redbud, written by Taylor Coffey (COM'22)
The Film and Television Studies Award for Innovative Scholarship
Dana Alston (COM'21), "I'm Not Crazy': The History and Development of the American Gaslight Film"
Peter Johnson (Questrom'15, COM'15,'21), "ABC and Wall Street: The Financialization of Television from Broadcast to Streaming"
Chi-Tsung Chang (COM'21), "Hollywood and the Myth of Meritocracy"