Students, University Observe Sexual Assault Awareness and Prevention Month with Various Events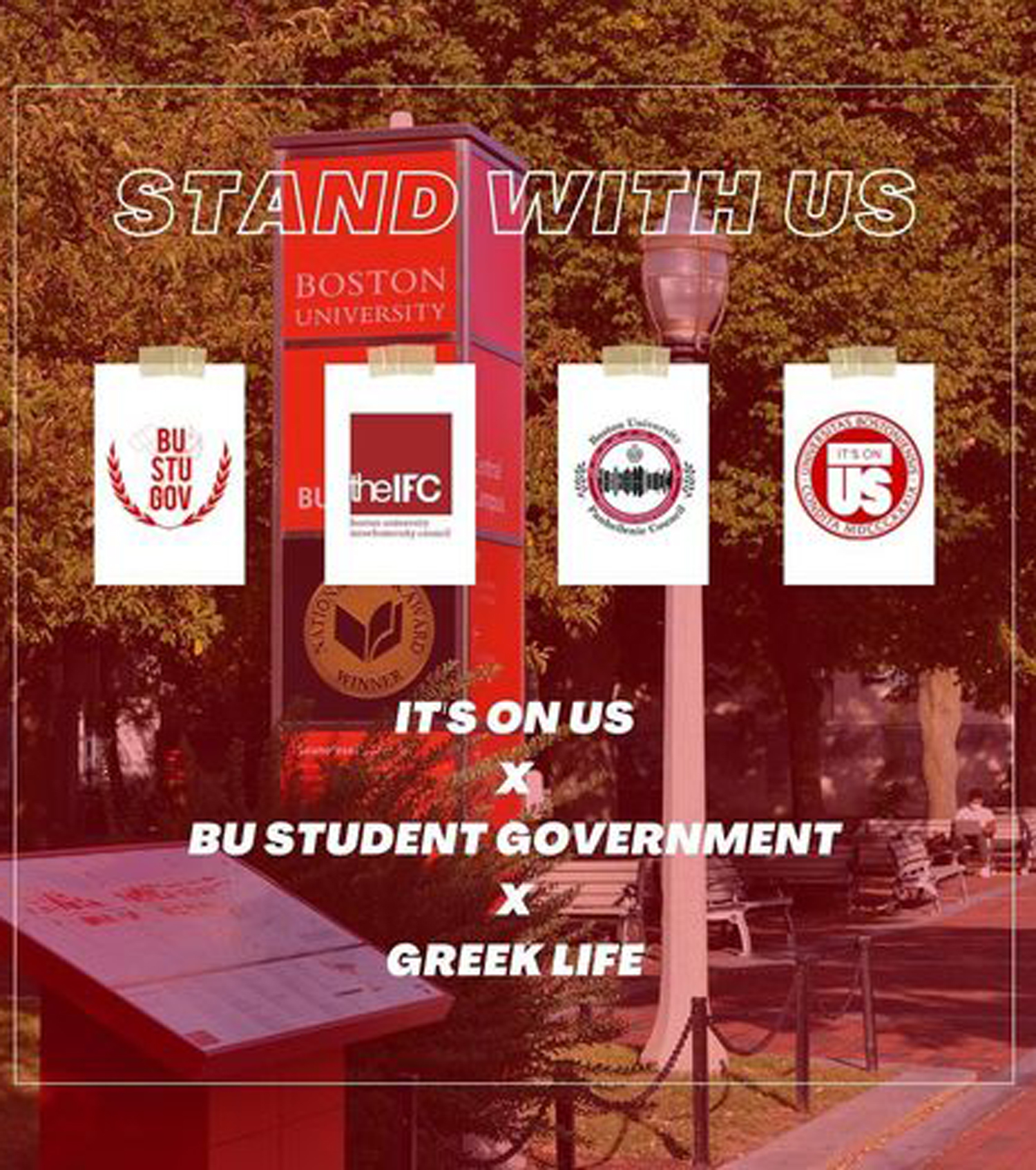 Health & Safety
Students, University Observe Sexual Assault Awareness and Prevention Month with Various Events
Goal: raising $10,000 for the Rape Abuse and Incest National Network (RAINN), public art installations
April is Sexual Assault Awareness and Prevention Month, and several student groups and the University's Sexual Assault Response & Prevention Center (SARP) are organizing various events with the goal of raising awareness and money for the cause.
Sexual assault is a serious issue nationwide, especially on college campuses. In 2019, there were nine cases of rape reported on the Charles River Campus. According to the Association of American Universities Campus Climate Survey on Sexual Assault and Sexual Misconduct, 26.4 percent of all female undergraduates experience some form of sexual assault. Another study, by the US Department of Justice, found that only 20 percent of sexual assault cases are reported.
The goal of Sexual Assault Awareness Month is to get out the word about the importance of preventing sexual violence and supporting survivors, says Ashley Slay, SARP assistant director of interpersonal violence prevention. "Like any social problem, people with a personal connection to sexual violence or a vested interest will be the most engaged," she says. No matter the activity people choose to participate in, "we want more allies to be a part of the cause and know every little bit helps."
Kristen Schallert (CAS'22) is vice president of It's On Us, a student organization dedicated to supporting sexual assault survivors and combating sexual assault on campus. Speaking on behalf of the organization's e-board, she says the group wants to provide survivors with resources and support, as well as raise awareness and sensitivity throughout the University at large. So far, she says, it's been encouraging and meaningful to see people contribute and stand in solidarity with survivors.
"I want people to start having uncomfortable conversations, because they really do matter," Schallert says. "Like conversations about sexual assault and what it means to be an active bystander and support survivors. The more awareness that we have on the issue the better, especially because we are on a college campus."
Events planned around the University for Sexual Assault Awareness and Prevention Month:
1. Fundraiser for the Rape, Abuse and Incest National Network (RAINN)

Monthlong
It's On Us kicked off a monthlong fundraiser April 1. The money raised will go to the Rape, Abuse and Incest National Network (RAINN), the country's largest anti–sexual assault organization. It provides resources for survivors and programs on sexual assault prevention and works to ensure that perpertrators are brought to justice.
The goal of the social media–based fundraiser is $10,000. Other student organizations, including members of BU Greek Life as well as local businesses, have offered support and agreed to share the template cards for donations on social media.
"I'm not sure what we were expecting, just definitely not all the support that we've been getting from all of the organizations," says Schallert. "Pretty much everyone that we reached out to has gotten back to us enthusiastically, responding with unanimous yeses from their boards when it comes to helping."
2. Denim Day craft in the George Sherman Union

Monthlong
Throughout the month, there will be a spot in the George Sherman Union for students to decorate denim patches to honor sexual assault survivors for Denim Day, a day when supporters are encouraged to wear jeans to raise awareness of rape and sexual assault. Dates and times have not yet been set, but updates will be shared on the It's On Us Instagram account. 
Denim Day is sponsored by It's On Us, SARP, the Center for Gender, Sexuality, & Activism, and 16,000 Strong.
More information on Denim Day and how it became a movement to demand justice and stand in solidarity with all survivors is available here.
3. Trauma-informed yoga and information session

April 11
In addition to the fundraiser and the Denim Day observances, It's On Us partnered with Students for Reproductive Freedom and BU CHAARG, a health and fitness community, to host a trauma-informed yoga and information session on Sunday, April 11, from 11 am to 12:30 pm. Trauma-informed yoga is a "mindfully plan[ned], safe class" geared to individuals who have undergone traumatic experiences, according to a Yoga Medicine blog. All activities, from lighting to music to space, are planned and adjusted to make the students feel comfortable and free from stress.
4. Clothesline Project

April 12 to 16
The Clothesline Project started in 1990 as a way to educate about, and increase awareness of, sexual violence. Survivors and loved ones of survivors are invited to decorate T-shirts to express their experiences related to sexual violence.
The T-shirts will be displayed in the BU Arts Initiative space in the GSU the week of April 12 for the BU community to view. If you can't make it to the Arts Initiative in person, you can visit virtually here.
5. Incarcerated Survivor Letter Writing

April 12
Next Monday, SARP will host a virtual letter-writing activity, with notes sent to incarcerated survivors of domestic and sexual violence. The letters are meant to reduce feelings of isolation during incarceration and improve survivors' well-being.
The activity will feature a brief discussion and reminder of why it's important to support incarcerated survivors, time to write a letter, and the opportunity to learn more ways to take action.

Register here.
6. I Will Walk with You

April 13, 10 am to 3 pm
I Will Walk with You is a project started by Keara Russell (CAS'19) during her freshman year. During the project, students are encouraged to create a pathway of temporary spray chalk footprints around campus in order to demonstrate their solidarity and support for survivors of sexual violence.
Rain date is April 17. Sign up to volunteer to help set up here.
7. Howard Thurman Center for Common Ground and SARP Book Discussion

April 13, at 1 pm, and April 14, at 4 pm
The Howard Thurman Center Book Club uses literature to spark thoughtful conversations about the human experience, with participants discussing topics like culture, identity, relationships, and belonging. For the month of April, SARP will partner with the HTC to discuss topics around sexual assault that are in the book I Can't Date Jesus, which will be provided to students.
Sign up here.