Registration Opens for Class of 2020's October 3 Commencement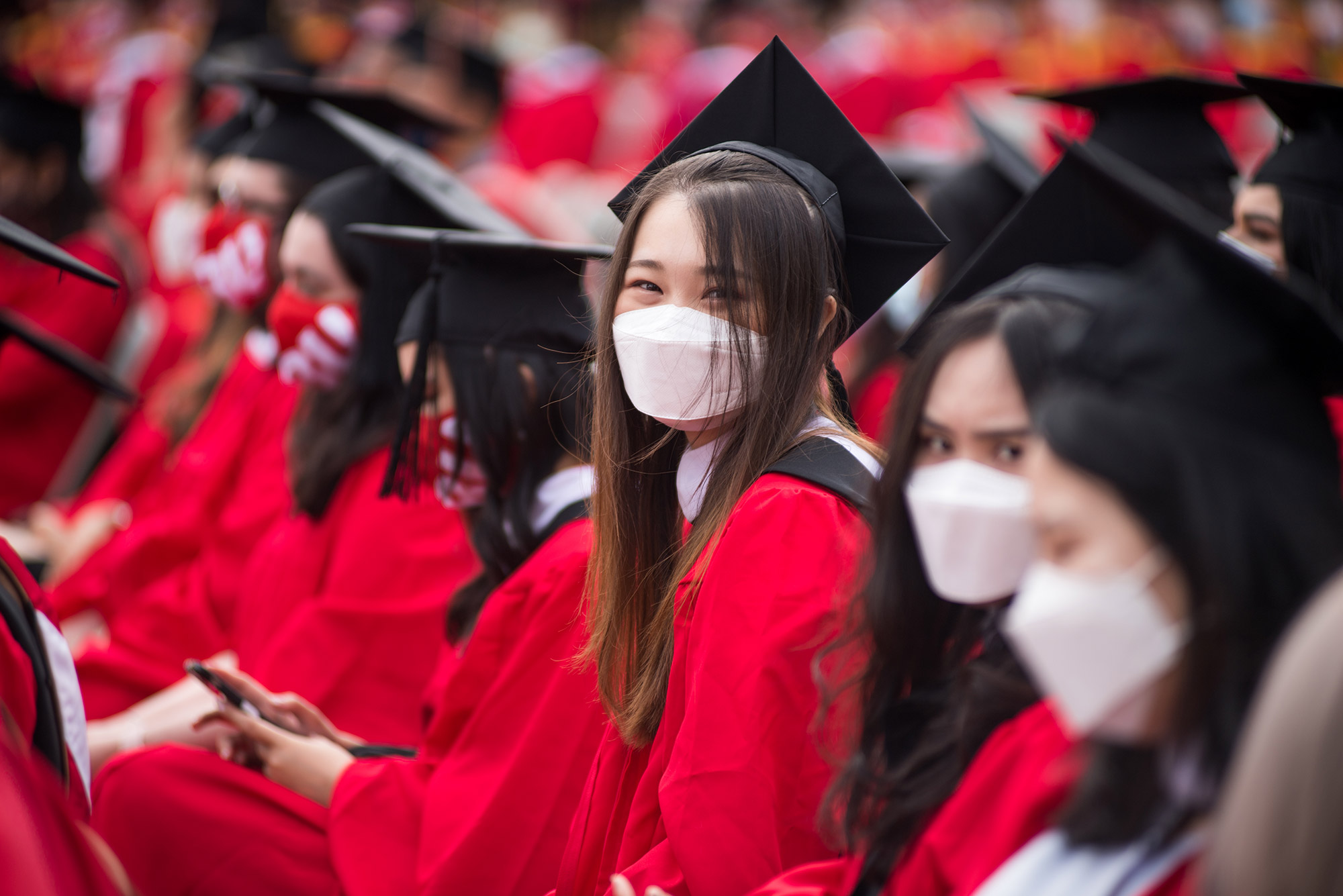 University News
Registration Opens for Class of 2020's October 3 Commencement
Postponed by the pandemic, ceremony will be held either at Nickerson Field or Agganis Arena
Registration for Class of 2020's delayed Commencement runs August 23 to September 12
Event moved to October 3 due to last year's COVID-19 surge
Speaker is Victor J. Dzau, president of the National Academy of Medicine
Registration opens Monday, August 23, at 9 am for the Class of 2020's pandemic-postponed Commencement, which will be held Sunday, October 3.
Registration for this "special weekend that feels long overdue," as President Robert A. Brown referred to it in his July email announcing the date, closes at 11:59 pm on Sunday, September 12. Class members with active email addresses on BU's alumni database will receive an email on August 23 with a unique login code, allowing them to register on the Commencement website, according to Michael Ciarlanti (COM'79, MET'83), director of events and conferences. (If you graduated in September 2019, January 2020, May 2020, or September 2020 and do not receive a code, email commencement@bu.edu.) 
Registration has opened as well for the custom-tailored individual school and college recognition events, which aren't being called "convocations," as they are usually designated, so each school can have latitude in designing its own ceremony. (Also, members of the Class of 2020 have already received their diplomas, which are usually distributed at the convocations.) Find information on those events here. Dual-degree candidates may register for recognition events at both their schools. Depending on the school, recognition events will be held either Saturday, October 2, or the morning of Sunday, October 3.
The University's COVID-19 safety protocols require masking indoors at all events when not eating or drinking, and BU encourages all visitors, including Class of 2020 graduates and their guests, to be vaccinated. (The University has mandated vaccination for current students, faculty, and staff.)
"Right now, the All-University exercises are being planned for Agganis Arena, but as stated on the website, all locations are subject to change based on final registration numbers," Ciarlante says. Graduates should consult the website for up-to-date information.
Members of the Class of 2020 will be able to register up to four guests for the various events, a departure from this past spring's Class of 2021 Commencement, which was open only to graduating students because of the pandemic. The 2020 Commencement this fall will coincide with BU's annual Alumni Weekend, and University parking lots will be open and free to guests at all Commencement- and alumni-related events. Ciarlante says that Commencement plans "are being developed to minimize the impact on the normal operation of the University."
"Our campus will be teeming with energy; there will be Class of 2020 school and college recognitions and celebrations throughout the weekend, as well as events for Alumni Weekend," Brown's July email said. "For many of you, this will be your first time returning to campus since March 2020. I look forward to welcoming you all back as alumni of Boston University and to celebrating your hard work and achievements."
The lineup for the October 3 speakers and honorees, announced last year, remains unchanged, except for former Massachusetts congresswoman Niki Tsongas (LAW'88), who is unable to make the rescheduled Commencement. Victor J. Dzau, president of the National Academy of Medicine, will give the Commencement address and receive an honorary Doctor of Science.
The other honorary degree recipients will be Baccalaureate speaker Yolanda Kakabadse, former director of the World Wildlife Fund International, Doctor of Humane Letters;
Thomas R. Insel (CAS'72, MED'74), former director of the National Institute of Mental Health, Doctor of Science; David Satcher, 16th US Surgeon General and director of the Centers for Disease Control and Prevention, Doctor of Laws; and Mark Volpe, who recently stepped down as president and CEO of the Boston Symphony Orchestra, Doctor of Humane Letters.
The Class of 2020 Baccalaureate, preceding Commencement at 11 am, is to return to its usual venue inside Marsh Chapel. May's Baccalaureate for the Class of 2021 was held outside per COVID-19 protocols.
The Class of 2020 student speaker will be Macken Murphy (CAS'20) and the student singer will be Caroline Bourg (CFA'20).
The Metcalf Cup and Prize for Excellence in Teaching, the University's highest teaching award, will be given to Sarah Sherman-Stokes, a School of Law clinical associate professor and associate director of the Immigrants' Rights & Human Trafficking Program. Seth Blumenthal (GRS'13), a College of Arts & Sciences Writing Program senior lecturer, and Courtney Goto, a School of Theology associate professor of religious education, will receive the Metcalf Awards for Excellence in Teaching.
The Class of 2020's original send-off marked only the second time a Commencement was upended by world events. The BU Class of 1970 never got a Commencement; theirs was canceled after members of the Ohio National Guard killed four Vietnam War student protesters at Kent State University, sparking campus unrest across the country. (The University scheduled various belated events, including a Marsh Chapel service for the class, during Commencement Weekend 2010.)