In COVID-Molded Baccalaureate, Food Banker Catherine D'Amato Summons Terriers against Virus-Worsened Inequalities
Baccalaureate
Baccalaureate Speaker Urges Action against COVID-Worsened Hunger, Inequality
Catherine D'Amato (Hon.'21), Greater Boston Food Bank CEO, addresses graduates in traditional service, held outdoors this year
COVID-19 remade BU's venerable Baccalaureate Sunday, dictating the venue—outdoors for the first time in memory because Marsh Chapel has not yet resumed indoor services—and the focus of speaker Catherine D'Amato, who summoned Terriers to fight hunger and other social ills worsened by the pandemic.
"This pervasive virus has changed our lives forever," D'Amato (Hon.'21), president and CEO of the Greater Boston Food Bank (GBFB), told the audience gathered under a tent on Alpert Mall. "While COVID is a pandemic, hunger is an epidemic."
"Now is the time to act," D'Amato exhorted, sharing her own detour from her youthful dream of a singing career to feeding those in need. The pivot point was her working-class parents' entry into the middle class after starting a successful restaurant, where D'Amato began helping out at age eight.
"We were taught to always help others," she said. "In our case, this often meant feeding anyone coming to the back door of the restaurant seeking food in exchange for work. No work required….It's no wonder that I studied theology, and it's no wonder that I committed my life's work to helping others get access to food."
The importance of that mission is in the numbers, she said: one in every 10 people worldwide is hungry, with one in 6 Americans facing food insecurity, including on college campuses. (Terrier Meal Share, BU's program for food-insecure students, saw surging demand during last year's pandemic-induced economic depression.)
---

While COVID is a pandemic, hunger is an epidemic.

---
"If hunger is not what resonates for you, I ask you to take a moment and confirm what does resonate," she said. "What issue might have your voice behind it? What cause do you feel passionate about? What are you personally connected to? What is that one thing that has a connection to your life, to your story?
"Some might say you have a unique, unprecedented opportunity in this very unique, unprecedented moment."
The outdoor service was abetted by unseasonably warm temperatures and a gentle breeze. Similarly, reminding graduates that good as well as inequity awaits them in the world, D'Amato, the once-aspiring singer, turned balladeer to conclude her talk, singing a Navajo prayer she'd set to music:
"In the hours of my life, there I wander
In the hours of my happiness, I wander
Beauty before me
Beauty behind me
Beauty below me
All around me."
Earlier in the morning, D'Amato received an honorary Doctor of Humane Letters at BU's Commencement ceremony for advanced-degree recipients.
During the scaled-down Baccalaureate (city and state gathering limits prevented graduates' families and guests from attending any of this year's Commencement events), the Rev. Robert Allan Hill, dean of Marsh Chapel, lauded D'Amato's "lifetime of service." The GBFB distributed 100 million pounds of food to partner agencies coping with pandemic-fueled joblessness and hunger during the last year.
The outdoor setting and attendance limits weren't the only concessions to COVID gathering protocols. The voices of Marsh Chapel's nine-member Choral Scholars, conducted by Scott Allen Jarrett (CFA'99,'08), Marsh music director, rang from inside the chapel onto cameras in the tent for the congregation, as did the organ performances by Justin Thomas Blackwell, Marsh associate music director.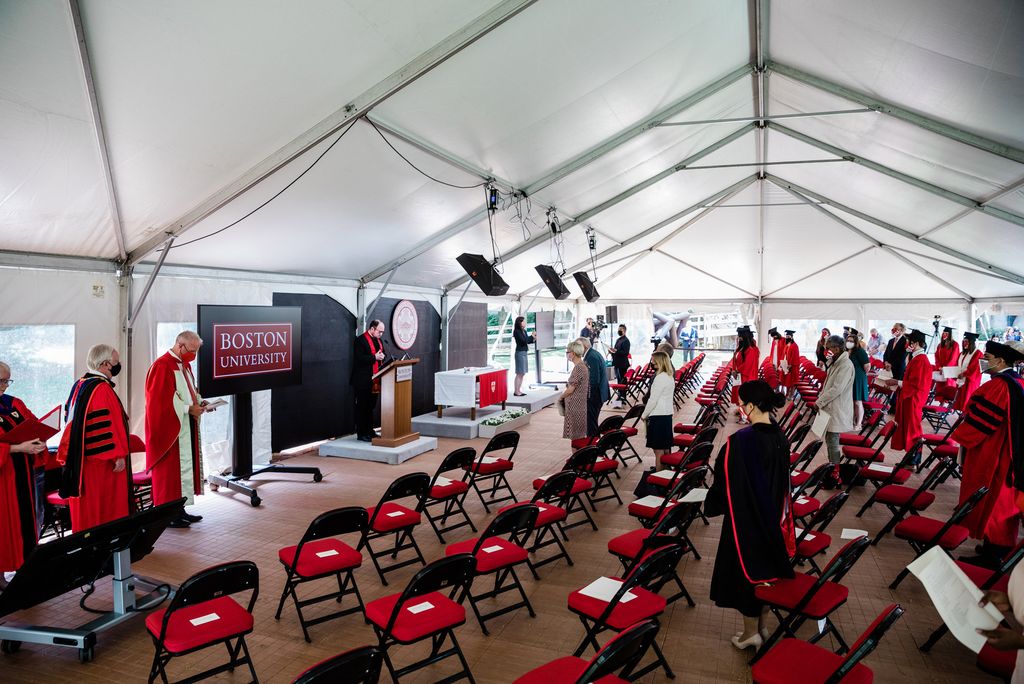 With such dispersed participation, the University deployed seven cameras to record the service: three in the chapel, three in the tent, and one by Marsh's outdoor arches, where the Majestic Brass Quintet played entry and farewell accompaniment for the Baccalaureate service.
The service's traditional Biblical readings gained added meaning on the cusp of BU's exit from a pandemic-constrained year.
Jean Morrison, BU provost and chief academic officer, read from Ecclesiastes, which conjures the new life awaiting graduating students ("to every thing there is a season, and a time for every purpose under the heaven"). This year, the line became a reminder that the season of the pandemic was running its course and that the University anticipates a return to full in-person learning this fall.
And Paul's Letter to the Romans, read by President Robert A. Brown, offered advice to graduates entering a world scarred by sickness, job loss, and grief from the pandemic: "Be transformed by the renewing of your minds, so that you may discern what is the will of God.…Rejoice in hope, be patient in suffering, persevere in prayer."
For students who studied remotely this year, the service brought the novel joy of returning to campus and rubbing (distanced) shoulders with classmates.
Another degree should have been old hat for Soren Hessler (UNI'08, Wheelock'11, STH'11,'21), who added a fourth BU sheepskin to his collection Sunday, a PhD from the School of Theology. But screen fatigue took its toll for Hessler, as for many. "After a year of watching church services on YouTube and Zoom and listening to the chapel podcast," he said, "I am so excited to finally see and greet friends and colleagues in person at Baccalaureate."
Hessler will continue in his current job as director of graduate academic services at New Jersey's Drew University.
Mahalia Damm (STH'21) also expressed her joy at being able "to safely gather with my colleagues and friends to celebrate all that we have accomplished together." Damm, who received a master's in divinity Sunday, is en route to becoming the STH admissions coordinator this summer.