POV: Takeaways, Hopes, and Disappointments from COP26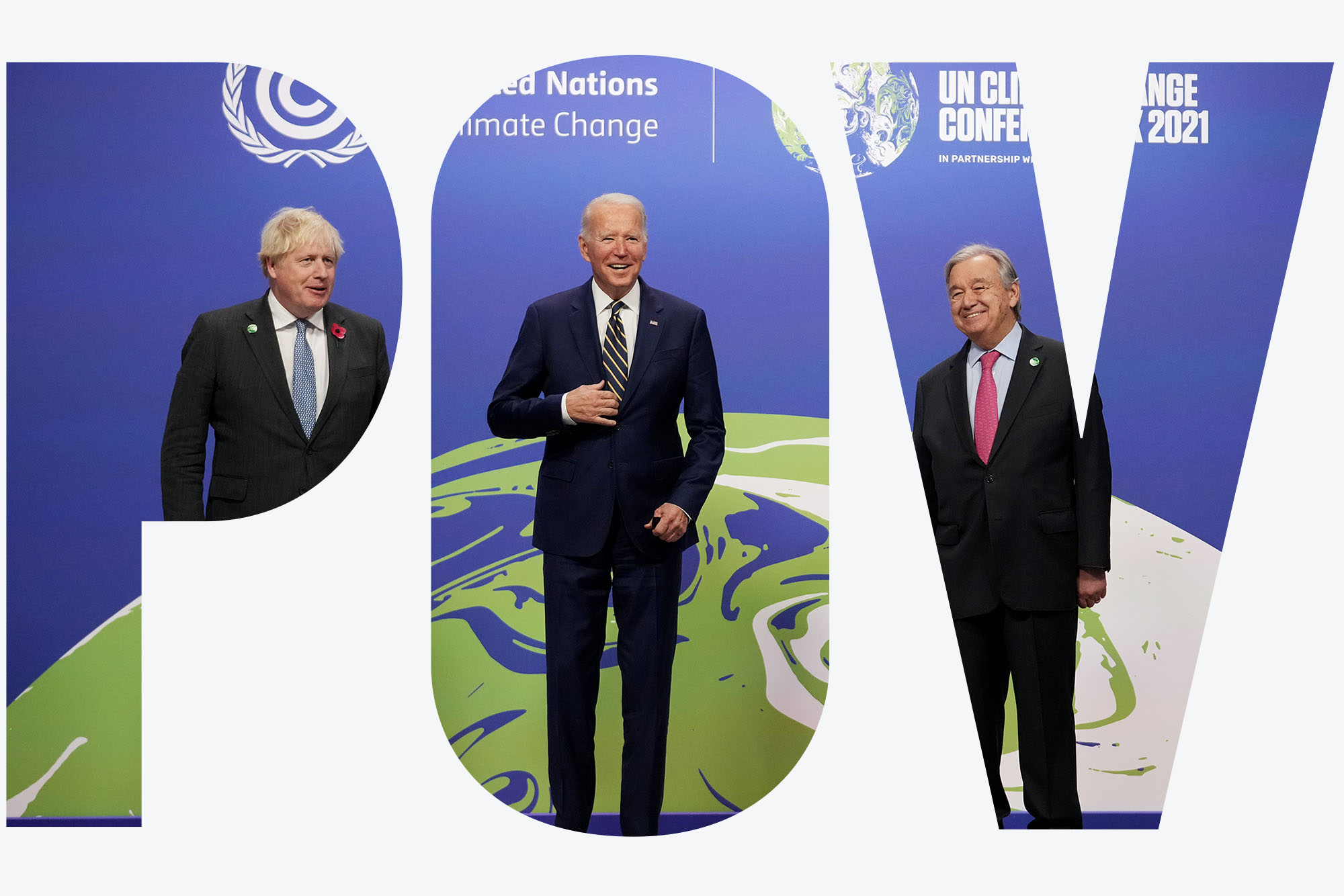 Voices & Opinion
POV: Takeaways, Hopes, and Disappointments from COP26
Four BU grad students who attended the Glasgow conference virtually reflect on what they learned
Millions of people around the world watched with a mix of excitement, aspiration, disappointment, and cautious optimism as negotiations unfolded at the United Nations Conference of the Parties (COP26) climate summit in Glasgow, Scotland, which ended earlier this month. Policymakers, multi-sector representatives, scientists, and young people spent two weeks refocusing global action to keep Earth's warming under 1.5 degree C by implementing the Paris Climate Agreement adopted at the COP21 meeting. Their efforts resulted in bold pledges and announcements, including the Global Methane Pledge, alongside less ambitious formal negotiations that will succeed only through immediate and robust implementation.
As PhD trainees in Boston University's URBAN Program in Biogeoscience & Environmental Health, we had the opportunity to attend COP26 events virtually as civil society observers. Even virtually, the weight of the summit was not missed as we felt the pressure for party delegates to draft resolutions addressing climate change, and witnessed negotiators debating pathways to meet the 1.5 degree C goal. Here, we offer our takeaways from COP26 as a group of students whose research interests address a diverse range of topics centered on energy and the environment.
Like many attendees, we returned to the United States with mixed feelings. Jessica Wright, whose research focuses on climate policy, left weary of climate policies that fail to include concrete implementation plans. Pledges and pacts can promise to reduce emissions and change old habits, but rarely outline how to do so on a large scale. At COP26, many conversations lacked the importance or urgency of determining how to reach the climate goals equitably or efficiently. For example, the finalized Glasgow Climate Pact included a "phase down" of coal instead of "phase out." However, emerging research highlighted throughout the conference offered opportunities for hope, especially regarding reducing emissions, utilizing nature-based solutions, reimagining urban systems, and ensuring the safety and health of communities.
Lucila Houttuijn Bloemendaal, whose research in coastlines and fellowship at the National Oceanic and Atmospheric Administration has attuned her to the importance of coastal and marine work in climate policy, found a refreshing focus on oceans at COP26. As Ambassador Peter Thomson, the UN Secretary General's Special Envoy for the Ocean, succinctly noted, climate is the interaction between the ocean and the atmosphere, and a healthy planet requires a healthy ocean. At COP26, participants touted a deeper understanding of the ocean and a well-managed, sustainable blue economy as fundamental to addressing both the climate and biodiversity crises. To that end, the United States joined the High-Level Panel for a Sustainable Ocean Economy, committed to protecting 30 percent of the global ocean by 2030, in line with larger initiatives, and more. The momentum for ocean conservation and ocean-based solutions to climate change is growing and promises more progress, with upcoming meetings such as the One Ocean Summit, Our Ocean Conference, and the UN Ocean Conference.
Another focal point addressed at COP26 was the transition to clean energy, which is instrumental to meeting the 1.5 degree C goal. President Biden detailed the US goals in ramping up clean energy at a Presidency Event on Accelerating Clean Technology Innovation and Deployment. Anita Tendler's research focuses on how electricity generated from clean energy, like solar, has become increasingly cost-competitive with fossil fuel alternatives on a global scale. Governmental support and strategic collaboration will ensure this transition is accelerated to meet carbon emission reduction goals, a point President Biden emphasized. Complementary educational events at COP26 brought innovators together to establish a holistic energy transition framework. This would address the high-level obstacles to major transitional change, particularly to ensure that the clean energy transition is accomplished in an equitable and ethical way.
While high-level officials and leaders dominated most events at COP26, Emma Conrad-Rooney found youth-driven programming to be the most powerful. In these sessions, young people directed the conversation, created a space for youth voices, and managed the prominence and level of engagement of adults. In the Presidency Event in Partnership with YOUNGO: Unifying for Change: The Global Youth Voice at COP26, young people introduced the Global Youth Statement, a youth-written document outlining young people's climate policy demands. The youth presenters prompted high-level panelists to comment on the Global Youth Statement and to discuss their plans to bring forward a youth paragraph in negotiations. These efforts were successful––paragraph 92 of the Glasgow Climate Pact "urges Parties and stakeholders to ensure meaningful youth participation and representation in multilateral, national, and local decision-making processes, including under the Paris Agreement."
Although the promising strides in ocean policy, clean energy, and youth engagement inspired us, we are anxious to see how these declarations will actually be implemented to generate meaningful change in the coming months and years. The strong presence of the United States at COP26 signals our country's commitment to mitigating climate change and we look forward to seeing the steps that our administration takes to follow through.
 Lucila Houttuijn Bloemendaal (GRS'23,'23) can be reached at lbloem@bu.edu; Jessica Wright (GRS'22,'22) can be reached at jwright9@bu.edu; Emma Conrad-Rooney (GRS'26,'26) can be reached at econradr@bu.edu; and Anita Tendler (GRS'24,'24) can be reached at atendler@bu.edu.
"POV" is an opinion page that provides timely commentaries from students, faculty, and staff on a variety of issues: on-campus, local, state, national, or international. Anyone interested in submitting a piece, which should be about 700 words long, should contact John O'Rourke at orourkej@bu.edu. BU Today reserves the right to reject or edit submissions. The views expressed are solely those of the author and are not intended to represent the views of Boston University.