10 Powerful Books for Adults, Teens, Kids to Celebrate and Understand Juneteenth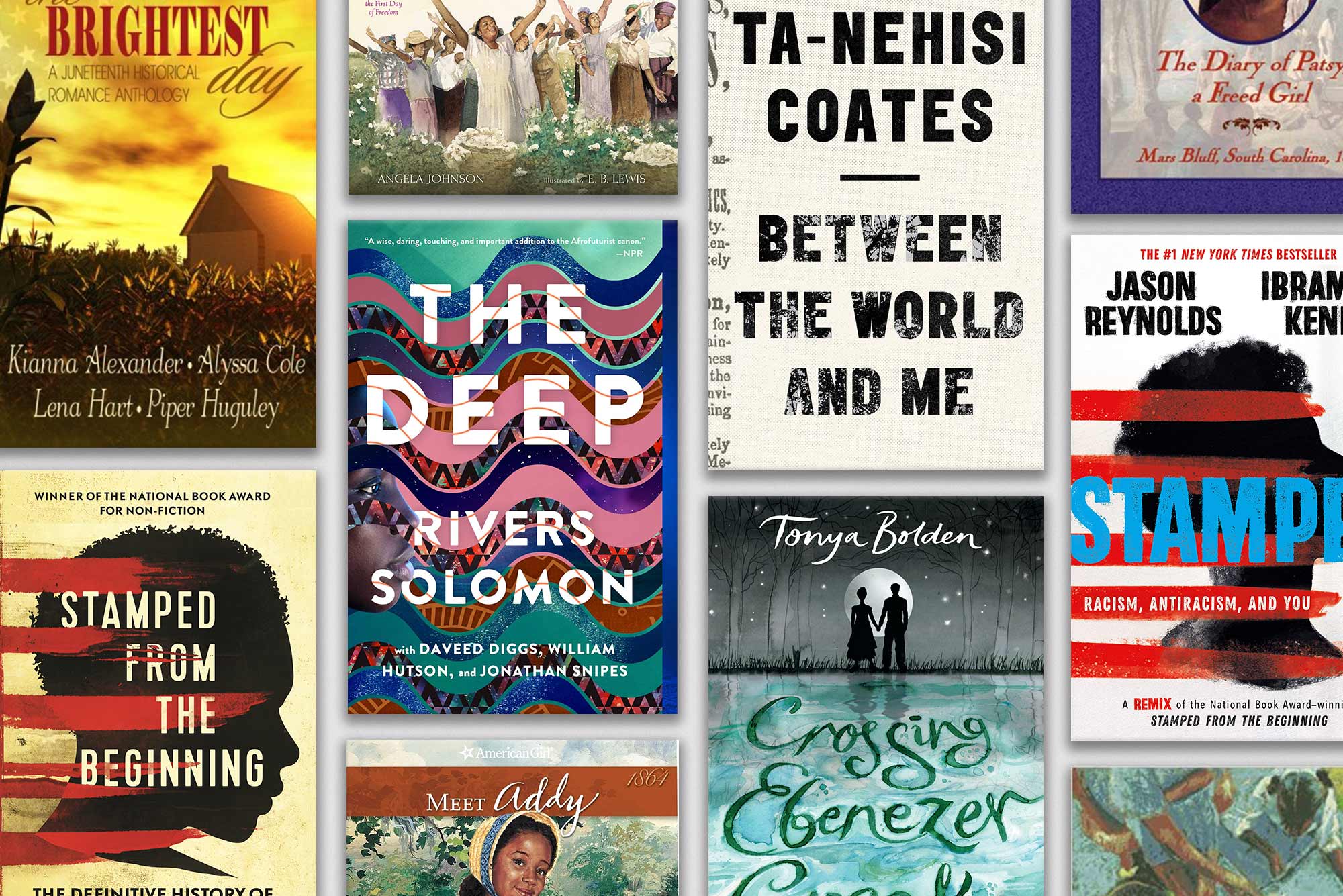 Books
10 Powerful Books for Adults, Teens, Kids to Celebrate and Understand Juneteenth
From novellas to novels, picture books to deeply researched histories, each has a unique story to tell
Juneteenth is an important day in American history. It commemorates June 19, 1865, the day when the last enslaved people in the United States learned that they had been freed, more than two years years after the Emancipation Proclamation officially set them free. The day holds special significance for their descendants, and for anyone concerned about the evil of slavery, so to help everyone learn more about Juneteenth's history, and to honor its cultural significance, BU Today has put together a list of books that adults, teens, and kids can read to understand the story of slavery, its lasting effects, and its importance in American history.
And if you plan on purchasing any of these books, consider ordering them from a Black-owned bookstore. Susan Richardson, executive director of BU Alumni Relations, is hosting a webinar on Thursday, June 17, from 4 to 5:15 pm, titled Juneteenth 2021: Remembering the Past, Celebrating the Future. Register here for the webinar.
For children:
Addy: An American Girl
series by Connie Rose Porter
In this classic entry to the American Girl books, Addy Walker is a enslaved young girl living in 1864 whose family is planning a daring escape from captivity. Their dreams of escaping to freedom together are thwarted when their owner decides to sell Poppa and Addy's brother, Sam, to the owner of a different plantation. Now Addy and her mother have to make the escape on their own, hoping their family will be able to escape and they can all reunite in Philadelphia. The rest of the series follows Addy as she makes her daring escape, adjusts with her mother to life as a free person in the North, and tries to reunite with her loved ones.
Freedom's Gifts: A Juneteenth Story
by Valerie Wesley, illustrated by Sharon Wilson
As a young Black girl, June loves celebrating her people's emancipation on Juneteenth. But her cousin Lillie is used to celebrating freedom on the Fourth of July. Will June be able to teach Lillie the importance of Juneteenth during their family's celebratory picnic?
All Different Now: Juneteenth, the First Day of Freedom
by Angela Johnson, illustrated by E. B. Lewis
This picture book tells the story of the first Juneteenth through the eyes of a little girl who is freed on that day. With included notes from the author and illustrator, a timeline of notable dates, and a glossary, this is a great book to help kids understand the importance of Juneteenth.
I Thought My Soul Would Rise and Fly: The Diary of Patsy, a Freed Girl
by Joyce Hansen
Told through a series of diary entries, this Coretta Scott King Honor winner follows Patsy, a recently freed 12-year-old girl living in Mars Bluff, S.C., during the immediate aftermath of the Civil War. Patsy observes all of the changes taking place around her and celebrates no longer having to hide her ability to read and write, allowing her to forge a better life for herself and for fellow former enslaved people.
For teens:
Crossing Ebenezer Creek
by Tonya Bolden
When General Sherman leads Union soldiers through Georgia during the Civil War, the enslaved Mariah and her younger brother Zeke are set free. The two join the march for protection, unsure of what the future holds for them. But as Mariah starts to dream of a better life for herself and her people, the harsh realities of slavery continue to hang over her head.
Stamped: Racism, Antiracism, and You
by Ibram X. Kendi and Jason Reynolds
Those who are too young to read Stamped from the Beginning by Ibram X. Kendi, BU's Andrew W. Mellon Professor in the Humanities and founding director of BU's Center for Antiracist Research, can learn about antiracism from this collaboration between Kendi and Young Adult author Reynolds. They use a combination of critical race theory, history, and pop culture references guaranteed to keep your preteen and teen engaged.
For adults:
The Deep
by Rivers Solomon, with Daveed Diggs, Willian Huston, and Jonathan Snipes
For lovers of fantasy, this novella inspired by the Hugo Award–nominated song "The Deep" from Clipping, Daveed Diggs' rap group, follows the descendants of pregnant African enslaved women who were thrown overboard during their forced journey to America. These water-breathing people live a near-utopian life under the sea, unaware of the true origin of their ancestry. Since the past is too traumatic for anyone to remember regularly, historian Yetu must be the keeper of memories for her people. In an attempt to escape the past and her responsibilities, she flees to the surface, discovering the world her people left behind. Yetu soon finds out that there's more to their past, and that the world above the sea holds traumatic memories.
Between the World and Me
by Ta-Nehisi Coates
In this raw essay about race, Coates writes a letter to his son about his life as a Black man, his fears and dreams for his son, the nature of the Black body in America, and his aspirations for the Black community. Coates weaves an intimate and heart-wrenching look into Blackness in America.
Stamped from the Beginning: The Definitive History of Racist Ideas in America
by Ibram X. Kendi
In this in-depth look into Black history, Kendi chronicles the history of anti-Blackness in America, from the arrival of the first enslaved people to the present. He uses five historical figures who are integral to American and Black history: the Puritan minister Cotton Mather, founding father Thomas Jefferson, abolitionist William Lloyd Garrison, scholar and civil rights activist W. E. B. Du Bois, and civil rights and anti-prison activist Angela Davis. Each figure is emblematic of the attitudes of their time and is a prominent figure in the fight either for or against abolition, segregation, assimilation, or equal rights.
The Brightest Day: A Juneteenth Historical Romance Anthology
by Kianna Alexander, Alyssa Cole, Lena Hart, and Piper Huguley
Fans of romance are sure to devour this anthology about love and hope in the aftermath of Juneteenth. From the day enslaved people were freed to a Juneteenth-themed cruise to out-of-wedlock pregnancy in the early 20th century to boxing rings during the Civil Rights Movement, each story depicts love and Black joy during times that were filled with trauma and hatred.
On Juneteenth
by Annette Gordon-Reed
From the author of Thomas Jefferson and Sally Hemings: An American Controversy, which challenged Americans' perception of the founding father because of his exploitive relationship with Sally Hemings, an enslaved woman on his plantation, comes a book that sheds light on the history of slavery in America, leading up to the events that culminated in Juneteeth. In this series of essays, Pulitzer Prize–winning historian Gordon-Reed weaves together American history and her own family history and eloquently pays tribute to the integral role of Blacks in shaping Texas.