Humanities Center Summer Program Teaches the Classics to Local High Schoolers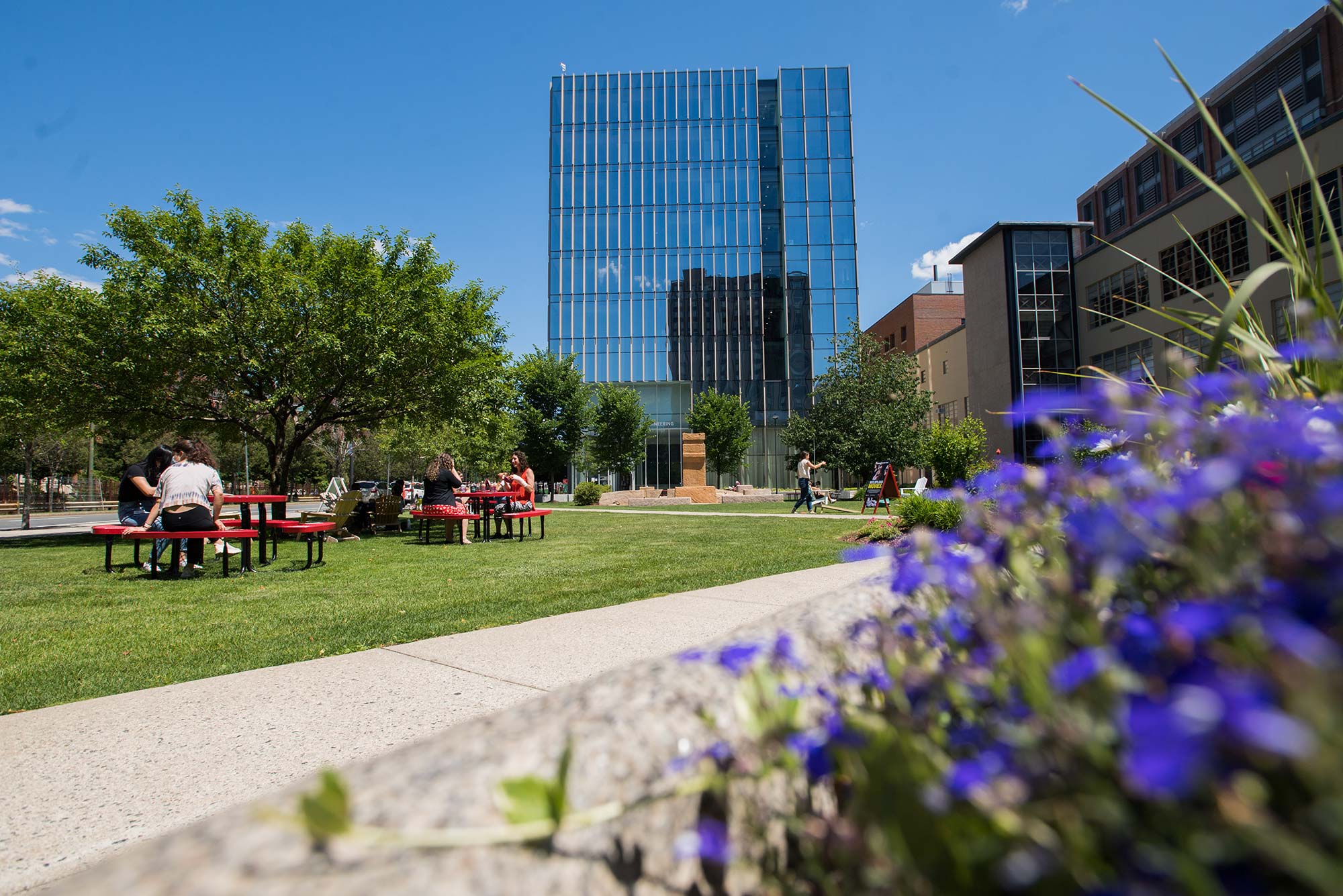 Humanities
Humanities Center Summer Program Teaches the Classics to Local High Schoolers
Teagle Foundation grant brings teens to BU (virtually) to study Plato and prepare for college
You might think Plato and Seneca would be far from the minds of any Boston high schooler in the middle of July. Think again.
A Boston University Center for the Humanities (BUCH) program, funded by a grant from the Teagle Foundation, brought 11 underserved and low-income Boston-area high school students to BU—virtually, this year, because of COVID—to study the classics and help them prepare for college. All are rising juniors and seniors with higher education in their sights and an eagerness to participate in discussions.
"We are spending our summer days learning about something," says Meryem Hakkaoui, a junior from Malden High School. "Not everybody would want to do that, but we all chose to. Everybody's really interested and everybody wants to learn."
In a Zoom class with James Uden, a College of Arts & Sciences associate professor of classical studies, they tackled alliteration and assonance and hyperbole, along with a W. H. Auden poem and Pieter Brueghel's Landscape with the Fall of Icarus, while on their way to understanding tragedy in the classics. Hello, Medea and Prometheus and Dionysus.
"Normally in high school they put a picture up on the board and have you do an 'I see' and 'it means' type of thing," says Roxane Leon, a senior at Malden High School. "With this class, it's more like, what's the story behind this? Why do you think the artist put it this way? What is the true meaning behind it, what does it say about Greek life? And what do these people just minding their own business mean, and the bird on the tree in front of Icarus?
"I always knew college was going to be different from high school," says Leon. "But just from the first week alone, it's so different, but I like it so much better. Professor Uden was so passionate about what he was teaching. He actually wants you to understand it and wants you to interact."
"Sitting in on classes, I was impressed by the students' mastery of the materials that were presented to them,, by the way they engaged with the ideas and drove their teachers to offer more," says Susan Mizruchi, BUCH director. "The faculty all said they would love to have some of these students in a BU class."
Called The One and the Many at BU, the program's first goal is to get high schoolers excited about the humanities, while enhancing their skills in reading, writing, analysis and presentation, as well as giving them a taste of university life. That last goal was a little more challenging this year, as COVID meant the program had to go virtual rather than host the students on campus.
The students from John D. O'Bryant School of Mathematics and Science in Boston, Everett High School, and Malden High School were recruited in partnership with the Jamaica Plain–based Summer Search Boston, the local arm of a national organization serving high school students facing systemic oppression.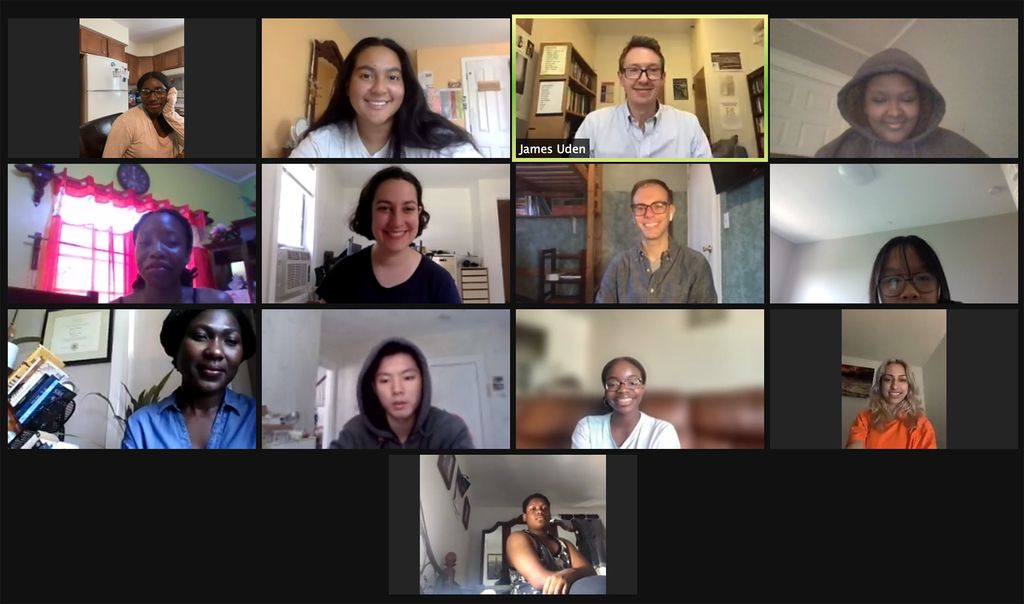 "I'm struck by how mature and well-prepared these students are," says Mizruchi, William Arrowsmith Professor in the Humanities and a CAS professor of English. "I thought they would be at a different level from college kids, but many of these students could walk right into a college class and be ready to discuss any number of humanities subjects. I think they could analyze and participate fully with any group of undergraduates.
"Yesterday they were analyzing Leni Riefenstahl's film Triumph of the Will," Mizruchi says, "and their knowledge of the Holocaust and their ability to look at every angle of the complicated ethical issues that a work like this raises was stunning. To think about the dilemma of being a filmmaker during the Third Reich and her responsibility for what she is creating there. I was struck repeatedly by how conversant they were with so many of the subjects that came up."
The grant is part of Teagle's Knowledge for Freedom program, which uses challenging texts to make students think about complex questions, including: What is freedom? What is virtue? What is the social good? The $300,000 grant from the New York–based foundation is funding the program for three summers.
"We want to ensure that all students have access to an education that allows them to study great texts, books that expand their understanding of themselves and the world they live in, and time to consider humanity's biggest questions," Tamara Tweel, a Teagle program director specializing in civic initiatives, said in February when the grant was announced.
The curriculum focuses on works from ancient Greece, the words of leading US public intellectuals of the 19th century, and influential documentary films. The faculty comprises Uden, Paula Austin, a CAS assistant professor of history and of African American studies, and Marisa Milanese, a master lecturer in the CAS Writing Program.
"These students certainly didn't come to Aristotle and Virgil and Homer and Sappho with any preconceptions about these being elite texts," Uden says. "That was exciting for me, to see students who are not coming to Aristotle thinking, 'Oh, I have to learn the foundational text of Western philosophy,' but thinking, 'Here's a voice, and I'll test it against my own assumptions and see what I can learn.'"
"I liked learning about the Greek gods and what they did," says Gilles Theligene, a senior at Everett High School. "My favorite one was the god who got kidnapped by pirates, and because he felt offended, he turned them into dolphins." (That would be Dionysus.)
During the three-week program, students spent mornings attending three-hour seminars and afternoons in co-curricular activities, working on their public speaking and writing skills and college applications and essays, as well as attending virtual lunches with professors and events focusing on topics like food justice and movie discussions.
"This seemed like a great opportunity to get to know people and see what it's like to take classes there (at BU)," says Hakkaoui. "I also felt like I didn't have much opportunity to learn about humanities in high school. So, this seemed like a great way to see if I do find it interesting or maybe I don't."
Being on Zoom hasn't dampened the students' enthusiasm. "I like learning from these professors because they're very interactive, even though we did get the short end of the stick" thanks to COVID, says Hakkaoui.
---

An intellectual community can be created online.

---
"From this week alone, I'm just super excited for college so I could attend classes like those, because it's so interesting and so fun to be part of," says Leon.
The faculty, after a year of virtual teaching experience, "were superb at bringing the students into the conversation and bringing them alive in a Zoom format," Mizruchi says. "An intellectual community can be created online." She thinks this year's cohort may have been limited by the pandemic; next year she hopes for a larger group.
"Are we looking forward to next summer, when we can have these students on campus, when we can feed them in the dining halls and show them around campus and take them on field trips to places like Walden Pond? Yes we are," she says. "I hope I can twist the arms of these faculty members and have them all back next year to do this in person. But I think this has been a great success."
One bit of evidence? Retention is sometimes a problem for summer programs, as the season offers so many tempting alternatives, she says. But The One and the Many at BU hasn't had a single student peel off. And that's even though two of the students were traveling to visit family; one logged in from Honduras, and another participated from Pakistan part of the time.
"I think it's a great thing for the University to be appealing to a broader body of high school students," Uden says. "I hope in the future it might broaden the kind of high school students who are applying to BU, who get a sense they might be able to study successfully at the university level, that we instill that confidence in them.
"And certainly from the perspective of a classics professor," he says, "if we see a more diverse range of students in our classes and interested in classical texts, that would be a wonderful thing."