First-Generation College Student Story: Brianna Bourne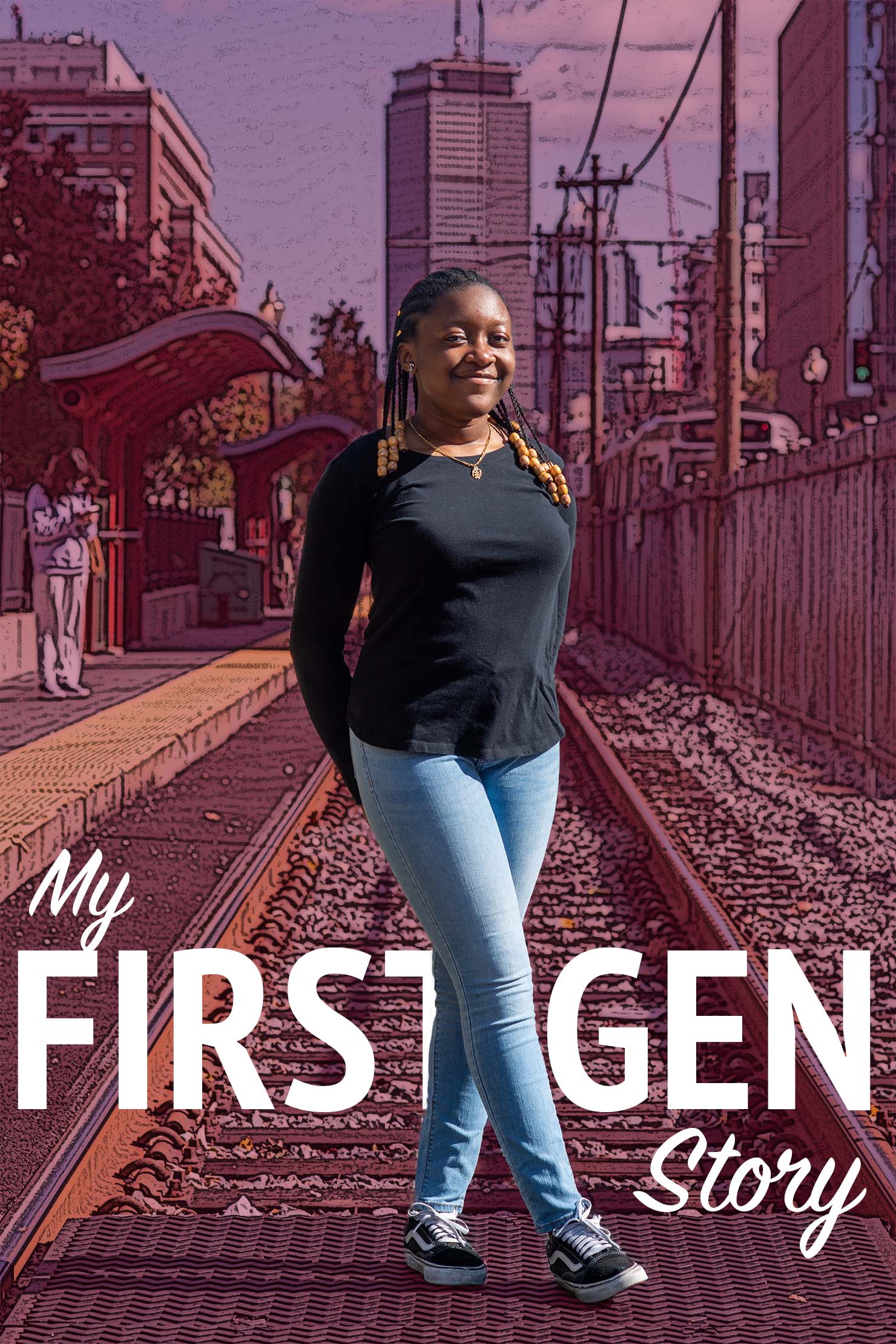 First-GEn
Brianna Bourne's Journey from Mattapan to Latin Academy to Comm Ave
"I've learned over time that asking for help is better than struggling by yourself"
In our new occasional series, "My First-gen Story," we hear from students, faculty, staff, and alumni who share, in their own words, what it's like to be a first-generation college student. In our first installment, we hear from Brianna Bourne (CAS'24), a psychology major who attended Boston public schools and whose parents came to the United States from Jamaica.
---
Brianna Bourne (CAS'24), from Boston, psychology major
I was born in Dorchester and when I was about three or four we moved to Mattapan. I went to Boston Public Schools, and I went to Boston Latin Academy from 7th until 12th grade.
My parents came here from Jamaica. They didn't go to college. My mom works at a bank and my dad works at the US Post Office. He works the overnight shift.
I have three sisters and two of them went to college—one to UMass Amherst, the other to the School of the Museum of Fine Arts. At Boston Latin Academy, the teachers would say, 'Oh, yeah, once you get to college…' It was never like, 'Oh, if I go, it's when I go.'
The Upward Bound program—that's a college prep program for first-gen and low-income students—helped me with the whole process of applying to college. They have a summer program for high school students, where you live in Warren Towers—I did that in the summer of 10th and 11th grades—and they gave us classes on things like chemistry and calculus so we'd be ahead once the school year started. We also did team-building activities. So I was still in high school and I already felt comfortable at BU. BU was always my top choice. I'm just so happy I got in.
Upward Bound also helped me with financial aid—with the FAFSA form. I was able to sit down with one of the staff members and go through each question. After you do it once, it gets a lot easier.
My first year I had to write an appeal—to ask for more financial aid—to BU. My family was struggling because of the pandemic. That was hard. Upward Bound helped me with that, too. BU understood, and they were able to help me.
I have a Boston Public Schools Community Service scholarship, and I'm doing my community service with Upward Bound because they helped me so much. Upward Bound is right here at Wheelock. I tutor high school students.
I also work at the Newbury Center as a staff assistant. I help with events and other things. The whole staff there is first-gen students. I feel like that's really helpful because when a student comes in to ask about first-generation stuff, it's not just like, 'Oh, I heard this from somebody else.' It's your own experiences you're talking about.
---

Being with people at the Newbury Center is a great experience. Maria is like our mom. It's a reminder that you're not going through this alone.

---
I put the money I earn into my savings account. When I had to write that appeal first year, I was thinking, what if they had said no, what would I have done? So, with me working, I know there's a backup plan.
Through Upward Bound, I learned about things I hadn't heard of before, like office hours. My first year I went to office hours for my writing class. We had to write a research paper and make a video, and I was kind of confused about what I was going to write about or how I was going to make the video. Just letting the teacher know that you're struggling is already a huge help. And building that relationship with your professors is important. At the Newbury Center, they're always saying, 'Make sure you go to office hours.'
So some of my friends at BU will be like, 'Oh, let's go out to eat. And I'm, like, 'That's okay. We can go to the dining hall.' My family is paying for college and we're paying for a dining plan. That's already a lot. First-gen students, we have to worry—let me make sure I have enough money to pay for college in the first place.
I do feel like I belong at BU. Living in Warren Towers my first year helped. People would just start talking to you in the elevator even if they didn't know you. I'm especially loving the classes I'm taking now: Introduction to Antiracism, Social Psychology, and Disability, Education, and Social Policy. You can tell the professors are all passionate about what they're teaching. Each of these classes dives into different stereotypes and stigmas about different types of people. Learning what is hurtful and how language can be improved helps me improve myself and my relationships.
Second semester of first year wasn't the best for me. It just seemed like there was no break. So it was just like, do I really want to do this? But literally a few days later, the Newbury Center was announced. It made me think BU cared about first-gen students. Being with people at the Newbury Center is a great experience. Maria [Newbury director Maria Dykema Erb] is like our mom. It's a reminder that you're not going through this alone. There's support. And we're setting an example for any future first-gens that might come after us.
My first semester I didn't talk to my parents that much about BU, because I was like, let me try and figure this out myself. I think that's just something that first-generation students do. But I think I've learned over time that asking for help is better than struggling by yourself. You have to advocate for yourself.
If you have a student, faculty, or staff member to suggest we talk to, email Sara Rimer at srimer@bu.edu.
This Series
Also in
January 25, 2022

May 18, 2022