My First-Gen Story: Hector Grande
Now he's graduating with a master's from the College of Engineering and going to work so he can return the favor
FIRST-GEN
Hector Grande's Immigrant Parents Helped Him Seize the Opportunity That Eluded Them
Now he's graduating with a master's from the College of Engineering and going to work so he can return the favor
In our occasional series My First-Gen Story, students, faculty, staff, and alumni share, in their own words, what it's like to be a first-generation college student. In our latest installment, we hear from Hector Grande, a soon-to-be graduate from the College of Engineering who hopes to pass on what he's learned to the next generation of underrepresented engineers
---
Hector Grande (ENG'22), materials science and engineering graduate student
My first-generation story isn't one of me struggling without support, but rather, it is about my parents doing all they could to make sure I was able to seize an opportunity they couldn't.
I was born in Newark and raised in Elizabeth, N.J. My parents had immigrated to the United States from Peru in 1994. They planned to finish their schooling—my mother in pharmacy science, my dad in aerospace engineering—but things didn't work out as they'd hoped, and they had to start over from nothing. They lived in an attic apartment and worked in a glass printing factory. Eventually, my father became an electrician, and they were able to buy the house that I and my two younger sisters grew up in.
My parents had their opportunity stripped from them, but they were not going to let that happen to me. They emphasized the value of education, since that would be the way that I would get the "big house with grass" I always wanted. I played soccer on a team in a travel league. We would play teams an hour away from where we lived in New Jersey, and this is where I saw a great transition: from everything being concrete and blacktop to homes the size of schools that had grass where the kids could play soccer instead of on blacktop. I knew I wanted this. My parents knew I wanted this.
I attended the Elizabeth Public School system all the way until high school, and I was lucky to participate in many activities—soccer, band, track, baseball. This was good for me, but a burden for my parents. I tend to forget things when I'm in a rush, and my life through high school was basically a rush. If I'd forget my homework, my parents would drop everything and get it to me at school so I wouldn't get a zero. If I'd forget my trumpet before class, my parents would run and get me the instrument that I'd play all night, to one day be recognized as the best middle-school trumpeter in Elizabeth. If I'd forget my lunch, my parents would be there outside of the school with it to make sure my stomach was full and my brain was fueled.
For most of my time growing up, my mother didn't work full-time since she had three children to take care of. She would take us to school in our minivan, and I had friends that wished they had rides to school since the bus didn't pass near where they lived. My mother saw this entrepreneurial opportunity and ran with it. She made money by driving all around Elizabeth taking students to school and bringing them back home. My father, after long and stressful days at work, would come home and make repairs around the house or fix the car or strip copper scraps to sell to have extra money to provide for our family.
---

I feel bad about the past. But I'm looking forward to the future, where now I'll be able to help contribute financially to whatever we need to get done at home.

---
The most memorable life lessons I learned from my dad were when I would take a break from school assignments and talk with him while he'd be working in our backyard. He prepared me through these conversations that it was not going to be easy to get what I wanted, but I must never give up. He hadn't given up. I always had the shoes I needed for soccer, the bats I needed for baseball, and the materials I needed for school. My parents worked around the clock so I could succeed and get out of Elizabeth. Upon graduating from BU with my master's degree, I'll be able to give them what they deserve.
With my family's support, I was accepted into the Academy for Information Technology, a magnet high school in Scotch Plains, N.J., almost an hour from where my family lived. I made friends with students whose parents had gone to college and who knew which classes they should be taking, when to start SAT prep, and how to apply to college. I was the pioneer in my family—the first to go through most of the school system here in the States and was now attending a high school where I was one of only a few spots on a Dalmatian.
I knew I had to do as well as I could academically and also outside of the classroom in order to go to college with a full ride. I knew I didn't have the luxury of my parents helping me out financially. That was one thing that my friends at the time didn't understand. There were so many times when I couldn't hang out or was too busy to go to the movies since I was using my time outside of the classroom to build my résumé for college. My high school didn't have its own sports teams so I played soccer, baseball, and ran track at Elizabeth High School.
I attended Northeastern on a full ride. I found a support system and a community there in the Society for Hispanic Professional Engineers and made friends along the way that helped me in academics and in life. I graduated from Northeastern in 2020. I'm glad that ever since my first year at Northeastern, I've started seeing greater numbers of underrepresented students enter the engineering program. We all want to see more engineers, scientists, and PhDs from underrepresented backgrounds, and it all starts with us.
When I first got to Boston University, I did the math. My graduate student stipend is about $37,000 a year before taxes. I'm like, okay, I can survive. I live in an apartment with three roommates and my rent is about $1,160. But then other bills came up. I needed a new computer for Zoom. I had a dentist bill I had to pay out of pocket. So once I saw all those costs come into play, I was like, okay, what do I do? I learned a lesson from my dad growing up—he was always trying to figure something out to make some money so that he could help the family more. So I started applying for scholarships. I got one through my mom's factory in Elizabeth. It's a mostly Hispanic company. She spoke to her manager, and he went to higher management and they were very supportive of me and the idea of Hispanic advancement.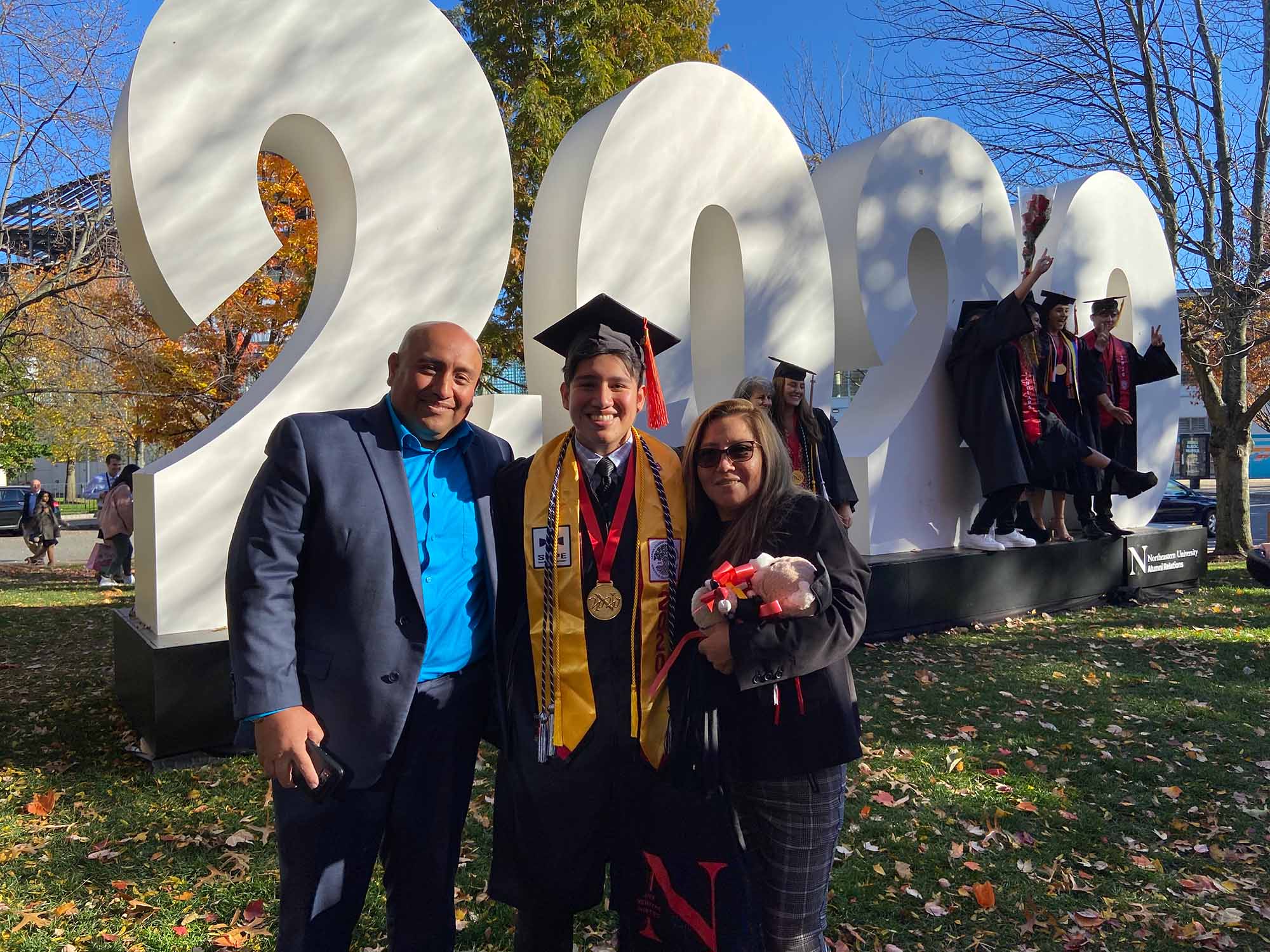 I also picked up a job tutoring a high school kid from Brockton. His parents are Filipino immigrants—it's like my story. Being gifted, and being helped by others, I wanted to give that back. And luckily I was able to help myself out financially through that, too. That's something I learned from my dad—not to be stationary, and if there's a problem, try to do what you can to fix it. That's one thing, honestly, I'm going to take to the grave. It's what's powering me through all of this.
I've been on the PhD track since fall 2020, but I won't be getting my PhD. That's been the transition for me this year, and a lot of it boiled down to money. I want to help my parents financially—lessen the stress of their bills and help them save for the future. So I'm graduating with my master's degree and I'm going to work. I have a job as a chemical engineer at Draper [a nonprofit engineering innovation company] in Cambridge. I'm starting May 31. It's a very good job. I was expecting probably $85,000 to $90,000 a year as a chemical engineer with a master's, and they offered me six figures.
I just turned 25. I would have been 28 by the time I got my PhD, and I would have just started saving or investing aggressively. I explained to my dad, "I'm not comfortable with that, I don't feel safe, I don't have that net." Growing up, everything was about money. Now that I'm older, I'm able to see, wow, some extra money would have really helped back then, and probably would have mitigated a lot of stressful situations for my parents. I feel bad about the past. But I'm looking forward to the future, where now I'll be able to help contribute financially to whatever we need to get done at home, or to help with other expenses, like when my parents have to go to the doctor. I'm trying to buy them their time back.
My parents are both in their 50s. My mom works at a factory that makes paper bags. She starts at 3 pm and gets out at 11 pm on a normal day, but it's more likely she's doing overtime until 3 am. My dad works close to New York as an electrician. He's getting paid well there, but he leaves the house at 6 am and gets back around 6 or 7 pm. My sister is graduating from college this year. My parents have had to shell out almost $10,000 a year for that. I want my parents to retire when they're 65. I don't want them working until they're in their 70s, or 80s.
I want to do research, and that's what took me to grad school. I wanted to discover things, I wanted to figure things out. Unfortunately, I couldn't do it for a doctoral degree because of money, but at least now I'll get paid to do research. I'm not a fan of starting things and not being able to finish them, and it was really emotional for me to go through this process of switching out of the doctoral program. But I'm happy with my decision.
What if my dad has another one of those [heart] episodes or what if my mom loses her job. The level of uncertainty gave me a lot of stress. I kind of put the terms like this: I want to do this, I want to get my PhD, but right now might not be the best time. It might not be something I can do. But it might be something that generations after me can do. Because they'll have this firm foundation of, like, "Oh, hey, Dad, I'm gonna go to grad school, but I need money." And I can be like, "I can help you out, don't worry about it."
This Series
Also in
January 25, 2022

November 2, 2021