He's Gotta Fight! For Your Right! To Dehyyydrate!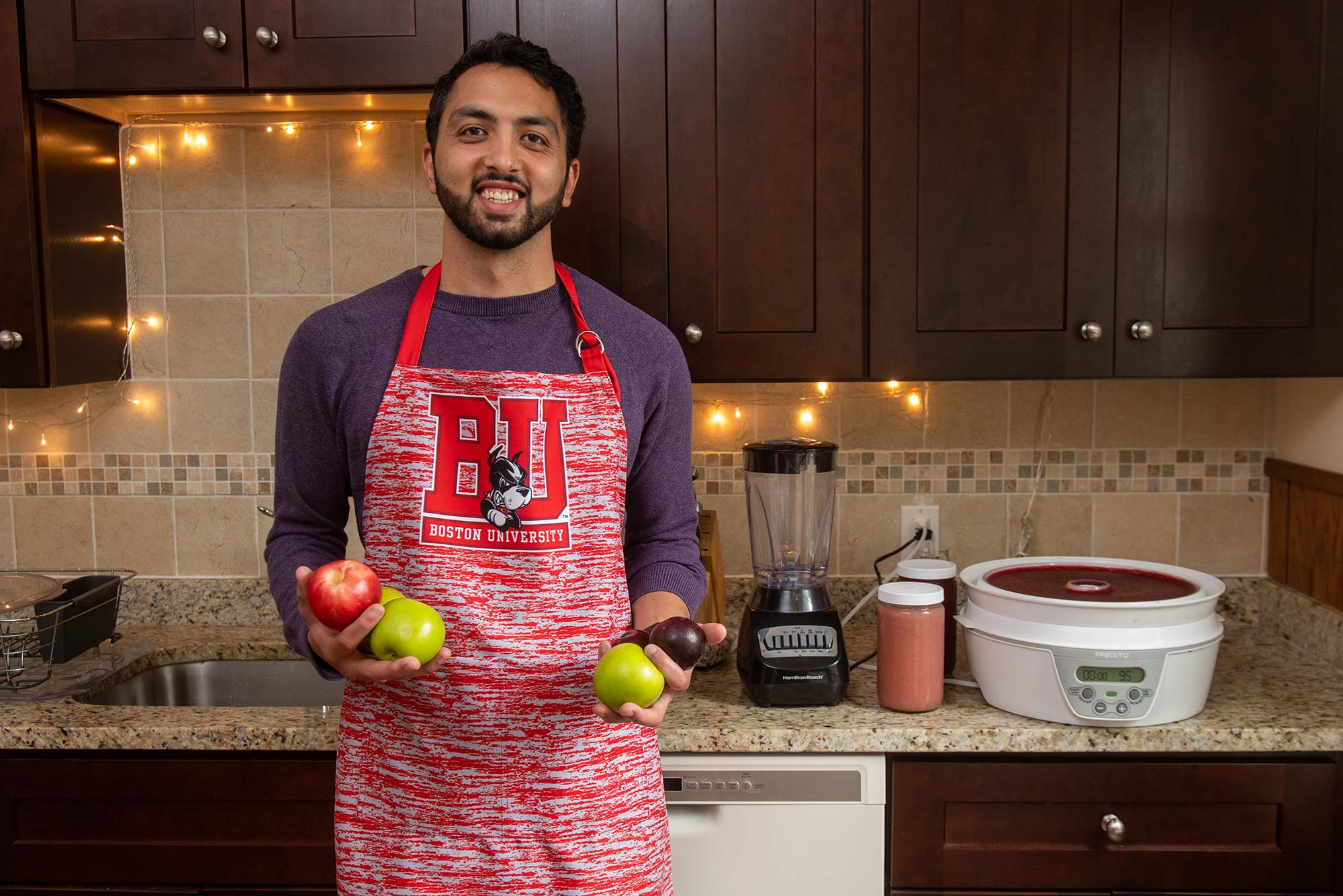 Cooking
He's Gotta Fight! For Your Right! To Dehyyydrate!
BU employee helps enable local home cooks to sell food they make
It's all about the Persian fruit leather. And the Boston City Council.
Andree Entezari grew up in Indiana, but his family's roots are in Iran, and his heart belongs to the chewy dried fruit snack known there as lavashak. It's healthy, it tastes good, and it connects him to his father, who made it for him when he was a boy, and to their culture.
On family visits to Iran, Entezari (MET'21) would bring back bags full of it. And after college in Indiana, when he moved to Los Angeles to take a job with Americorps City Year, he started making it himself, from plums, apples, strawberries, and other fruit. Making lavashak, he says, is a fairly straightforward process that can be done in one day, boiling and mashing the fruit and putting the result in a food dehydrator for nine hours. He got so good at it that he launched a side business he called The Lava Shack and started selling it.
In 2018, he came to Boston, where he is a School of Public Health Lifelong Learning program assistant (he also just completed a master's degree in city planning at Metropolitan College). By 2019, he wanted to restart Lava Shack in his Brighton kitchen.
Problem.
"I quickly found out local regulations prohibited me from doing that," Entezari says.
In the language of regulation, his lavashak was a "cottage food," a retail product created in a home kitchen. Cottage food is allowed under commonwealth law, he says, but the commonwealth gives cities and towns the purview to regulate it. And in Boston, he found out, the Inspectional Services Department considered making food for retail sale in a home kitchen to be a zoning violation.
"Essentially they told me, 'We don't do that here,'" he says.
But Entezari was willing to fight for his fruit leather. He talked extensively with the Inspectional Services Department, and then started to pitch the idea of changing the regulations to decision-makers. He found a willing champion at the Boston City Council to sponsor the necessary ordinance and help establish guidelines for the permitting process.
"We were incredibly excited when Andree came to our office to propose implementing retail residential kitchens in Boston," says Julia Mejia, a Boston city councilor at-large. "In our office, we work to create a community-centered approach to all of our policies, making sure that the voices of the people are front and center, so to be able to sponsor a community-led initiative like this one—especially one that does so much for low-income communities—is incredibly exciting."
Retail residential kitchens are a great way for small businesses to get started in a city where access to commercial spaces is increasingly becoming unattainable for them, Mejia says. "It is also an opportunity for neighborhoods that often lack nutritious foods to obtain local, culturally competent foods prepared by their friends and neighbors," she says. "Boston residents can begin to apply for the permit, and we look forward to working with Andree in the future to ensure that this program takes off."
Among the many people who would like to take advantage of the program, Entezari notes, are food-industry workers who've lost their job in the pandemic. He reached out to the local food community for support, including locavore groups, entrepreneurs at farmers markets, and the leadership of CommonWealth Kitchen, a Dorchester nonprofit that helps food entrepreneurs grow their businesses. He ended up mirroring the Boston effort in Cambridge as well. The Sustainable Business Network of Massachusetts and the Black Economic Council of Massachusetts also supported his effort, he says.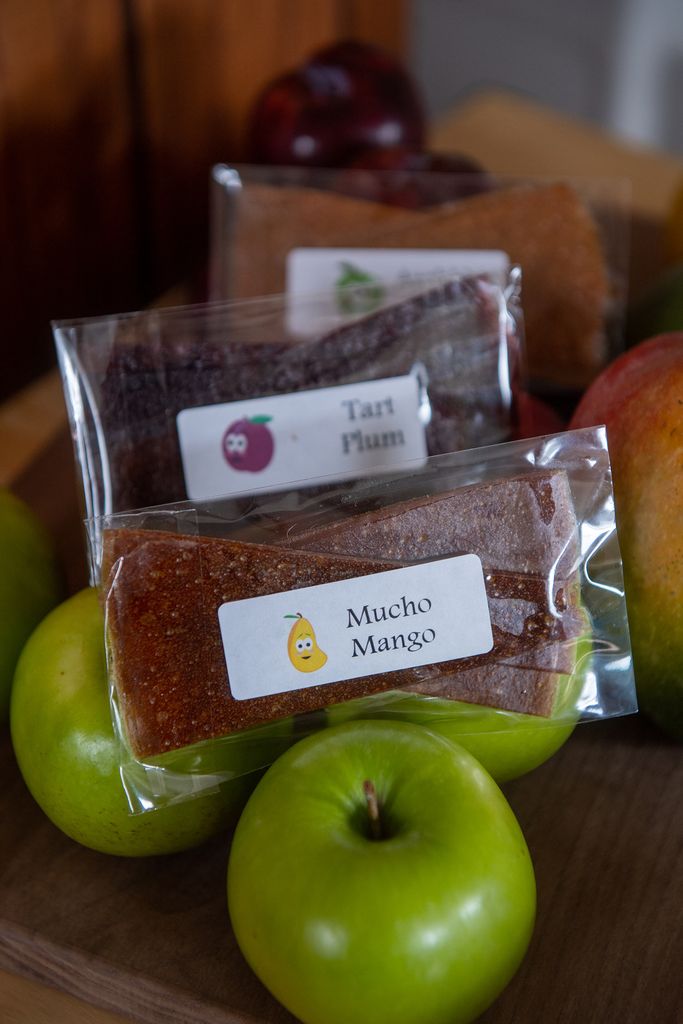 A happy ending is in progress. The Boston City Council passed an ordinance allowing cottage foods on March 31, and procedures are now being put in place. To apply for a permit, go online for a Residential Kitchen Application. Cambridge also amended its zoning code recently and a permit process is being set up there as well.
Cottage foods are loosely defined as nonperishable foods—those that don't require refrigeration and don't spoil easily. They also include baked goods, breads, biscuits, churros, cookies, pastries, tortillas, some candy (such as brittle and toffee), dried pasta, granola, cereals, trail mixes, herb blends, honey, jams, jellies, and more.
Besides lavashak fans, a lot of other people stand to benefit.
"Residential kitchen permits provide an opportunity for local food entrepreneurs to use their home kitchen and sell more culturally appropriate food in the community," Entezari says, saluting the City Council for its decision. "With so many vibrant food entrepreneurs in Boston, these permits allow them legitimacy and hopefully more opportunities for resources in the city of Boston.
"They eliminate a barrier of high start-up cost associated with launching a storefront or needing a commercial kitchen space," he says. "These permits will provide for equity in allowing food producers to enter their product into the market and sell at farmers markets and other direct-to-consumers outlets in the community."
Entezari, by the way, considers himself a pretty good cook—and not just with fruit leather. "I really enjoy cooking Persian rice dishes like Lubia Polo and a variety of different tacos," he says. His favorite food icons include José Andrés and Mr. Taster, aka Hamid Sepidnam.
Ironically, Entezari recently moved to Somerville, where cottage food production is already allowed. He has his permit and tax ID number, and The Lava Shack is now up and running.
"It has been an exciting journey," he says, although he wishes he could have applied for the first permit given out in Boston, as a symbol of his food activism finally coming to—wait for it—fruition.