BU Updates Its COVID Data Dashboard, as Employee Vaccination Deadline Looms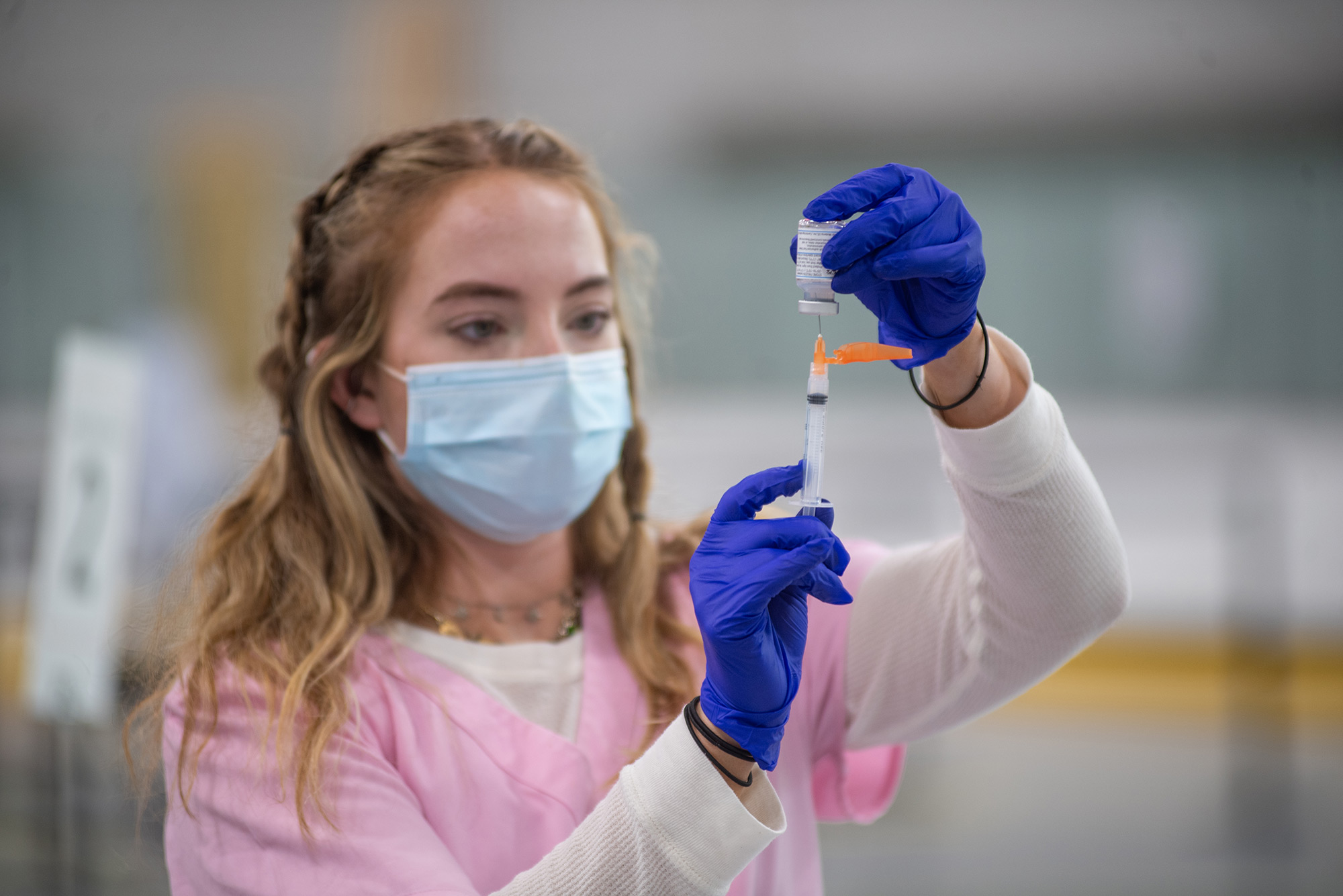 University News
BU Updates Its COVID Data Dashboard, as Employee Vaccination Deadline Looms
Faculty, staff urged to get their shots and upload documentation by September 2
As Boston University transitions from summer to fall and the campus repopulates with thousands of students, faculty, and staff, BU's COVID-19 Data Dashboard was updated Tuesday, August 17, with numbers showing a sharp increase in the community's vaccination percentages.
The new numbers also reflect the progression over the past few months, from a time when the coronavirus pandemic had forced the vast majority of employees to work remotely to now, with more people returning to work on campus. (All employees have until September 2 to comply with BU's vaccination mandate.) 
The revised dashboard shows 92 percent of faculty and 84 percent of staff vaccinated as of August 16, up from the low 70 percent range for both groups previously.
Why did the percentages jump? Previously the dashboard reflected all faculty and staff, including those working remotely and who may not yet have been vaccinated or may have failed to upload proof of vaccination. But on Tuesday, the revised dashboard began to include only those who are coming to campus and "are a part of our testing protocol," says Gloria Waters, BU vice president and associate provost for research.
Even though the new employee numbers are encouraging, Waters says, they are likely to bounce slightly up and down in the coming weeks for several reasons. Many employees who have worked remotely during the pandemic will return in person for the fall, and those high vaccination percentages could drop as "additional people come back to campus if they are not yet fully vaccinated, or have not yet uploaded their information or asked for an exemption," she says.
"It is to be expected that the numbers will fluctuate over the next few weeks," as the September 2 deadline bears down, Waters says.
Another complicating factor is that BU's regular faculty aren't the only employees who'll need to be accounted for on the dashboard. "Visiting faculty and scholars are required to be compliant," the associate provost says. "We need to be sure that departments update the data to exclude those who may have been here last year and left and those who are incoming."
As more employees return to campus in the coming weeks and are placed into the testing Categories 1, 2, or 3 per the University's COVID-19 safety protocols, she says, they will enter the population reported on the dashboard.
Meanwhile, with the reappearance of the giant yellow rolling bins used by incoming students as fall's students start to arrive on campus this week, the dashboard's student numbers also changed Tuesday. The new figures show 88 percent were vaccinated, up from 76 percent.
"Up until now, the dashboard has reflected the vaccination status for students who were in Summer Term II," Waters says. "However, the vaccination requirement for students was not in effect until August 1, and so the summer data are not a reflection of the rates we will see in the fall. We now know which students will be on campus in the fall, and they have been required to be compliant with the vaccination requirement. The dashboard has been refreshed with the data for the students who will be on campus in the fall and so reflects a much higher rate."
Waters adds that the old student data also included many groups that have left BU or are leaving campus—Class of 2021 graduates, for example.
The return to campus and updated numbers come as the United States grapples with COVID-19's Delta variant, the most contagious strain so far and one that's proven more likely to infect younger people in their 20s and 30s.
In coming weeks, Waters says, University leaders, department managers, and academic leaders will work to ensure that employees upload vaccination documentation at Healthway, comply with BU's weekly testing requirement, and are included in the latest dashboard figures.
"As new staff are hired, they will be required to be a part of our testing program and compliant with the vaccination requirement," Waters says. "Compliance with the vaccination requirement, as well as with weekly testing, will be monitored by managers, who will get weekly lists of people in their units who are not compliant."
Judy Platt, director of Student Health Services and chair of the University's Medical Advisory Group, says student numbers are expected to continue to rise as the start of the fall semester nears.
"With such a large population, we may have some students who are included in this mix, but will not actually be on campus," Platt says. "BU was intentionally inclusive with our populations to ensure that we have consistent vaccination compliance.
"We encourage vaccination uploads as this is required," she says, "but also be sure to indicate any symptoms on the daily symptom survey. Even vaccinated individuals can have breakthrough cases, so we want to hear about symptoms and expedite a test for you."