COVID-19 Safety and Health Compliance Protocol
Summary for Faculty and Staff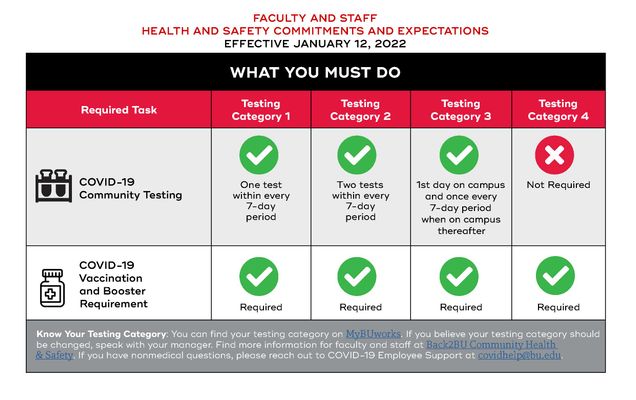 Boston University's highest priority is providing a safe and healthy campus environment. Protocols and practices have been put in place including COVID-19 testing and mask wearing. These are constantly updated and described in detail at Back2BU.
Faculty and staff members who are on campus have a critical role to play in minimizing transmission of COVID-19 within the University community.
Mandatory Requirements for all Members of the BU Community
Compliance with Commonwealth of Massachusetts and Boston public health requirements (quarantine and isolation) and BU's public health requirements (COVID-19 testing and mask wearing) are mandatory for all members of the BU community.
It is vital that all faculty and staff in the BU community meet the commitments outlined in the BU COVID-19 Health Commitments and Expectations document for Faculty and Staff. Appealing to a common sense of community wellbeing is the first line of defense. Unfortunately, this alone will likely not be sufficient to maintain a safe and healthy campus. Although we do not expect widespread failure to comply with expected health protocols associated with lab testing and wearing a face covering, we believe it is prudent to establish the following protocol to address those situations involving noncompliance.
COVID-19 Safety and Health Compliance Protocols
The COVID-19 safety and health compliance protocols have been developed to ensure the safety and health of everyone in the BU community and are based on the following General Principles:
Common standards and expectations are important for the safety and health of every member of the BU community.
Strict compliance with individual lab testing requirements and wearing face coverings is essential.
Each employee's manager and senior manager/department chair and dean/vice president will be accountable to ensure compliance.
Lab Testing Compliance
Lab testing with the frequency associated with your assigned testing category is essential to maintain the safety and health of the BU community. Employee compliance information with testing requirements is provided to managers/deans/vice presidents on a daily basis. Managers will need to take into consideration variable work schedules, vacations, etc. in order to determine whether an employee is compliant or non-compliant.
Given its importance, failure to comply with the required testing frequency will result in corrective actions as follows:
First Missed Test – staff and faculty may not remain at work until compliance is achieved and will receive a written warning.
Second Missed Test – staff and faculty may not remain at work until compliance is achieved, will have a conversation with their dean/senior level manager and receive a final written warning.
Third Missed Test – staff and faculty will be subject to additional consequences up to and including the possibility of suspension or  termination in accordance with the relevant provisions of either the non-represented staff handbook, their respective collective bargaining agreements, or the Faculty Handbook.
Quarantine Compliance
In those instances where staff or faculty fail to comply with quarantine requirements, the corrective actions outlined above for Lab Testing will apply. Staff have 10 COVID Paid Absence Days available for use in the event they are placed in quarantine. Faculty and staff who are required to quarantine should immediately notify their respective Department Chair, Dean and/or manager.
Isolation Compliance
Isolation is required when an individual tests positive. Due to the public health risk of breaking isolation protocols, those instances will be reviewed by senior leadership as soon as possible.
When it is determined that staff or faculty have failed to comply with isolation requirements, the dean/vice president will be notified, and the staff or faculty member will be subject to corrective action up to and including possible termination.
Face Covering/Mask Compliance
The most visible way to demonstrate commitment to a safe and healthy BU is to wear a face covering while on campus. Chronic refusal to wear a face covering will be addressed by management. If a staff or faculty member refuses to wear a face covering and does not have an approved accommodation, then the employee will not be permitted into the workplace. The manager/dean/vice president will take appropriate action to be determined in consultation with HR and the Office of the Provost. Refusing to follow the University's safety and health protocols will not create an exemption that would allow a staff or faculty member to work remotely.
Managers will have a limited supply of face coverings available for employees who forget to bring one to the workplace.
Facial Masks
The University is committed to promoting a safe campus environment for students, faculty, and staff in accordance with current state and local public safety guidelines.
Face Covering Definition and Criteria
The term face covering is used to include any cloth face covering or disposable face mask that meets the following criteria:
Fits snugly but comfortably against the sides of the face and covers the nose, mouth, and chin
Fastens securely with ties or ear loops
Includes multiple layers of fabric
Allows for breathing without restriction
Can be laundered without damage or change to shape, if they are the reusable type
Face masks are required to be worn indoors in classrooms, offices, public common areas, the BU Shuttle, and healthcare facilities, with some limited exceptions to mask requirements, as described below. Masks are not required in private offices; private rooms, individual residence hall rooms, or suites and apartments in University residences. Masks may be removed while actively eating in dining halls and lunch or break rooms, but we encourage physical distancing whenever masks are removed. Masks are not required outdoors, except as required by a town mandate.
Limited Exceptions to Mask Requirements
Under very limited circumstances, exceptions to the indoor mask requirement may be considered for academic or programmatic activities. Given the Omicron surge, the Medical Advisory Group currently recommends limiting any indoor mask exceptions. Specifically, an individual faculty member, lecturer, TA, or student speaking at the front of a classroom may choose to remove their mask while they are speaking. In these cases, we strongly recommend that the speaker move to a twice-weekly testing cadence and remain 12 feet away from others while unmasked. Similarly, limited mask exceptions may be considered for programmatic activities that are substantively impeded by masks, including theater productions, performing arts classes, and athletic competitions. Any time masks are not used indoors, we recommend using badge checks for students in attendance, increasing testing frequency, minimizing the number of people unmasked at any given time, and maintaining enhanced physical distance whenever possible.
Gloves, Goggles, and Face Shields
Most employees will not need to wear gloves in the course of their everyday duties. They do not replace the need to wash your hands often and avoid touching your face. If you are required to wear protective goggles or face shields in the workplace, you will be notified by your supervisor and your department will provide you with this equipment. Gloves and other protection may be necessary for healthcare workers and other individuals working in high-risk situations.
How to Wear Your Mask
In order to be an effective tool to prevent the spread of illnesses like COVID-19, any facial mask must be worn correctly and consistently. The greatest chance of viral spread occurs in situations when people take off their masks, eat, drink, and have conversations without a mask. However, poorly fitting and improperly worn masks also pose a risk of viral spread. Facial masks should ideally consist of two or three layers of material (e.g., two-ply or three-ply) and cover the chin, mouth, and nose. To ensure a snug fit, after washing your hands and placing your mask on, place your hand around your mask and be sure that air is passing through the mask and not around the sides of the mask.
Greater levels of protection can be achieved with KN95s, KF94s, and other similar masks that allow for enhanced filtration.  These masks are more readily available than previously during the pandemic, but should be molded to ensure a good seal. Surgical or high-grade medical masks are almost always made of three layers and offer greater protection than cloth masks when worn properly. Three-ply masks, or two-ply masks—consisting of layers of polypropylene and cotton, two layers of cotton, or two layers of polypropylene—offer good protection and are more readily available.
Regardless of which type of mask is used, it must be worn consistently and have a snug fit. Double-masking with a cloth mask over a surgical mask or knotting and tucking the ear loop portions of surgical masks can help to ensure a snug fit, which will provide higher levels of protection. With the emergence of new variants and concerns for increased transmission, the need to wear a properly fitting mask is one of the most important measures to avoid illness. Most importantly, keep your mask on as much as possible.
Gaiters, bandanas, neck fleeces, scarves, and masks with exhalation valves should not be used, given the potential for increased risk of aerosol transmission associated with these types of facial coverings.
The Centers for Disease Control and Prevention (CDC)'s guide to facial masks does not recommend the use of face shields for normal everyday activities or as a substitute for disposable masks or cloth face coverings. Based on currently available data, face shields in the absence of facial covering will not provide adequate protection against COVID-19 infection. They may be used in addition to masks but not as a sole intervention.
You are expected to provide your own cloth or disposable facial masks for normal, day-to-day activity. The University will provide appropriate face masks in specified settings, when required by health and safety officials or regulatory agencies. When you are alone in your private room, suite or apartment in University residences; private office; or an enclosed private workspace, you do not need to wear a face covering or disposable mask. Research and clinical workers have setting-specific PPE protocols determined by their department or center.
You are advised to avoid touching your eyes, nose, or mouth when removing your face coverings, and wash your hands immediately before and after removal. Face coverings should be changed daily and stored in a clean paper bag when not in use. Disposable face coverings should be discarded daily.
Cloth face coverings are appropriate for wear by students, faculty, and staff in shared, non-healthcare settings. Facial masks should ideally consist of two or three layers of material (e.g., two-ply or three-ply) and snugly cover the chin, mouth, and nose.  Your face coverings should be changed and laundered daily. Store them in a clean paper bag when not in use.
Disposable masks may be worn by students, faculty, and staff, in shared, non-healthcare settings to contain the wearer's respiratory droplets. These masks should be discarded daily.
Surgical masks and medical grade masks reduce the wearer's spread of respiratory droplets and shield the wearer from large droplets emitted by others.  These masks offer greater filtration than cloth masks, but should be secured properly to avoid gaping along the sides.
N-95 respirator masks provide the best level of protection, but these may be in short supply or cost-prohibitive.
Revised 1/7/2022