BU to Require Faculty, Staff to Get Vaccinated for Fall Semester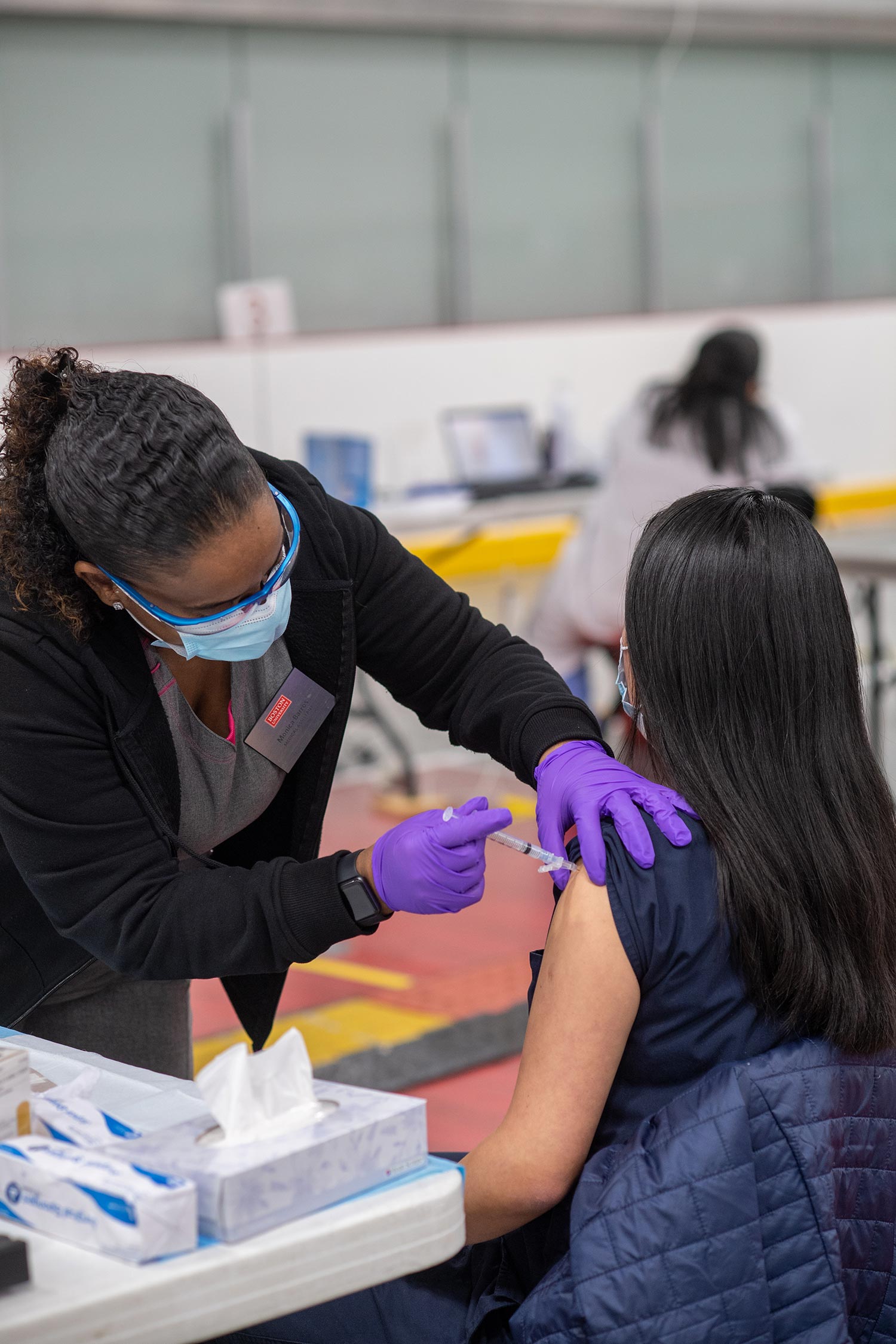 University News
BU to Require Faculty, Staff to Get Vaccinated for Fall Semester
President Brown says campus community has fallen short of vaccination goals; BU joins growing number of schools nationwide, including Harvard, Brown, MIT, and the University of California system, to mandate employee vaccination
Joining a growing number of colleges and universities across the country, Boston University will now require faculty and staff—in addition to students, as previously announced—to be vaccinated against COVID-19 by September 2 when fall classes resume, BU President Robert A. Brown says. The decision to mandate vaccination comes after months of waiting to see if urging, without requiring, BU employees to get vaccinated would be enough to achieve the goal of community-wide vaccination.
"We all share responsibility for the health of the Boston University community," Brown writes in a Monday letter emailed to employees. "We previously mandated that all our students be vaccinated for the Fall 2021 Semester. It is critically important that our faculty and staff are also vaccinated. We hoped to accomplish the goal of community-wide vaccination without a mandate, but kept the option of requiring vaccination open if we did not reach our goal."
(Find our coverage of faculty and staff reaction to Monday's news here.)
The key factor in the president's decision was a survey of faculty and staff during the spring semester. In his letter, Brown says the survey revealed that 71.3 percent of faculty and 73.6 percent of staff are currently vaccinated, or will be vaccinated, by August 1. Even though that means three in every four employees will be inoculated against the coronavirus, it also leaves roughly one in four, perhaps as many as 2,000 people, who may not be vaccinated by September.
"These totals are significantly below what we need to safely return our campuses to near-normal operation in the fall," Brown writes.
To help in the effort, BU will offer walk-in vaccination clinics on the Charles River Campus (Healthway will share additional information about that process, and it will also appear on Back2BU). At Boston Medical Center, vaccination sites are also accepting walk-ins. Other vaccine sites and appointments can be found using the MA vaccine finder. (Employees must upload their vaccination record onto the Healthway portal before September 2.) Healthway will also be sending a memo out this week with links to its upcoming vaccine clinics, according to Judy Platt, director of Student Health Services.
As with students, BU will allow exceptions among employees based on medical conditions and religious beliefs. "The consequences for those failing to get vaccinated and who do not receive an exemption for medical or religious reasons may include additional public health measures not required for vaccinated people," Brown writes, "and, in some cases, being placed on a leave of absence until the individual is either vaccinated or the risk of infection from COVID-19 is deemed to have ended."
Prior to Brown's announcement, BU leadership had taken several steps toward creating a safe campus environment this fall, after the year-plus-long pandemic caused by COVID-19. The University has maintained a strict in-house testing protocol and has performed more than a million tests on students, faculty, and staff. Students were told in April that they must be vaccinated to attend in-person classes this fall. And faculty and staff who have been vaccinated were instructed May 28 to upload their vaccine documentation (unless they got their shots at a BU location, in which case the information was already in the Healthway system), so the University could have an idea of the BU population's vaccination rate.
---

The consequences for those failing to get vaccinated and who do not receive an exemption for medical or religious reasons may include additional public health measures not required for vaccinated people.

---
But up until now, BU had not required faculty and staff to be vaccinated, an issue that college presidents nationally have grappled with as their institutions prepare to resume in-person classes in September.
In Indiana, two schools are taking divergent approaches. Indiana University is requiring its 100,000-plus students and employees to be vaccinated, while nearby Purdue University is strongly encouraging vaccination. Just last week, the University of California system became the largest public university to mandate vaccination for students, faculty, and others. "Vaccination is by far the most effective way to prevent severe disease and death after exposure to the virus and to reduce spread of the disease to those who are not able, or not yet eligible, to receive the vaccine," UC President Michael V. Drake said in his letter announcing the news.
The Chronicle of Higher Education, which has been tracking the issue, says that as of July 13, 578 colleges and universities are requiring just students, or students and employees, to be vaccinated. That is up significantly from six weeks earlier, when the number was 430. Locally, Berklee College of Music, Boston College, Emerson, Harvard, MIT, Brandeis, and Brown University are among those mandating both students and employees be vaccinated, while Northeastern University is among those requiring it for students, but not for faculty and staff.
When BU announced in late May that it was requiring employees to disclose their vaccination status (without requiring actual vaccination), reaction from employees was mixed in the comments shared on the BU Today story.
One of the BU employees most outspoken against mandating vaccination has been Ari Trachtenberg, a College of Engineering professor of electrical and computer engineering. When the University announced that it would require employees to disclose their vaccination status, Trachtenberg wrote on the BU Today comments page: "The benefit of COVID vaccination is to make the vaccinated person less likely to develop serious symptoms. If you are vaccinated…you are protecting yourself. If you are unvaccinated, you are accepting the risk of COVID symptoms. For everyone, if you are feeling sick, stay home! This has always been a good rule, and it remains so."
But on that same story's comments, another employee said simply: "I for one hope we do mandate vaccination for faculty and staff, just like we did for students."
Like most institutions, BU already requires students to be vaccinated against certain diseases, such as measles, mumps, rubella, chicken pox, diphtheria, and hepatitis B (employees are not required to be vaccinated against these unless mandated by their job function, such as healthcare workers). There is one difference with those vaccine requirements from the COVID vaccine, however: those other vaccines have been fully approved by the Food & Drug Administration, whereas the COVID-19 vaccines, while rigorously tested, were approved under what's called EUA, Emergency Use Authorization.
"The vaccines (which have FDA Emergency Use Authorization) have proven to be highly effective in preventing the COVID-19 infection or dramatically reducing its severity, thereby preventing death or debilitation," Brown says in his letter. "We also know that the risk of disease transmission by an infected person is significantly reduced if that individual is vaccinated."
Employees with questions should contact covidhelp@bu.edu.